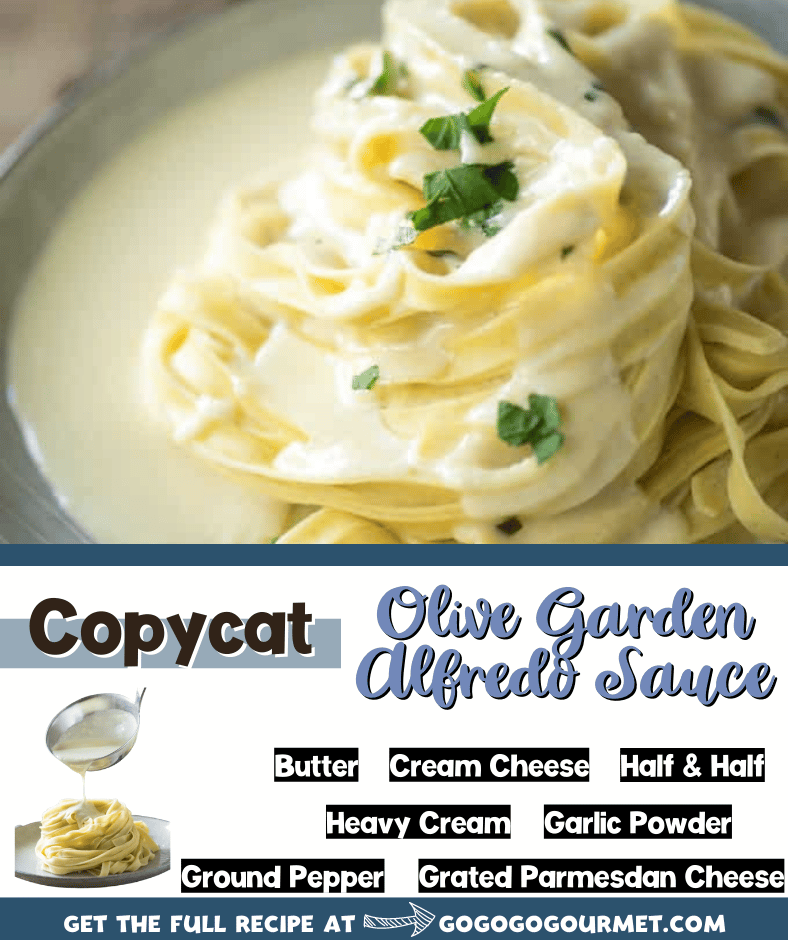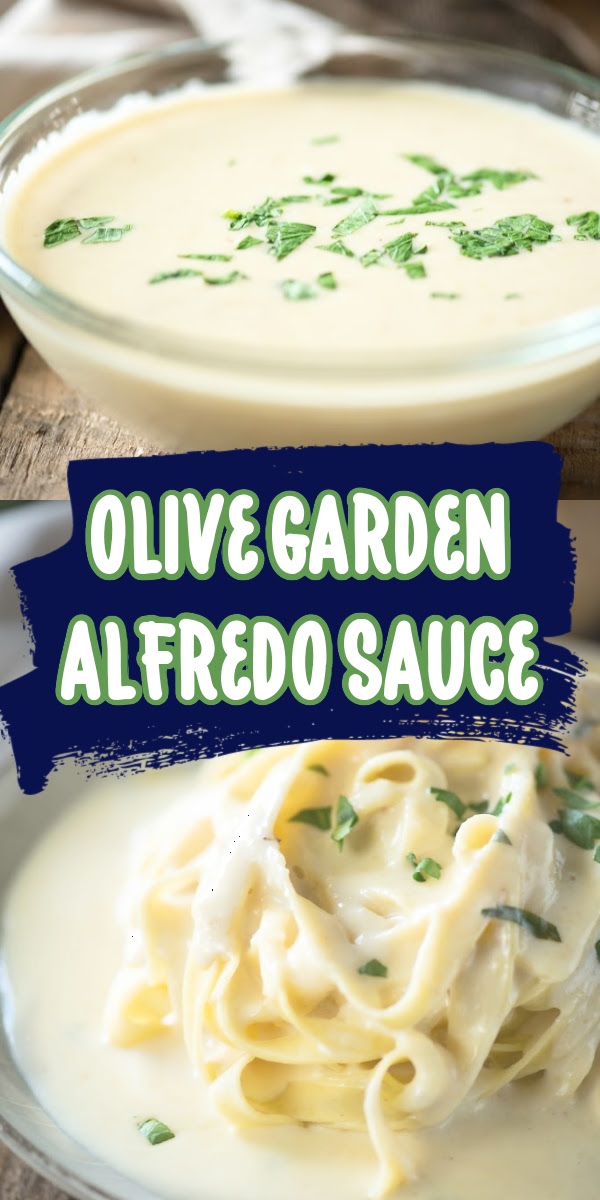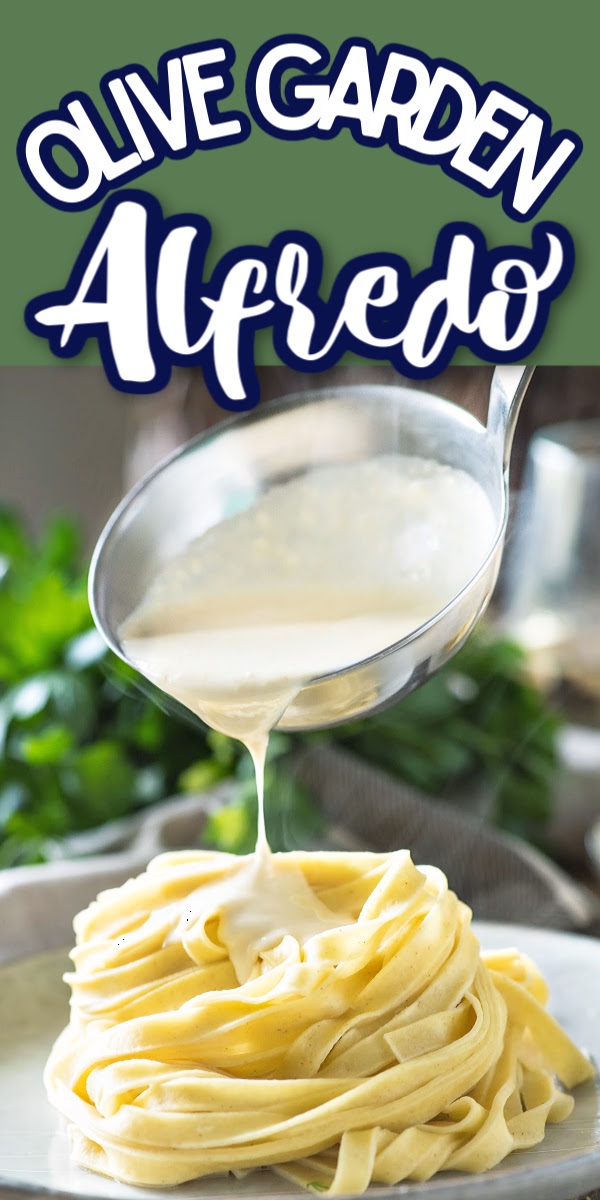 This Copycat Olive Garden Alfredo Sauce recipe is a fast and easy dinner, and proof that homemade is better than going out! This recipe is made with cream cheese for an extra creamy result.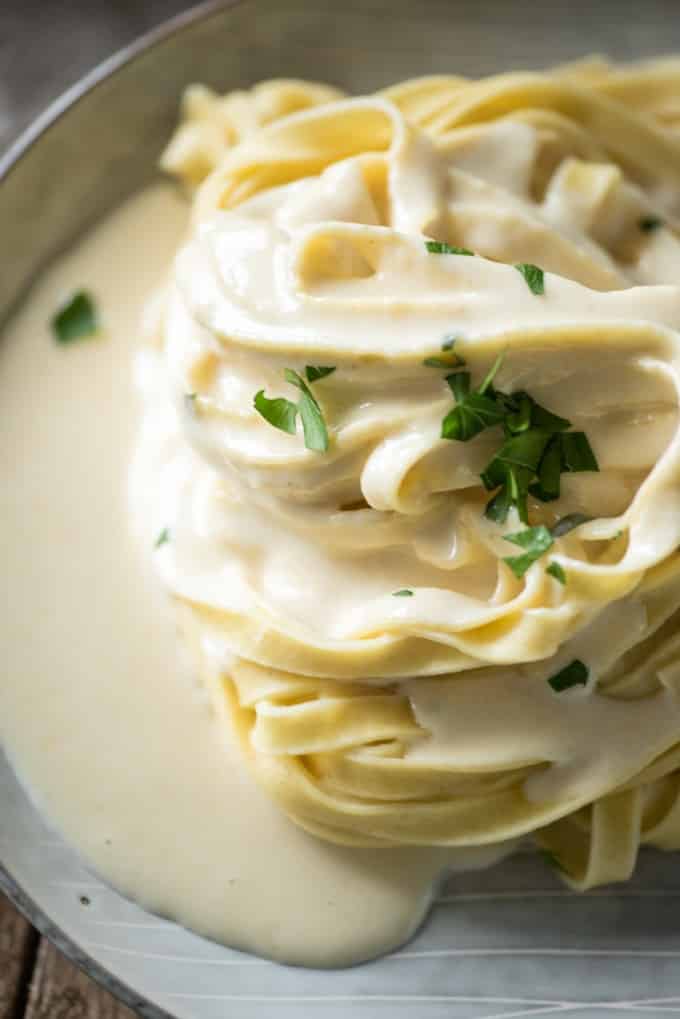 Whether you use it to top chicken breasts or simply to make fettuccine alfredo, this easy Alfredo Sauce recipe is the best! It makes for a quick and easy meal for any night of the week.
I distinctly remember making this alfredo sauce recipe in a massive batch for a group of guys/girls/myself around 3:30 am.
During my senior year in college, when I had started dating my husband and therefore taking a vested interest in cooking, I quickly gained a reputation among my husband's roommates and friends. It was "The Girl Who Cooks at 4 am When The Bars Close."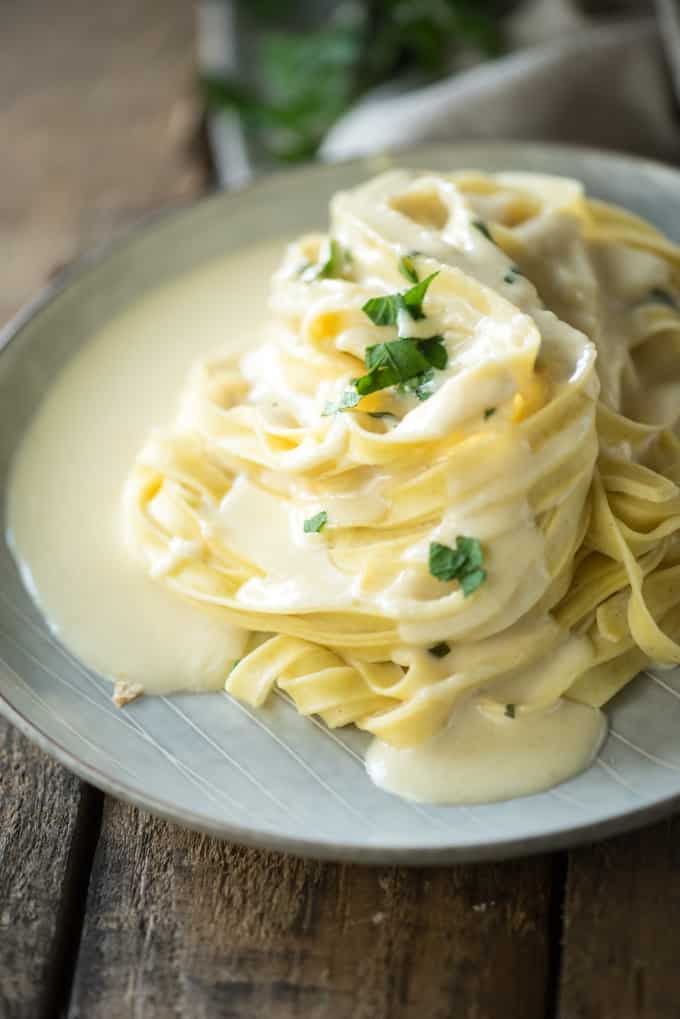 Let me assure you that this easy alfredo sauce tastes even more amazing when made in the middle of the night after you've been out. It also ushers in the need to immediately sleep.
The alfredo sauce is arguably the best reason to to go Olive Garden, period. Dipping those garlicky, salty breadsticks in a dish of it….. Wow, look at that, my whole mouth just started watering.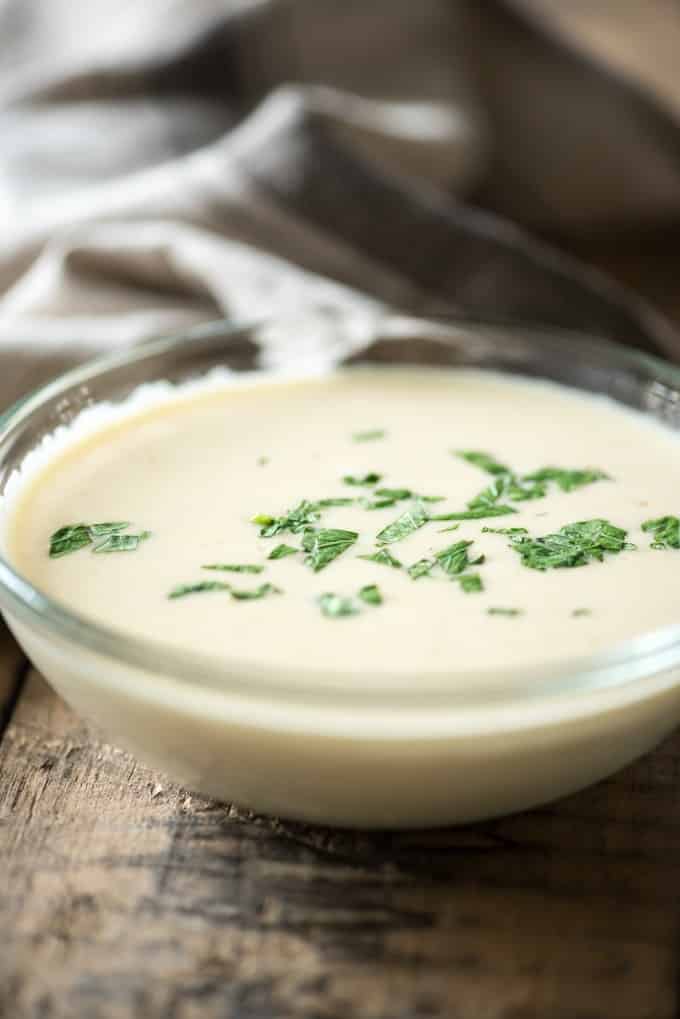 Quick side story about Alfredo: Dave and I could not agree on a boys name before J was born. Actually, he didn't even have a name for the first two hours he was in this world, because we still couldn't agree.
Finally, I just said to David, "You know what? Any is fine. Just pick one. I'm SO tired…"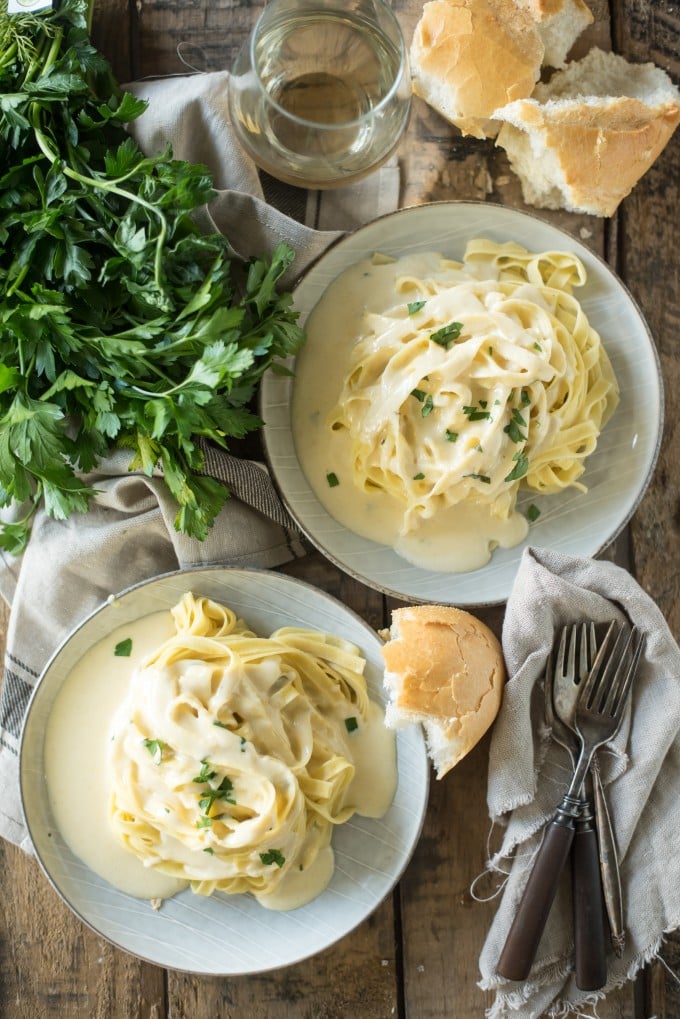 Dave's dad was always kidding with us about how when Dave was a teenager, he kept complaining about his "boring" name and how his name wasn't even "Italian enough."
Evidently he wanted to be named Giovanni or something like that, so because we are SO funny, we told everyone that we decided on the name Alfredo- and that was what we called him for the rest of my pregnancy.
Like I said, we are SO funny.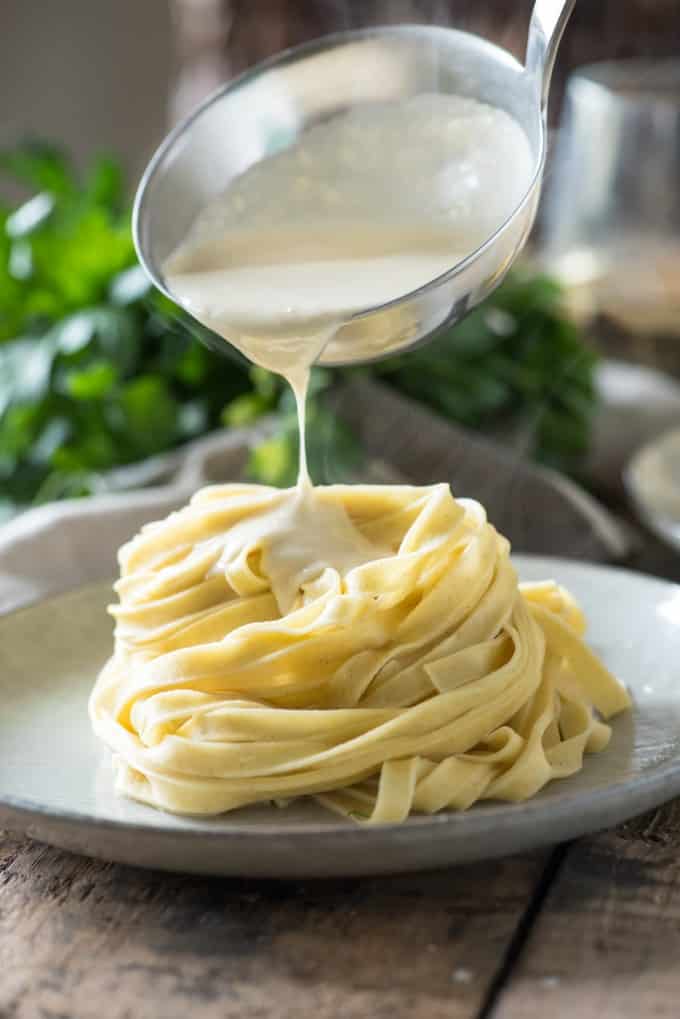 Notes on this alfredo sauce recipe:
This homemade alfredo sauce is made with a little bit of cream cheese, which may sound strange (and no, not authentically Italian), but it's really responsible for the extra creaminess that you get in the sauce. There's always a Monday morning quarterback in the comments here or on Pinterest telling me that they used to work at Olive Garden and they don't use cream cheese.
It's only supposed to taste like Olive Garden, not be made just like they do. I feel I need to stipulate that.
Can you make Alfredo sauce without heavy cream?
I used to make this with a combination of heavy cream and fat free half and half. While I am sure that it does majorly slash the calories, I have gotten away from it in recent years and just use heavy cream now.
You definitely still CAN sub half the cream for fat free half and half (or even regular half and half). The result is definitely less rich and a little thinner, if that sounds like more of what you're going for.
Honestly, this Alfredo sauce is good either way. I mean, its Alfredo sauce. You really can't go wrong.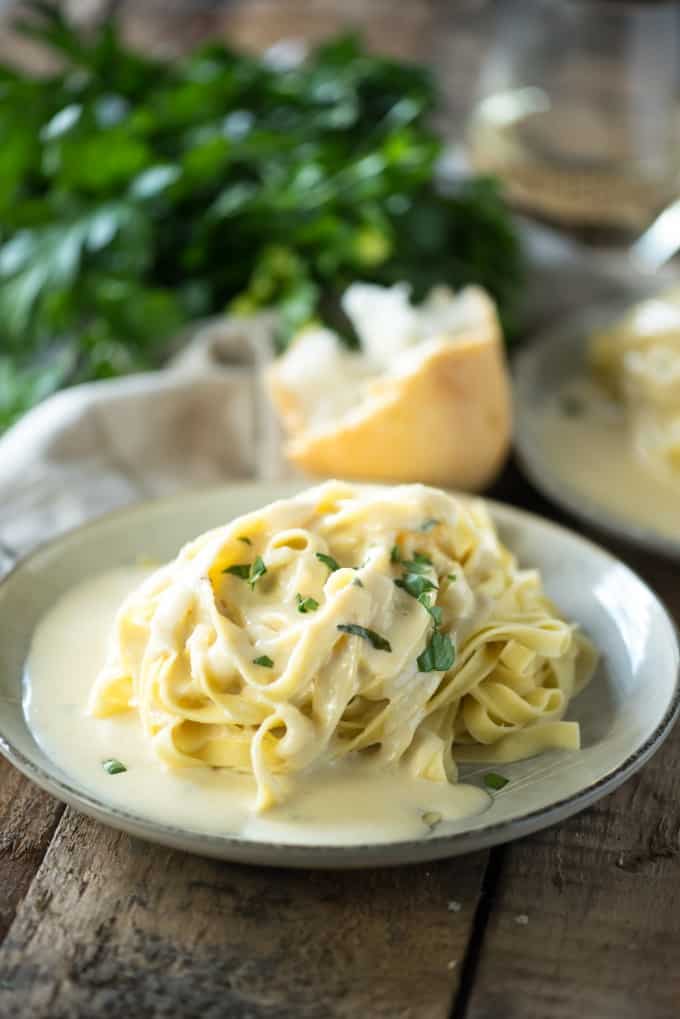 What can you add?
Man, just about anything!! It's so versatile. When I used to make this once a week, I liked to use it with whatever I had in the fridge:
grilled chicken
spinach
asparagus
mushrooms
prosciutto
broccoli
shrimp
The possibilities are endless! I use it in my Chicken and Spinach Manicotti and my Million Dollar Lasagna too!
How to make Alfredo Sauce?
It's a breeze. Just look at the video! Traditionally, it's made with butter, cream and parmesan, although there are about a million Here's the equipment that you'll need:
If you'd really like some extra credit, try making your own pasta. I use my Kitchenaid Mixer and pasta cutters to make fresh fettuccine. Totally worth the effort!
If you liked this recipe for alfredo sauce, check out these other pasta recipes:
Check out these other Olive Garden copycats:
Like what you see? Subscribe to Go Go Go Gourmet's weekly newsletter to keep up on what's going on around here and get a free ebook on how to simplify your weeknight dinner making. You can also follow me on Facebook, Pinterest and Instagram to see what I'm up to!
Copycat Olive Garden Alfredo Sauce
This Copycat Olive Garden Alfredo Sauce recipe is a fast and easy dinner, and proof that homemade is better than going out! This recipe is made with cream cheese for an extra creamy result.
Ingredients
4

T

butter

2

T

cream cheese

3/4

cup

half and half

3/4

cup

heavy cream

1

tsp

garlic powder

fresh ground pepper

1

cup

freshly grated parmesan cheese
Instructions
In a saucepan over medium heat, melt the butter, cream cheese, half and half and cream together

Whisk in the garlic powder and parmesan. Season with a small amount of freshly ground black pepper.

Simmer, stirring often, until the sauce has thickened to a creamy consistency. Serve immediately.
SaveSave
SaveSave
SaveSaveSaveSaveSaveSave