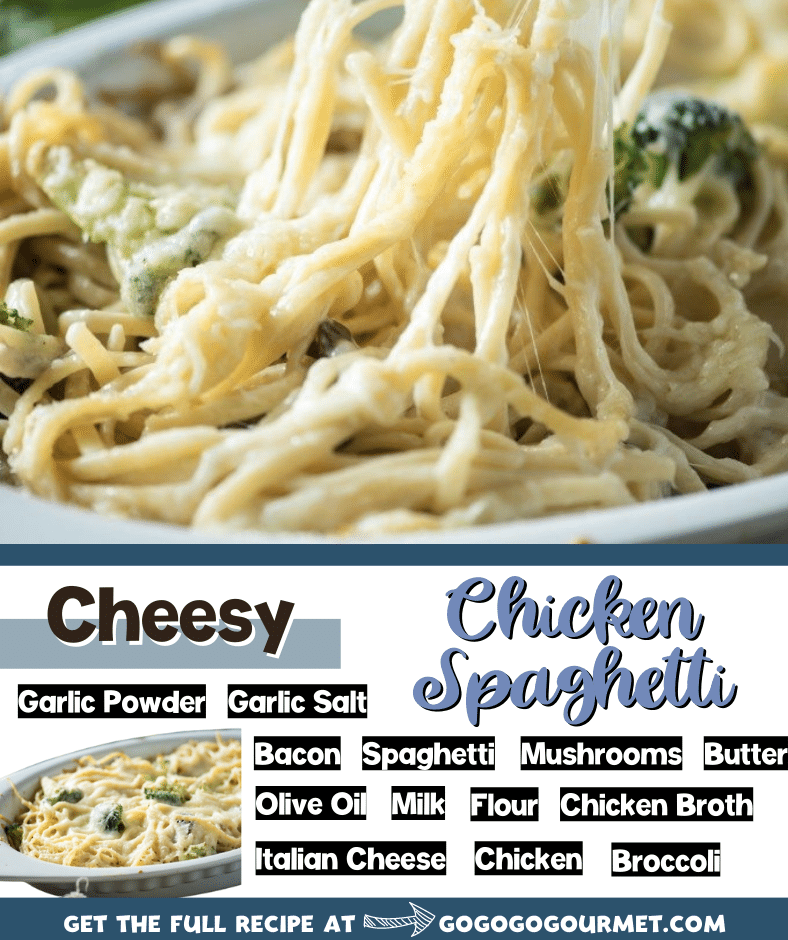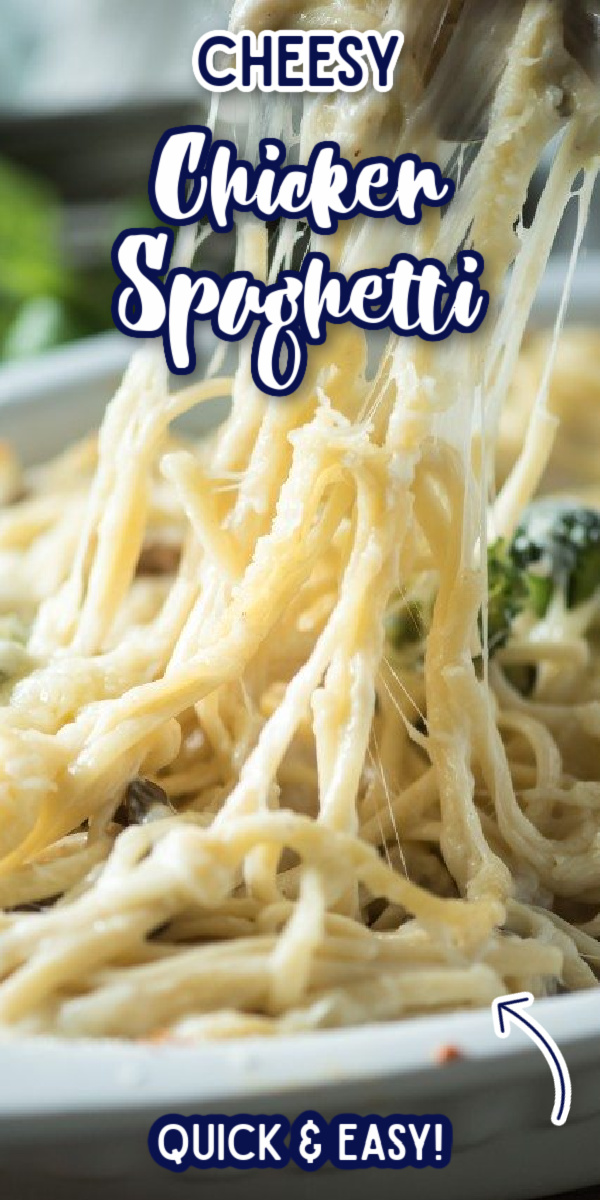 This Cheesy Chicken Spaghetti recipe is a fast and easy weeknight dinner that your whole family is guaranteed to love.
This Cheesy Chicken Spaghetti dish was born purely out of one thing – looking in the fridge and not knowing what to make for dinner that night. There were a bunch of mushrooms hidden in the back that I didn't really want to waste, and half a leftover rotisserie chicken.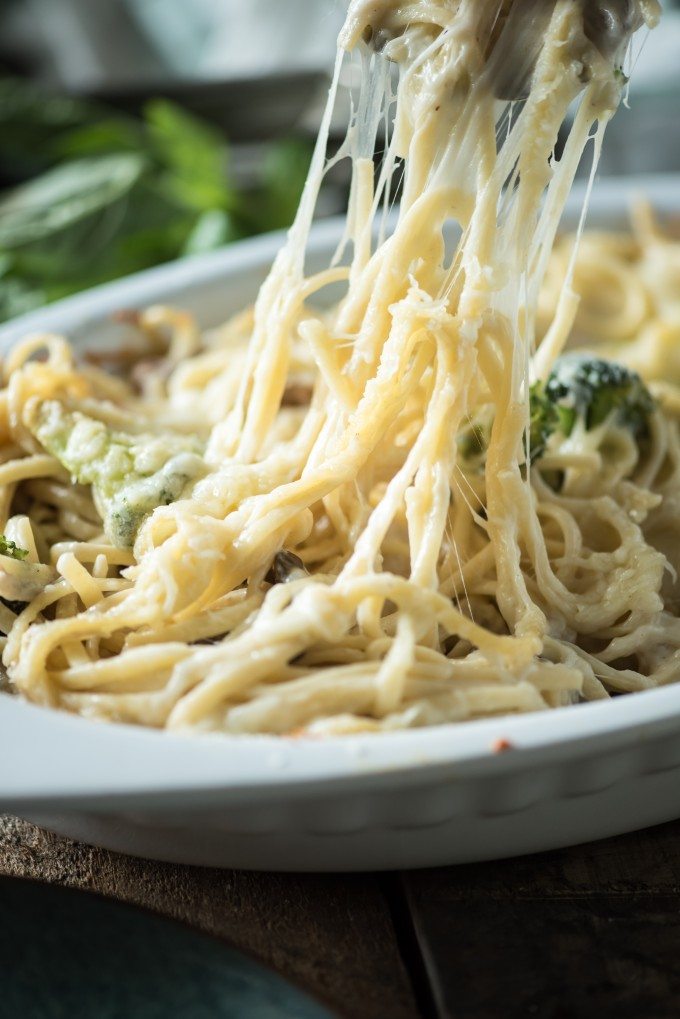 I was thinking about my Copycat Stouffers Escallopped Chicken and Noodles and debating on making that, but was missing a couple of the main ingredients. I decided to do a combination of that dish and Chicken Tetrazzini and came up with this easy chicken spaghetti recipe.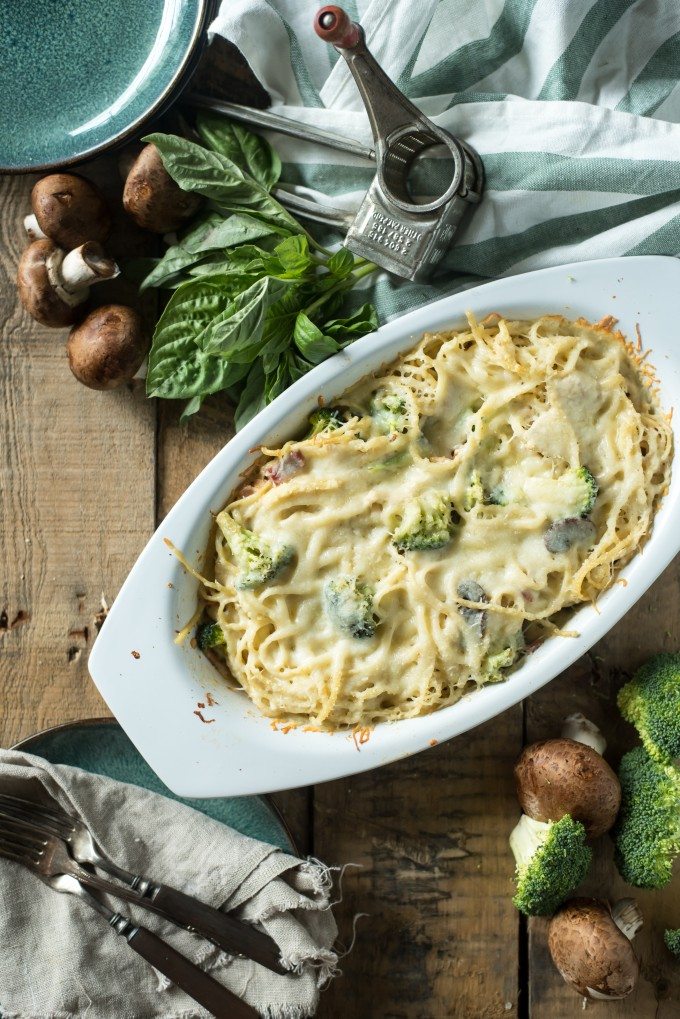 Michael and I loved it, unsurprisingly, and Jonathan was iffy on it, also unsurprising since he is super weird about any pasta with white sauce.
How he's my son I don't quite understand sometimes. I live for Alfredo sauce and Four Cheese Sauce on just about anything.
Extra bonus, this actually reheated really nicely as well. You can always add some extra milk into it to make sure that it doesn't dry out. I also made this and divided it into two pans, so I could photograph it the next day, so I can also attest to the fact that I can be made one day and then baked another. I just poured maybe 1/4 cup more milk over it before it went into the oven
This is one of those great meals that can be adapted to suit whatever you've got in your fridge. I do, however, love the bacon in it (and the bacon and chicken is what Jonathan picked out to eat at dinner). It adds a ton of salty flavor to it- and nothing with bacon and cheese has ever been bad in the history of the world, right?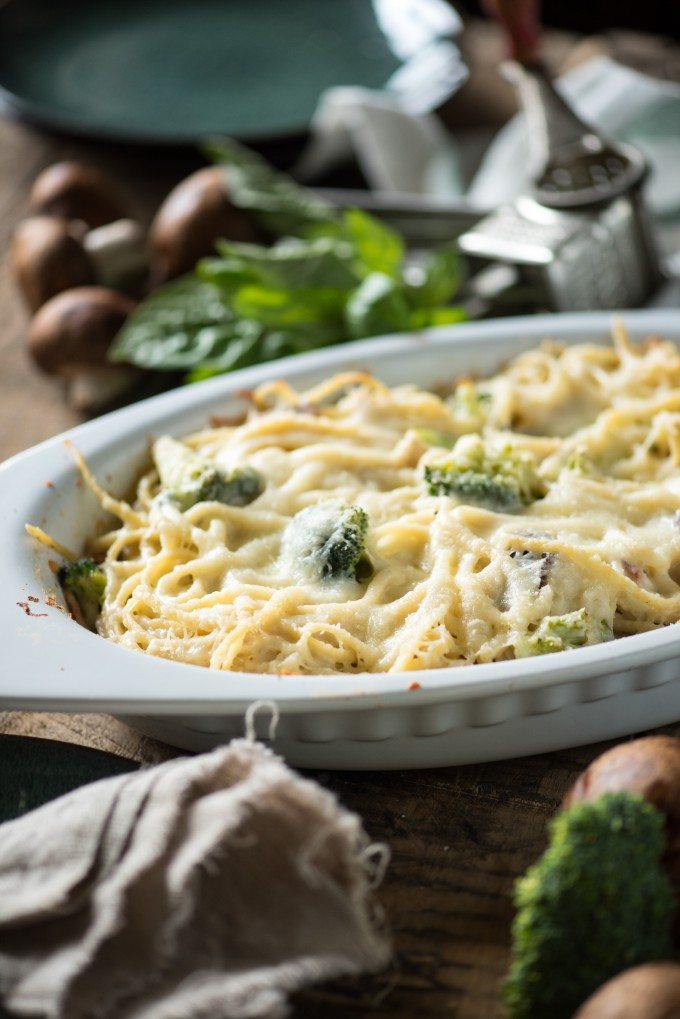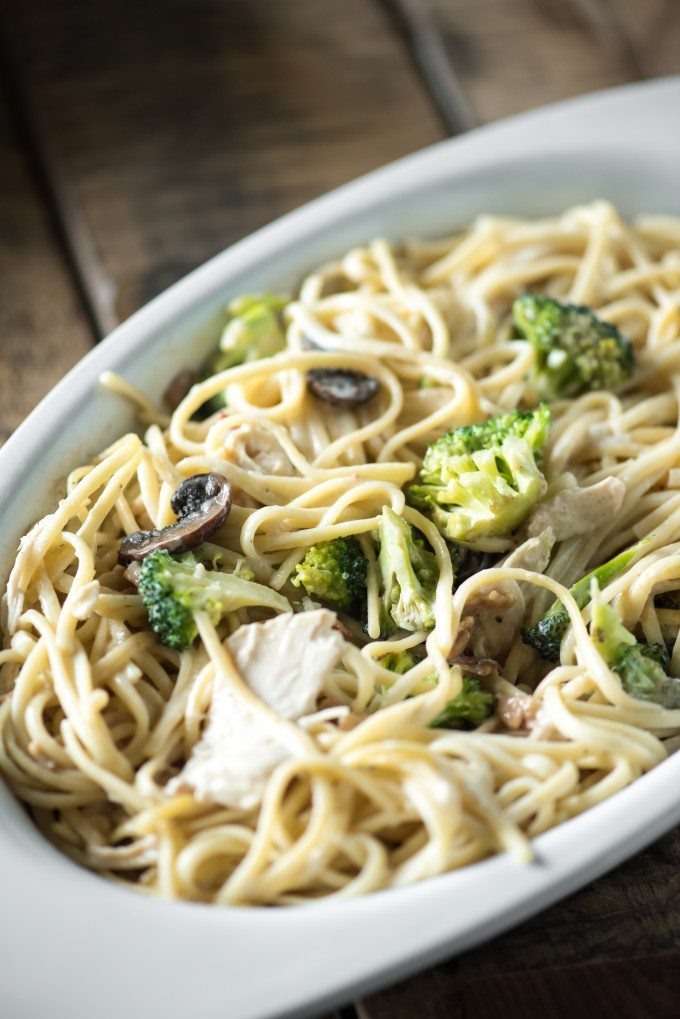 If you're looking for a no-fuss, flexible, easy dinner recipe, this has to be on your short list to try soon! Think outside the box- spinach, sun-dried tomatoes, red peppers, peas – there are about a thousand and one ways to mix up this recipe so that your family will love it.
What you'll need for this recipe:
Colander – I recommend using a colander for straining your pasta. Get a [easyazon_link identifier="B0021Y9O1O" locale="US" tag="gogogogo03-20″]Deep Colander[/easyazon_link] so you don't lose any pasta!
Baking dish – This baking dish is perfect for making pasta and is great for cooking! You can get yourself a [easyazon_link identifier="B01BWMUGY4″ locale="US" tag="gogogogo03-20″]Rectangular Baking Dish[/easyazon_link] here!
Cheese grater – Who doesn't like the taste of freshly grated cheese on their pasta?! Grab this [easyazon_link identifier="B01HX6HAK6″ locale="US" tag="gogogogo03-20″] Classic Rotary Cheese Grater[/easyazon_link] to add to your kitchen gadgets!
If you like this Cheesy Chicken Spaghetti recipe, try these:
Cheesy Chicken Spaghetti
This Cheesy Chicken Spaghetti recipe is a fast and easy weeknight dinner that your whole family is guaranteed to love.
Ingredients
1

lb

spaghetti

1

tablespoons

olive oil

1

cup

sliced mushrooms

5

slices

thick cut bacon

2

tablespoons

butter

2

tablespoons

flour

14

oz

can chicken broth

2

cups

milk

1/2

teaspoon

garlic salt

1

teaspoon

garlic powder

4

cups

shredded italian blend cheese

1 1/2

cups

shredded chicken

3

cups

broccoli florets
Instructions
Preheat oven to 375F.

Bring a large pot of salted water to a boil; cook the spaghetti until al dente. Drain and set aside.

In a large, deep skillet, add olive oil to the pan and heat oven medium heat. Add the chopped bacon and mushrooms to the pan and cook until the fat has rendered, the bacon is crisp, and the mushrooms are golden. Remove with a slotted spoon and set aside.

Add butter to the pan and whisk in the flour for 1-2 minutes. Slowly add the chicken broth and milk; simmer until beginning to thicken. Season with garlic salt and pepper. Stir in 2 1/2 cups of the shredded cheese, a handful at a time.

Add in the chicken, broccoli, and cooked spaghetti, reserved mushrooms and bacon. Toss until combined.

Spray a 13x9 baking dish with cooking spray. Pour the pasta mixture into the pan and top with remaining cheese.

Transfer to preheated oven for 15 minutes, until cheese is melted.
SaveSave
SaveSave