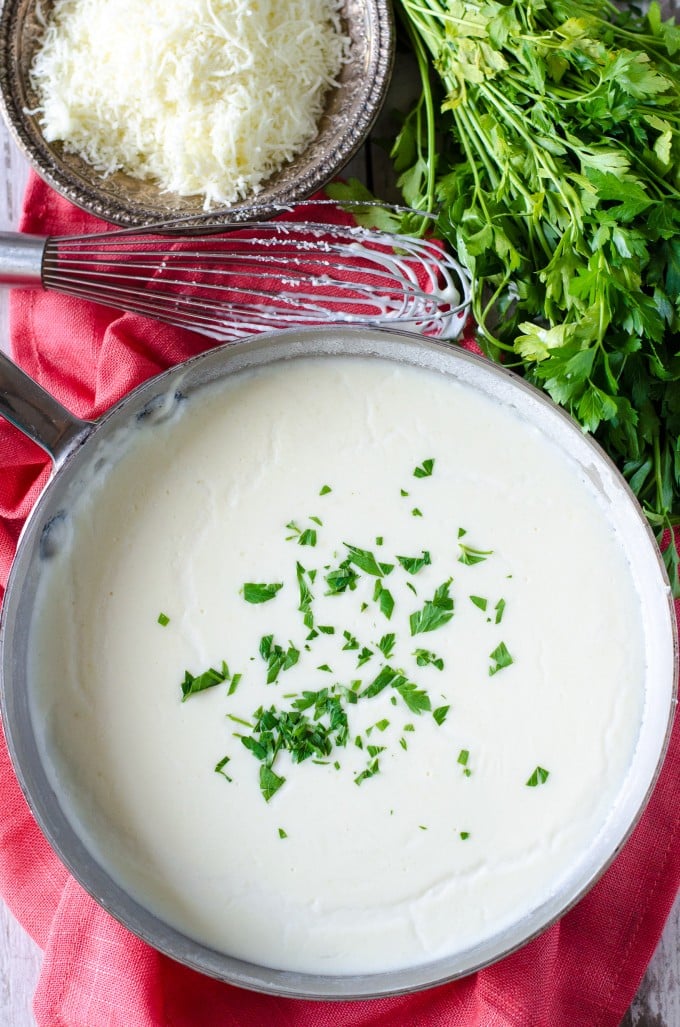 I love a good four cheese sauce. Or three cheese sauce. Or five cheese sauce. Or six cheese sauce. All depends on what I have in my fridge.
I like to put my best foot forward and present myself as though I know what the hell I'm talking about when it comes to food. Most days I feel like I do, but that's only because I've had my fair share of screw ups along the way. I evidently prefer to learn through negative experiences. I definitely had a VERY negative learning experience with this sauce.
A few years ago, even before I had Jonathan, I had had a delicious four cheese sauce at a restaurant, and it seemed like an easy enough thing to replicate at home. I figured all I had to do was melt cheese into milk and voila! A creamy, cheesy sauce would appear. So I grated some mozzarella, provolone, fontina and parmesan (probably $10-$15 worth of cheese), brought some cream to a simmer, and slowly added cheese. It seemed like it was going well initially- the sauce was getting thicker and I was seeing lots of stretchy cheese coming off my whisk. But suddenly, I realized it wasn't going well. At all. It looked thin and grainy and separated. I basically had fondue at the bottom of the pan with a layer of thin cream floating on top of it. It was unsalvageable. It went into the garbage and I think we ordered pizza.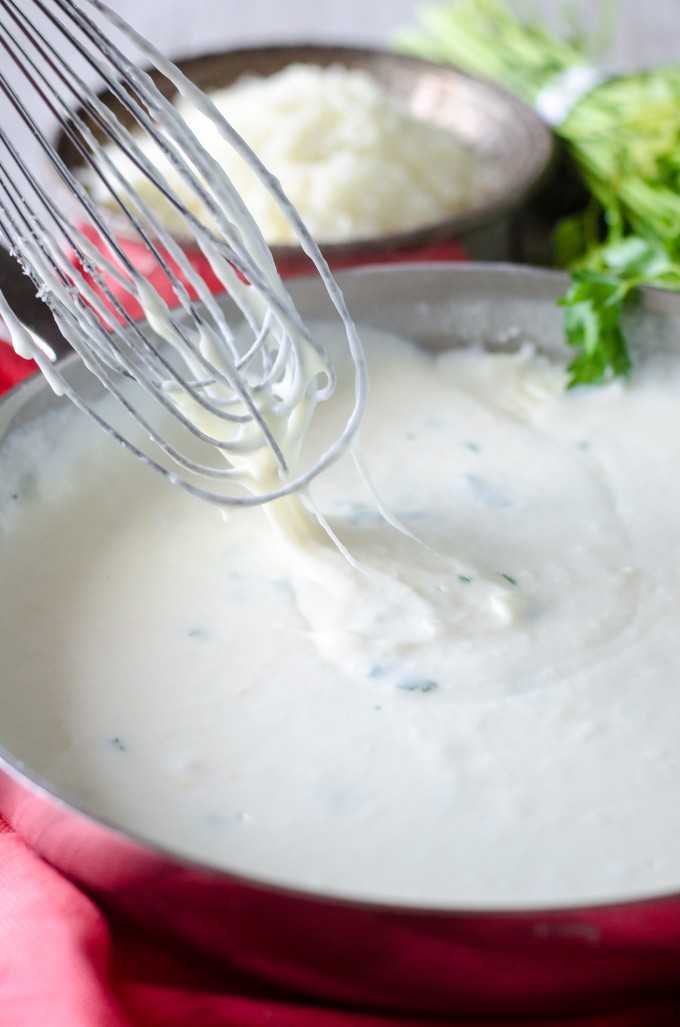 The concept behind successfully making this cheese sauce is the same as the creamy sauce in my Copycat Stouffer's Mac & Cheese– a roux based sauce with milk, also known as a beschamel. Then you slowly add in a mix of good melting cheeses (think mozzarella, provolone, fontina, romano, parmesan, etc) and whisk. Salt and pepper to taste and you're done! This sauce is divine over ravioli (guess what the next post is going to be!) I used to use individual blocks of cheese and shred what I needed, but lately I have been opting for the ready shredded bags of Italian blend cheese. Does the job and saves me time!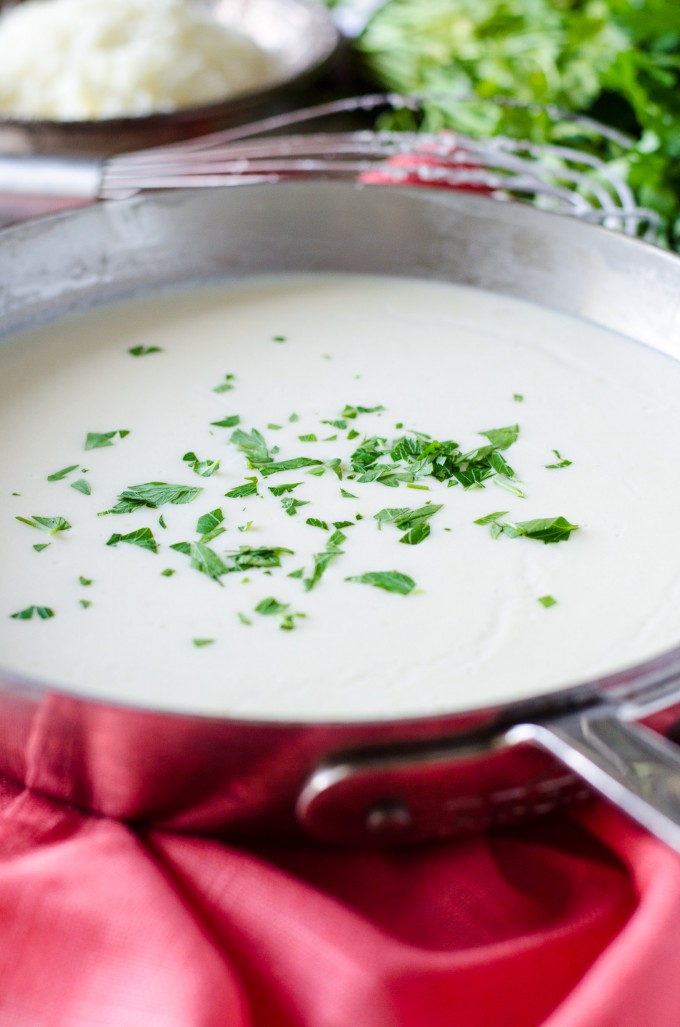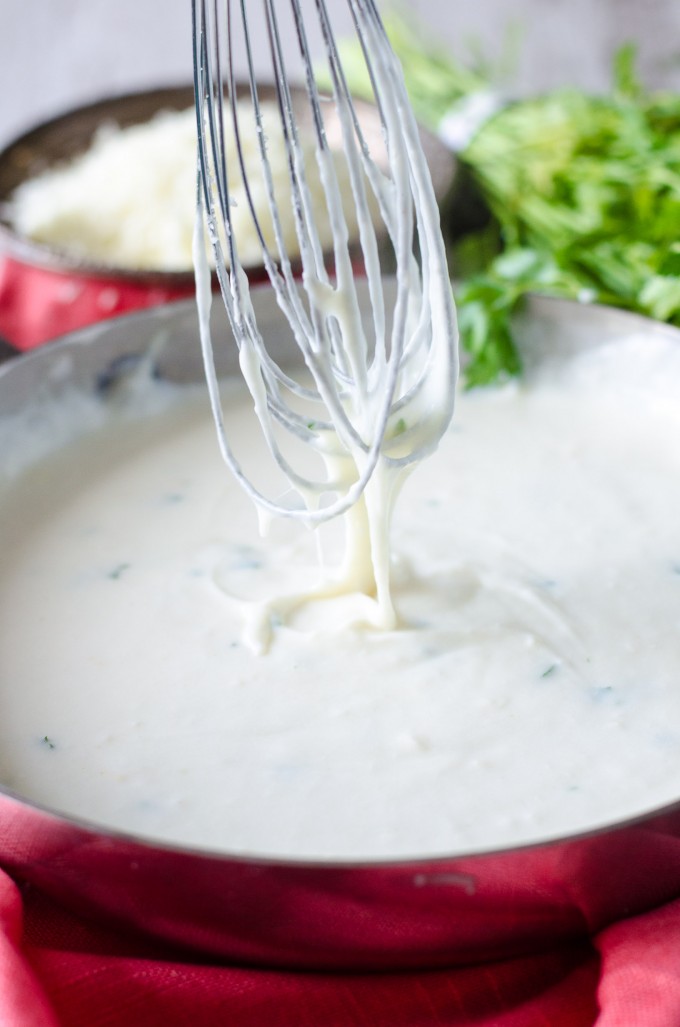 side note: You have no idea how hard it is to photograph a white sauce and make it look pretty. I failed miserably at making my Olive Garden homemade alfredo look as great as it tastes, then it went viral on Pinterest and I am still embarrassed every time I see the pin pop up. I was bound and determined to do it this time!
Four Cheese Pasta Sauce
Ingredients
3

T

butter

3

T

flour

3

cups

whole milk

1 1/4

cups

shredded Italian cheeses

salt and pepper
Instructions
In a saucepan over medium heat, melt the butter. Whisk in the floor and cook for 1-2 minutes.

Slowly pour in the milk, whisking constantly until no lumps remain. Bring to a simmer until the sauce begins to thicken.

Slowly add in your cheeses in 3-4 batches, whisking after each one and not adding any more until the previous addition is fully melted and incorporated.

Season to taste with salt and pepper. Serve immediately.