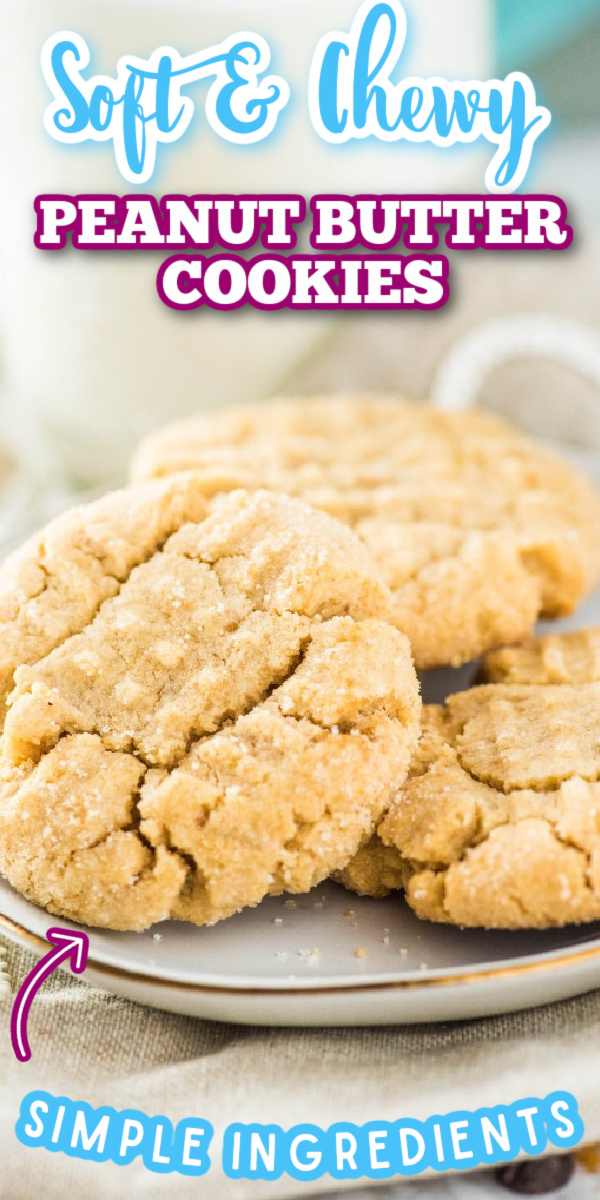 These soft peanut butter cookies are incredibly easy to make. Simple ingredients lead to a perfectly chewy homemade cookie!
I'm going with a new approach to writing this post for homemade peanut butter cookies today. It's called The Deadline Approach.
It pretty much entails me sitting in the bathroom supervising bath time while I write and saying to myself, "You are going to get the whole writing portion of this post done before you can get him out of the bath and put him to bed. So you better get moving."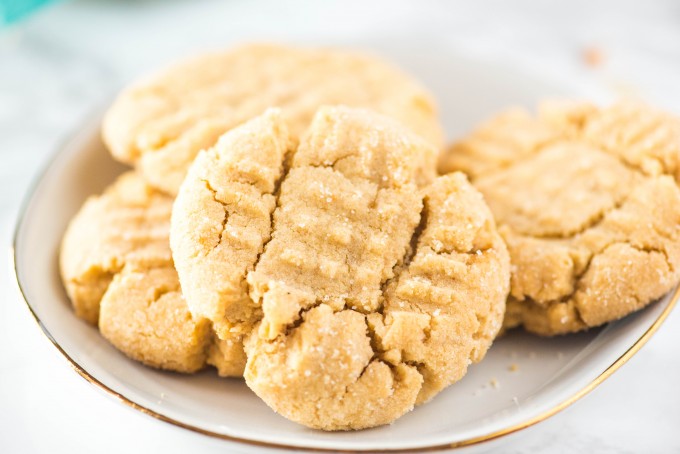 So far, its working, largely due to the fact that J LOVES to splash in the bathtub, so the sooner that I finish writing, the less chance that my laptop will suffer some sort of monumental water damage. There are already three droplets on my screen.
So on my marathon cookie making day last week, I weirdly got into the mood for peanut butter cookies. I asked Dave if he liked them, he gave me a weird look and said, "Uh, yeah!" because even though we have been together for EIGHT (!!!!) years now, I've never seen him eat one.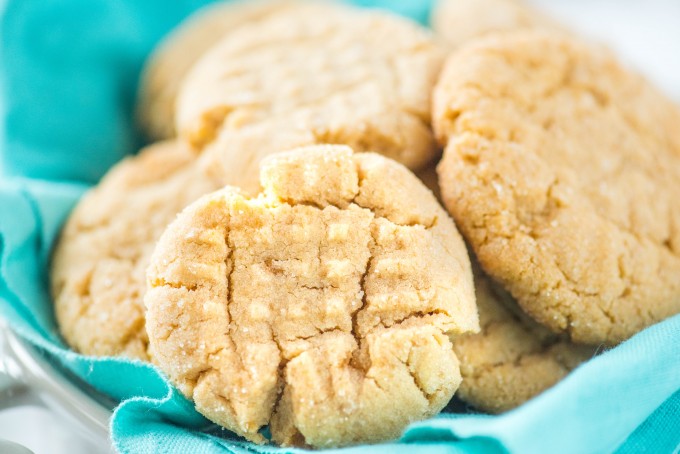 Eight water droplets on my screen and 2 on my keyboard.
So I set out making some peanut butter cookies. As we all know from my other posts on drop cookies (like my chocolate chip cookies and my M&M cookies) I am a soft cookie recipe girl, through and through. Luckily these turned out just as I wanted them to, luscious and super-soft.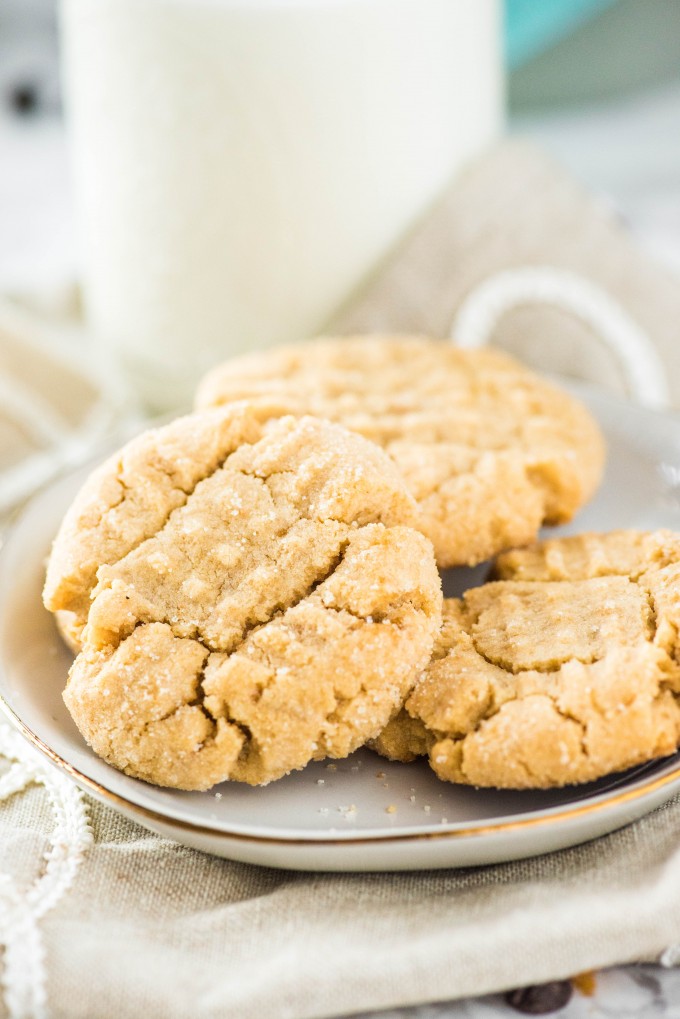 Funnily enough, back when I redesigned the blog, I had promised a batch of cookies to the friend that helped me. I sent him a message on Facebook, tell him that they were going to be shipped in the next day or two.
He asked if I took requests for blog recipes, and asked if I could do something with soft peanut butter cookies, because he couldn't find any that suited his whimsy in the grocery stores around him. I just started laughing and told him that he was going to be SUPER excited when he got his cookie box, because that was exactly what was in there.
Sometimes things just work out.
Twelve droplets. And I have to re-wash him because he colored on himself with a bath crayon. Still counting this as a win.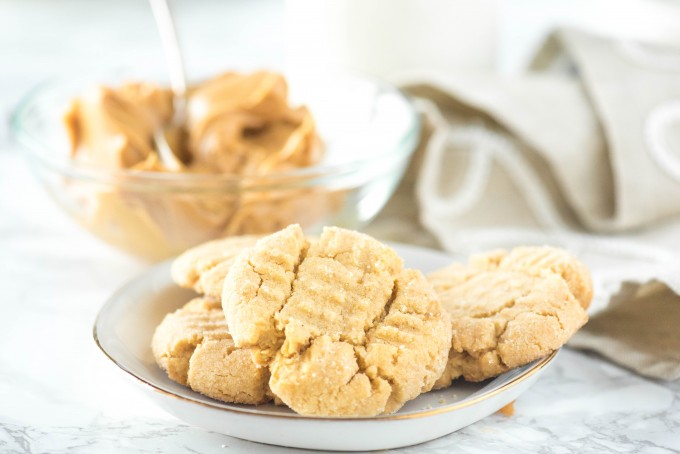 Equipment needed for making these Homemade Soft Peanut Butter Cookies:
[easyazon_link identifier="B0034A8C4O" locale="US" tag="gogogogo03-20″]Hand mixer[/easyazon_link] or [easyazon_link identifier="B00005UP2P" locale="US" tag="gogogogo03-20″]stand mixer[/easyazon_link]- unless you've got a hell of a set of arm muscles, an electric mixer of some sort is key for making cookies.
[easyazon_link identifier="B0049C2S32″ locale="US" tag="gogogogo03-20″]Cookie Sheets[/easyazon_link]. Obviously.
[easyazon_link identifier="B00Y5VO6HS" locale="US" tag="gogogogo03-20″]Silicone pan liners[/easyazon_link]- So your cookies don't stick to your baking sheet. I love these, but also am a fan of using plain [easyazon_link identifier="B006JCWGIC" locale="US" tag="gogogogo03-20″]parchment paper[/easyazon_link] if I just want to throw everything away at the end.
[easyazon_link identifier="B078763RYM" locale="US" tag="gogogogo03-20″]Cookie Scoop[/easyazon_link]- this set of three is great for whoever size cookies you feel like making.
Other recipes related to Peanut Butter Cookies:
Easy Soft and Chewy Peanut Butter Cookies
Ingredients
1

cup

butter

1 1/4

cup

peanut butter

1

cup

white sugar

1

cup

packed brown sugar

2

eggs

1

tsp

vanilla

2 3/4

c

flour

1

tsp

baking powder

1 1/2

tsp

baking soda

3/4

c

sugar
Instructions
In the bowl of a stand mixture, cream together the butter, peanut butter, and sugars.

Add the eggs, one at a time, then mix in vanilla.

Sprinkle the baking powder and baking soda over and mix in thoroughly.

Stir in the flour until the batter is evenly combined. Chill the dough for 1 hour.

Preheat the oven to 375 and spray cookie sheets with nonstick spray. Pour the 3/4 cup sugar Into a wide bowl or dinner plate.

Roll the dough into 1″ balls, roll in sugar, place on cookie sheet 1/2-2″ apart. Flatten each one slightly using a fork, making a criss-cross on the top.

Bake for 10-12 minutes. Allow cookies to cool on wire rack.
SaveSave
SaveSave
SaveSave
SaveSave
SaveSave