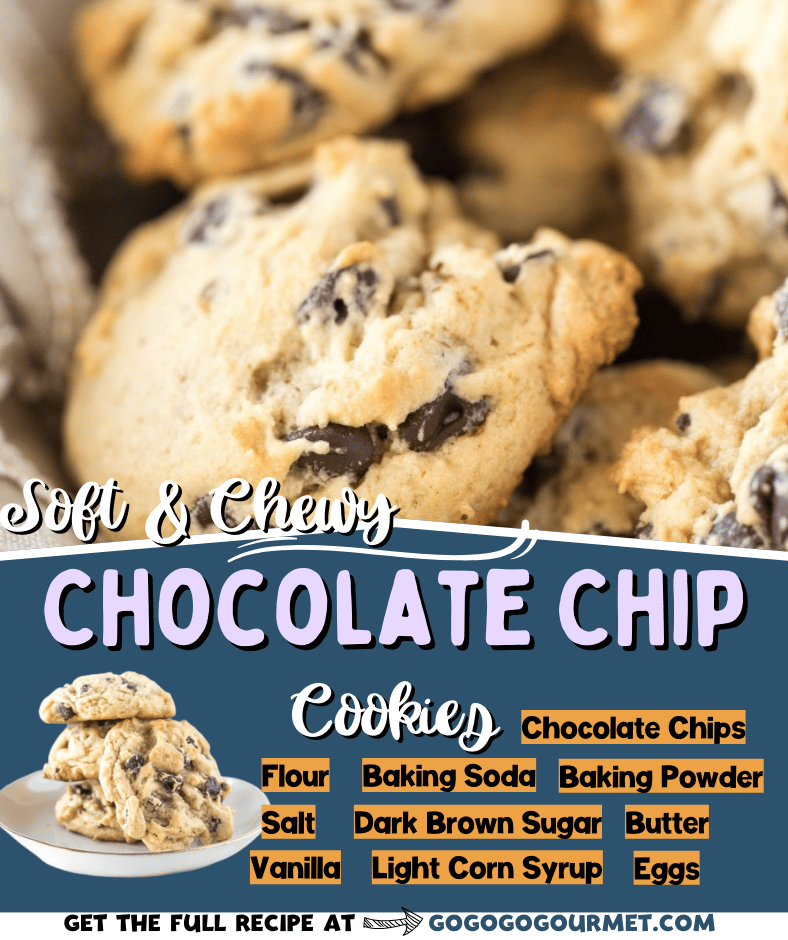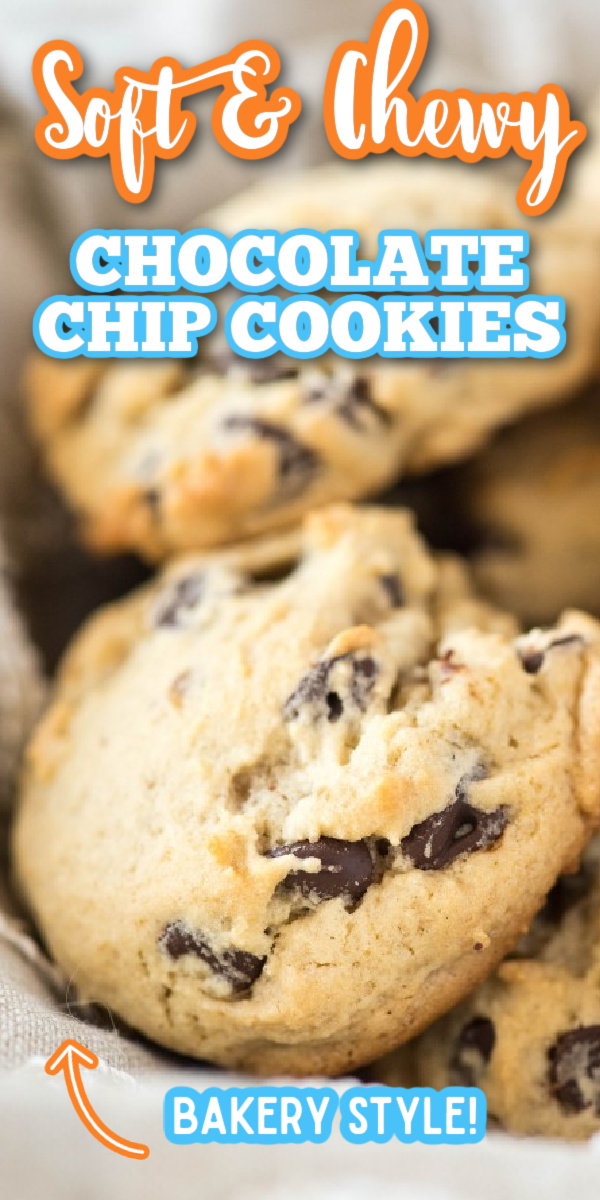 If soft and chewy are requirements for your favorite cookies, these Soft Chocolate Chip Cookies are for you!

Our family is all about chewy cookies, and these soft chocolate chip cookies are our absolute favorites! Loaded with chocolate chips, it's the best soft chocolate chip cookie recipe out there!
There is something about soft chocolate chip cookies that are profoundly comforting and perfect for sharing with people that you love. Recently I had the privilege of cooking for some wonderful friends of mine who just welcomed their third child last week (really I just used this as a ploy to get to see that adorable babe!).
Dinner is always nice with a new baby, so I made them a couple of dinners, and planned on making an orange-chiffon cake for dessert as well. I knew I needed powdered sugar, oranges, and cake flour from the store in order to make this happen.
When I got home from the store after work and realized that out of the three things I needed, I had somehow managed to only get powdered sugar. Excellent. Well done. On to plan B.
So I opted for soft chocolate chip cookies, which worked out for the best. In fact, the new-old father sampled one and said, "Oh my God. I want to get a glass of milk, but I know that means that I am making a commitment to at least three more of these."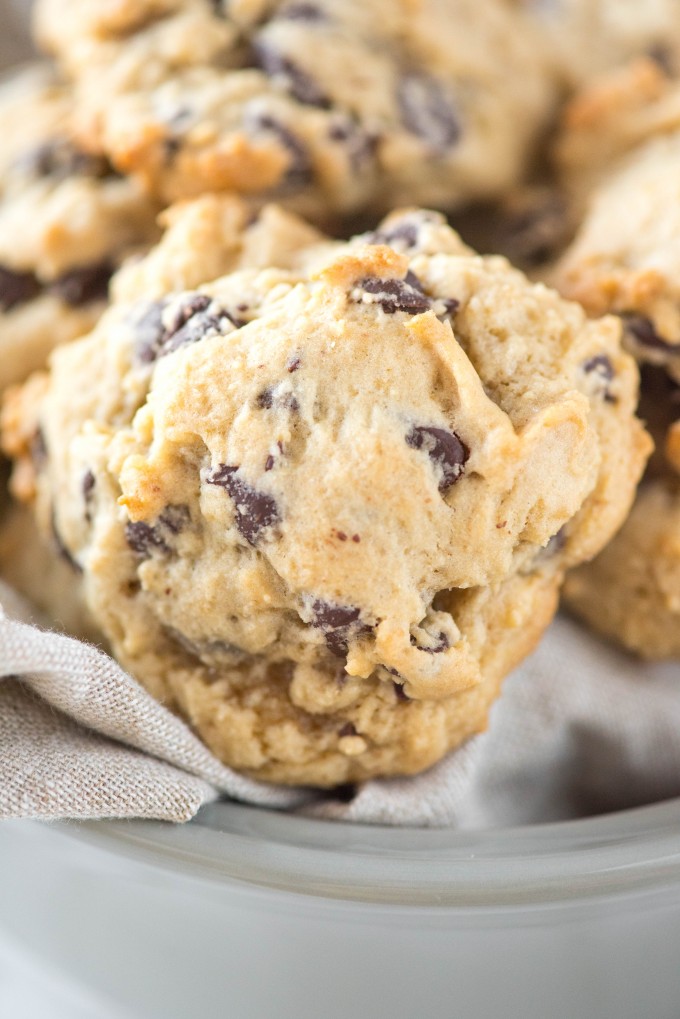 It was the second best moment of the day- the first was getting to snuggle an adorable newborn! I forgot how amazing brand-new babies are. I started reminiscing about the first few days with Jonathan and Michael, which only led to the realization just how fast he is growing, and how quickly the time is passing. Sad face.
I swear, sometimes finding the be-all, end-all recipe for something is a transcendent experience. We love soft chocolate chip cookies, and I find that most cookie recipes just don't turn out the way I like them- no matter how they are baked. I thought this recipe had promise– hell, it has "soft-baked" right there in the title!
That was ten years ago. I haven't used another recipe since.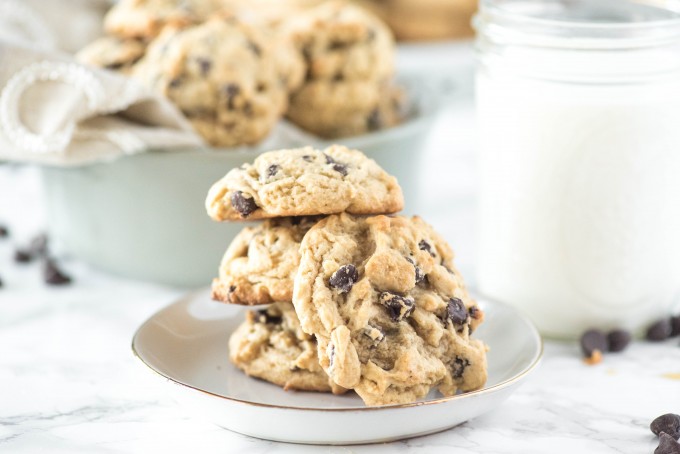 What you need to make these soft cookies:
Mixing bowls
Cookie Sheets
Parchment Paper or Silicone Pan Liner
Rubber Spatula
Other recipes like these Soft and Chewy Chocolate Chip Cookies:
Soft-Baked Chocolate Chip Cookies
Ingredients
2 ½

cups all-purpose flour

spooned and leveled

½

teaspoon baking soda

¼

teaspoon baking powder

½

teaspoon salt

1

cup packed dark-brown sugar

½

cup

1 stick unsalted butter, room temperature

¼

cup light corn syrup

2

large eggs

2

teaspoons pure vanilla extract

2

cups semisweet chocolate chips
Instructions
Preheat oven to 350 degrees, with racks in upper and lower thirds.

In a bowl, whisk together flour, baking soda, baking powder, and salt. In a large bowl, using an electric mixer, beat sugar, butter, and corn syrup until light and fluffy. Beat in eggs and vanilla. With mixer on low, gradually add flour mixture, beating just until combined. Fold in chocolate chips.

Drop dough by tablespoons onto two baking sheets, 2 inches apart. Bake until cookies are no longer shiny, 10 to 12 minutes, rotating sheets halfway through. Let cool 2 minutes; transfer to wire racks, and let cool.

Repeat with remaining dough.

(To store, keep in an airtight container, up to 5 days.)
Originally published April 2014.
SaveSaveSaveSave
SaveSave