Love making sugar cookie cutouts at Christmas, but hate the work? Make these Rice Krispie Treat Christmas Cookie Cutouts!
I think I am on to something with these Rice Krispie Treat Christmas Cookie Cutouts.
I love making Christmas cutout cookies every holiday season. David and I have an unofficial cookie decorating contest, which is really less of a contest and more of me painstakingly decorating cookies and David squeezing the bags too hard, getting pissed off and it turning into a big frosting covered mess.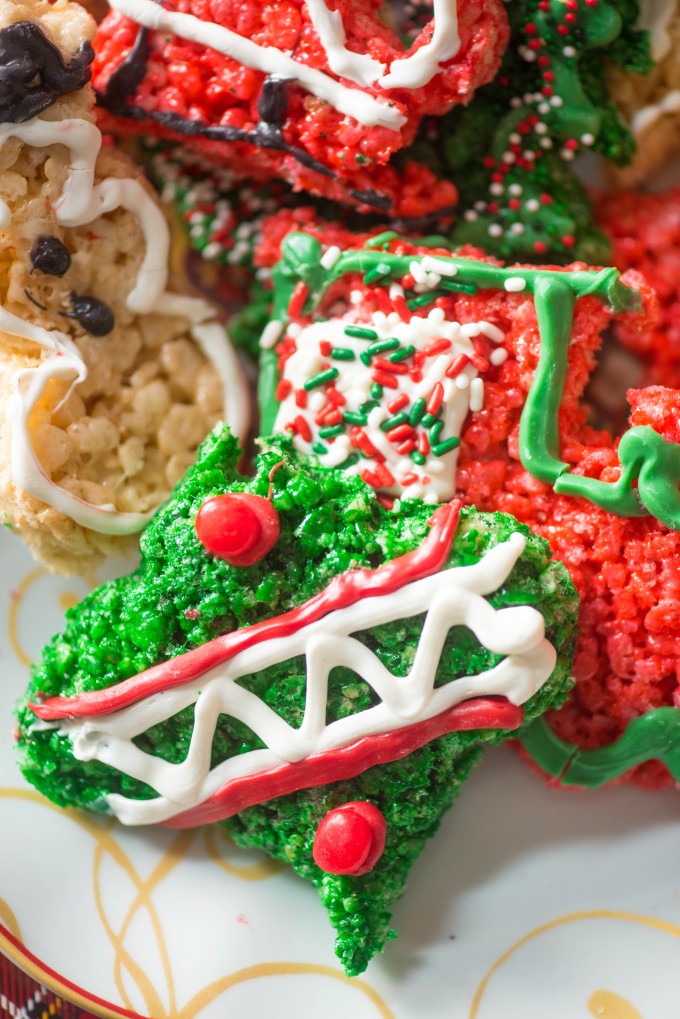 Its a great evening and I love it.
But let's face it. Cutout sugar cookies are kind of an ordeal. Mixing the dough, chilling it, rolling it out, cutting out shapes, baking, cooling, mixing up icing and decorating. Its a whole day event!
So this year, I came up with an easier way to get the same effect- why not scrap the whole cookie dough thing and swap in everyone's favorite no-bake treat- Rice Krispies Treats?!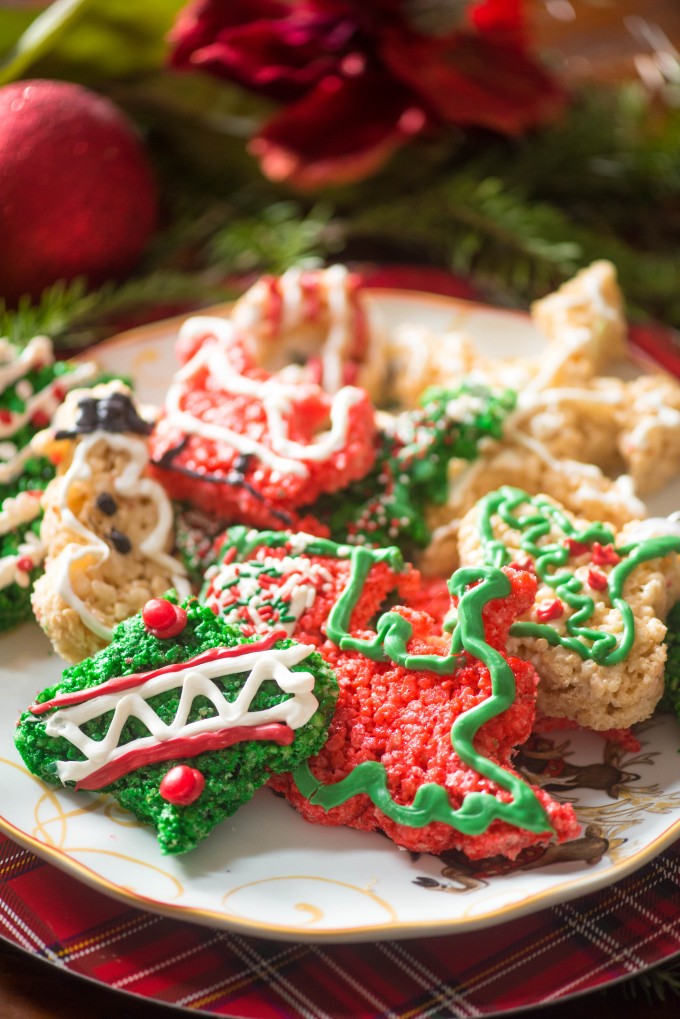 Five minutes to mix up, press them out and let them cool. Leave them plain white, or use food coloring to tint them green, red, yellow- anything you can dream up!
For simplicity's sake, I opted not to mix up frosting for decorating, but decided to use candy melts. Shockingly, this was a first time experience for me, and I was thrilled with how easy to use they were. I initially scooped them into small squeeze bottles, but decided that I thought they cooled and hardened a little too fast. To make it even easier (because that's the whole point of this, right?), I poured the melted candies into a snack-size Ziploc bag and snipped the corner off. It was way easier to dislodge any cooled bits, and the heat from my hands kept them from cooling so fast.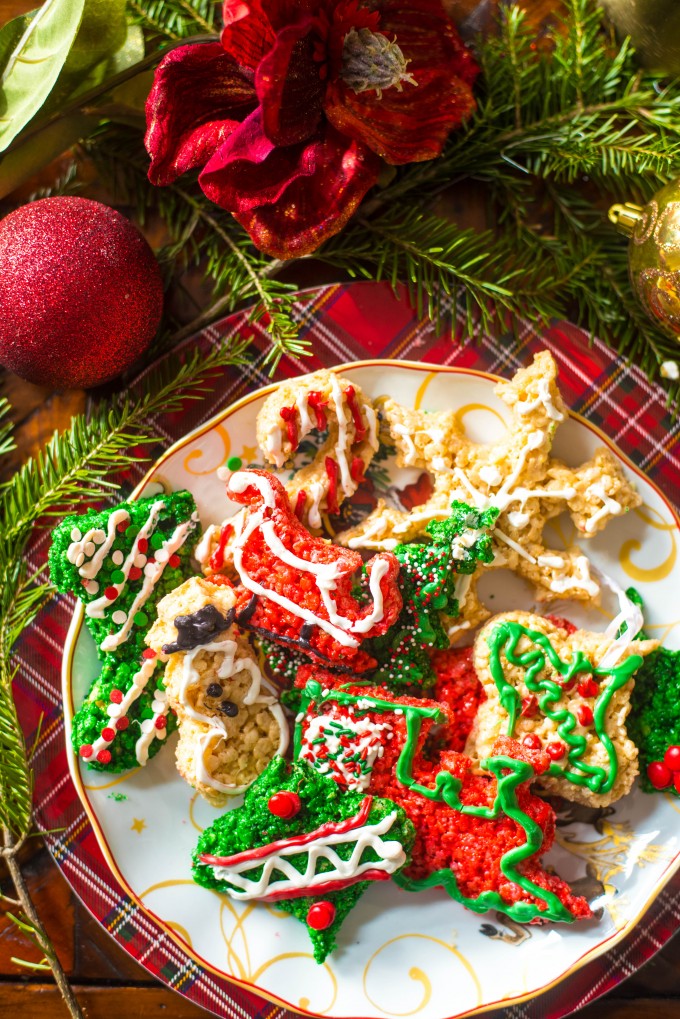 I love all my cookie cutters! I have a disgustingly large amount of them, the bulk of which are from Williams Sonoma. They have some really beautiful shapes that I've never seen elsewhere. But you can't go wrong with a classic set like these..
I even took this one step further and turned some of these into edible Christmas ornaments! Just punch a hole in the top of the cut out with a straw, then loop some festive ribbon through. Word to the wise though- if you do this, you need to let them get good and stale out overnight before you hang them. If you hang them too fast, the weight of the cutout will pull again the hole you punched, and they will stttrrrreeettttccchhhhh out before they finally break off and fall. Don't ask me how I found this out.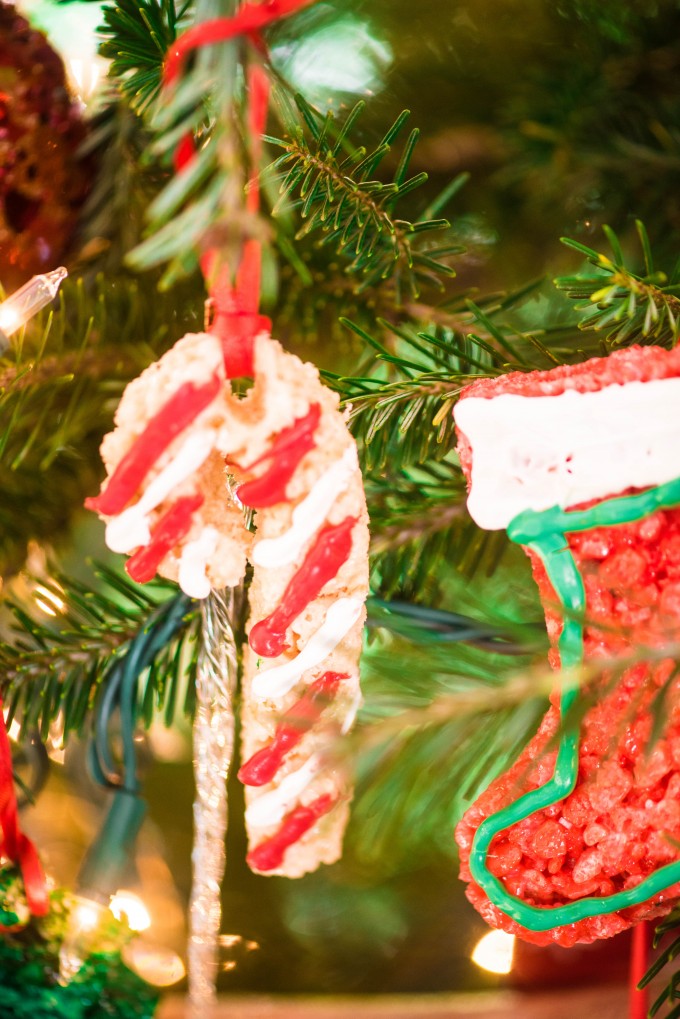 On an unrelated note, my dog really likes Rice Krispies Treats. [eyeroll]

Rice Krispies Treat Christmas Cookie Cutouts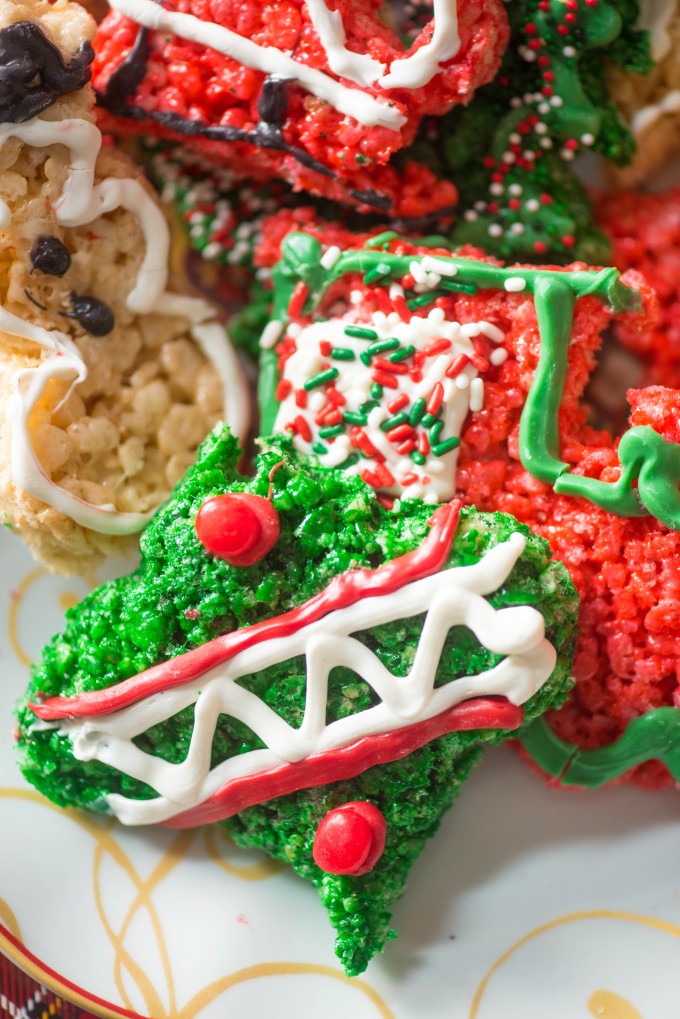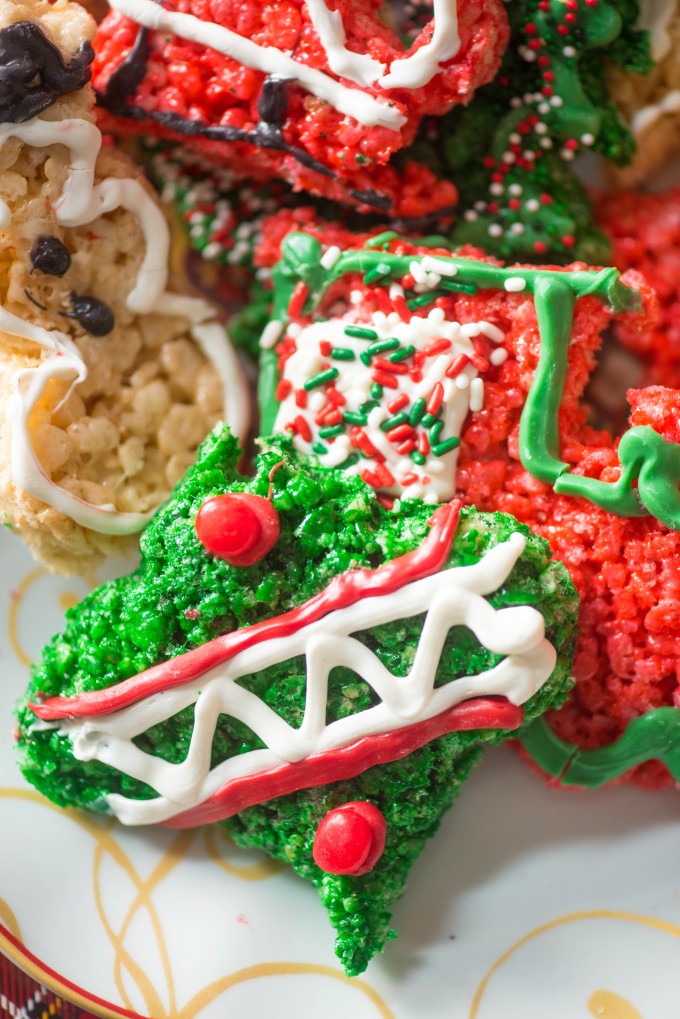 Ingredients
2 bags mini marshmallows
1 stick butter
10 cups Rice Krispies cereal
Assorted colors candy melts
Red and green food coloring
Directions
Place marshmallows and butter in a large microwave safe bowl. Microwave at 30 second intervals until fully melted. Carefully stir in cereal (you may need to divide this into two batches if you don't have a bowl big enough).
Divide mixture into thirds. Leave one third plain, then use red and green gel food coloring to tint the mixture.
Cut three sheets of paper, approximately the size of a cookie sheet. Working with one color at a time, press the mixture flat to a thickness of 1/2-3/4", using another sheet of parchment over top to help.
Use cookie cutters to cut out desired shapes, leaving the cutters in the Rice Krispie mixture. Peel the excess away from the cutters and gently push the shapes out of the cutters. Set aside. You can smush your scraps back together to make more shapes, you may need to re-warm in the microwave for 30 seconds.
In small microwave safe bowls, pour in the candy melts (I used red, green, white and black). Melt in microwave for one minute, stir, then at 30 second intervals until completely melted and no lumps remain. Spoon mixture into small Ziploc bags, Cut the tip of one corner off, but just enough to make a small hole.
Decorate cutouts , embellishing with sprinkles as desired.
To make ornaments: use a straw to punch out a hole in the cutout. Cut approximately 8 inches of thin ribbon and knot the ends together. Thread the looped ribbon through the hole and push the knotted end through the loop. Gently pull to tighten. Decorate as desired. Leave out overnight before hanging.
Recipe Notes
Loading nutrition data...