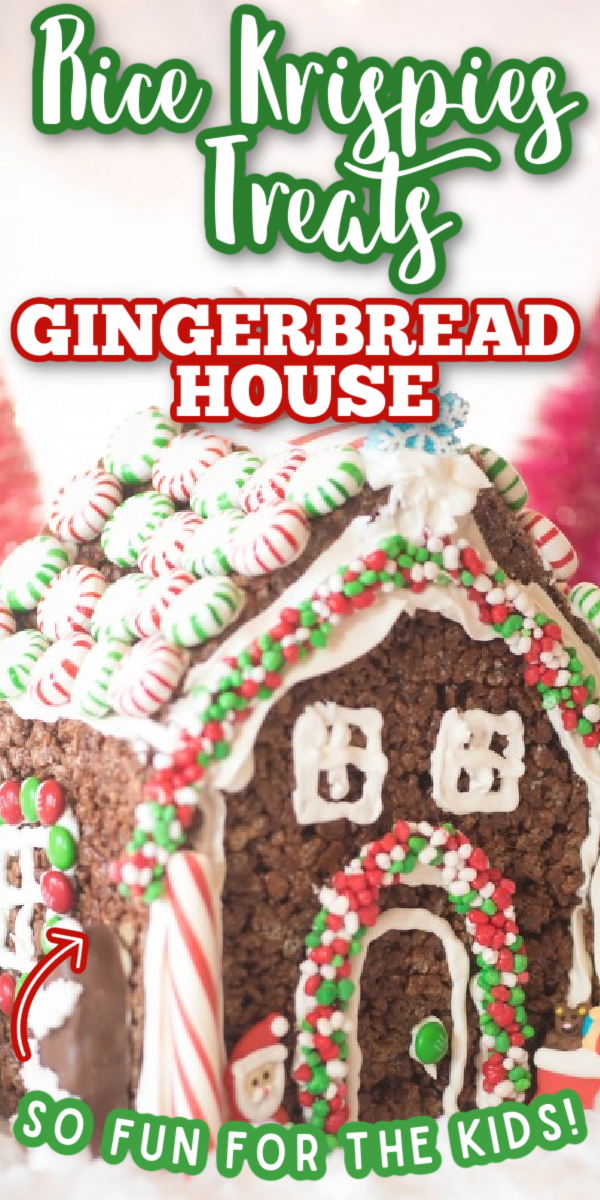 This Gingerbread House is a totally new way to remix a holiday favorite. This gingerbread house idea is made from Rice Krispie treats for added ease and no baking!
I have only made a gingerbread house once in my life.
As I tend to do, I went in at full speed in on a huge scale- I did a replica of our actual house.
What do you mean this is not entirely normal behavior?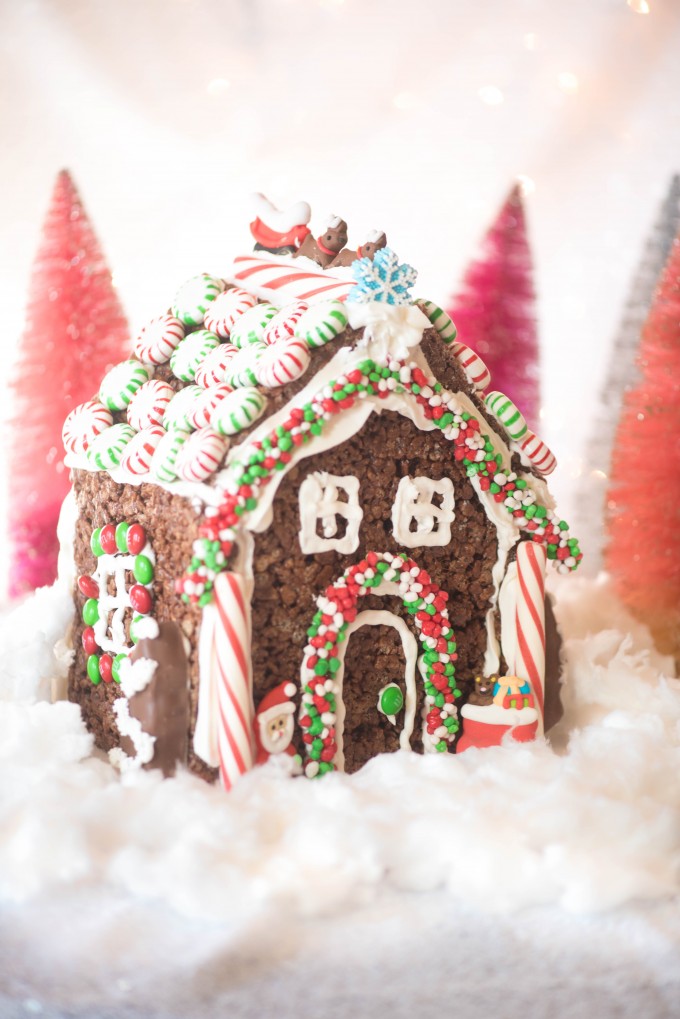 I actually still have the template pieces, I keep them in with all of my decorating tips and piping bag. Although I'm fairly sure I'll never make it again, it makes me happy to run across them from time to time, because even though we haven't lived there in four years now, that house still means a tremendous amount to me.
So anyway like I said, the real deal gingerbread houses are quite a bit of work. Between measuring, mixing, rolling, cutting, baking, cooling, mixing again, building and then decorating- it's an ordeal. A fun family project for sure, but definitely an ordeal none the less.
But this? This Rice Krispie Treat Gingerbread House (while yes, not really a gingerbread house) is so much simpler.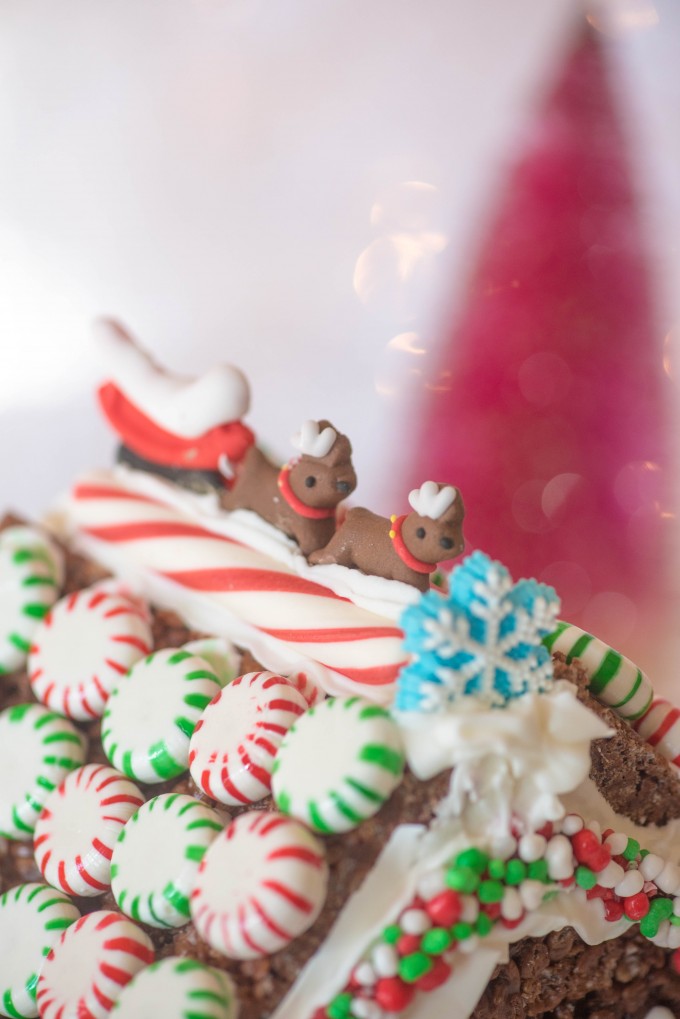 How to Make a Gingerbread House out of Rice Krispie Treats
There are a small handful of Rice Krispie Treat Houses on the web, but this one is different because it contains Cocoa Krispies and melted chocolate to give it a more authentic color. And even better than the real thing, there's minimal measuring, no baking, almost no chill time, and way less chance of breakage due to the marshmallow and chocolate, which give it great stability. I love the ability to roll it all out, lay my template on and easily cut my shapes out with a pizza cutter or sharp knife.
I left the backing paper on them from the template that I made, but only because I was concerned about the structural integrity. However, my fears were unfounded (I am pretty sure, can't be 100% certain). It's not like you're going to eat it anyway, so I guess it doesn't really matter.
To put everything together, I used a basic royal icing recipe (detailed below) with meringue powder, a piping bag, and a large 1M tip. I use soup cans or small jars; something heavy.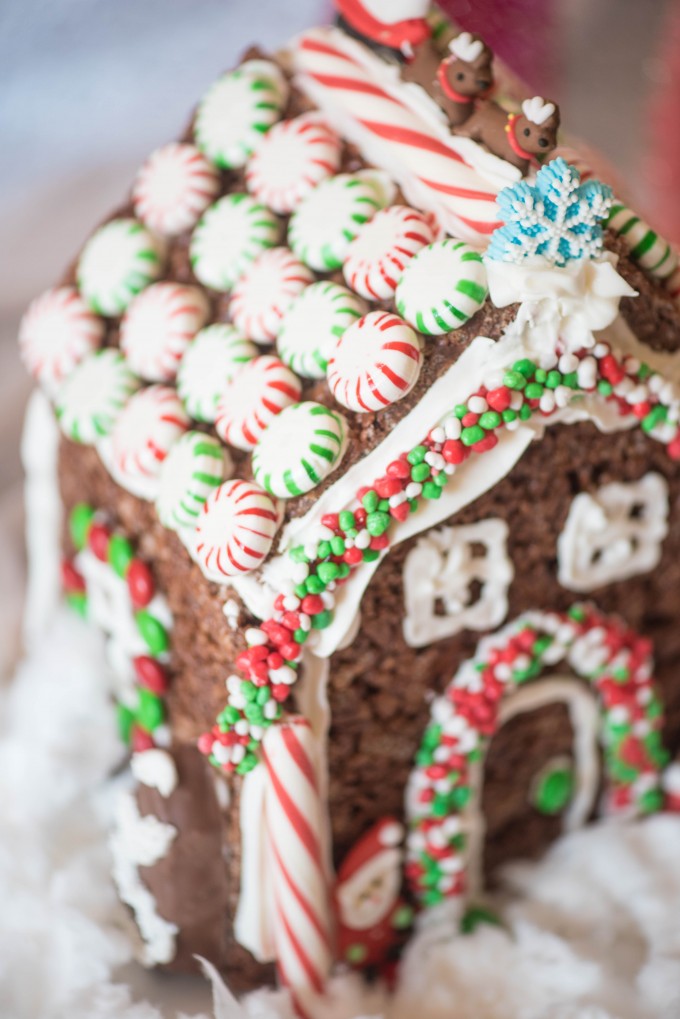 Best Gingerbread House Ideas for Decorating
Here is what I used to assemble and decorate this gingerbread house.:
Vanilla Snow Cotton Candy (for snow)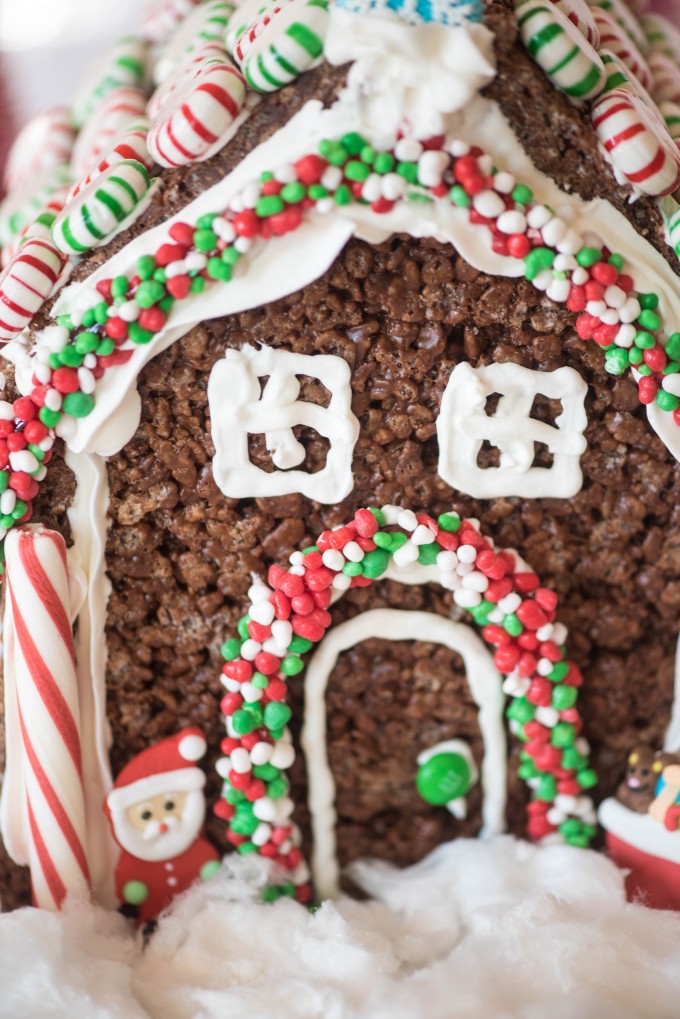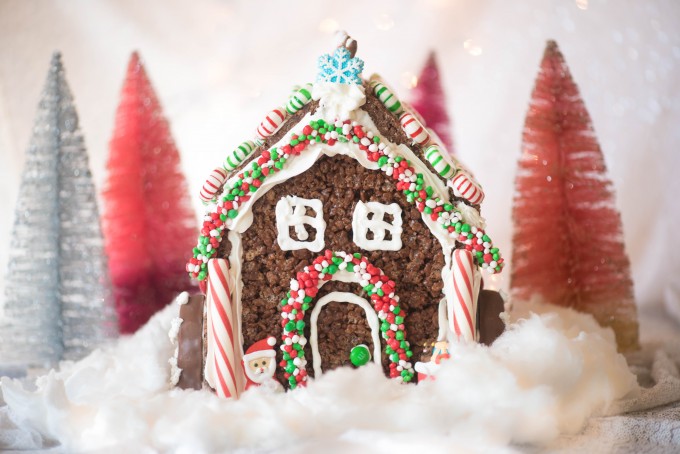 If you like this Rice Krispie Treat Gingerbread House, try these:
Rice Krispie Treat Gingerbread House
Ingredients
For the walls
6

tablespoons

butter

1 1/2

cups

semisweet chocolate chips

2 10

oz

bags mini marshmallows

9

cups

Cocoa Krispies
Royal Icing
3

tablespoons

meringue powder

4

cups

powdered sugar

6

tablespoons

water
Instructions
In a large microwave safe bowl, add the butter, chocolate chips and marshmallows. Microwave for 90 seconds, then whisk until combined and smooth. Immediately pour in the cocoa Krispies and gently stir until coated.

Lay out a piece of parchment paper, approximately 18" long. Turn the coated cereal out on to the parchment and cover with a second sheet. Use your hands to press out the mixture, then use a rolling pin to roll out to approximately 16"x15." Freeze for 15 minutes.

Fit the template pieces on the cereal and use a pizza cutter or sharp knife to cut out the shapes. Leave the paper backing on the pieces.

To prepare the icing: Add the meringue powder, powdered sugar and water to the bowl of a stand mixer. Run on medium speed for 8-10 minutes, until soft peaks form. Spoon into a piping bag and cut the tip off.

Optional: Fit a second bag with a 1M tip. Place the bag with the prepared icing inside the bag with the tip, being sure that the frosting bag sits snugly down.

Use the frosting to glue the house together as in the video- first the sides, and then the ceiling. Support the walls with canned goods while the frosting sets.

Use remaining icing to attach desired decorations.
SaveSaveSaveSave