This Sprinkle Cookie Recipe yields perfectly soft cookies with tons of colorful sprinkle! Great flavor and just the right amount of sweetness.
These Sprinkle Cookies are fun and delicious to make and eat!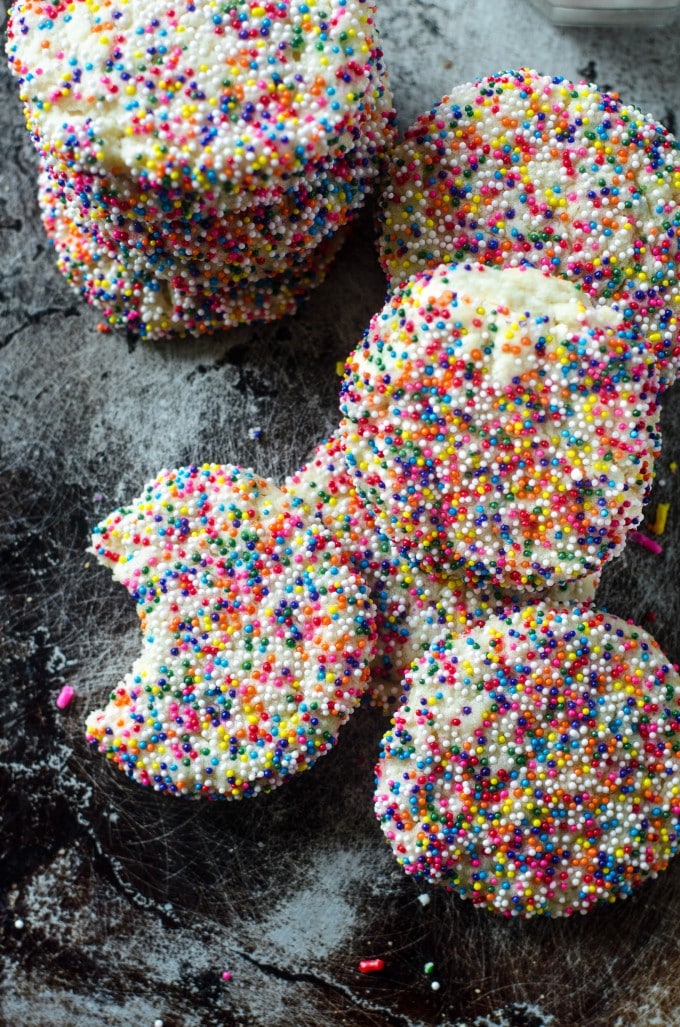 I have finally found something that makes grocery stores down here superior to what I left behind in Ohio. The three grocery stores that I cycle between down here all have freebies for kids- mainly in the form of cookies. Some have sugar cookies, others chocolate chip. But Publix? Publix has sprinkle cookies.
I don't know what it is with kids and sprinkles. I'm sure that I was like this when I was younger too, but Jonathan is just getting to the age where everything that has sprinkles on it is automatically superior in every way compared to the same item with no sprinkles. I mean, I get it. They're bright and fun and colorful. I assume they're probably made of sugar.
I couldn't believe it when Jonathan chose sprinkle cookies over chocolate chip cookies when we were grocery shopping, but he does 100% of the time now. But the other day, disaster struck. They were out of cookies. I'll let you guess what kind of World War III level of devastation was displayed by my three year old when that sort of life-altering information was doled out.
I figured that I better just learn how to make some freakin' sprinkle cookies.
So I Googled, and Smitten Kitchen came up. I have found that she pretty much knows what she's talking about, and I really didn't want to get into a whole "trial and error" baking session, so I used her recipe with some minor adaptations.
These were SO good. Pretty easy to mix up, Jonathan loved rolling the cookies in the sprinkles, and they stayed just soft enough. Jonathan loves them too, so now that we can have them at home, I'll have to find another way to keep him excited about going to the store with me. Maybe the balloons…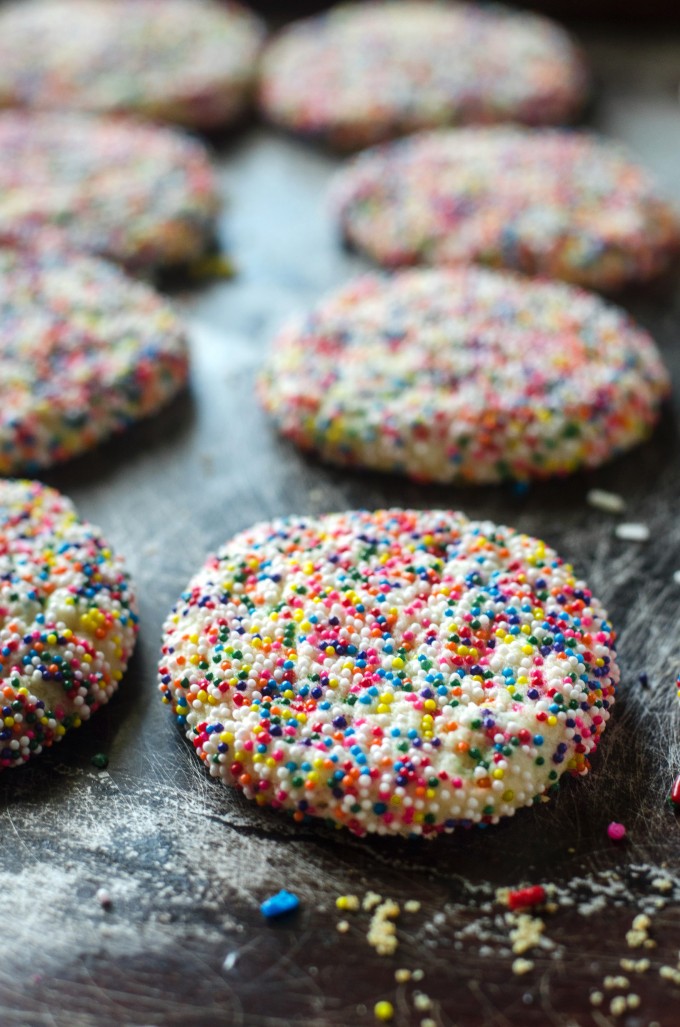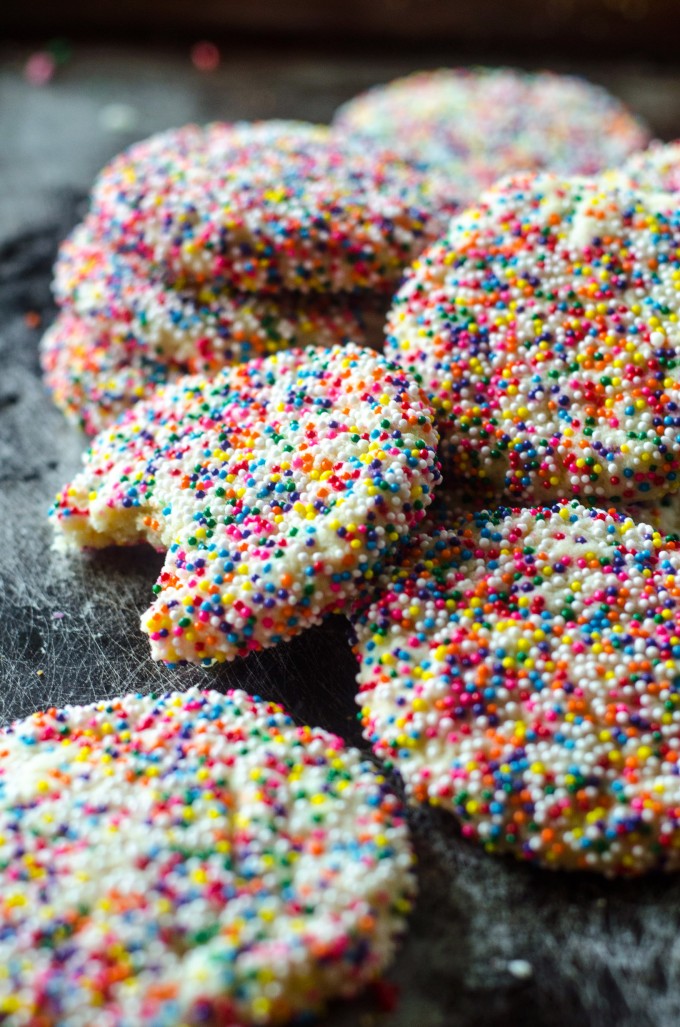 What you'll need for this recipe:
If you love these Sprinkle Cookies, try these out too:
Sprinkle Cookies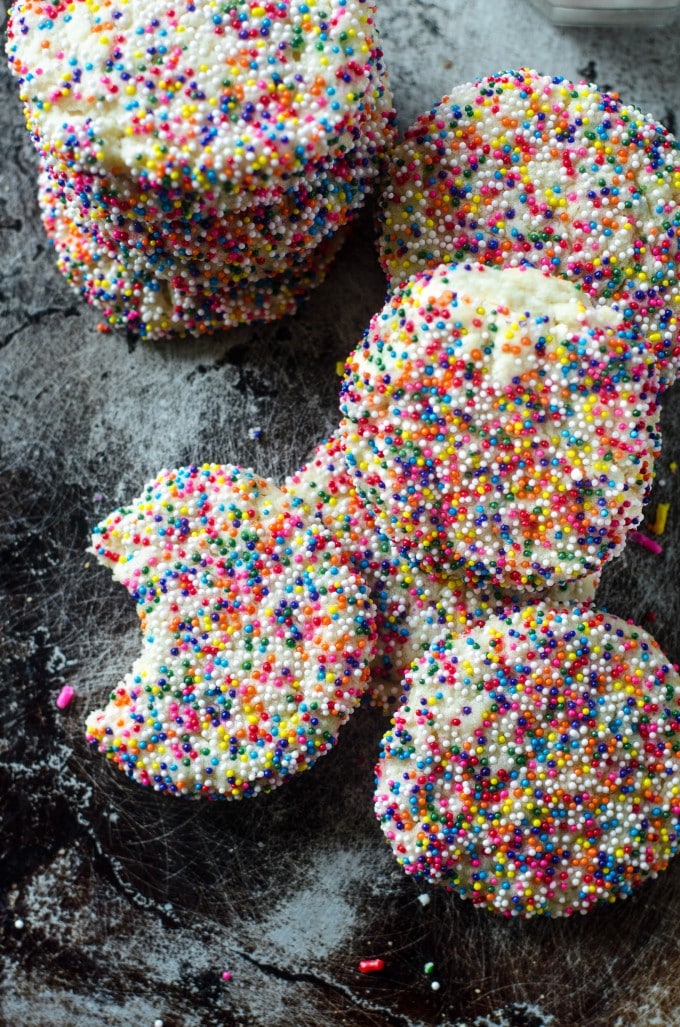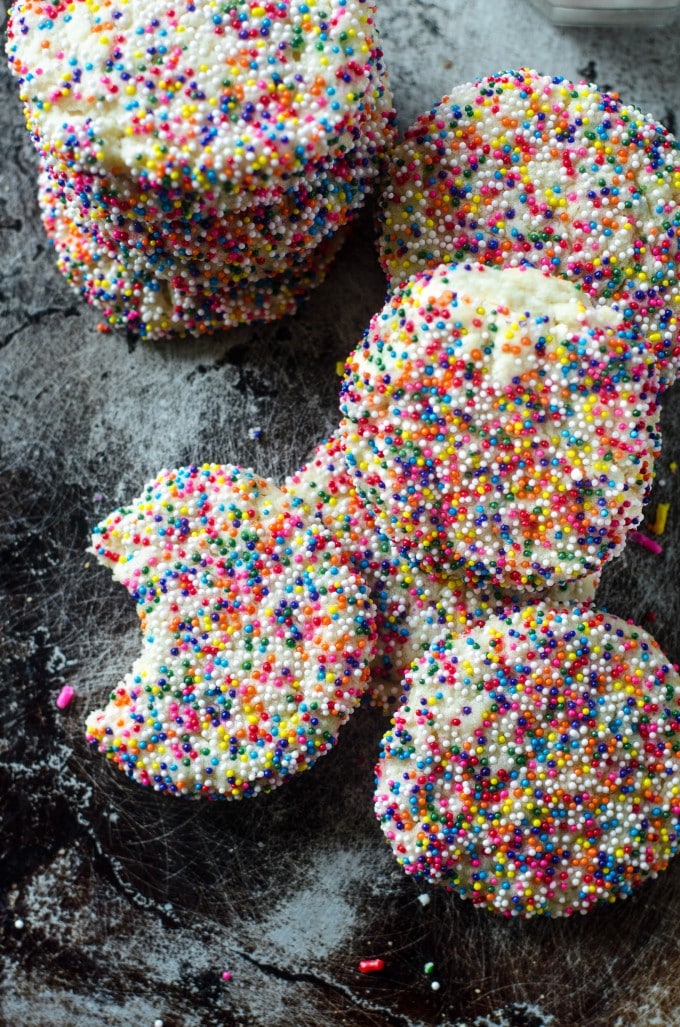 Ingredients
1 cup butter, room temperature
1 1/4 cups sugar
4 oz cream cheese
1 egg
1 teaspoon vanilla extract
1/2 teaspoon almond extract
1 teaspoon baking powder
1/4 teaspoons baking soda
1/2 teaspoon salt
3 cups flour
2/3 cup colored sprinkles
Directions
Preheat oven to 350F.
In the bowl of a stand mixer, cream together the butter and sugar until light and fluffy.
Add the cream cheese, egg and extracts, and beat together until mixed, scraping down the sides of the bowl occasionally.
Sprinkle the salt, baking powder and baking soda over top and stir in.
Mix in the flour until just combined.
Line two baking sheets with parchment paper and pour the sprinkles into a bowl. Scoop up a ball of dough (approximately 2 tablespoons of dough) and roll between your hands into a 1½"-2" ball. Roll the ball of cookie dough in the sprinkles to coat, then place on baking sheet.
Repeat with the remaining dough, spacing cookie balls approximately 2" apart. Use a glass to flatten the cookies until they are ½" tall.
Bake in preheated oven for approximately 10 minutes. Remove from oven and let cool on the sheet. Store in an airtight container.
Recipe Notes
Loading nutrition data...