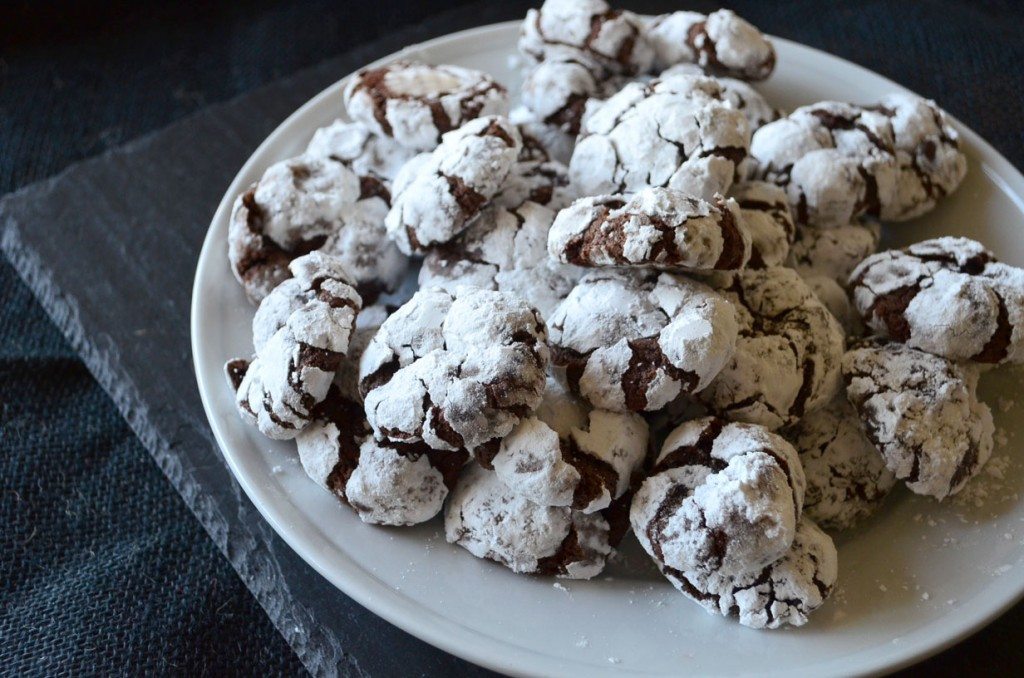 Sometimes the problem with "working ahead" is the fact that I have too many recipes/photos/posts to choose from. Case in point- this evening I was looking through photos for these cookies, peanut butter cookies, and a strawberry jam coffee cake, trying to decide which one I was going to write up first.
Jonathan was running around, being his usual lunatic toddler self, playing his favorite game of "bring canned goods from the pantry into the living room, accumulate a pile, then take them all back." We have learned to arrange the pantry so that only unbreakables are located on the bottom two shelves/can rack- it took a glass jar of spinach dip, a glass jar of olives and a cracked bottle of hot sauce for us to get this cemented in our brains. Bottom line is, its a pretty safe way for him to wear himself out and practice his stacking, so its kind of a "peripheral vision" activity.
Out of the corner of my eye, I caught him pushing a container across the tile floor. For 1.5 seconds, I didn't think anything of it. Then I noticed it was my Sam's Club sized container of cocoa. Then .03 seconds after that, the bottom of the container hit the edge of family room rug and tipped over. I'll let you guess for yourselves whether the lid stayed on, or whether Jonathan crushed the side of the container and popped the lid off.
Fun fact: it is not easy to vacuum cocoa powder out of a thick, IVORY shag rug.
I figured the universe was telling me to write about chocolate crinkle cookies. Also, the universe is kind of a jerk.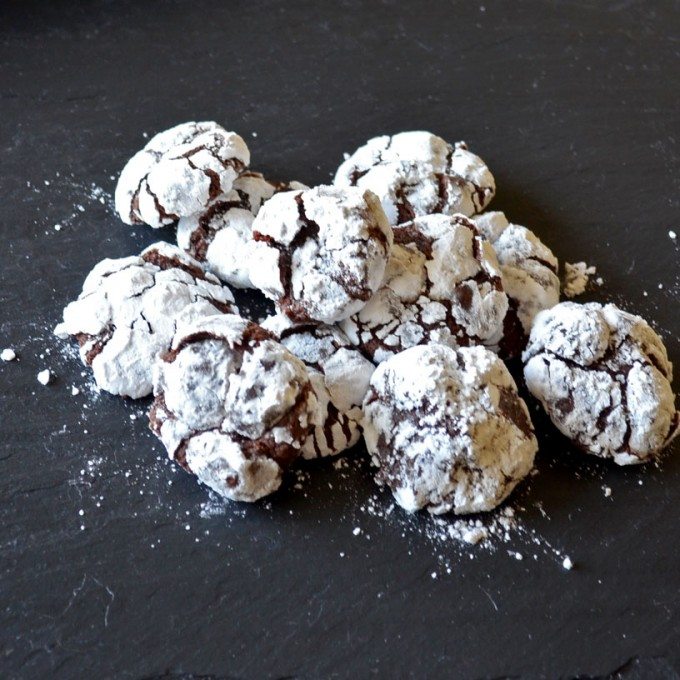 If you've never had the pleasure of biting into one of these, you are in for a treat. Growing up, a deli by my house used to make chocolate crinkle cookies just like these, and I LOVED them! Isn't it so funny how certain foods from your childhood just stick into your mind like that? Imagine biting into a fudgy brownie, but it was bite sized and covered in powdered sugar. Aaaaand that it was a cookie. That's pretty much the experience here.
I found this recipe on Allrecipes and thought that I would give it a go. It didn't disappoint.
So the cocoa spot is still somewhat there, but I'm scared to put liquid on it! So if anyone has any tips for me on effectively getting it all up (other than Spot Shot carpet cleaner, which is about the best thing ever) without staining it, I would sure love to hear them!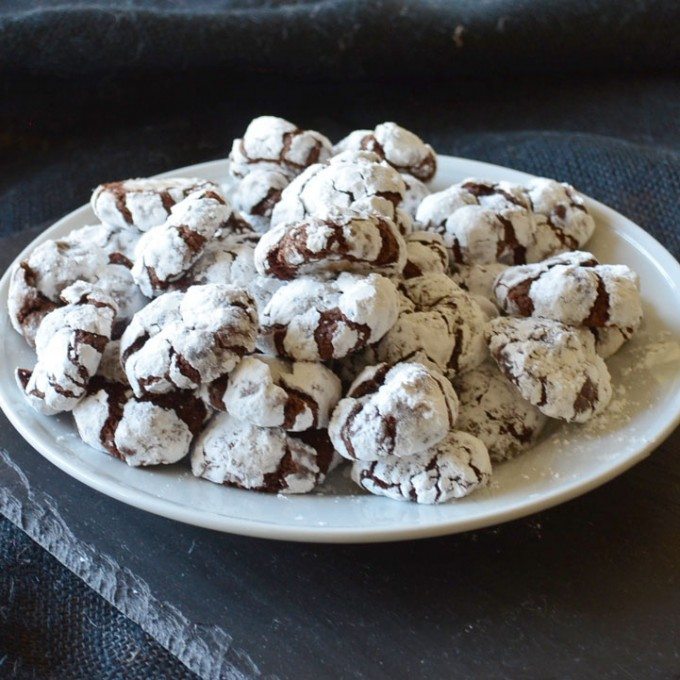 Chocolate Crinkle Cookies
Author:
Ingredients
1 cup unsweetened cocoa powder
2 cups white sugar
1/2 cup vegetable oil
4 eggs
2 teaspoons vanilla extract
2 cups all-purpose flour
2 teaspoons baking powder
1/2 teaspoon salt
1/2 cup confectioners' sugar
Instructions
In the bowl of a stand mixture. beat together the cocoa powder, sugar, and oil with the mixture on medium speed.
Beat in the eggs, one at a time. Add in the vanilla.
Sprinkle the baking powder and salt over the mixture and stir in. Then add in the flour and stir together until evenly combined.
Divide the dough in half. Place each half on a plate, flatten out to about 2″ thickness, and put it in the freezer for about 45-60 minutes.
Preheat the oven to 350F and spray 2-3 cookie sheets generously with nonstick spray.
Spread 3/4 cup confectioner's sugar on a plate. Using spoons or a cookie scoop, roll the dough into 1″ balls and roll them in the powdered sugar. Place them on the prepared cookie sheets spaced 2″ apart.
Re-roll any of the early cookies that have cookie showing through- you want the cookies to be completely coated.
Bake the cookies 10-12 minutes, and allow to stand on the cookie sheets for another 3-4 minutes after coming out of the oven. Let cool on racks to cool.