These Samoa Rice Krispie Treats are reminiscent of your favorite Girl Scout cookie! With coconut, caramel and chocolate, you just can't go wrong!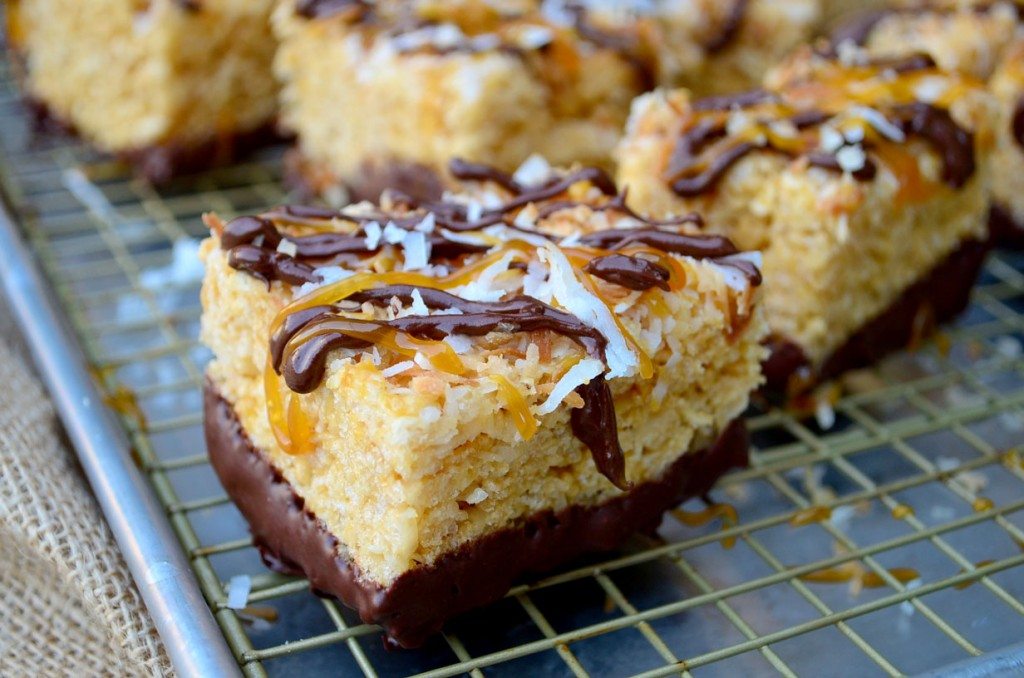 I'm going through a period where I keep having different ideas pop into my head randomly. This is a relatively new thing for me; I don't usually have a hard time coming up with dishes that I want to make and share with all of you, but to have a multitude of original ideas pop into my head is a new concept that I'm really enjoying.
As I was standing in my pantry the other day, I caught sight of all the Girl Scout cookies that we haven't even begun to yet eat. For whatever reason, a vision of a rice crispy treat, laced with caramel and coconut and dipped in chocolate popped into my head.
A Samoa Rice Krispie Treat!
I thought that they could either be really amazing, or wayyyyy too sweet. I'm happy to report that they are amazing, and very sweet – definitely don't cut a 9 x 9 pan into nine squares. There's a reason that those Samoa Girl Scout cookies are so small!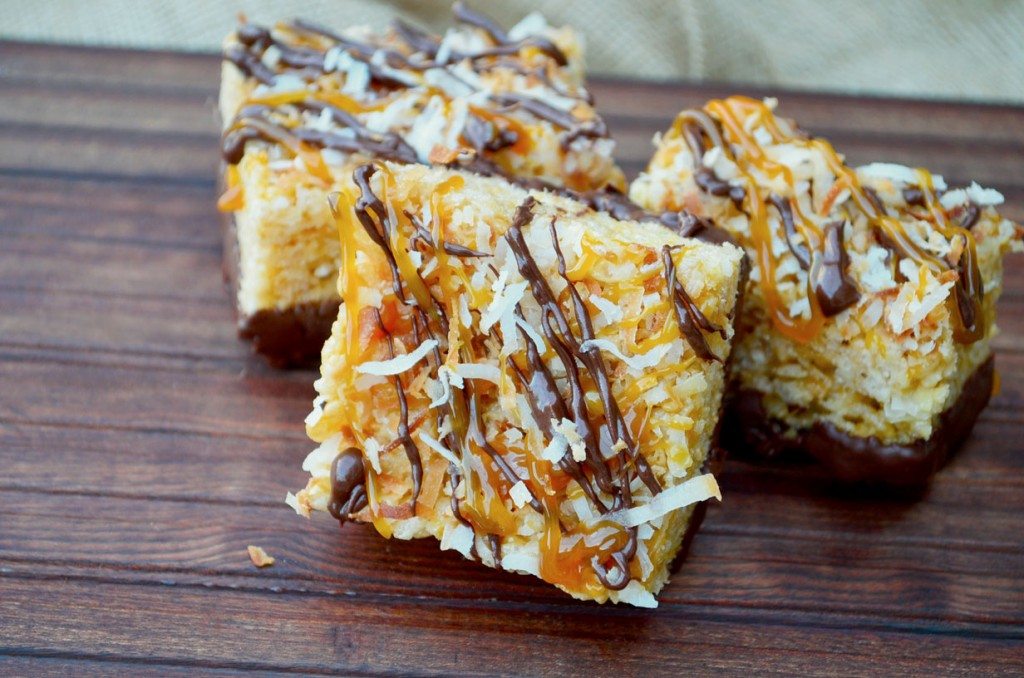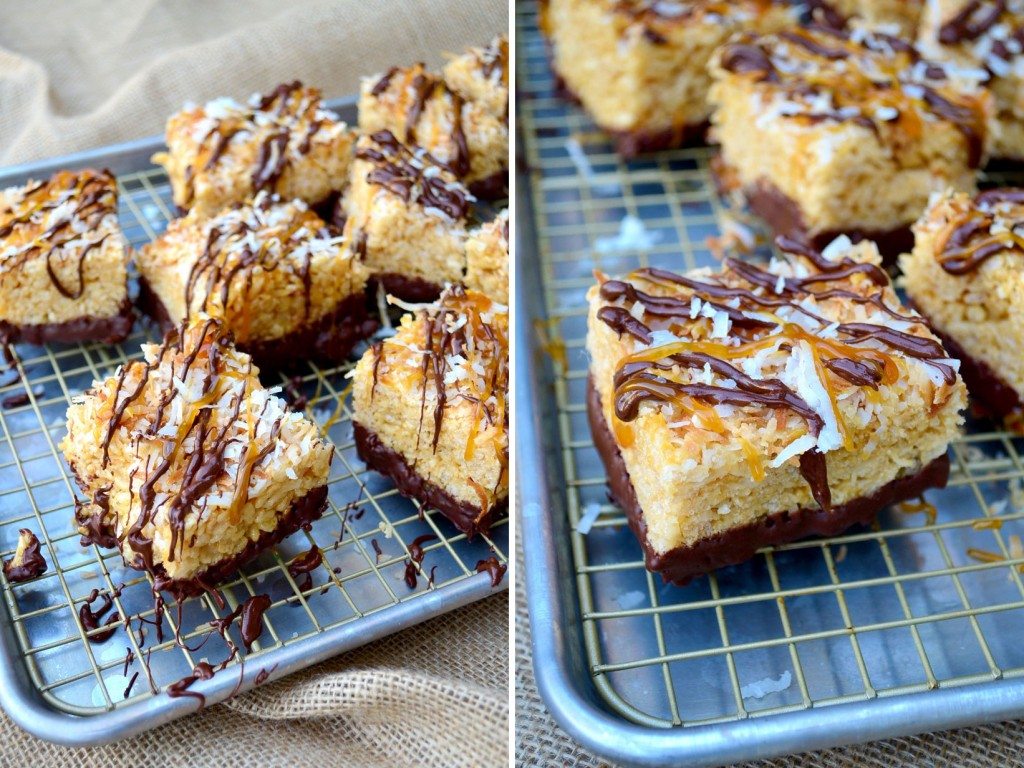 I also actually had never made Rice Krispie treats from scratch before (I know, I know…shh…) and I learned a couple of important lessons: One, when beginning to stir the marshmallow mixture into the Rice Krispies, do not stir vigorously. The cereal will fly everywhere, your dog will excitedly run around you trying to eat all of them before you have the ability to clean them up. You will still end up with a lot of cereal to clean up. Two, do not leave the sauce pan that you use to melt the butter and marshmallows together in the sink for a couple of hours, thinking that you'll just "come back to it later." Marshmallows and butter evidently melt together to create an impenetrable film that renders it necessary to go back on the stove to remelted. Lesson learned.
I also was planning on making caramel (carmel?) for these and wasn't particularly looking forward to it. I was gathering all of the ingredients out of the fridge, and was even beginning to heat up my cream. Then, way in the back of the fridge, I spied a container of caramel apple dip. Genius. I'll heat that up and not screw with all of this. Bam! Done.
These turned out really well, and I think that they are just beautiful to look at. Jonathan absolutely loves them- In fact, he somehow managed to swipe one off the counter and was walking around with it last night. I have no idea how it was a able to get one off of a cake stand on top of the counter, but I guess when you want something that bad, you always find a way!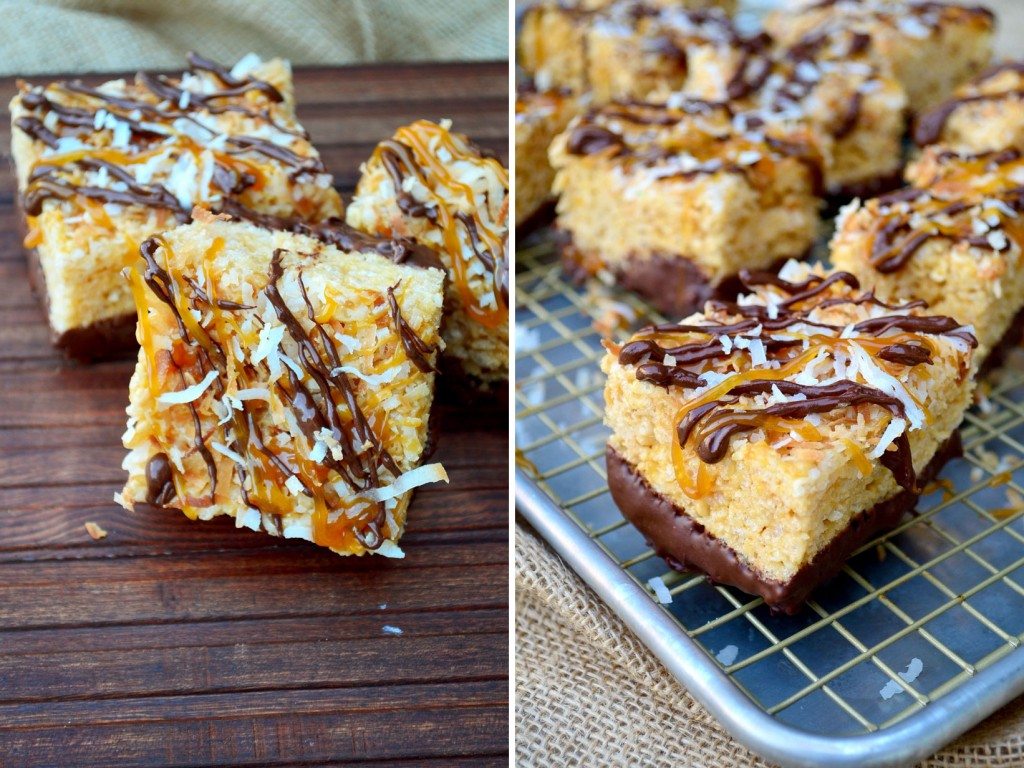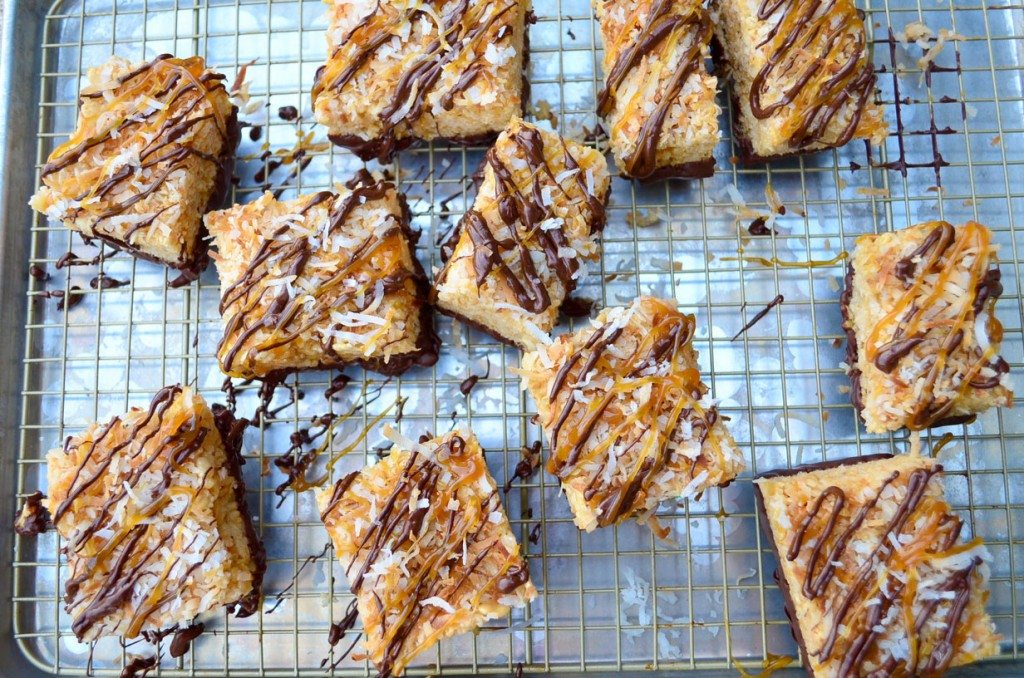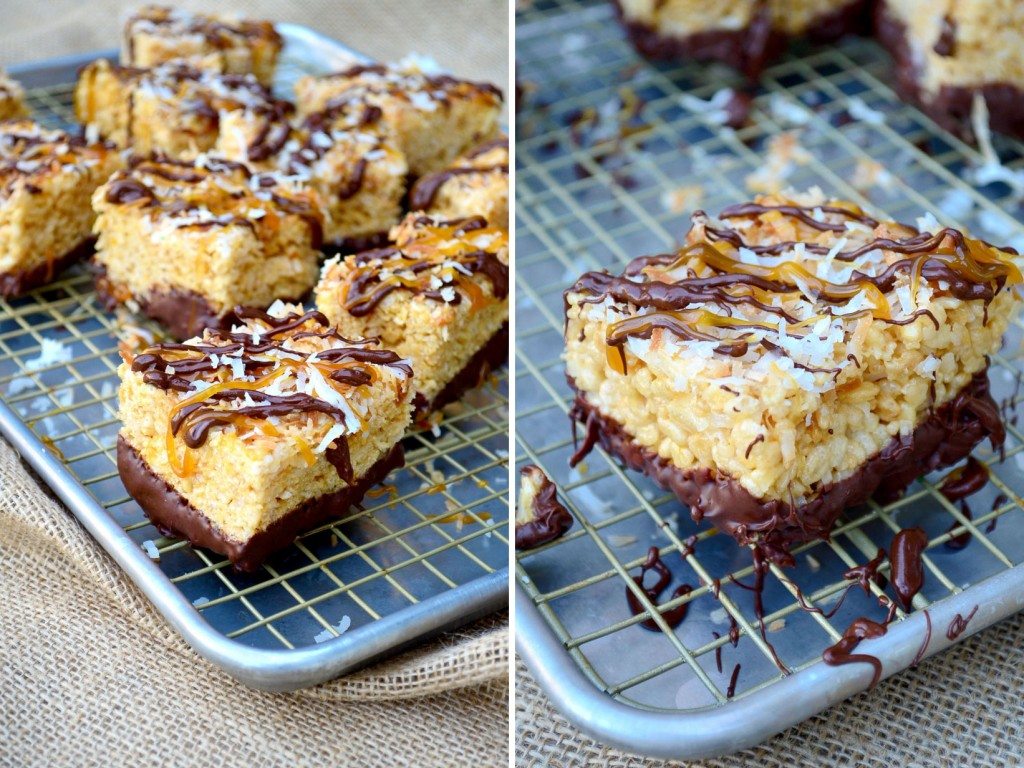 If you liked these Samoa Rice Krispie Treats, check out these other easy rice krispie treat recipes:
Samoa Rice Krispie Treats
Ingredients
5

cups

mini marshmallows

4

T

butter

6

cups

Rice Krispies cereal

2 1/4

cups

coconut

divided

8

oz.

caramel apple dip

1

cup

chocolate chips

1

T

shortening
Instructions
In a saucepan over medium low heat, melt the butter and marshmallows together.

Toss together 1 1/2 cups of coconut and the cereal together in a very large mixing bowl.

Pour the marshmallow mixture over the cereal, gently stirring and folding the mixture together.

Place the caramel apple dip in the microwave for 30-45 seconds, until warm enough to pour. Fold in 3/4 cup of caramel. Shoot for having swirls of caramel through the treats, but realize that it will probably just end up fully incorporated.

Press the treats into a 9x9 pan, using a sheet of wax paper to keep them from sticking to you.

Toast the remaining 3/4 cup coconut on a baking sheet in the oven/toaster oven. Press it onto the surface of the Rice Krispie Treats, shaking off and reserving any that doesn't stick. Allow to cool.

When cool, cut into 12-15 squares. Melt chocolate and shortening together in the microwave (30 second intervals, stirring after each one) until no lumps remain. Dip the bottom of each treat into the chocolate, then allow to harden on a cookie sheet chocolate-side up. You can slide the tray into the refrigerator to speed up the process if desired.

Pour the rest of the chocolate and the rest of the caramel into two small Ziplock bags, reheating if necessary. Snip the corners so there is a small hole. Flip the bars right-side-up, and drizzle the melted chocolate and caramel over the top. Garnish with any remaining coconut and serve once the chocolate drizzle has hardened.