This Mushroom Burger is smothered with a layer of caramelized onions and mushrooms, sandwiched between two layers of cheese and aioli! The best mushroom and swiss burger!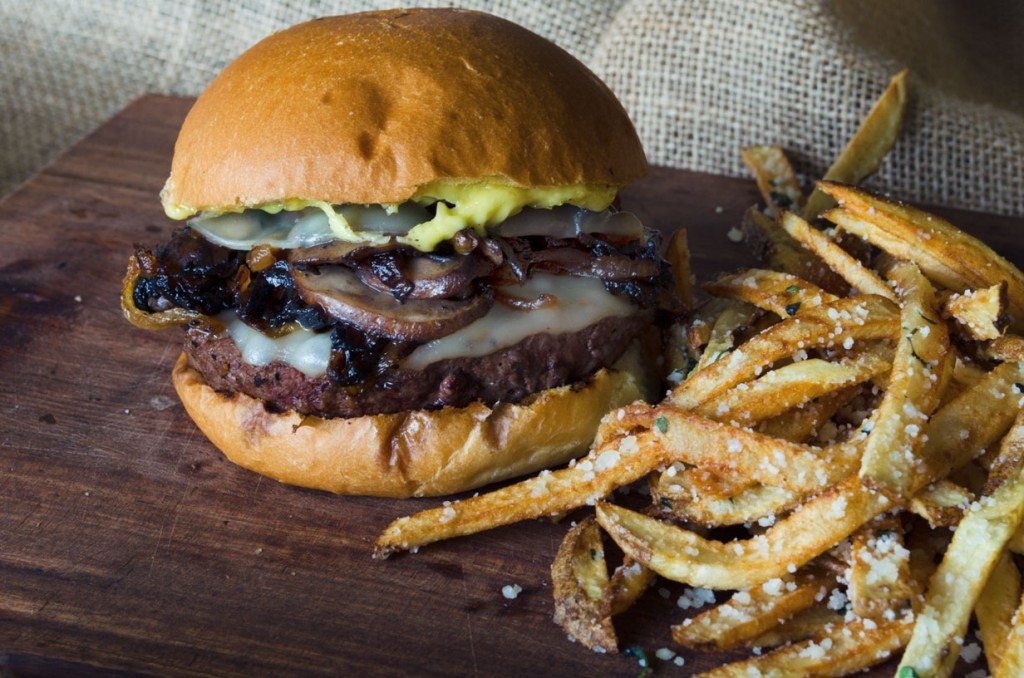 This post has practically written itself- talk about a comedy of errors.
I just got back from some much needed R&R with my family down in Florida Keys. It was wonderful to relax and unwind and unplug a little bit for a week, but I knew that I had this burger to make it and photograph upon my return. I already knew exactly what I wanted to do, as this is one of my favorite burgers.
To me, there are few things as delicious as biting into a juicy, medium rare mushroom burger with melted provolone cheese and caramelized onions- bonus points if there's a garlic aioli on there too. So on Monday, I did the expected post-vacation grocery store trip. I was thinking about all the things that I needed to make this – namely, ground chuck and hamburger buns. Onions are always in the house, as well as the ingredients to make aioli.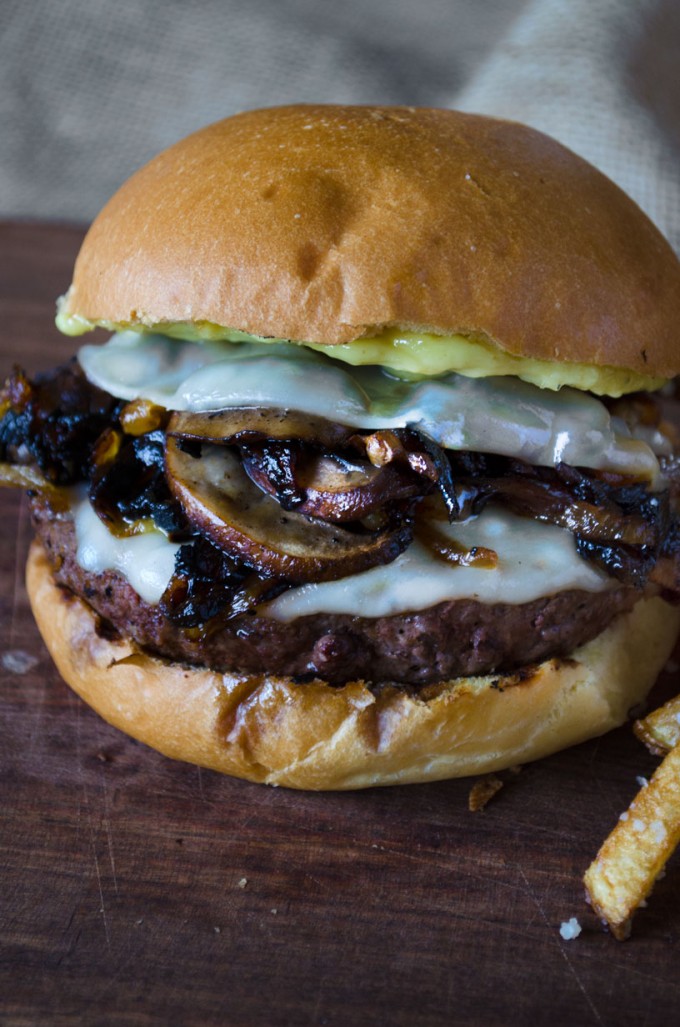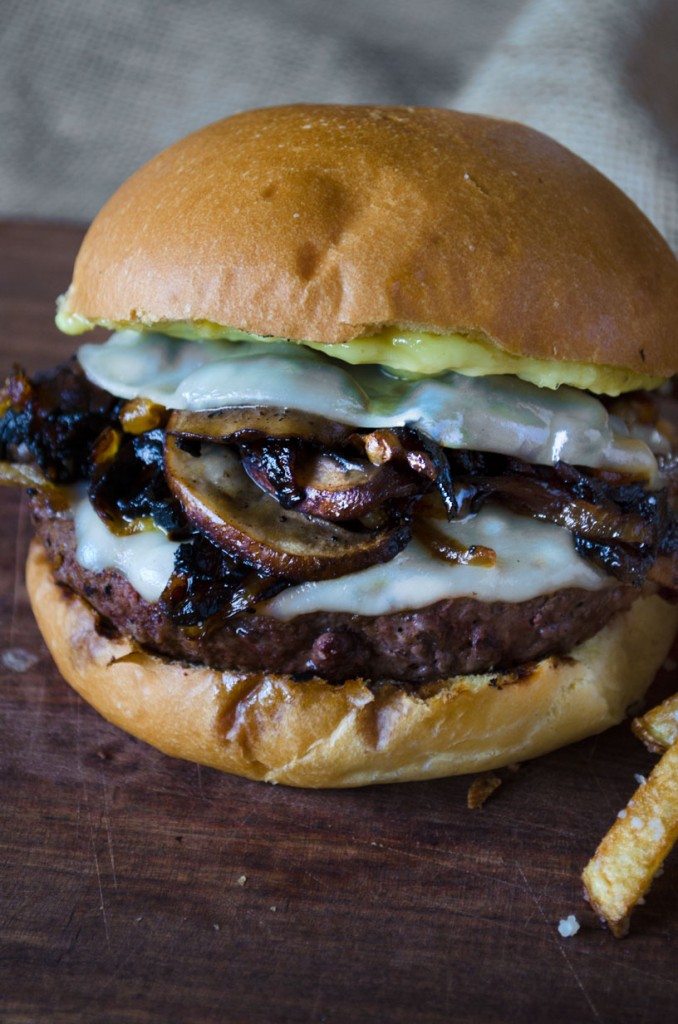 I got home, threw everything in the fridge, laid Jonathan down for a nap, and set out making my aioli. For those of you who aren't in the know, aioli is a garlicky mayonnaise. It's made by puréeing together lemon juice, egg yolks and garlic, then sloooowwwwlllyyyyy adding in oil to achieve a creamy emulsified dressing.
Let me tell you what didn't happen- a creamy emulsified dressing. This thing looked more like Italian salad dressing than anything else.
I did a quick Google how to fix a broken aioli and it said to beat another egg yolk in a separate bowl and slowly whisk in the broken dressing.
I did that. It didn't work. I cursed a lot.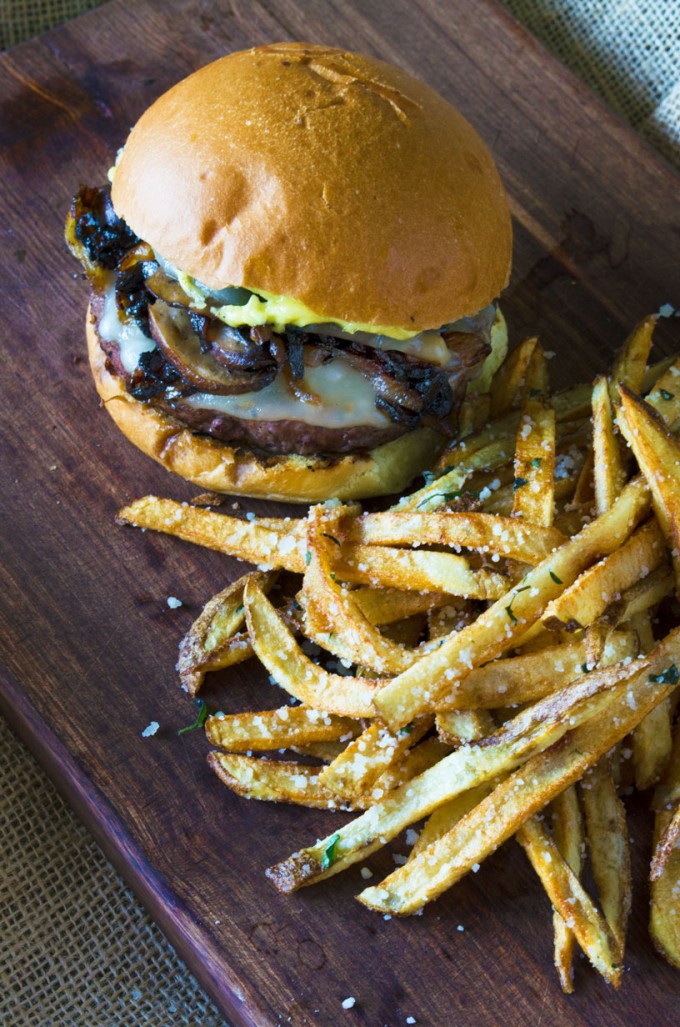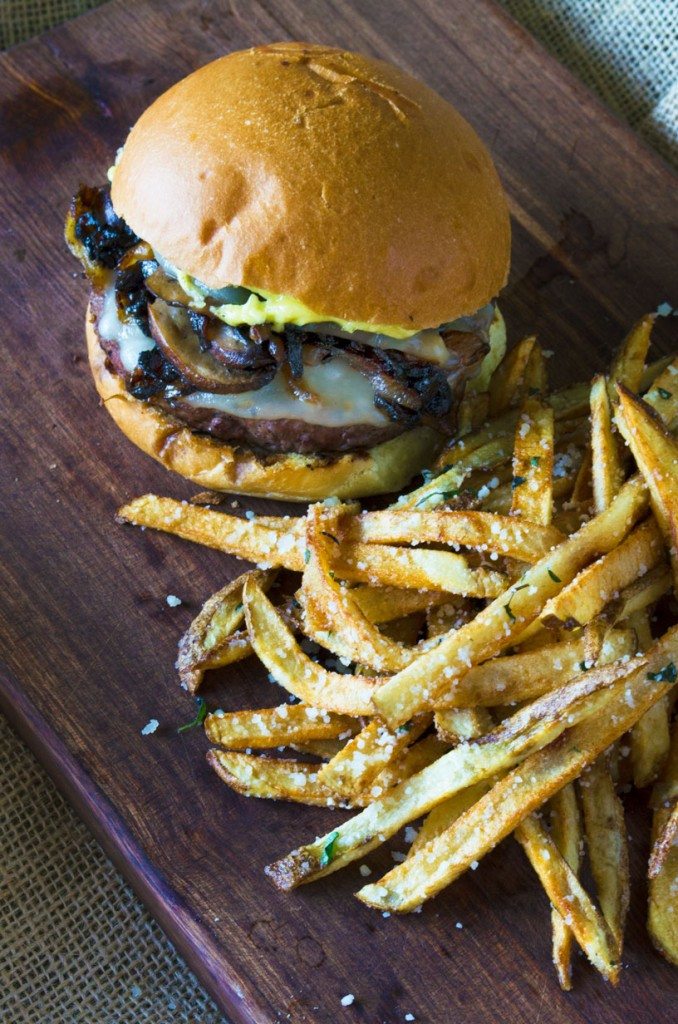 This is also about the time that I realized I forgot hamburger buns at the store. I cursed a lot more. I texted Dave about my current frustrations. He suggested I use sandwich bread for the bun. I told him I wasn't poor and in college anymore. I texted Trisha from
The Lazy Mom
and vented about my broken aioli, neither of us could figure out why it didn't work. Our best guess is because I used cold eggs – evidently you need to use room temperature eggs.
I also told her about Dave's comment. This recipe is for an e-book that is being developed for
Spoonful of Foodies
, a A Facebook group I am in for food bloggers and the readers that love them. I told Tricia, "I can just picture it now – 'here's my submission! A provolone, caramelized onion, sautéed mushroom burger, doused in a broken aioli and served on soggy sandwich bread. Thanks for adding me to the group!'"
We both had a good laugh and then I realized I forgot mushrooms at the store too. She told me to back away from the kitchen, because I clearly was not destined to do this right now.
Happy to report that the next day, after a quick $170 foray to Target for mushrooms and hamburger buns (haven't we ALL been there?), everything went off without a hitch. The room temperature eggs were evidently key, so there's a VERY IMPORTANT takeaway lesson for all of you. Just like
my Ziti recipe
– what's better than one layer of cheese? Two, clearly!
One of my biggest issues with this burger, which is my absolute favorite in the world, is that the onions and mushrooms tend to slip and slide out. I have fixed that by doing what else- adding another layer of cheese! By adding another slice of melty provolone on top of the onions and mushrooms, they stayed in place- right to the very end. I served it alongside my
Parmesan Herb Fries
; talk about a killer combination!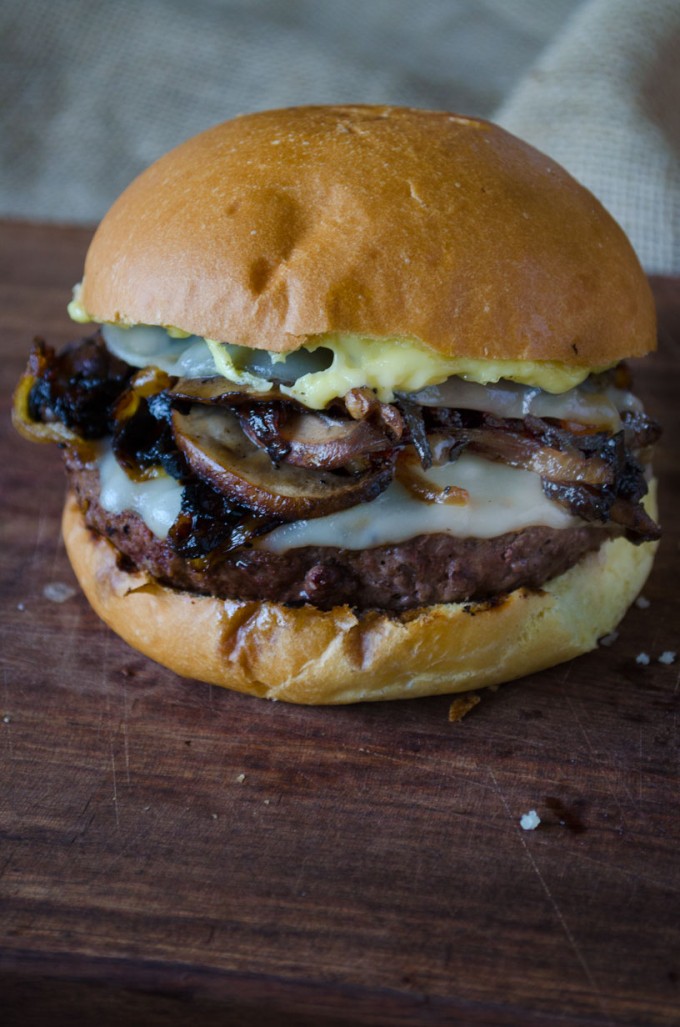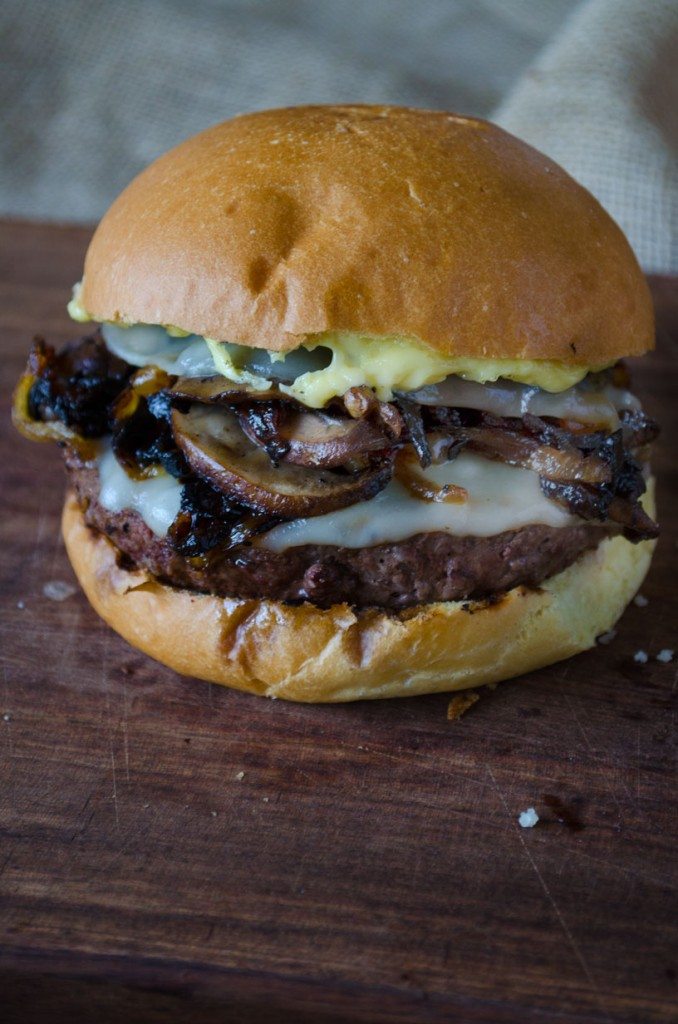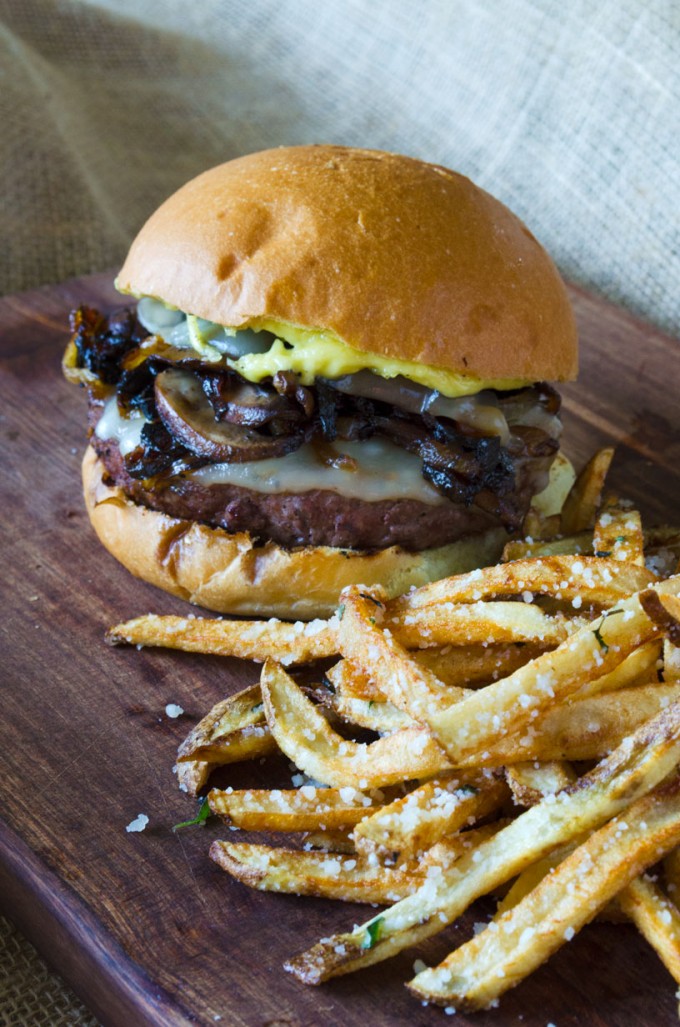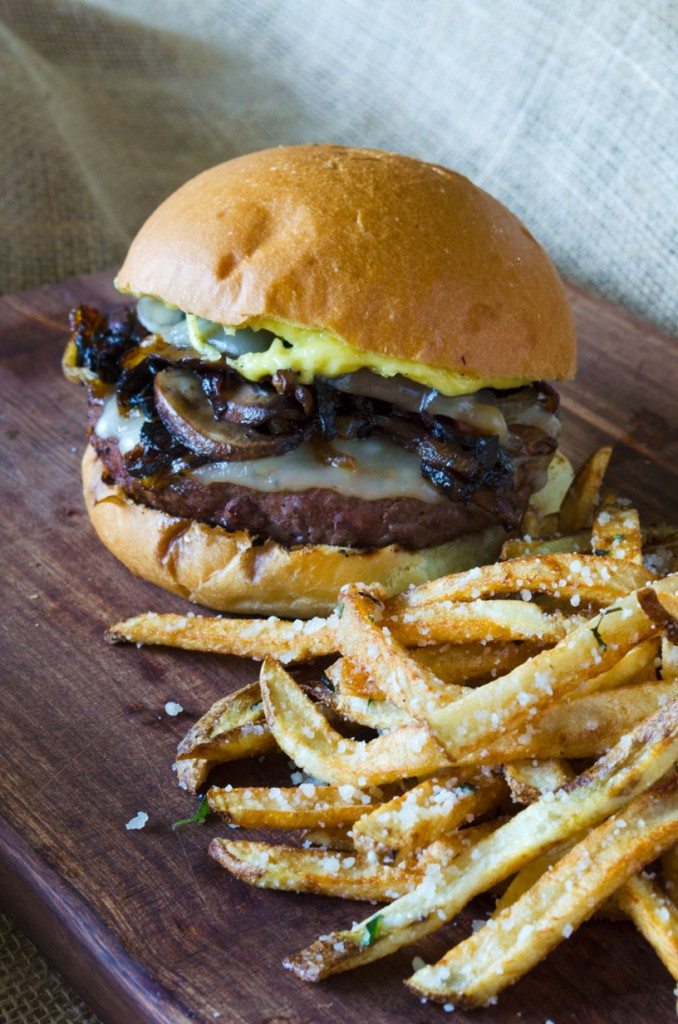 If you like this Mushroom Swiss Burger check out these easy sandwich recipes, too:
Mushroom Burger with Provolone, Caramelized Onions and Aioli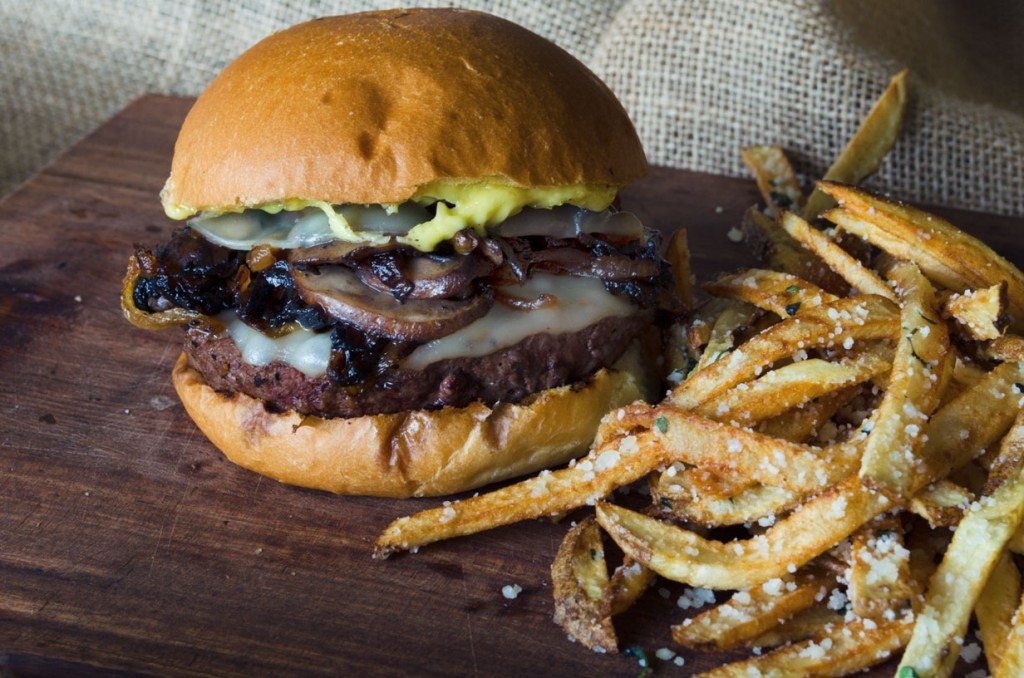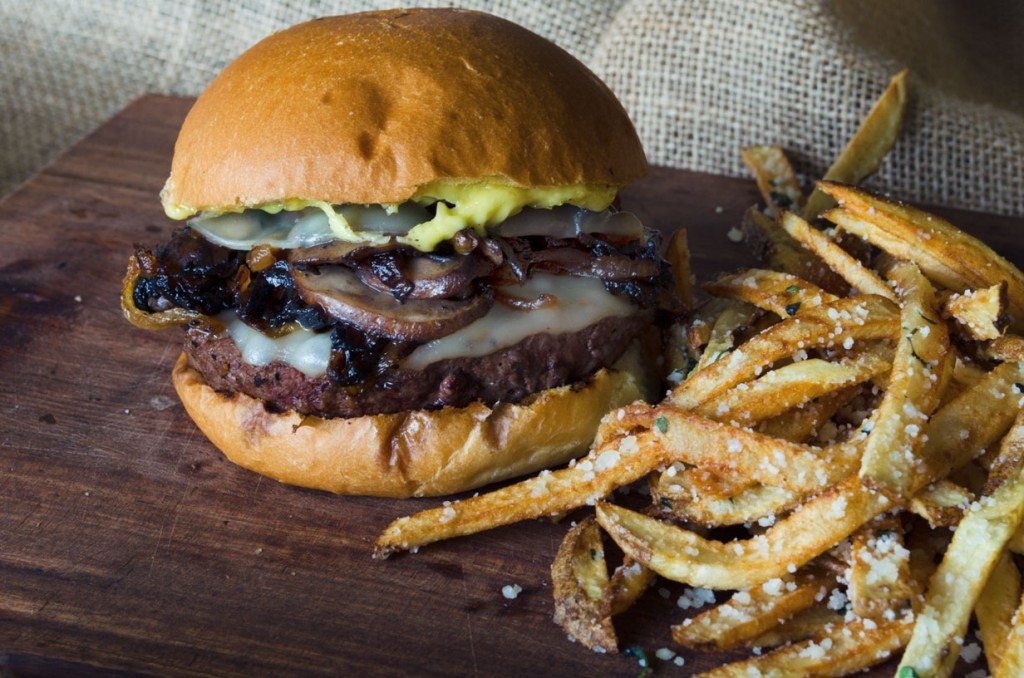 This mushroom burger is smothered with a layer of carmelized onions and mushrooms, sandwiched between two layers of cheese and aioli!
Ingredients
2 large egg yolks, room temperature
2 tsp lemon juice
2 garlic cloves
1 T dijon mustard
1/2 c olive oil
1/2 c vegetable oil
1/2 onion, sliced thin
4 oz. baby bella mushrooms, sliced
2/3 lb ground chuck
Burger seasoning- suggestion: garlic salt and pepper
Worcestershire, 1 tsp per burger patty
4 slices provolone cheese
2 egg yolks, room temperature
2 tsp lemon juice
2 garlic cloves
1 T dijon mustard
1/2 c olive oil
1/2 c vegetable oil
2 hamburgers buns, split
Directions
To make the aioli: Place the egg yolks, garlic cloves and lemon juice in the bowl of a food processor. Start the food processor and allow it to run while the oil is slowly and steadily drizzled in. You should have a creamy mayonnaise-like texture. Fold in the mustard and set aside for at least 30 minutes. Aioli can be kept in a covered container in the refrigerator.
In a small saute pan, heat 1 T olive oil over medium heat. Add the onions and cook slowly until soft, golden brown, and caramelized. Repeat with the mushrooms.
Heat a grill to medium heat. Form the ground beef into a patty and season it. Sprinkle it with the worcestershire; poke several small holes with a fork to allow it to absorb into the patty. Cook the patty on the grill, flipping once, until the burger is cooked to desired doneness, about 7 minutes total.
Top each patty with a slice of cheese, then half the sautéed onions and mushrooms, then the other slice of cheese. Turn the grill heat to low and allow the cheese to melt.
While you are waiting for the cheese to melt, add the hamburger buns to the grill, cut side down, to toast.
Stack the burger between the buns, smearing 1 T aioli on the top bun. Serve immediately.
Loading nutrition data...