Looking for a way to spice up your french fries? These Parmesan Herb Fries are the answer! This garlic parmesan fries recipe is full of flavor and would be a great addition to burger night!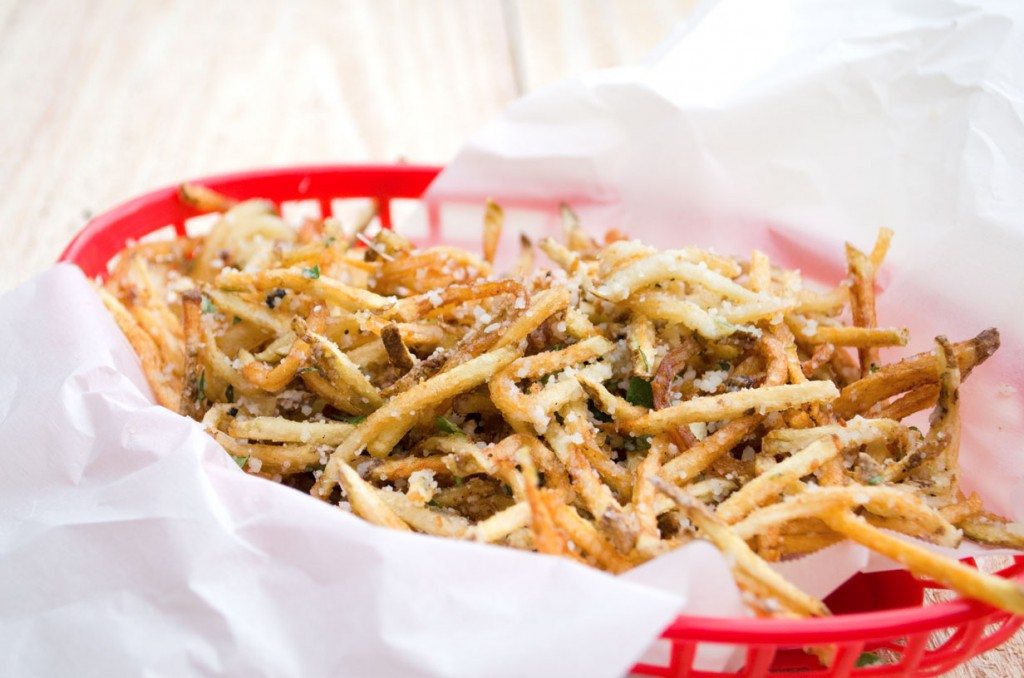 How are amazing do these Parmesan Herb Fries look?
It's not often that I fry food at home, mainly because I can't stand the smell of oil and how it lingers in your house for like four days afterwards. Also, I don't like how much oil it ends up using if I use my deep fryer- which therefore has been sitting empty in our cupboard for I can't even tell you how long.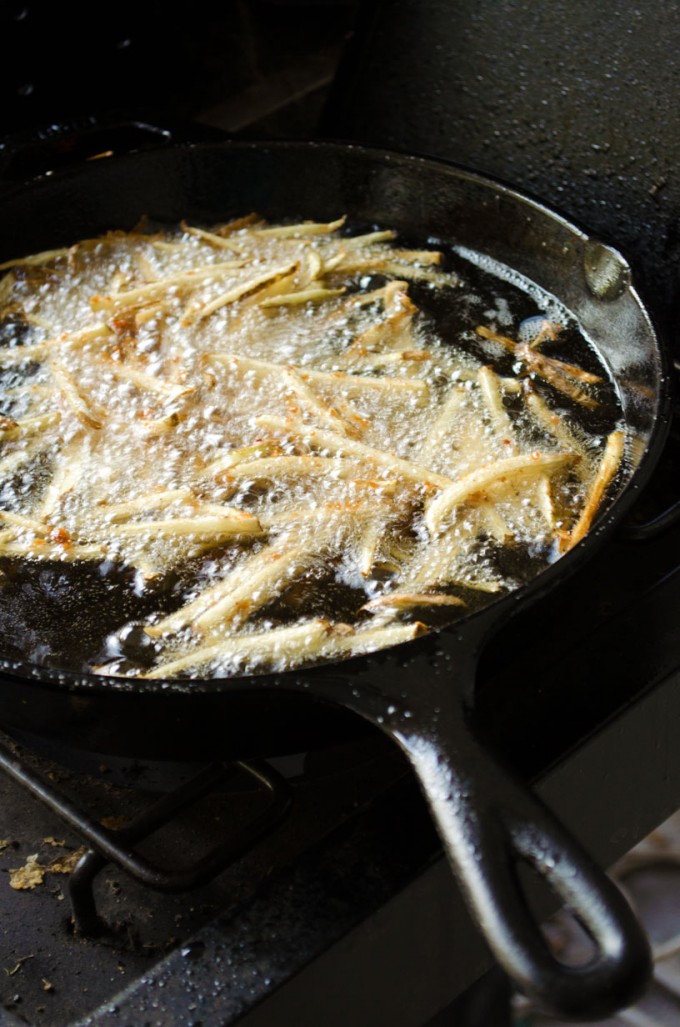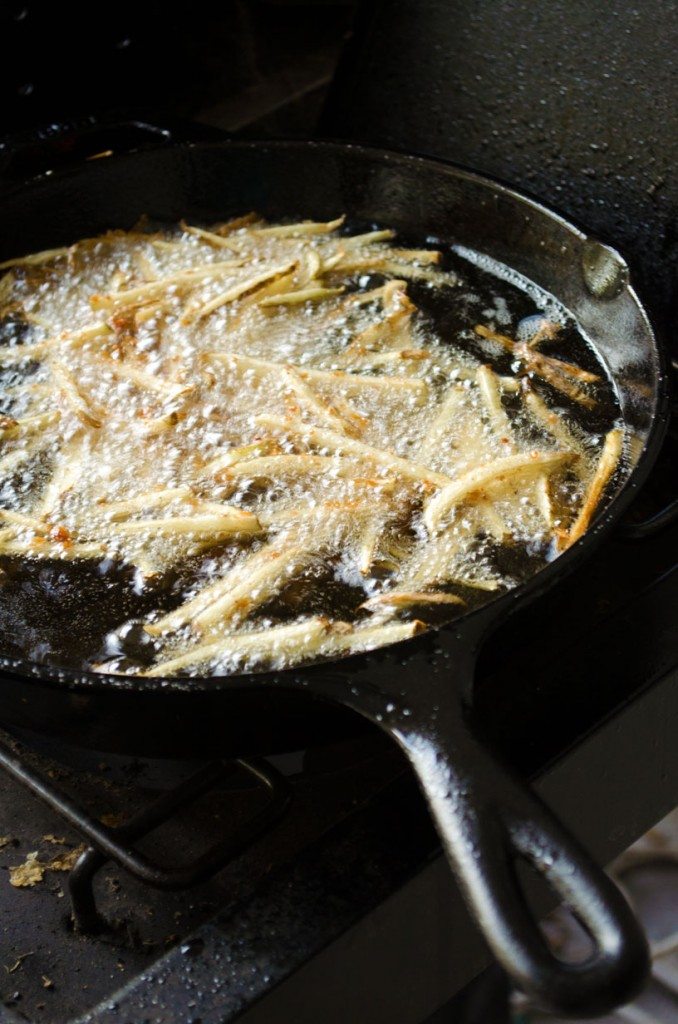 I've taken to doing all of my frying in a big cast-iron skillet outside on my grill's side burner. It works out superbly, because:
Cleaning the oil out of a cast-iron pan is pretty easy and straightforward,
Not as much of a big surrounding cleanup- because you're doing it on the grill, and therefore you don't have to clean up the inevitable oil spatters because it's a grill and it's dirty anyway, AND
It eliminates the "you've been frying" smell from being in the house at all.
It's win – win – win.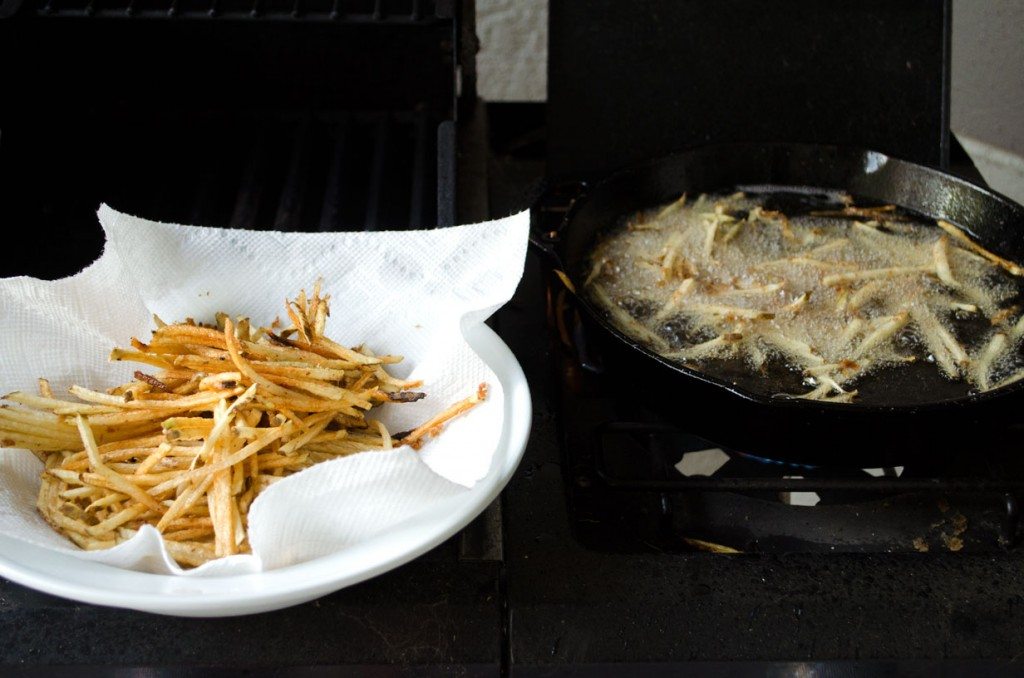 I've been trying to come up with some more side dishes to add to the site, and when I glanced some nice long potatoes sitting in a bin, I got the insatiable urge to make french fries. But not just any french fries – thin and crispy, tossed with herbs and grated Parmesan cheese. These are easiest made using a mandolin with a fry cutter attachment, or some type of multi cutter, of which there seem to be 10 million on the market now. But if you can't get your hands on either one of those, you can definitely do this the old-fashioned way with a knife.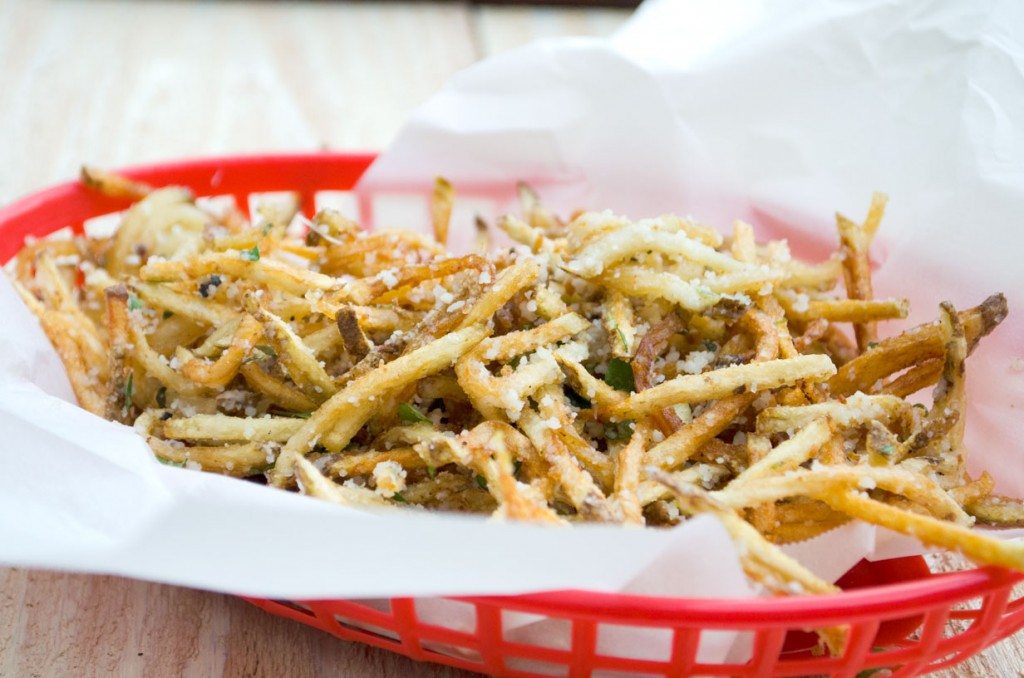 I actually did two rounds of these fries to get them right. First time I tempted to be slightly more health-conscious and toss the potatoes with some olive oil and bake them in a 425° oven for a while until they got golden and crispy. For whatever reason, that didn't really ever happen. Half of them stuck to the bottom of the cookie sheet, and they were still limp and beige even after 30 minutes in the oven. I decided to throw them in the oil to crisp them up. Well, evidently in the baking process they lost a lot of moisture, because when I scooped them out of the fryer when they were golden, they were so crispy but they just ended up being unpleasant to eat.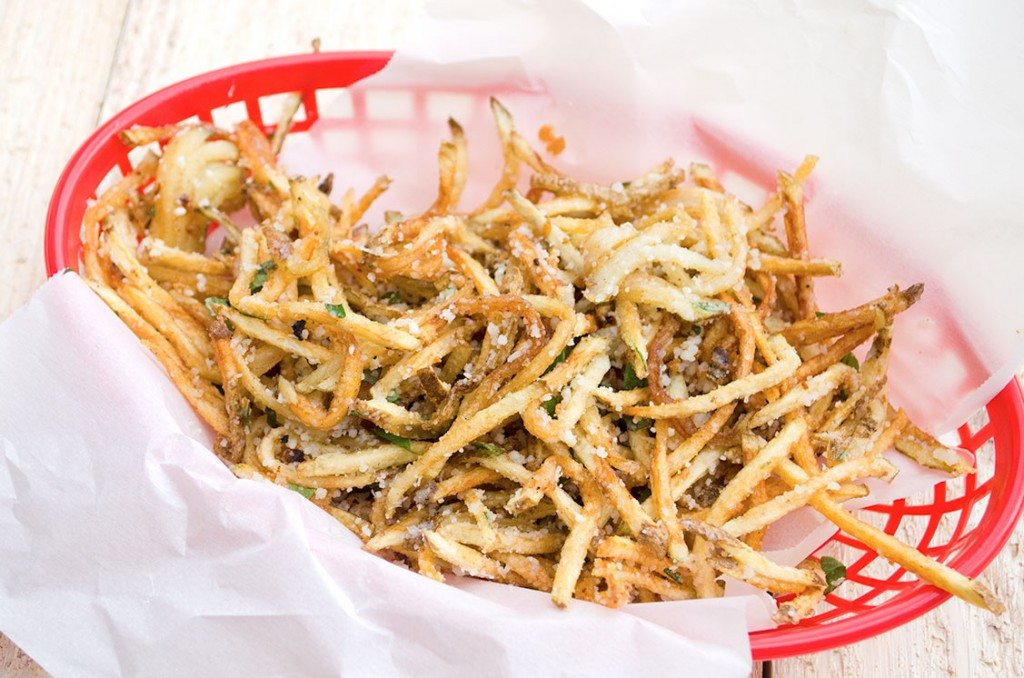 I decided health be damned, if I was going to make fries at home, I was going to make them right. Luckily, I still had three potatoes left, which I ran through my mandolin and threw into hot oil. These fries cooked perfectly, crispy on the outside and tender on the inside. Then I took my already-amazing fries to a whole new level and tossed them with some melted butter, oregano and grated parmesan cheese. No condiments needed!
These were SO DAMN GOOD, that I made them again and reshot them: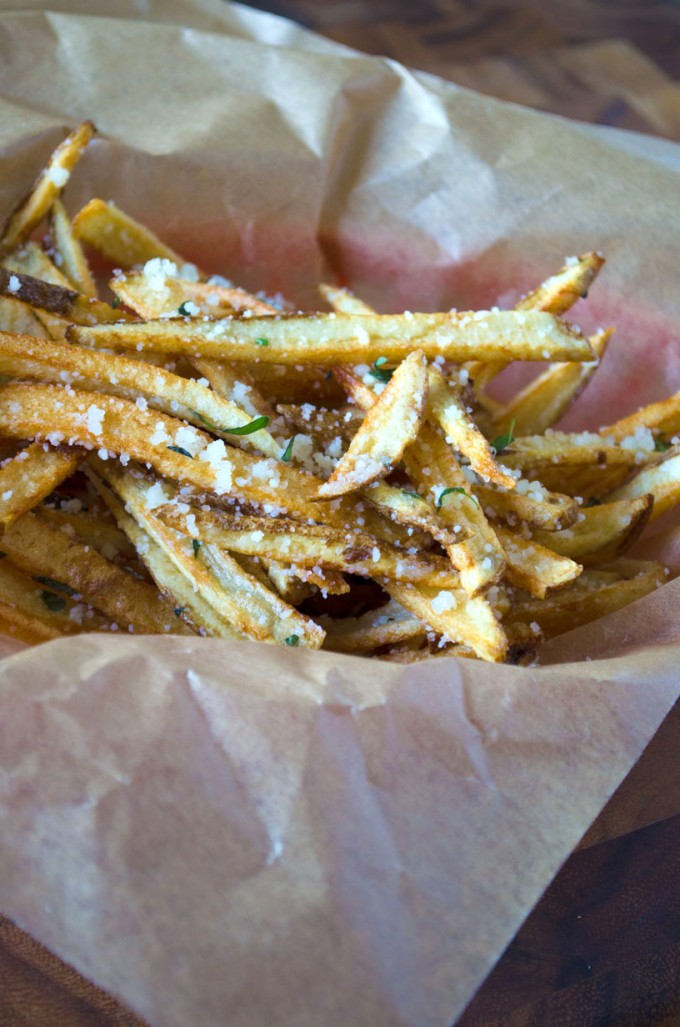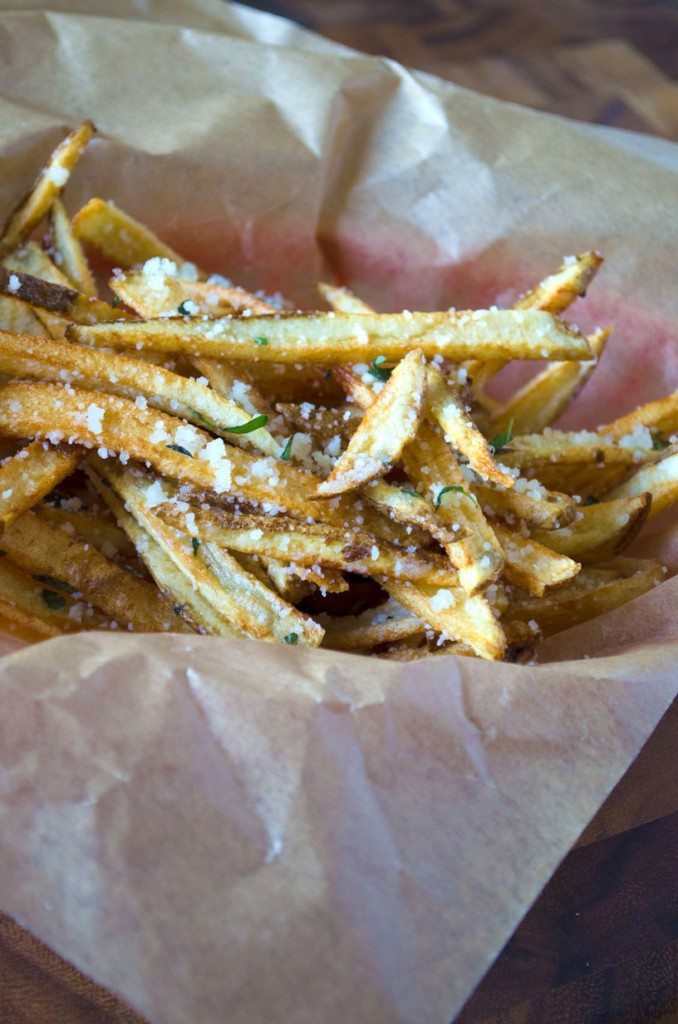 Tools needed to make these garlic parm fries:
In order to cut these fries really thin, you will need a [easyazon_link identifier="B01CT63964″ locale="US" tag="gogogogo03-20″]mandoline[/easyazon_link]. It's a great tool for slicing lots of other veggies, too!
The only other tool you really need is a [easyazon_link identifier="B00006JSUA" locale="US" tag="gogogogo03-20″]cast iron skillet[/easyazon_link]!
If you liked these Parmesan and Herb Fries, check out these other easy french fry recipes:
Parmesan Herb Fries
Ingredients
3

large russet potatoes

Vegetable oil

for frying

2

T

butter

3

T

grated parmesan

1 1/2

T

chopped fresh oregano
Instructions
Peel the potatoes and slice into fries using a mandolin.

Heat oil to a depth of 1" and heat to 350F.

Test the oil's heat by dropping a fry in. It should immediately begin to bubble and rise to the top.

Working in batches,fry the potatoes until they are golden brown. Use a mesh strainer to scoop them out and remove them to a paper towel lined basket.

In a large bowl, melt the butter. Add the fries to the bowl and toss to coat with the butter. Sprinkle with the herbs and cheese and toss again. Serve immediately.