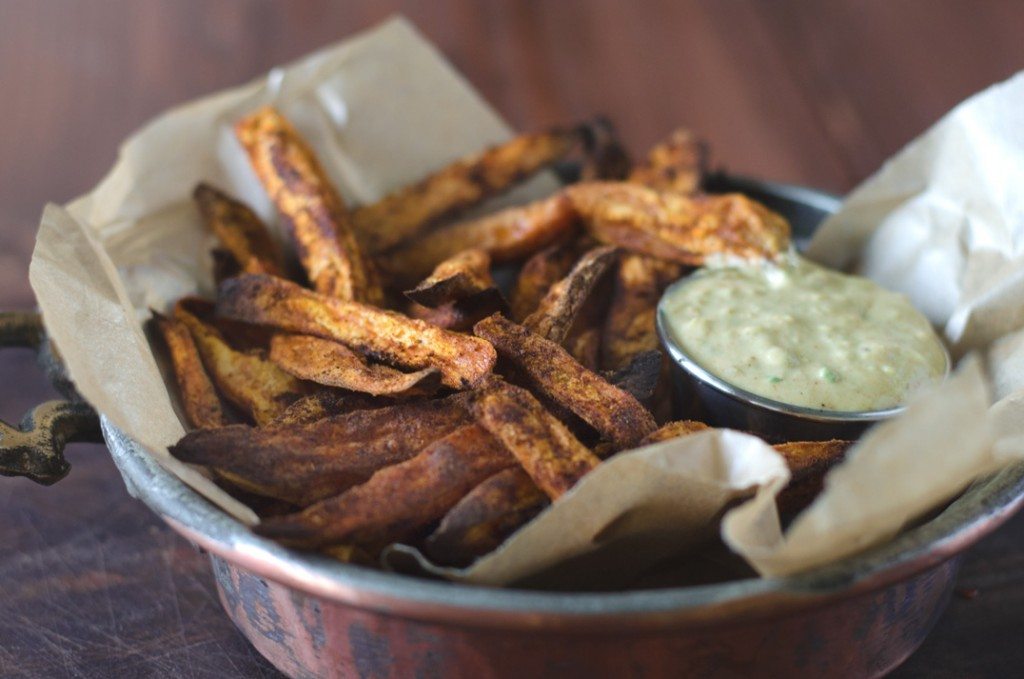 I've never been a huge fan of sweet potato fries, even though I'm a huge sweet potato fan. It's not so much that I dislike them, but if I have a choice between sweet potato fries and regular shoestring potato fries, I'm going with regular fries every time.
Funnily enough, my sweet-potato-hating husband likes sweet potato fries. What is it about putting food in a different form that can make us like or dislike something that we normally have pretty strong feelings about? Why does form matter?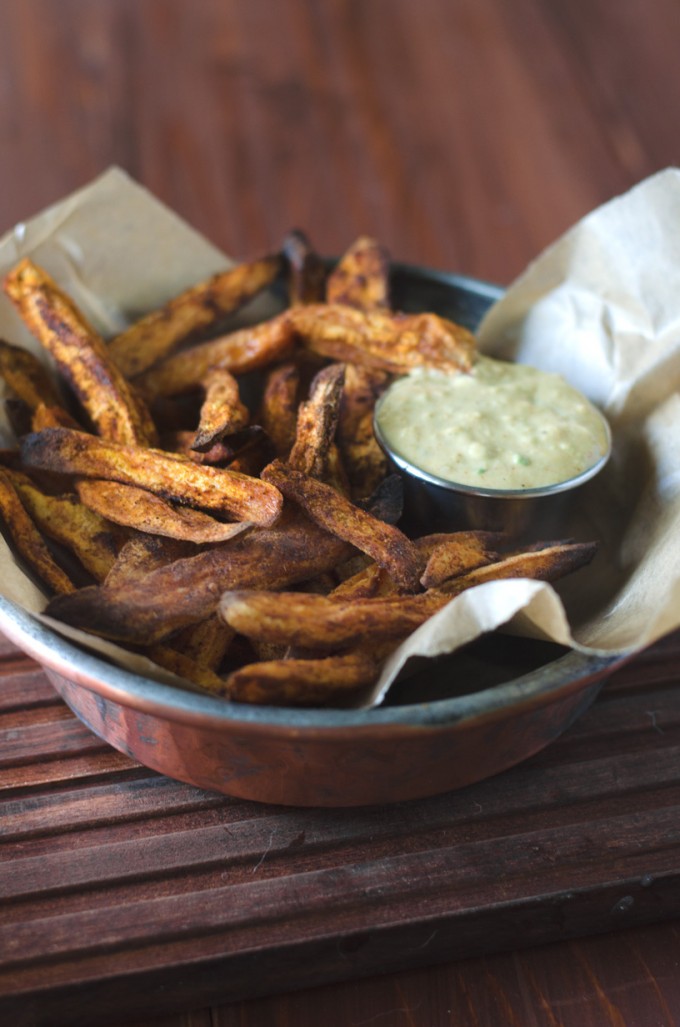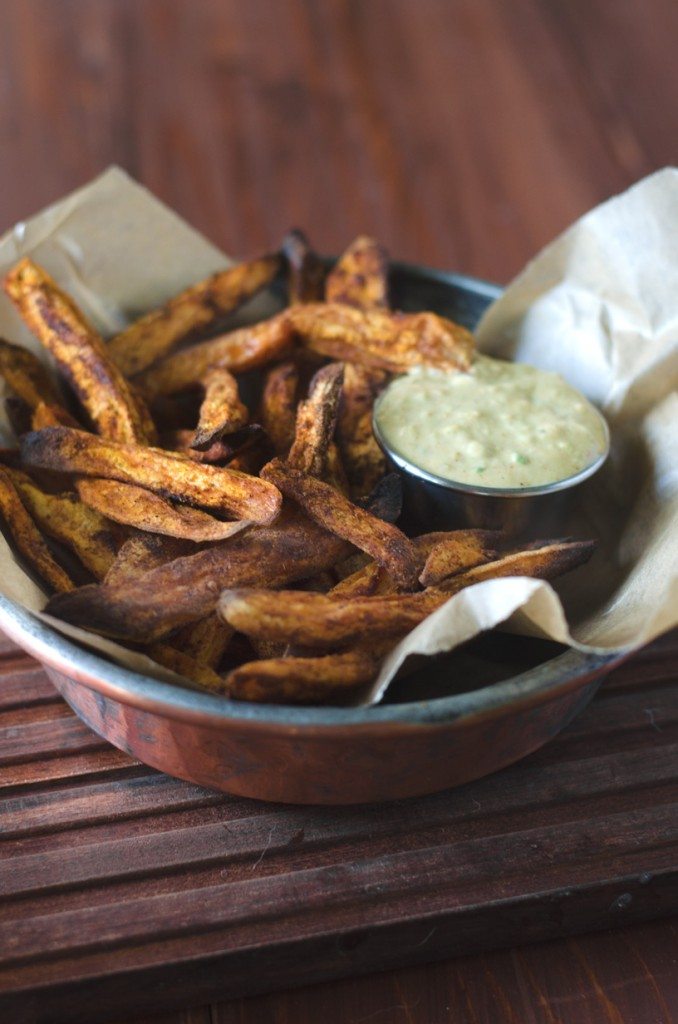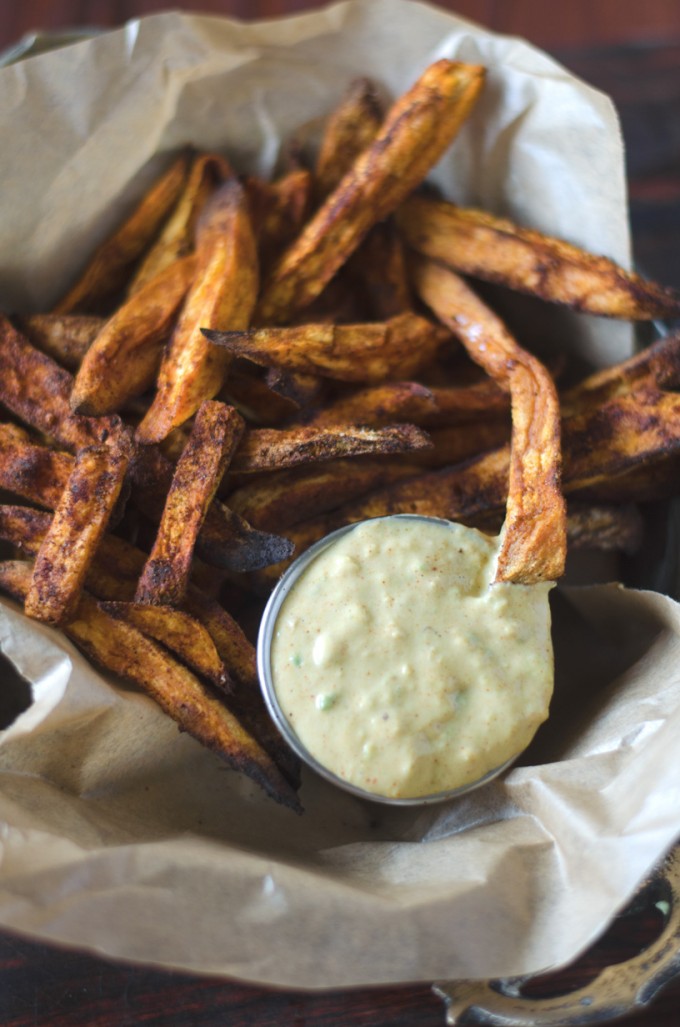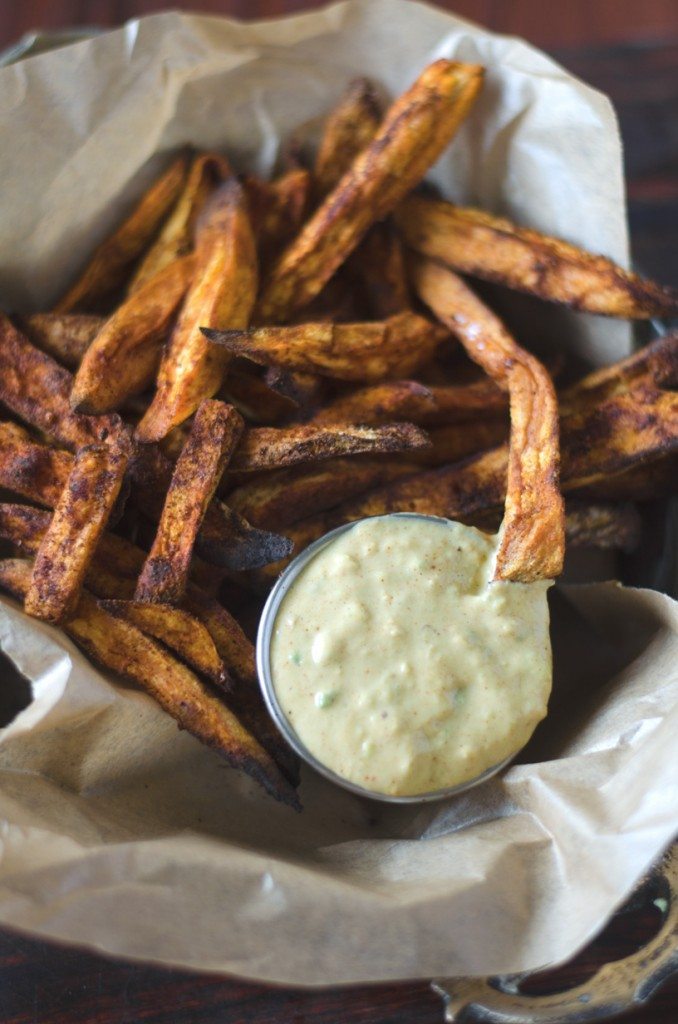 Anyway, I posted a question on my Facebook page. I had two different ideas for sweet potato fries in mind, so I posted the question, "Would you rather see a spicy fries recipe or sweet fries recipe?" The answer was overwhelmingly "spicy!" I actually planned on doing both kinds at once, but then half my fries burned in my little oven. Best laid plans, I'm telling you.
I gave baking fries
another shot
, since everyone likes to pretend they're healthy now- what with the chia seed and kale and almond milks blowing up my Pinterest feed all the time now. They turned out well, but I'm not going to sit here and say that I think they wouldn't be better fried. I just don't think they get as crispy. BUT, tossed with a nice spice blend that lended some heat, I really can't say that these were anything except delicious. All three of us gobbled them up and there were none left to be spoken for. I paired them with a cool and creamy avocado dipping sauce (which is really just a riff on the sauce for my
Avocado Fries
). All in all, the most time-consuming part of this whole thing is cutting up the potatoes, which isn't much of a commitment at all.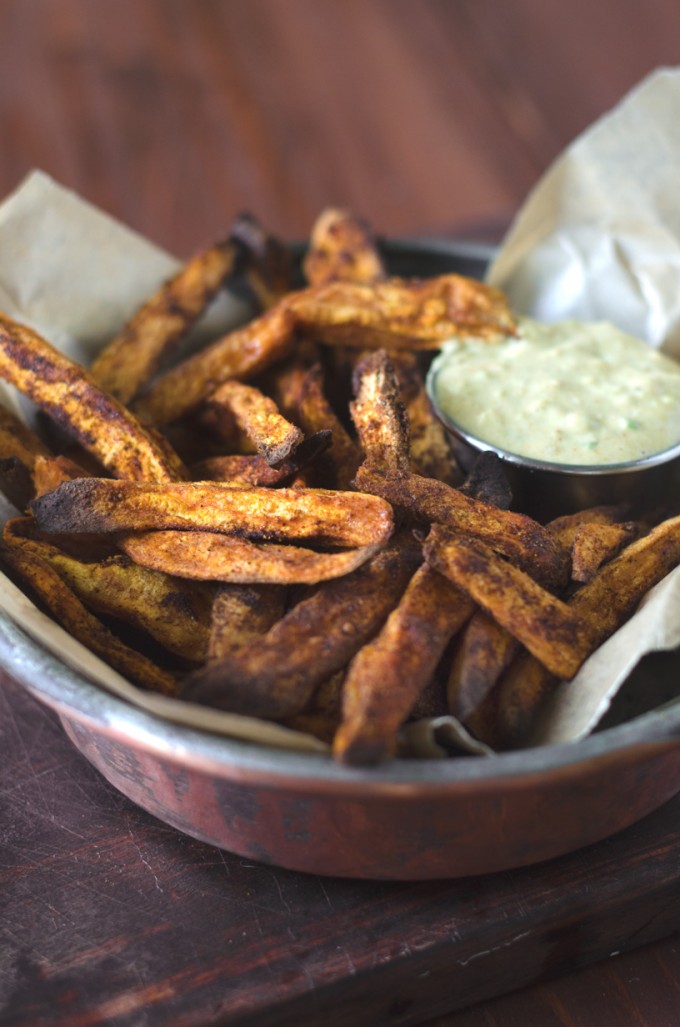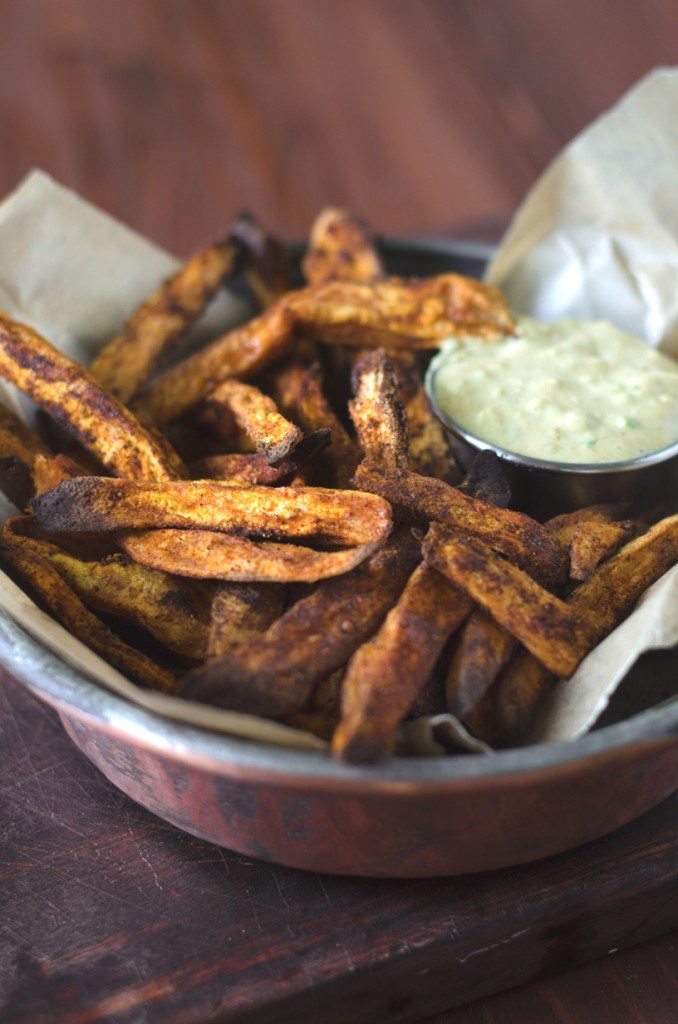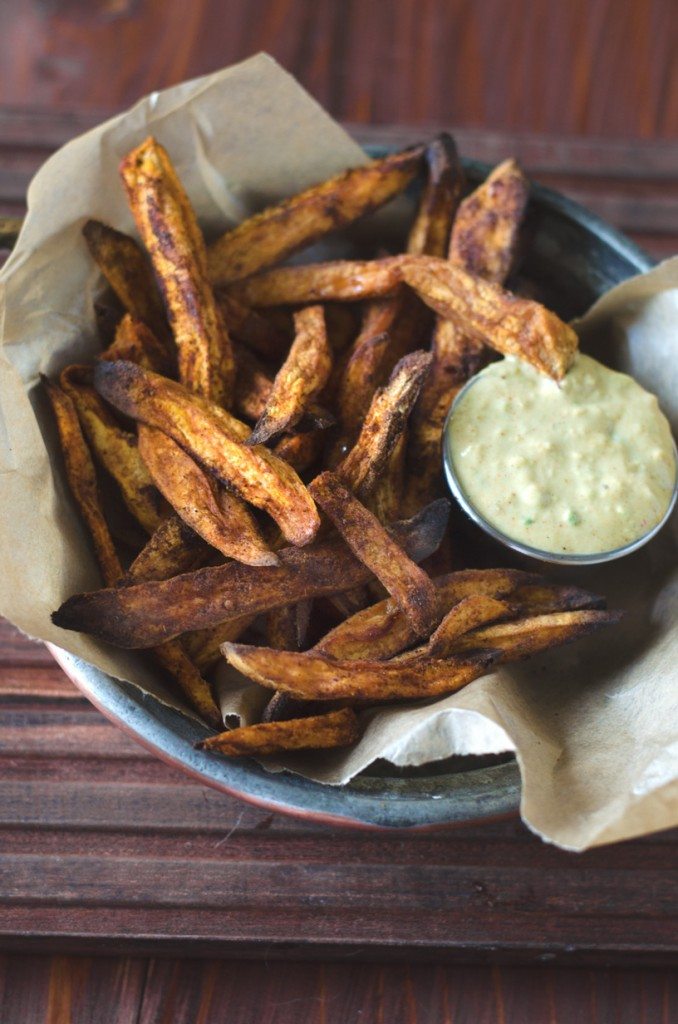 Cumin and Cayenne Sweet Potato Fries
Ingredients
3

sweet potatoes

peeled and cut into 1/3" fries

1

T

olive oil

2

tsp

cumin

1

tsp

cayenne

1

tsp

salt

1/2

avocado

mashed

1/4

cup

mayonnaise

2

tablespoons

cream-style horseradish

¼

teaspoon

paprika

¼

teaspoon

salt

¼

teaspoon

dried oregano

Dash cayenne pepper
Instructions
Preheat an oven to 450. Line a baking sheet with parchment.

Toss the potatoes, olive oil, salt, cumin and cayenne together until the potatoes are evenly coated. Spread on a baking sheet and bake for 30 minutes or until crispy.

Dipping sauce: In a small mixing bowl, whisk together the avocado, mayonnaise, horseradish and spices until smooth. Serve with fries.