This traditional Waldorf Salad recipe is the perfect sweet addition to summer BBQ's and parties! Full of apples, grapes and celery, this salad is not to be missed!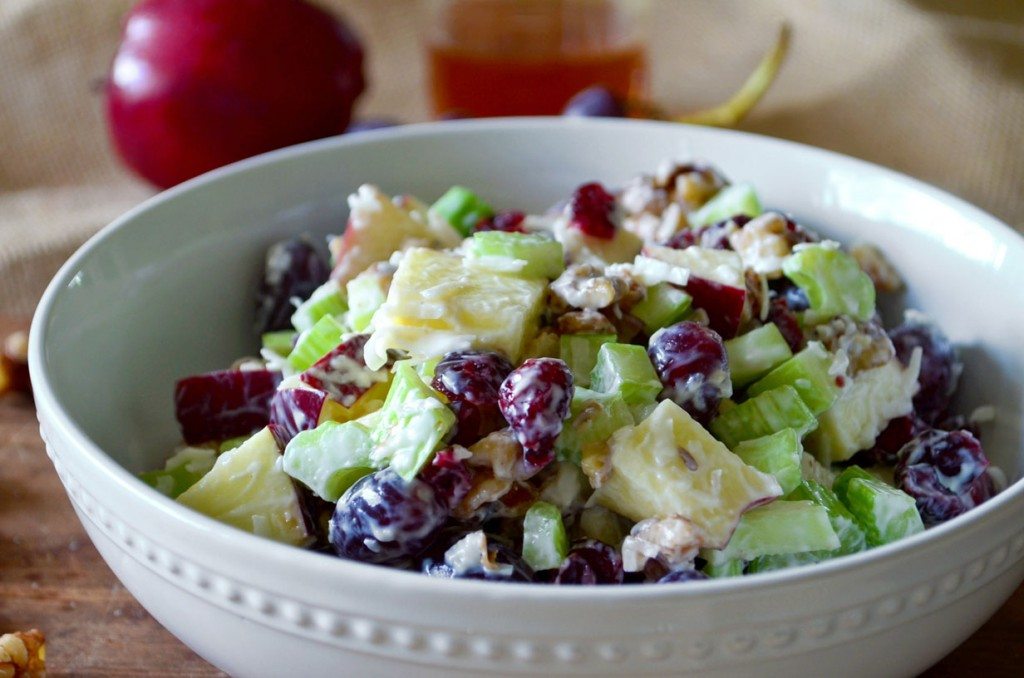 One of the grocery stores around me carries Waldorf salad in their deli case. I bought it once, wondering if it would be a hit with Jonathan or not- it seemed to be chock-full of things that he likes, but with the dressing on it, I wasn't certain. As soon as he saw the grapes, he started doing his "grabby fingers" routine for it, and I figured that I had a hit on my hands.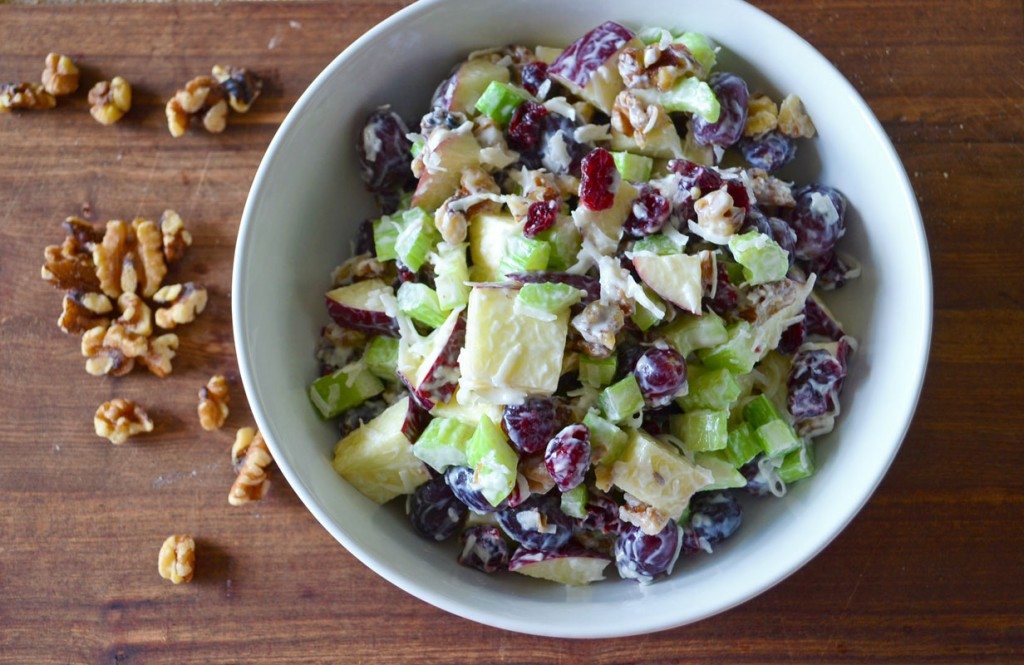 Of course, as soon as I found something then Jonathan would readily and happily eat anytime it was placed in front of him, it then began making its appearance less and less frequently. When I went to the store and they told me they were discontinuing it, I figured it was time for me to learn to make my own, surmising that it was probably less expensive to make from scratch than it was to pay for it in the deli anyway.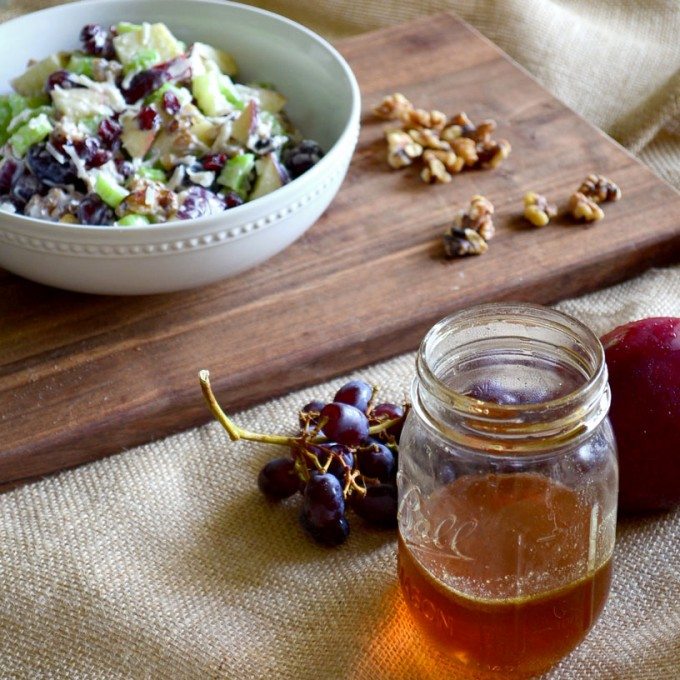 It turned out beautifully, and was loved by all members of the house. I'm supremely glad that I no longer have to worry about forgetting it at the grocery store or them not carrying it anymore- lots of good things come to an end, but luckily this doesn't have to be one of them.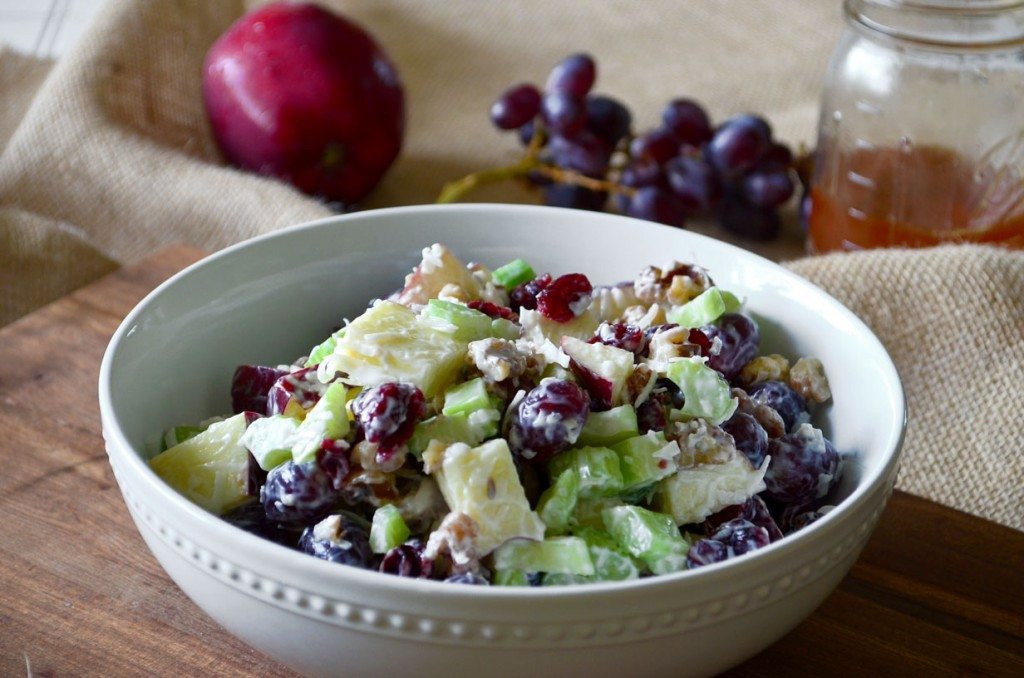 What's in a Waldorf Salad?
If you've never had Waldorf salad before, it's a perfect light lunch, side dish, starter or snack. And it's perfect now that we are heading into warmer weather. It's full of light and crisp textures and flavors- with grapes, celery, apples, walnuts, dried cranberries, coconut getting mixed together and dressed with a slightly sweet, yet slightly tangy, dressing. I believe usually this dish is made with just mayonnaise, but I wanted to lighten it up by using mayonnaise mixed with plain yogurt, honey, and a little lime juice.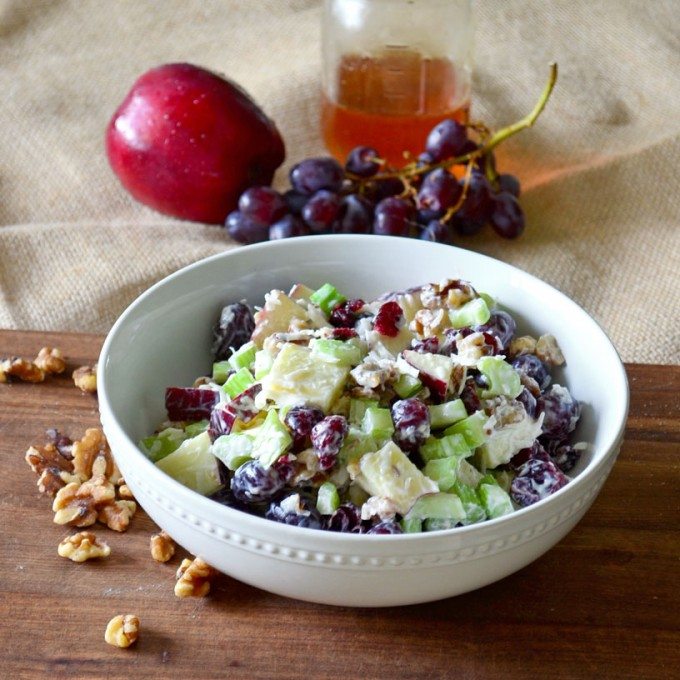 How do you make Waldorf Salad?
It's really just as simple as cutting up the fruit, nuts and celery, throwing them in a bowl and mixing in the dressing. When you need a quick and easy dish to take to a BBQ, this should be your go to!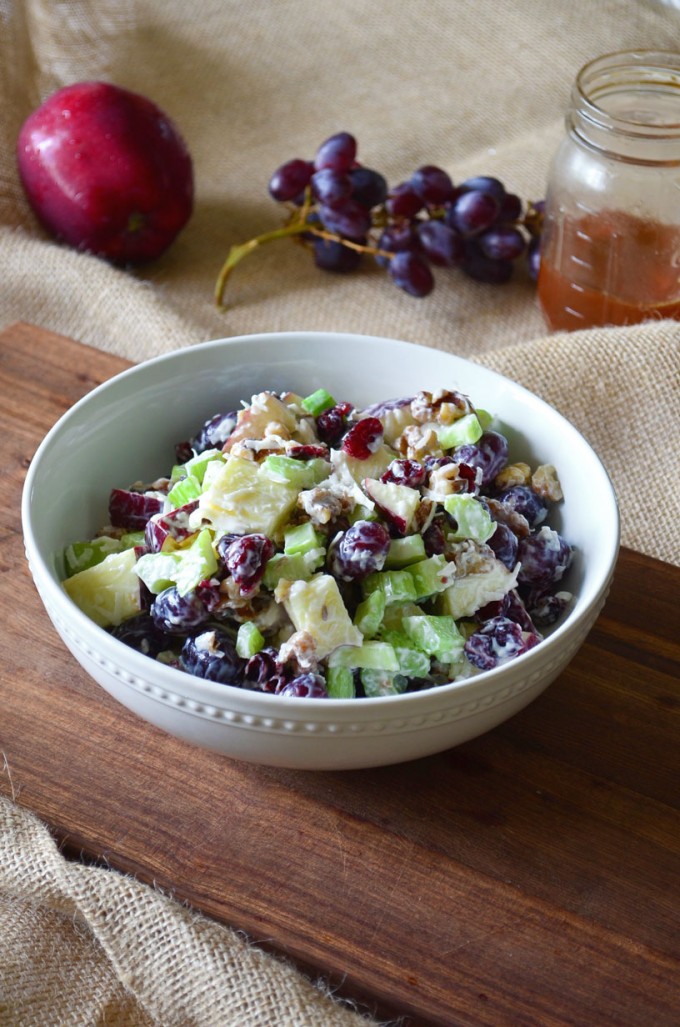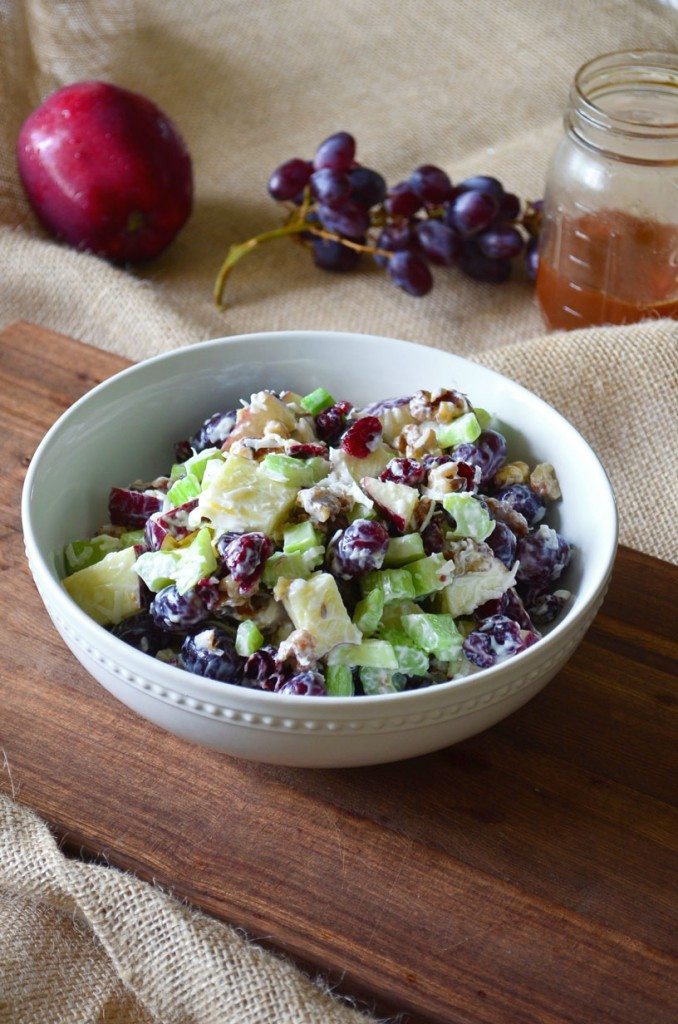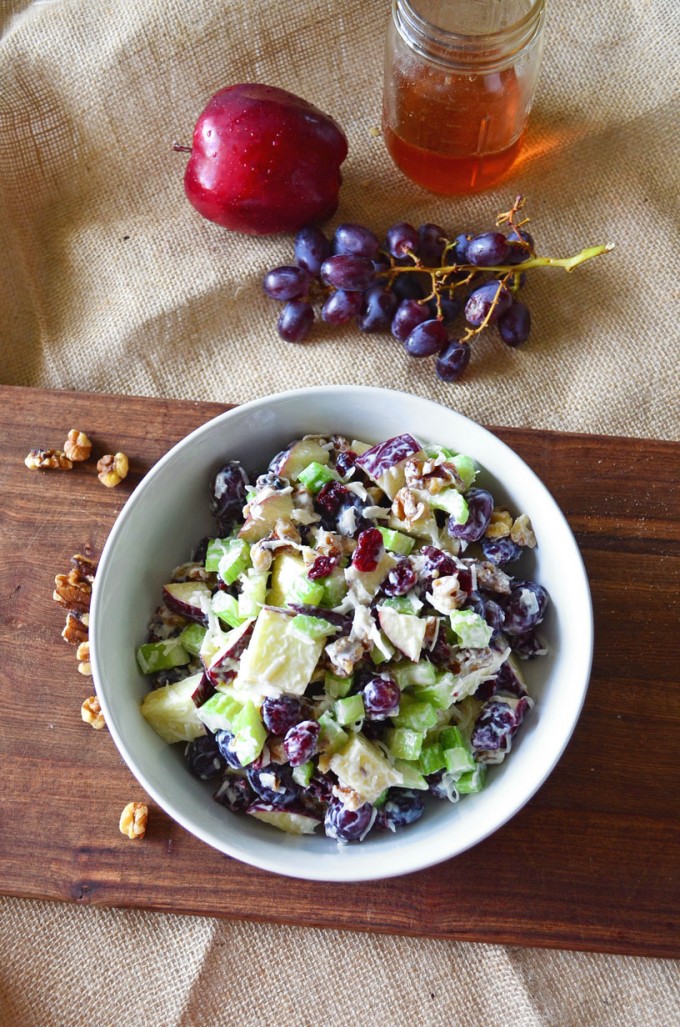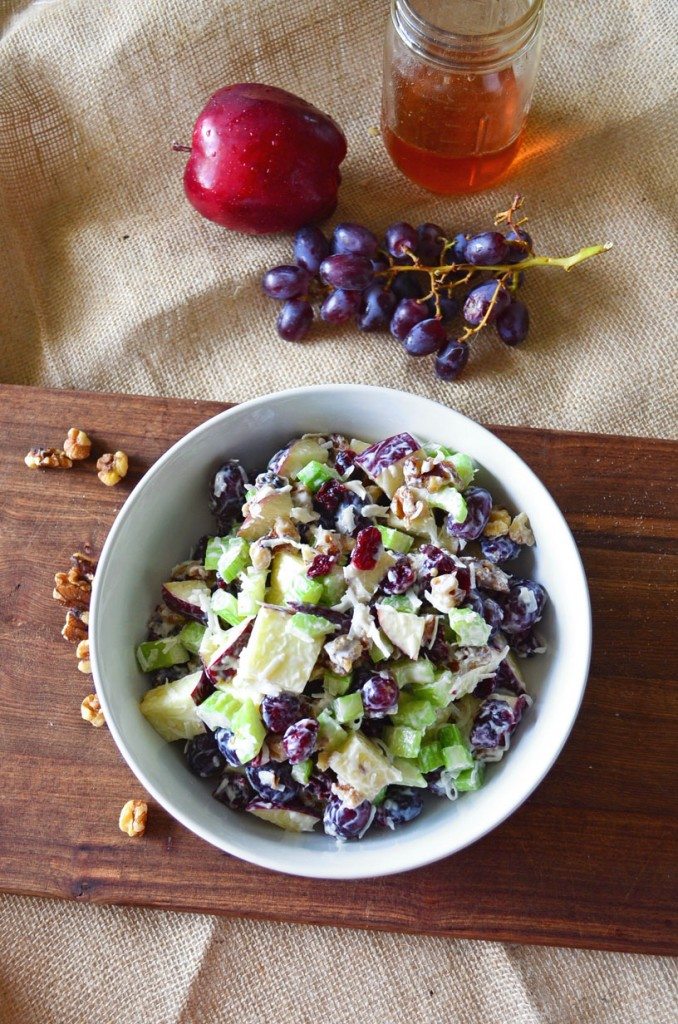 Tools needed to make this easy summer BBQ side dish:
Really not much! As long as you have a set of good sharp [easyazon_link identifier="B00GIBKC3K" locale="US" tag="gogogogo03-20″]knives[/easyazon_link], you should have all you need!
If you liked this recipe, check out these other ones:
Waldorf Salad
Ingredients
1 1/2

cups

grapes

1

apple

cut into large 1" pieces

1/4

c

coconut

1/4

cup

walnuts

roughly chopped

1/4

cup

dried cranberries

2

stalks celergy

cut into 1/4" slices

2

T

light mayonnaise

2

T

plain yogurt

1

T

honey

1

T

lime juice
Instructions
In a large bowl, whisk together the mayonnaise, yogurt, honey and lime juice. Add the grapes, apple, coconut, walnuts and celery to the bowl.

Toss until evenly coated and serve.