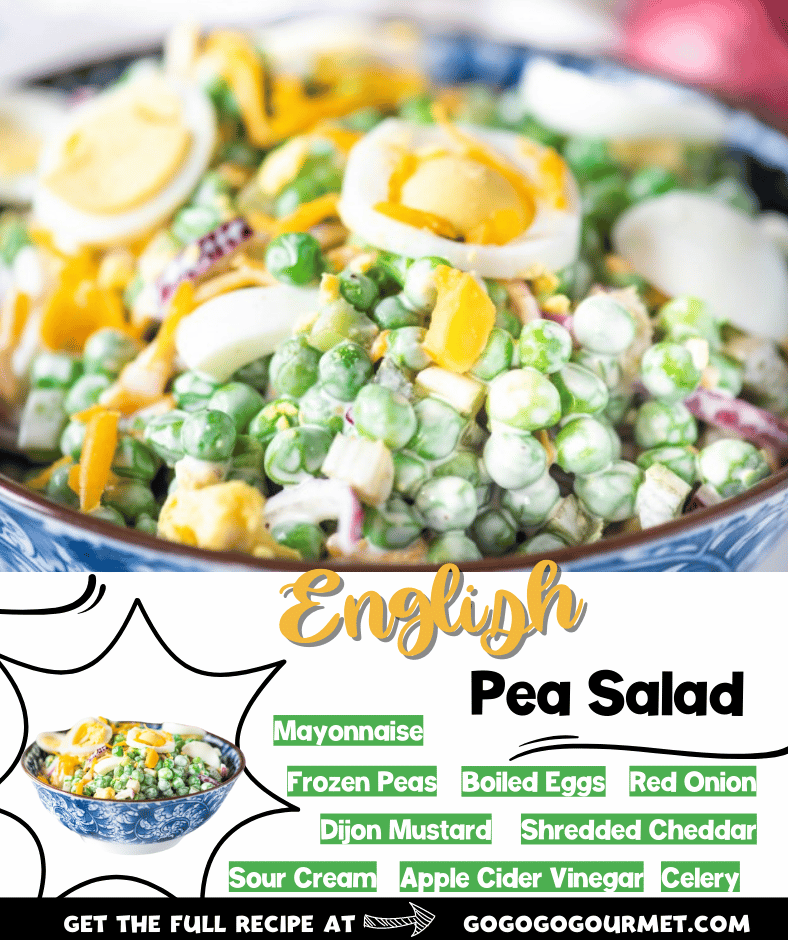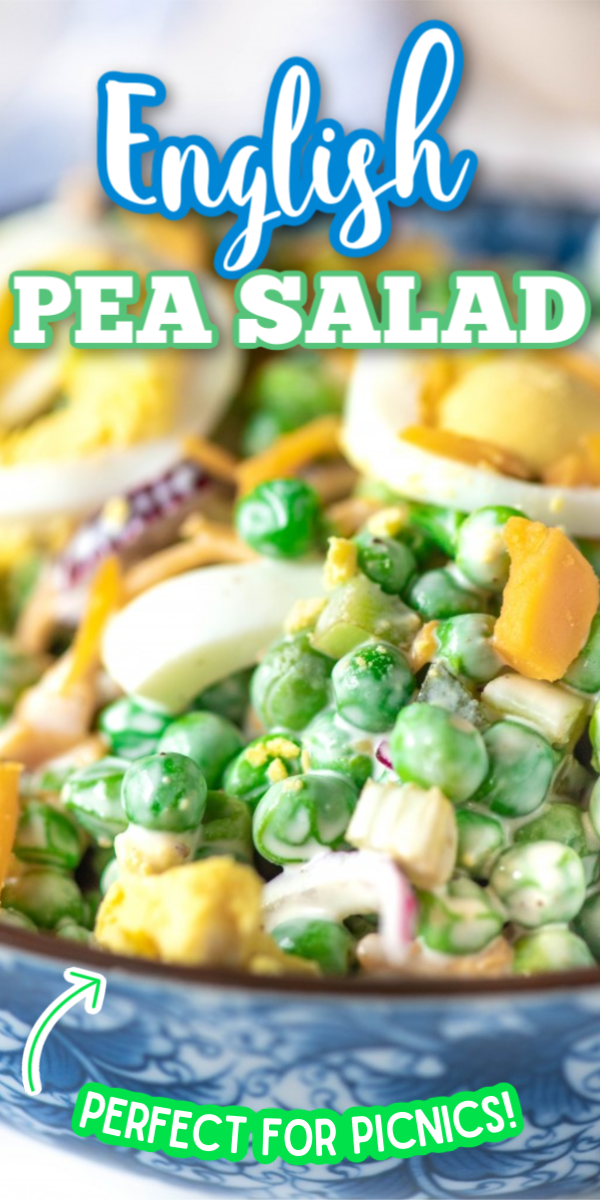 This easy English pea salad is perfect for any picnic or potluck! Served cold, this is crisp, with a little crunch and a creamy dressing, packed with onion, egg, cheese and celery!
What is it about food that you grow up eating? How is it that it gets such a hold on you and burns itself into the deepest corners of your mind?
Does that happen to anyone else, or just me?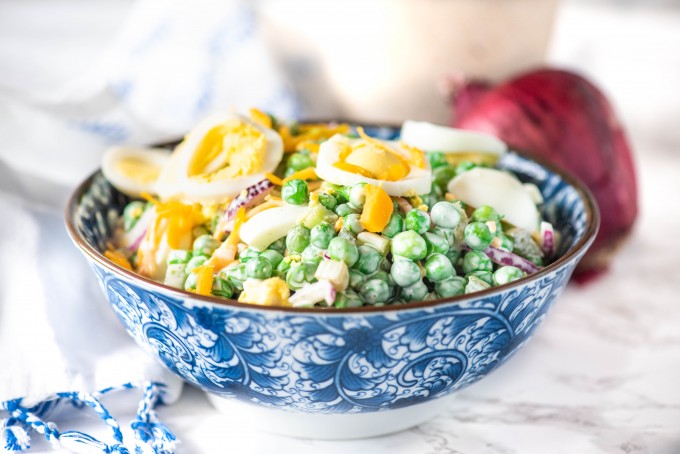 I can't speak much to the original backstory of pea salad, but I've only seen it one place ever in my life- at this deli around the corner from my house growing up.
Looking at it, it seems like everything that a child would hate, but I have always adored this.
Incredibly inconveniently, I live four hours away from the only known location of pea salad.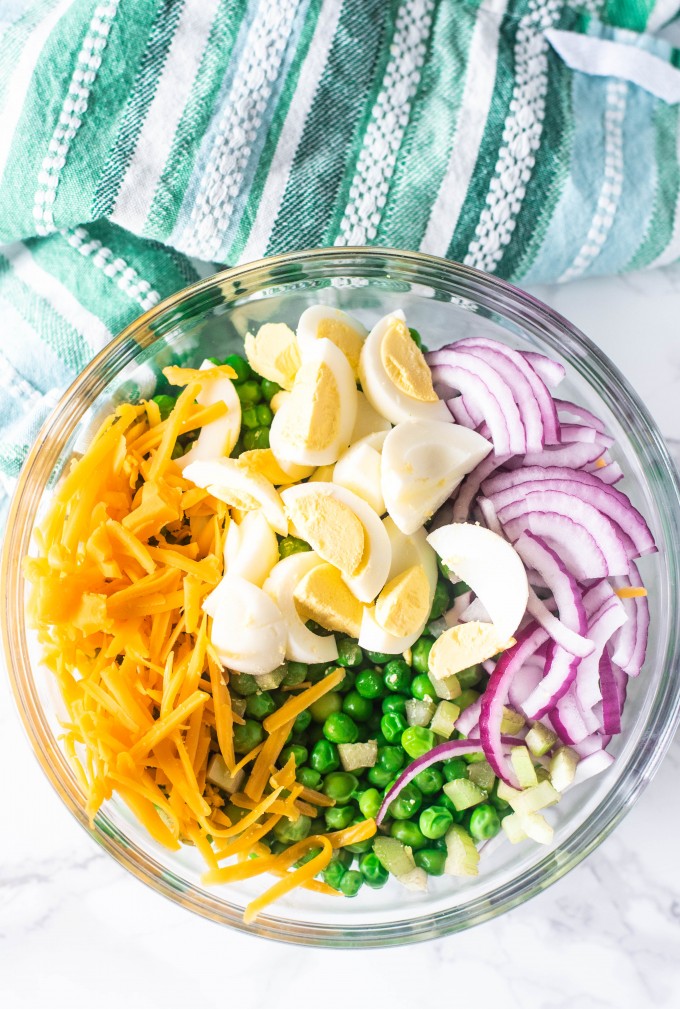 So you know, there was only one thing to do.
Figure out my own damn pea salad recipe.
Actually a surprisingly tall order, since I last ate it about four years ago. However, my food memories are strong, and when I took my first taste, I knew I had done it.
Frankly, not only was I able to remember all of the main ingredients, AND nail the dressing- I may actually even have improved it.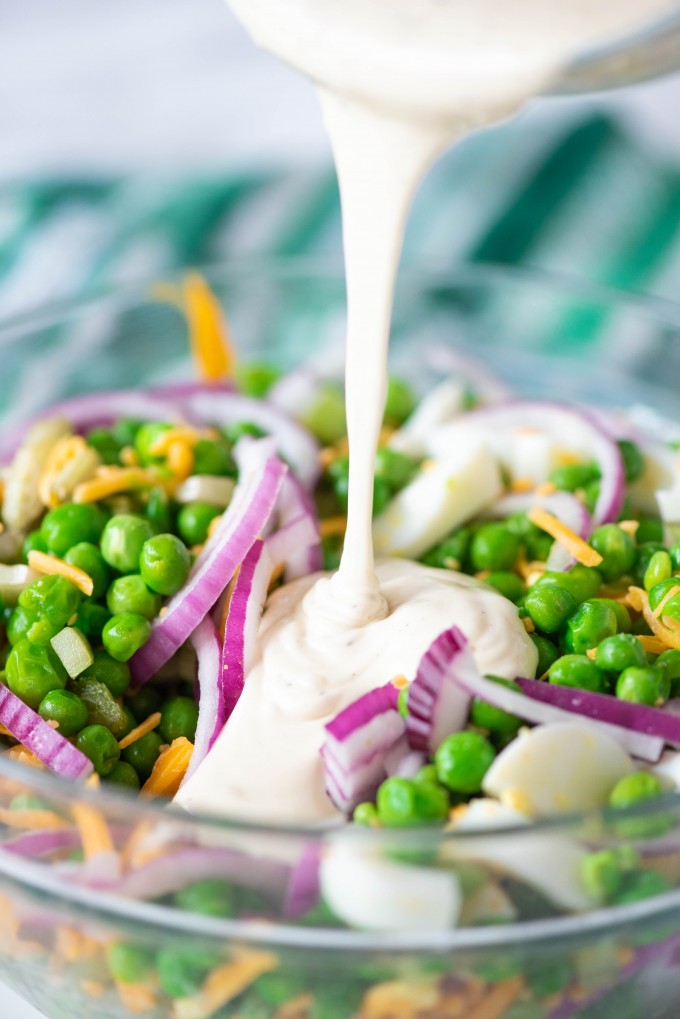 Tips and Equipment:
I've seen this made with bacon before. I've never eaten that way (and probably never will, because it's perfect to me just the way it is), but you could definitely add 3 strips of chopped/crumbled cooked bacon to this.
One of the things that I really love about this is that you need no special equipment, and it doesn't make a mess of your kitchen. All you need is a [easyazon_link identifier="B00LGLHUA0″ locale="US" tag="gogogogo03-20″]mixing bowl[/easyazon_link], spoon or [easyazon_link identifier="B01DUI07RY" locale="US" tag="gogogogo03-20″]rubber spatula[/easyazon_link], and a set of [easyazon_link identifier="B00KH9PR48″ locale="US" tag="gogogogo03-20″]measuring cups[/easyazon_link]. Technically you also need a [easyazon_link identifier="B01GP2MTXW" locale="US" tag="gogogogo03-20″]cutting board[/easyazon_link] and a [easyazon_link identifier="B00004RFMT" locale="US" tag="gogogogo03-20″]knife[/easyazon_link] for cutting eggs and onion, I suppose. But still. Nothing crazy.
Related Recipe to Pea Salad: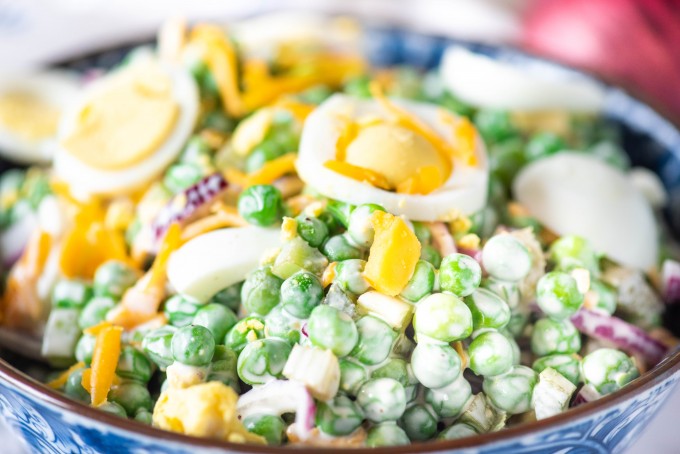 Pea Salad
Ingredients
3

cups

frozen green peas

thawed but cold

4

hard boiled eggs

1/2

cup

chopped celery

1/2

cup

thinly sliced red onion

1/2

cup

shredded cheddar cheese

2/3

cup

mayonnaise

1/3

cup

sour cream

2

tablespoons

apple cider vinegar

2

tablespoons

dijon mustard

salt and pepper
Instructions
Toss together the peas, eggs, red onion and celery in a medium sized bowl.

In a separate small bowl, mix together the mayonnaise, sour cream, vinegar and mustard.

Drizzle the mayonnaise mixture over the peas, and gently stir to combine. Season with salt and pepper to taste.

Chill in fridge for 30 minutes to let the flavors come together.
SaveSave