This Summer Couscous Salad with Lemon Basil Dressing is delicious. This quick and easy couscous salad is great for summer BBQs!
This is a sponsored post written by me on behalf of Vigo Foods. All opinions are 100% mine.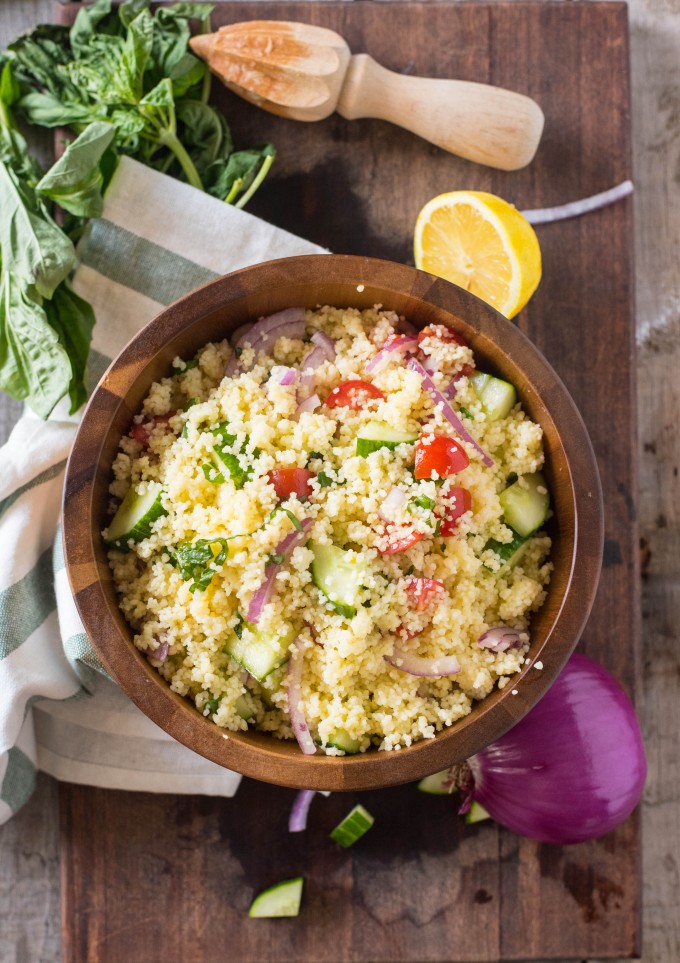 Couscous salad is one of my favorite side dishes, mostly because of how easy and fast it is to cook. I, more often than not, fly by the seat of my pants when it comes to side dishes, so something that is ready in under 10 minutes is REALLY up my alley.
This time I waned to use it as a base for a versatile dish that could work as either a nice lunch, refreshing dinner or easy side dish. Back when we lived in Akron, there was an Italian deli/grocery store that was an institution- DeViti's Italian market. It remains, to this day, one of the things that I miss most about living in Northeast Ohio- the quality of their fresh products was unbelievable, especially in their ready-made foods case. From Memorial Day to Labor Day, they made what they called their "Summer Salad"- a crisp salad of summer's bounty of vegetables, all dressed in a tangy dressing. It was my partner's favorite, and it serves for the inspiration behind this dish.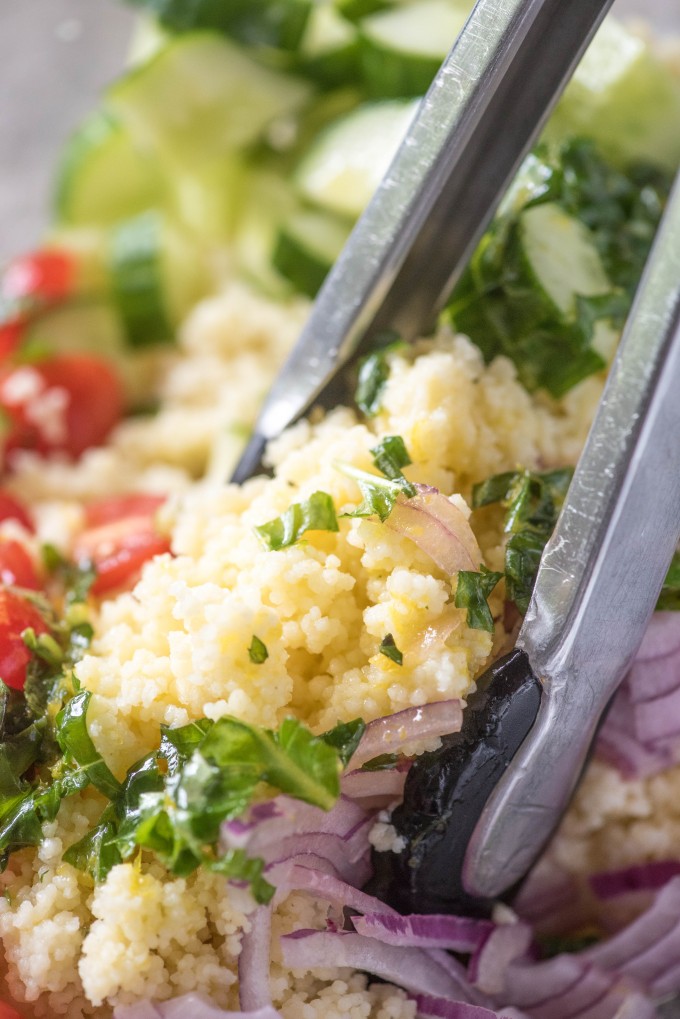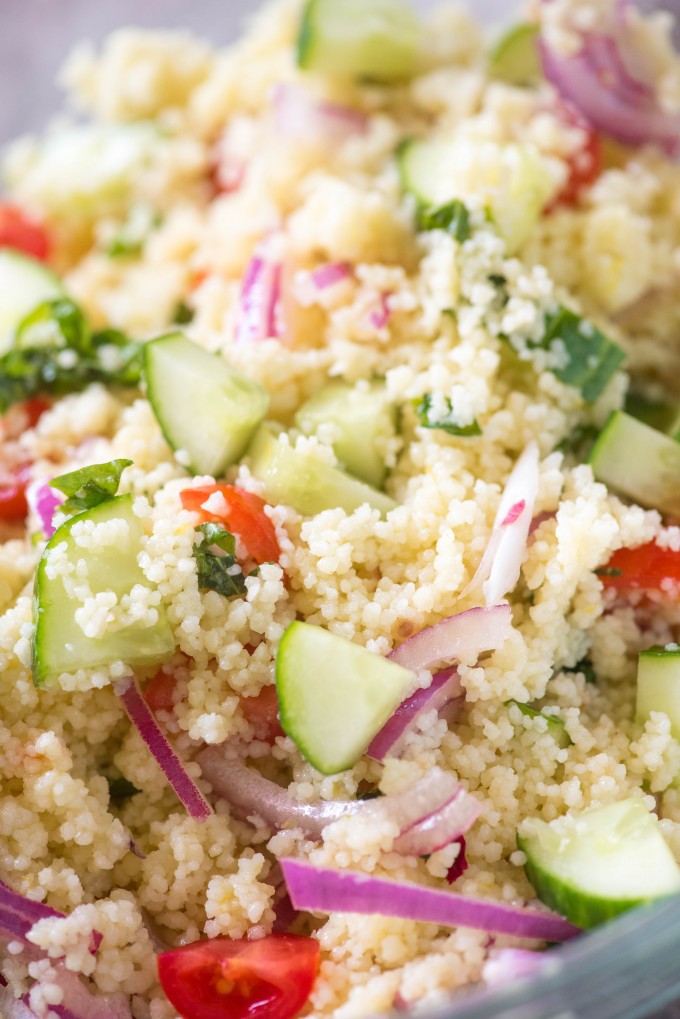 I used Vigo Couscous as a base, then tossed it with chopped cucumbers, fresh tomatoes, sliced red onions and a lemon-basil dressing. I topped it with sliced zucchini, breaded with Vigo Italian Style Seasoned Bread Crumbs and pan fried in Vigo Olive Oil. Then I layered it with fresh mozzarella, then drizzled it with balsamic reduction.
It was everything that I had hoped it would be. It was light, refreshing and crisp- a perfect temperature and combination of flavors for all the warm weather months ahead! The salad by itself will be a great dish for all those summer barbecues. But adding the fried zucchini and mozzarella makes it perfect for lunch or dinner. The dish was easy to make, really only requiring one pan, and was ready in under 20 minutes. You can easily make it hours or days ahead of time- so I think you've just found your new summer potluck dish!
What is couscous salad?
Traditionally, couscous is served as a warm side dish. However, a couscous salad is cooked couscous, served cold with some sort of dressing on top. It's perfect for potlucks or BBQs, and this summer version is particularly perfect for any summer get together!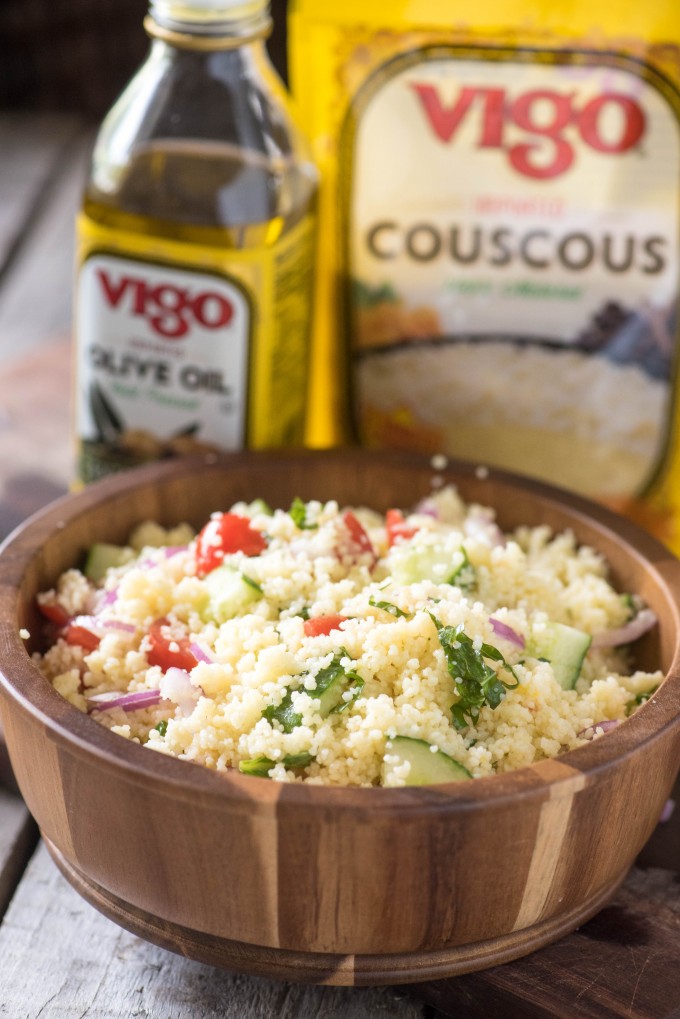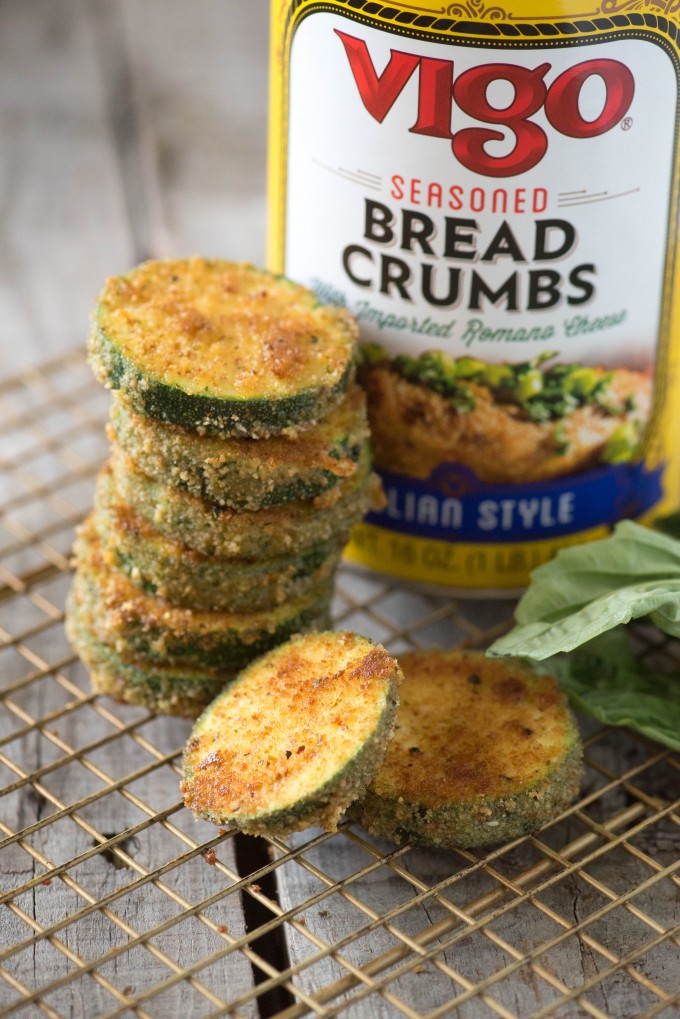 If you like this Summer Couscous Salad, make sure to check out these great recipes too:
Summer Couscous Salad
This Summer Couscous Salad with Lemon Basil Dressing is delicious. This quick and easy couscous salad is great for summer BBQs!
Ingredients
1 10

oz.

package Vigo Couscous

1/2

English cucumber

sliced lengthwise into quarters and sliced 1/2

2/3

cup

halved cherry tomatoes

1/4

large red onion

sliced thinly

2

tablespoons

chopped basil

1/4

cup

Vigo Olive Oil

1

lemon zested

1/2

lemon

juiced

1

zucchini

sliced 1/2

Salt

1

egg

1/2

cup

Vigo Italian Style Bread Crumbs

6-8

slices

fresh mozzarella

Balsamic glaze

for drizzling
Instructions
In a a shallow saucepan, cook the couscous according to package directions. When cooked, remove from heat and fluff into a large mixing bowl. Add the cucumber, tomatoes and red onion.

In a small jar or bottle, add the chopped basil, lemon zest, lemon juice and olive oil. Season with salt and pepper, then shake vigorously until emulsified.

Pour the dressing over the couscous and vegetables; toss until evenly combined.

Sprinkle your zucchini rounds with salt and let them sit for 10 minutes to draw out the water. Blot dry with paper towels.

Heat a thin layer of olive oil in a skillet over medium high heat. Beat the egg in a small bowl and spread the bread crumbs on a small plate.

Dip the zucchini rounds in the egg, then coat evenly with the breadcrumbs. Add to the heated olive oil and pan fry until golden brown, 2-3 minutes. Flip over and repeat.

Spoon the couscous onto a plate or serving platter. Top with the fried zucchini and fresh mozzarella, alternating slices of each. Drizzle with the balsamic reduction and garnish with additional basil, if desired.
You have your own chance to win a whole plethora of goodies, thanks to Vigo and Alessi. Check out everything that you can win here, and enter below: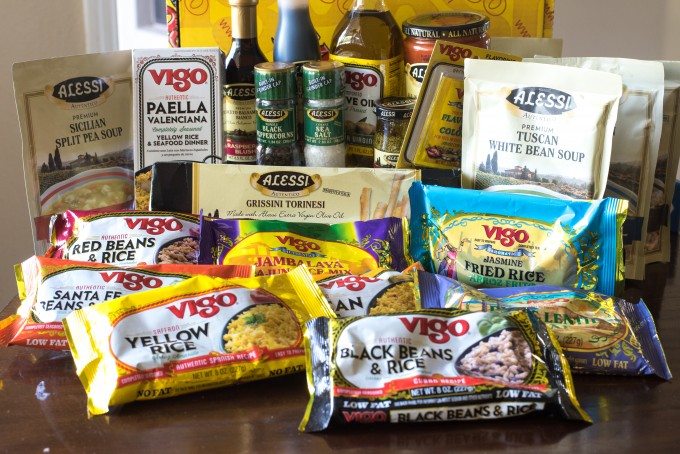 Shop Vigo's online store here and check out their other amazing products both online and in store at your local Publix!