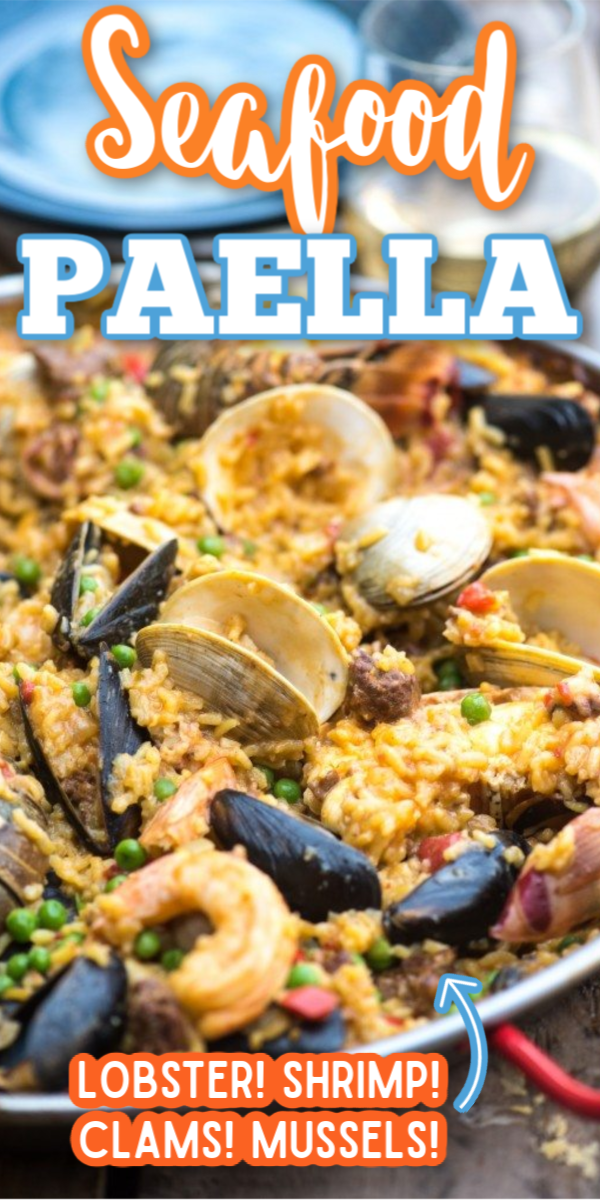 This Seafood Paella is a sponsored post written by me on behalf of Vigo Foods. All opinions are 100% mine.
Seafood Paella is a filling dinner, chock full of lobster, shrimp, clams, mussels, calamari and chorizo. Easy to make and full of flavor!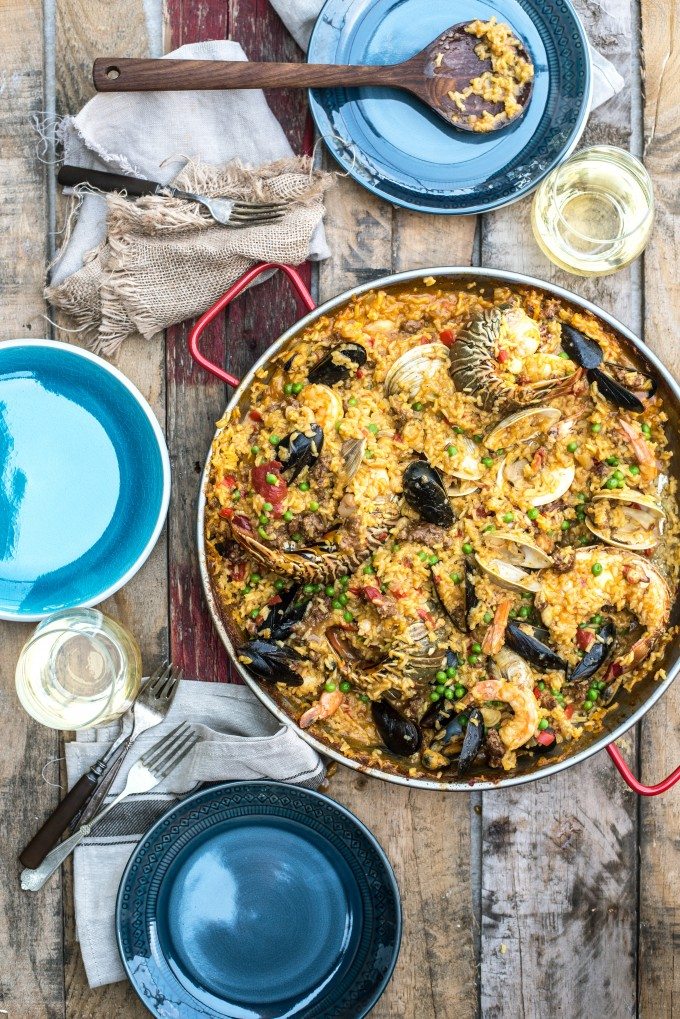 I love when posts write themselves. It usually means that there is a good/interesting/chaotic story to go along with it.
I feel very fortunate to have paired up with Vigo Foods for this recipe. They have a huge breadth of products and they're even based right here in Tampa with me. My favorite partnered posts are the ones where I get to work with just raw ingredients and do what I want with them- that's how I cook in general for the most part!
Let me go through this whole story…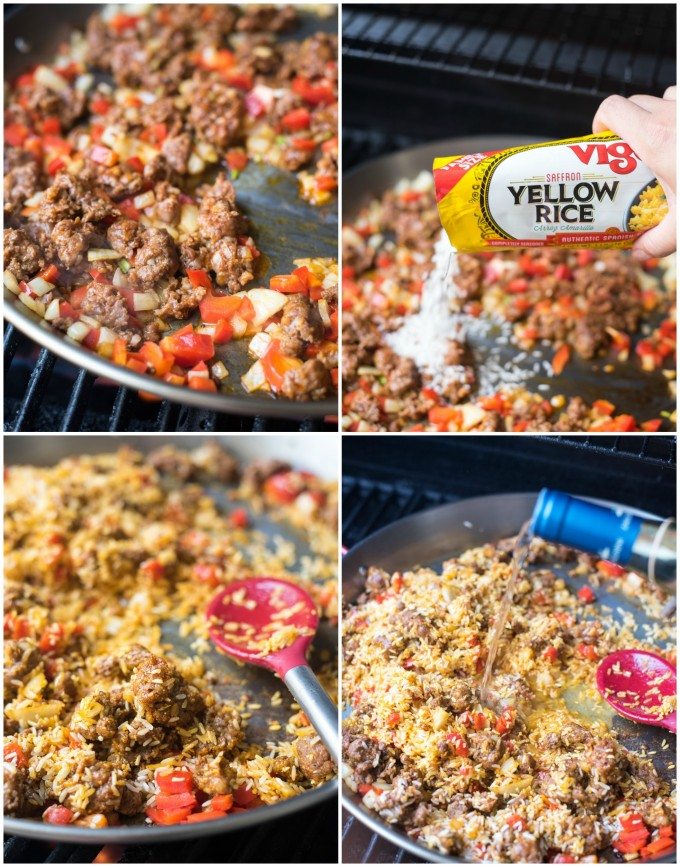 We are going to be moving back to Ohio in just a few short months. Last week, our house was due to be photographed for the real estate listing on the same day that I had my sister-in-law, brother-in-law and nephew coming into town for a week. Our realtor had been at the house a few days earlier, and stressed to me the importance of getting rid of what she called "clutter" (basically, everything that had to do with life working at home with two kids under four). I was stashing as much as I possibly could inconspicuously into cabinets.
Lo and behold, the day before my house had to look like it belonged in Organizational Digest, I was outside cutting the grass when UPS showed up with two massive boxes of rice products and olive oil totaling 40 lbs. I just about died! What timing.
Yesterday was the day that I had always planned on making this dish. It was also our home's first day on the market. I was expecting our first showing to be on the weekend. Lo and behold, our realtor called to tell us that we had not one, but TWO requests for showings that evening. Dave wasn't going to be there for dinner the next night, and I still had a deadline to meet, which meant I couldn't put it off. Ever the optimist, I figured I had enough time to get it all done. I headed to the grocery store to get what I needed after picking up Jonathan from school, where I ran into my friend Jen, of pernil, plantains and beans and rice fame.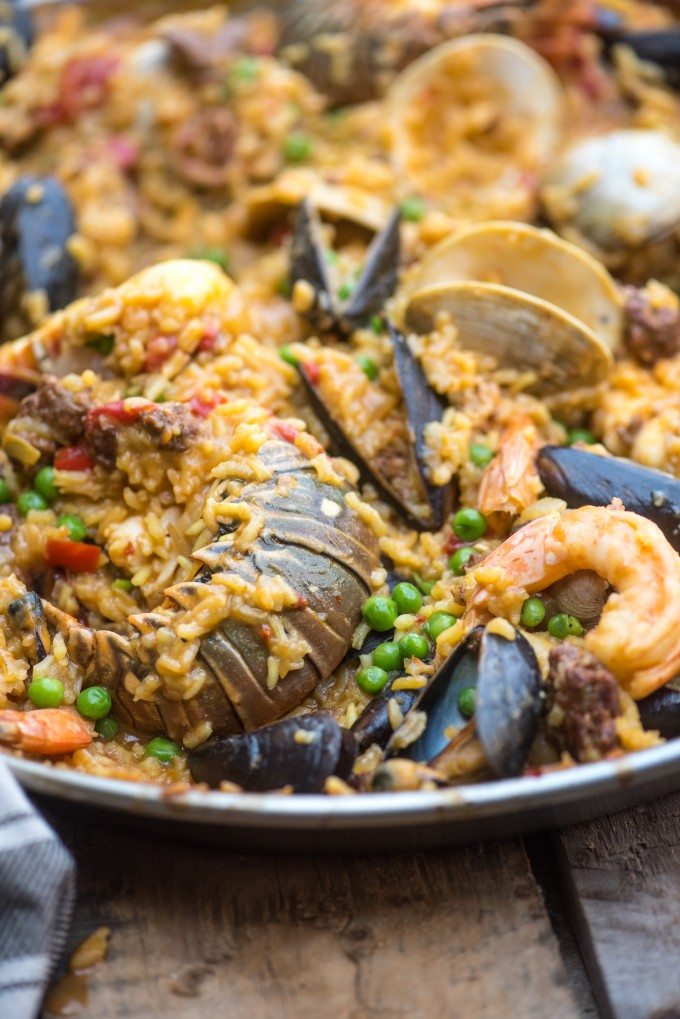 "You're going to make paella TODAY? You know that takes like 2.5 hours, right? At least it does when Louis's family makes it."
Uh, no. I did not. And that doesn't really fit into my life plan for the day. Guess I'll be making go-go-go paella!
So I did, and while it didn't take 2.5 hours, it still took longer than I wanted. I cut it SUPER close on making it, shooting it, and then making my house look perfect afterwards.
Let's actually talk about paella
My brother is in Barcelona studying abroad this year. It's been great, because he has actually really fallen in love with cooking. It makes me super happy. One of the dishes that he has fallen in love with over there is paella.
My first exposure to paella was my junior year of college, when I started dating someone who lived in New Jersey. Although the relationship was about as tumultuous as one could be, he did open my eyes to a myriad of other cuisines that I had never been exposed to in my smallish-sized hometown in Indiana. We went to dinner at a small Spanish restaurant, where I had my first paella and was introduced to the other true love in my life, sangria.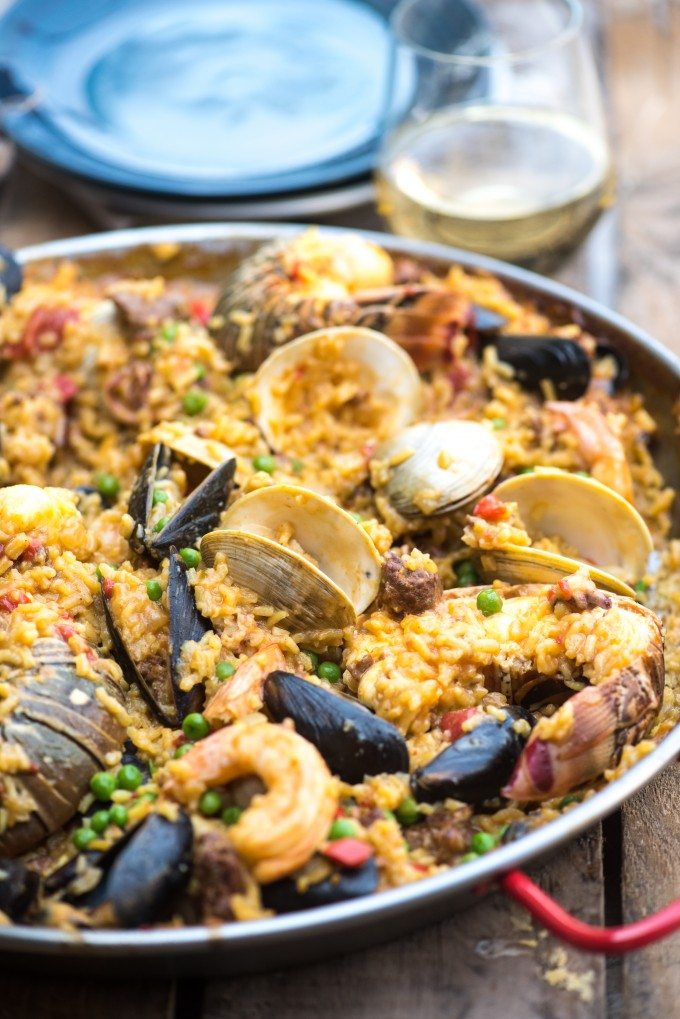 There's really nothing to dislike in paella, especially if you love seafood. A lot of traditional recipes also include a spice-rubbed chicken. But as this is my "go-go-go" paella, I omitted it. Instead, I opted for chorizo, mussels, clams, tiger prawns, lobster, octopus and calamari. I hate to compare the two, because I feel like it's somehow insulting (and if it is, I'm 100% positive I'll get a snarky email from someone about it), but it reminds me a lot of the Italian's risotto, especially in preparation.
So let's talk about the preparation
I actually went out and bought a paella pan to make this! [easyazon_link identifier="B01D57QC5G" locale="US" tag="gogogogo03-20″]In all honesty, it was inexpensive as far as cookware goes, around $30[/easyazon_link]. I could have done this on the stovetop, but in the interest of not potentially having a mess to clean up on my stove just before a house showing, I opted for the grill, which ended up working out splendidly.
I opted for ingredients that I knew were going to add a ton of flavor without a lot of work or measuring from me- chorizo, onion, red pepper, wine, seafood stock. Rather than using regular Spanish rice and adding spices and saffron, I chose to use Vigo yellow rice for an all-in-one solution.
After a minor panic attack where I thought the texture was supposed to be more like fried rice (it's not), I ran a taste test. Then another. Then another. It was SO good. You get such great flavor from the chorizo and rice, and the seafood and stock added that salty brininess that just reminds you of the sea. All in all, it probably took me like 45 minutes to an hour to make, which likely would have been faster had I been using a stovetop. I took it over to my neighbors, which we ate with steak and wine during the showings.
And okay, I might have spied on them a teeny tiny bit.

Seafood Paella
Seafood Paella is a filling dinner ready to share with friends, chock full of lobster, shrimp, clams, mussels, calamari and chorizo. Easy to make and full of flavor!
Ingredients
3

tablespoons

Vigo olive oil

1

pound

chorizo sausage

removed from casing

1

medium onion

diced

1/2

red pepper

finely diced

1 15

oz

can whole peeled tomatoes

drained and roughly chopped

1

pound

Vigo yellow rice

2

cups

dry white wine

2

cups

seafood stock

1

cup

chicken broth

1

pound

frozen seafood medley

2

lobster tails

split lengthwise

1/2

pound

jumbo shrimp

peeled and deveined

1/2

pound

mussels

1

pound

littleneck clams

1

cup

frozen peas
Instructions
Place a paella pan (or large skillet) over medium high heat. Add olive oil to the pan and heat to shimmering.

Crumble the chorizo into the skillet, along with the onions and red peppers. Sauté until the onion is translucent, the peppers are softened and the chorizo is browned.

Pour the yellow rice and tomatoes into the skillet and stir; cook 2 minutes. Deglaze the pan by slowly pouring in the wine, scraping up any browned bits on the bottom of the pan. Turn the heat down to medium and allow to cook, stirring occasionally.

When the wine is absorbed, add the broth and stock in batches, stirring frequently. About halfway through adding your broth, add the lobster tails to the rice mixture.

When only about a cup of liquid remains to be added, add the remaining seafood. When the liquid is almost fully absorbed, toss in the peas. Stir to evenly incorporate before serving.
If you like this Paella Seafood dish, try these:
And make sure to check out all of Vigo's amazing products:
Shop Vigo's online store or buy at your local Publix and other fine retailers
You have your own chance to win a whole plethora of goodies, thanks to Vigo and Alessi. Check out everything that you can win here: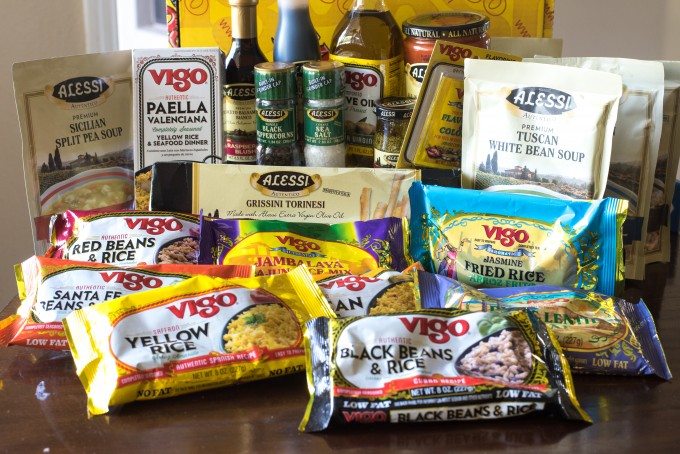 Amazing, right??