Pernil, Puerto Rican Slow Roasted Pork- tender, meltingly tender pork with amazingly crispy skin. It's delicious and so addictive!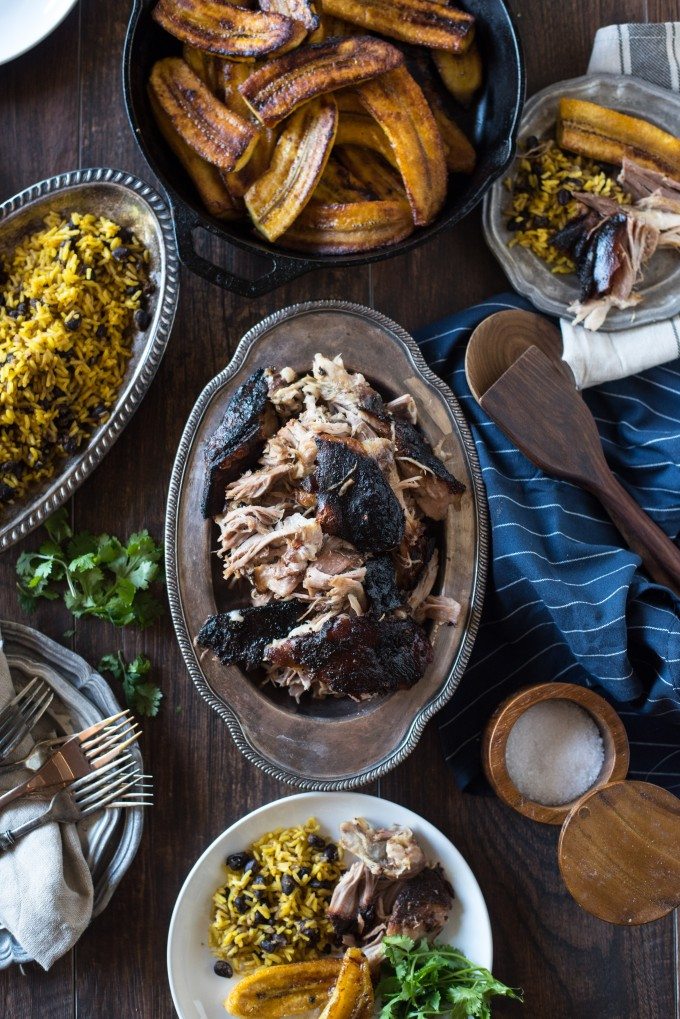 For living in Florida, I really haven't delved too much into the smorgasbord of other cultures that surrounds me. This is unfortunate, based on my recent Christmas Eve introduction to Puerto Rican food and Pernil, the crispy, juicy tender piece of pork heaven. Where have you been all my life?
So my CFF- that's Closest Florida Friend- is this petite blond firework with the two adorable daughters (you can see one of them making cookies with Jonathan here), and for every Christmas Eve, they celebrate her husbands's Puerto Rican heritage. We were all supposed to go over there for a bit, then in typical kid fashion, Jonathan came down with a temperature. I needed to get out of the house for a bit, so I grabbed Michael and we headed down for a bit while our Christmas Eve duck was in the oven.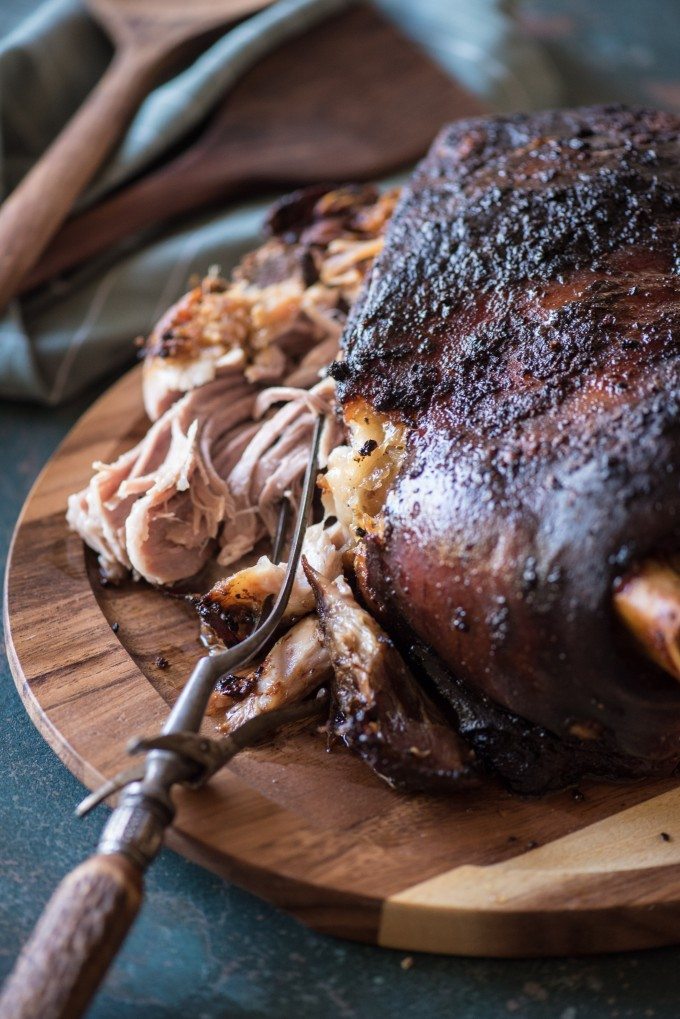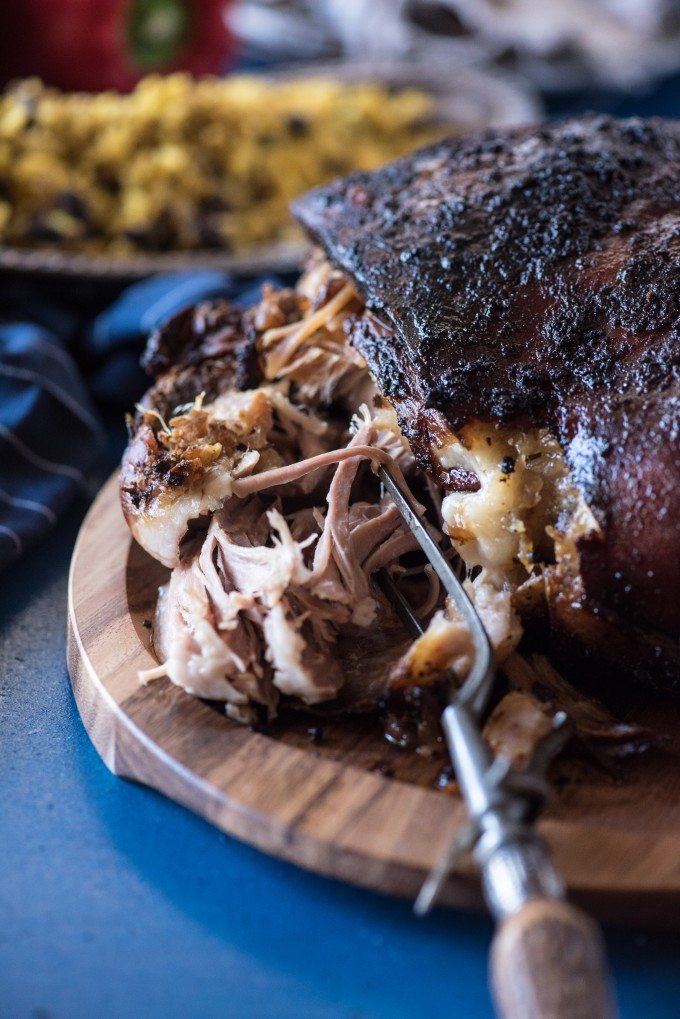 Homemade Slow Roasted Pork
In typical Michael fashion, he decided he was starving ten minutes after we got there. I broke off small pieces of fried plantain for him and he went absolutely nuts. There was tons of food, so she packed me a full plate to go. Rice and beans, fried plantains and roasted pork. Being the person that I am, I was sampling all of it when I got home and ohmygodsogood. I thought about it often over the next couple of weeks and decided that they all needed to be shared.
Now evidently Pernil is a Christmas thing. I can't attest to whether it is eaten other times of the year, but I know it will be here! It feeds a TON and is relatively inexpensive to make. A 9 lb roast was about $15 and I ended up freezing more than half of it.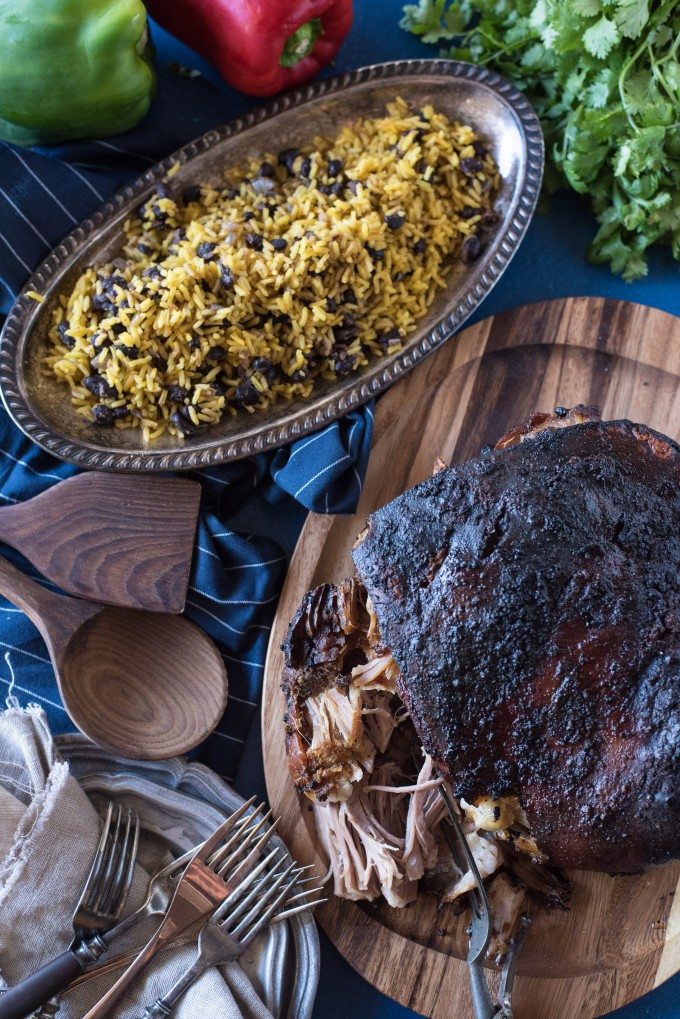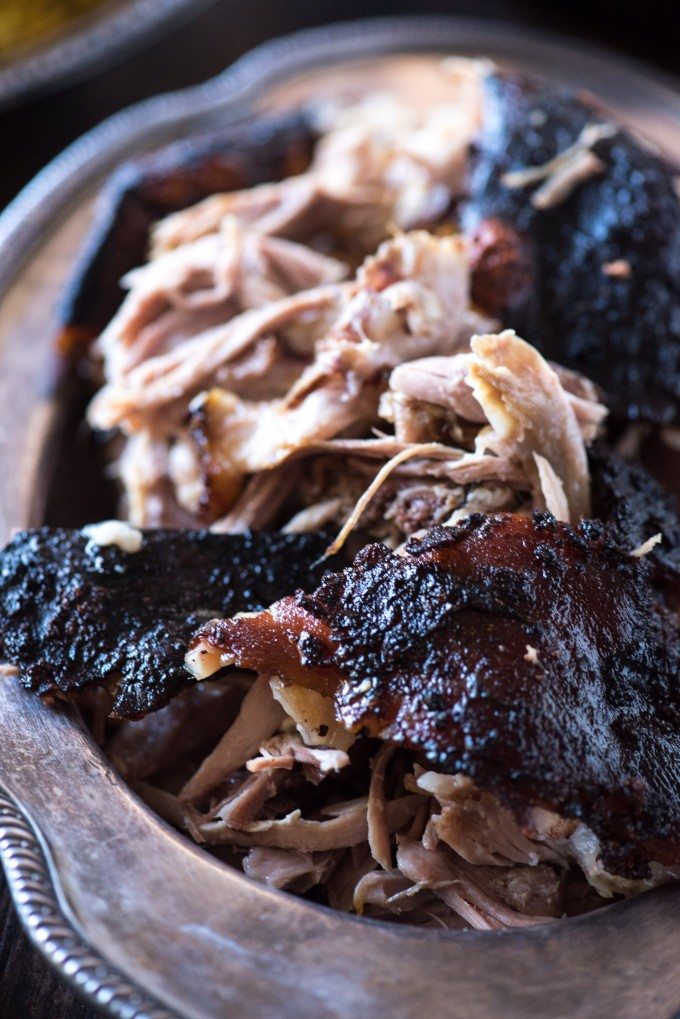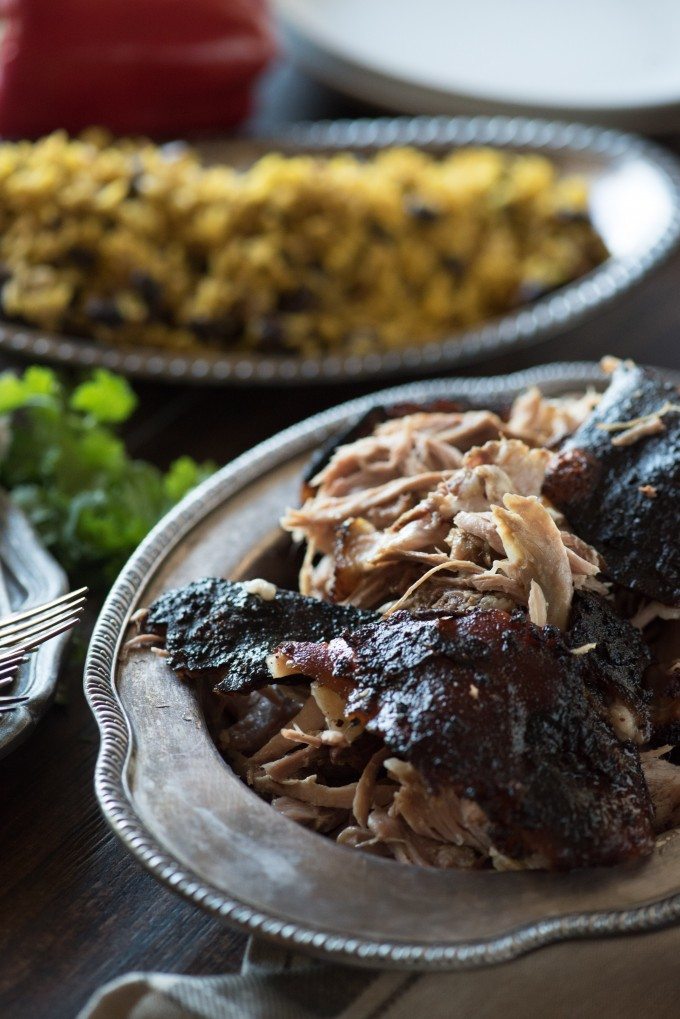 If you liked this pernil, check out these other pork recipes:
Pernil, Puerto Rican Slow Roasted Pork
Ingredients
9

lb

bone-in pork shoulder roast

12

oz

soffrito

4

cloves

garlic

thinly sliced

kosher salt

Adobo seasoning
Instructions
The night before, cut deep slits all over the pork roast. Stuff 1-2 slices of garlic and a spoonful of soffrito (~1 tablespoon) in each slit. Coat the roast in the remainder of the soffrito and season generously with coarse kosher salt and adobo seasoning (I used probably 3-4 tablespoons). Place roast in a roasting pan and tightly cover with foil.

The next day, preheat oven to 350F. Make sure the pan is tightly covered and slowly roast, approximately 40-45 minutes a pound (it took 7-8 hours for my 9 lb roast), basting once an hour and covering, until the meat is tender and easily pulls away.

Raise the oven temperature to 400F and remove the foil. Carefully crisp the skin, being careful not to burn and removing it if it gets too dark, 10-20 minutes.