This Fried Plantains recipe is completely phenomenal- not to mention easy! Only three, maybe four, ingredients go into these melt-in-your-mouth sweet plantains!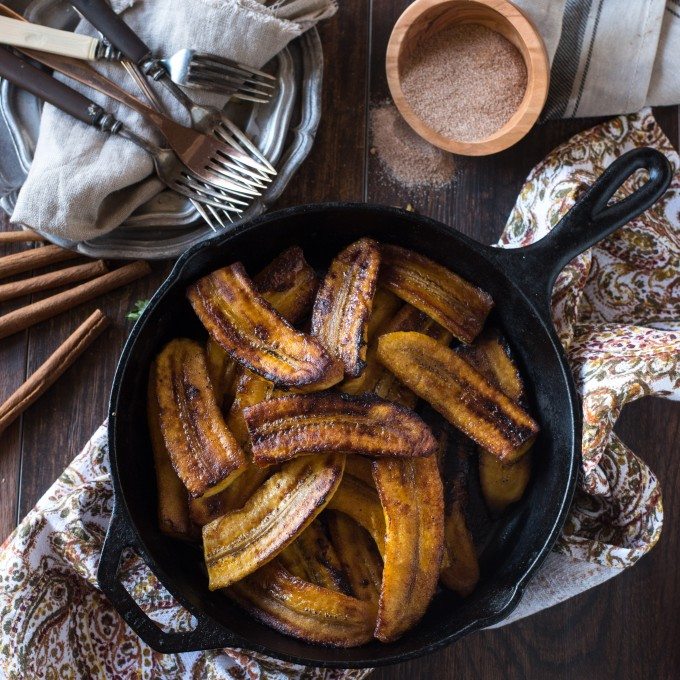 Whenever I think about these Fried Plantains, I'm reminded of the end of the movie A Christmas Story, where the dogs from next store steal the family's turkey and they are forced to go out for dinner. Ralph says, "That was the year that we were introduced to Chinese turkey," as they were served a head-on roasted duck.
This scene reminds me of my past Christmas Eve for a couple reasons- one, I made a roasted duck and two, I went to my friend Jen's house for a Christmas Eve party. As I said before in my most on the Slow Roasted Pernil, her husband is Puerto Rican and they celebrate his family's heritage and customs on Christmas Eve. Their whole countertop was covered with unfamiliar-to-me food- the Pernil, Yellow Rice & Beans, and Fried Plantains.
This Christmas Eve was right around the time that Michael really started getting into eating solid food. By solid food, I'm not talking about pureed baby food. I'm talking about the real deal people food. When I went over to Jen's house that night, Michael OF COURSE decided that he was starving and needed to eat immediately. I broke off a little piece of fried plantain and gave it to him.
His eyes lit up like a freaking Christmas tree!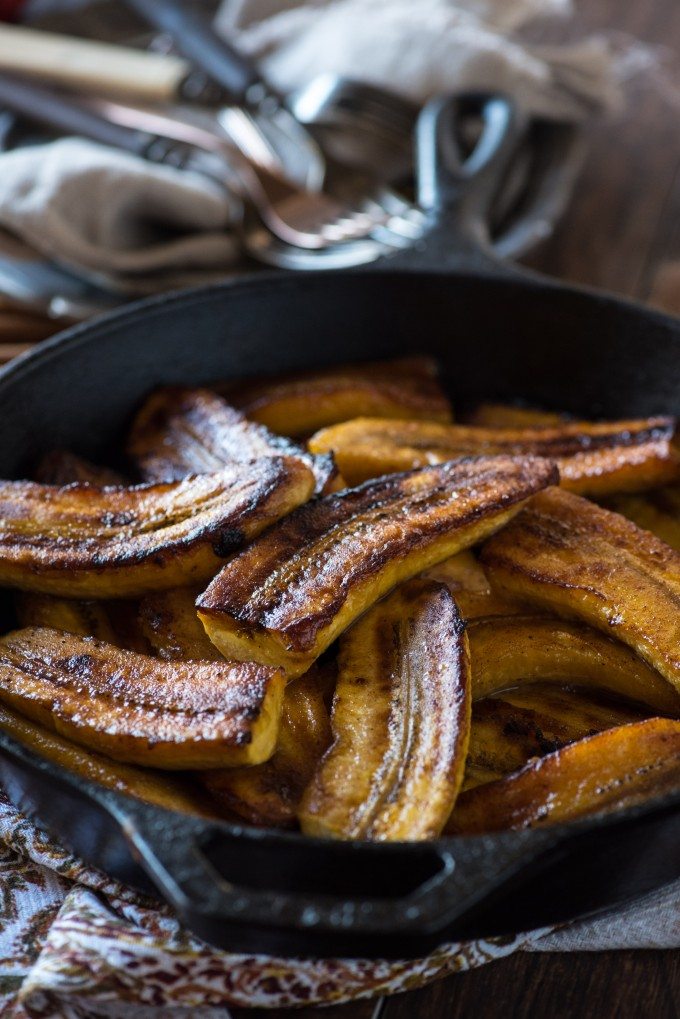 I absolutely knew that I had to incorporate these into my copycat Puerto Rican feast. I figured that they couldn't be hard- I mean, after all, it's practically all in the name, right?
Yes, yes it was. You can be done with these in less than 10 minutes, I swear. Using a cast iron skillet yielded really nice results when caramelizing the plantains, but you can probably use whatever you've got.
Fried Plantains
Ingredients
5

plantains

cut in half lengthwise and widthwise

1/4

cup

cinnamon sugar

Vegetable oil

for frying
Instructions
Heat a cast iron skillet over medium heat. Pour a thin layer of oil into the pan, about 1/4" deep.

Working in batches, place the plantains cut side down, being careful not to overcrowd the pan.
Nutrition
Serving:
1
plantains, 4 pieces