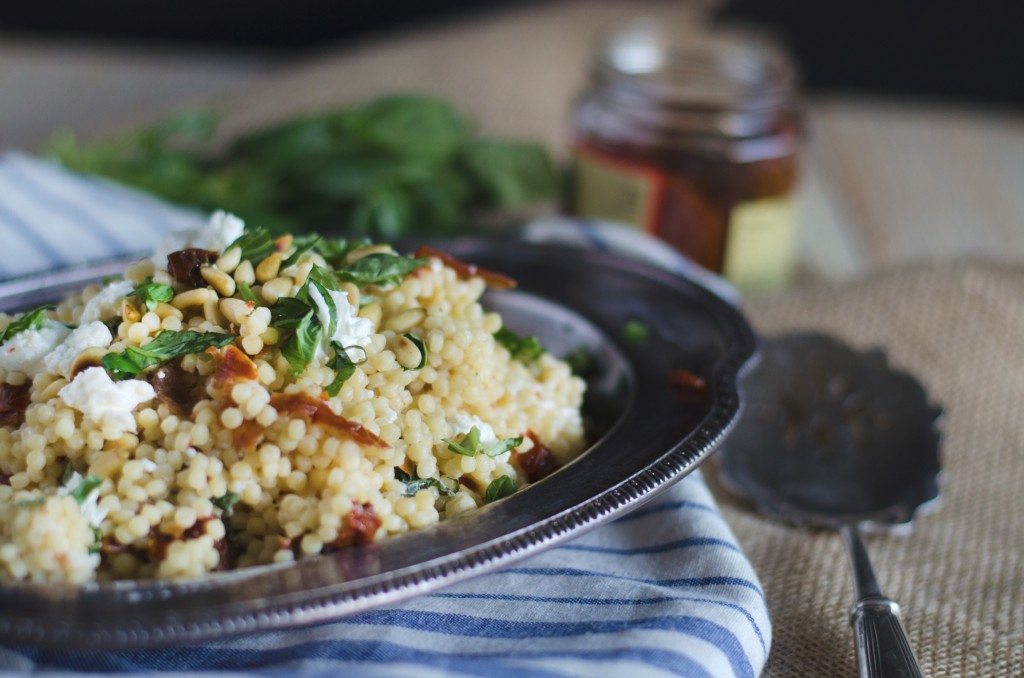 If I am lazy in any part of my culinary life, it's in side dishes. I tend to focus most of my efforts on the main dish, turning it into the star of what ever meal I'm making, leaving the side dishes to be supporting actors- or even a lowly "no speaking line" extra. I thought maybe it was time to change that, because sometimes you just don't want your main dish to be anything more than a simple baked chicken or a nice sautéed piece of fish.
I have to admit, my initial inclination for this recipe idea was to do it with quinoa, since I just reorganized my pantry and found a whole huge bag of it on opened. But then when I went to make it, I spied a container of Israeli couscous and decided that I thought that sounded a lot better to me. The great thing about quinoa, couscous, Israeli couscous, orzo, or really any sort of small grain or pasta, is that it's a blank canvas which can be dressed up with whatever flavor sound good to you on a specific day.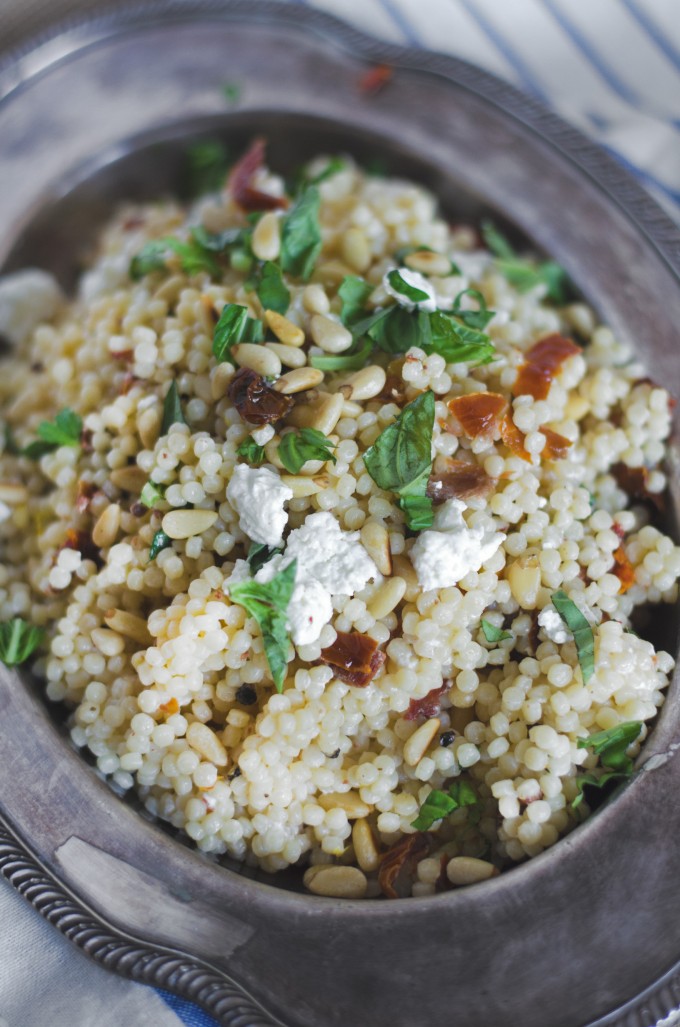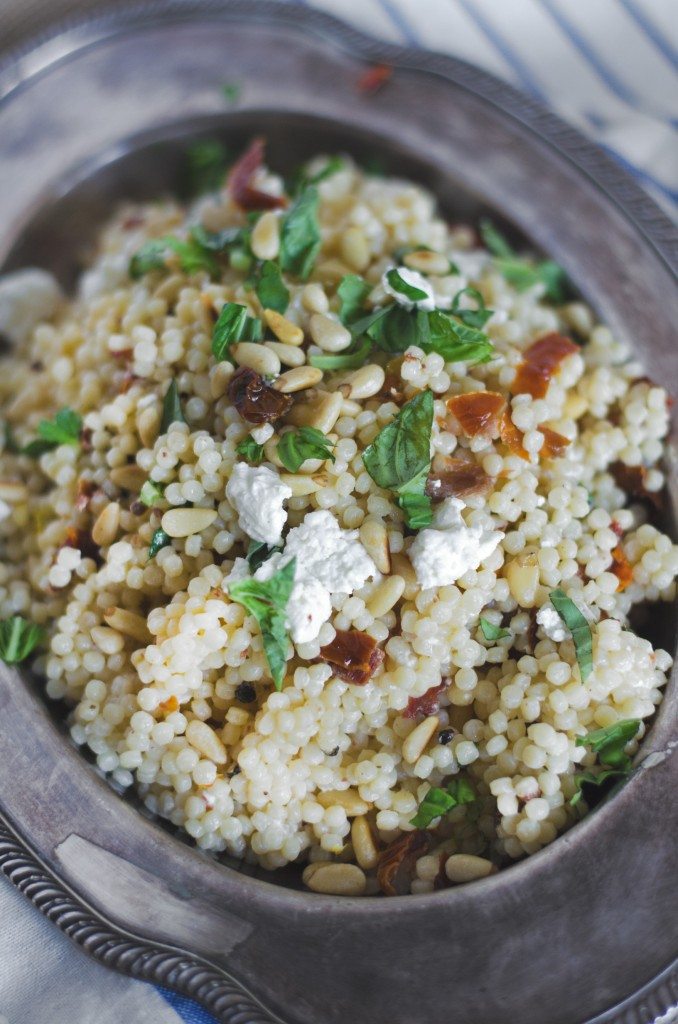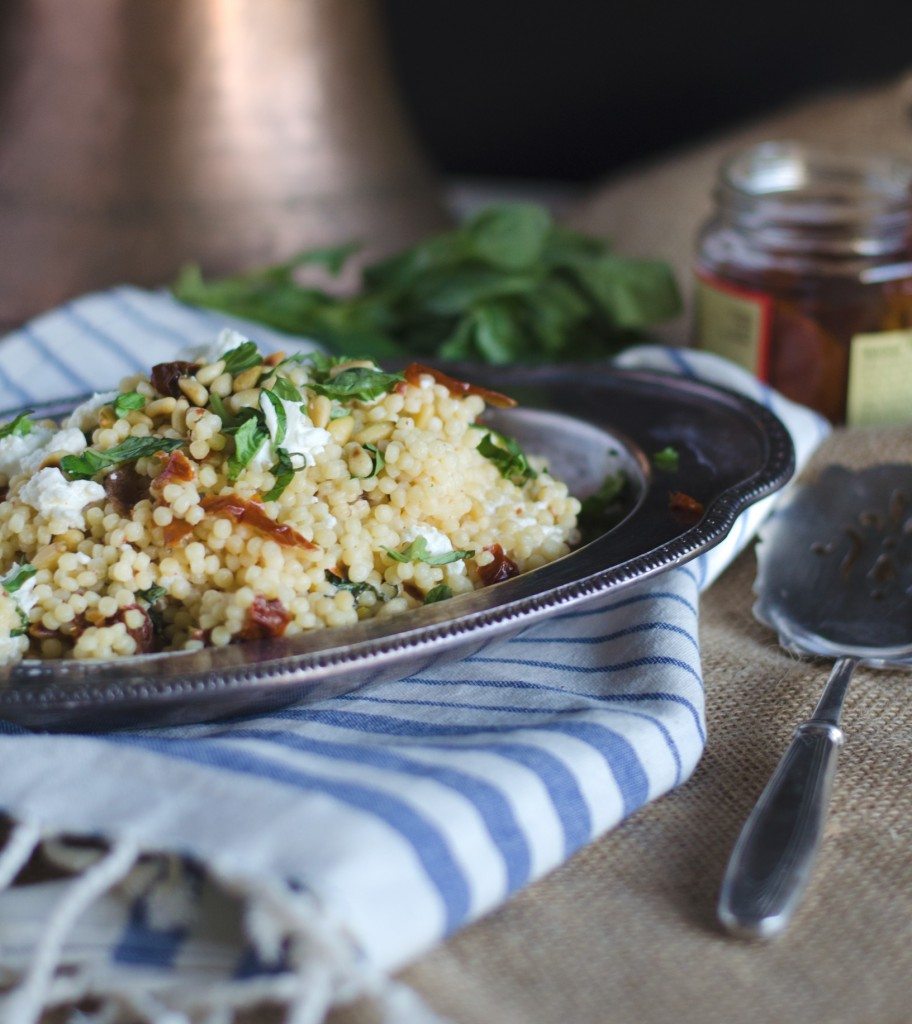 In this case I went for Mediterranean flavors – goat cheese, sun-dried tomatoes, basil and toasted pinenuts. Very fast – where the most amount of work you'll do is chopping up some basil and tomatoes, and the only mindful part involves toasting pinenuts so they don't burn.
It was a huge hit in our house, so it's safe to say that it will be making a reappearance in the near future.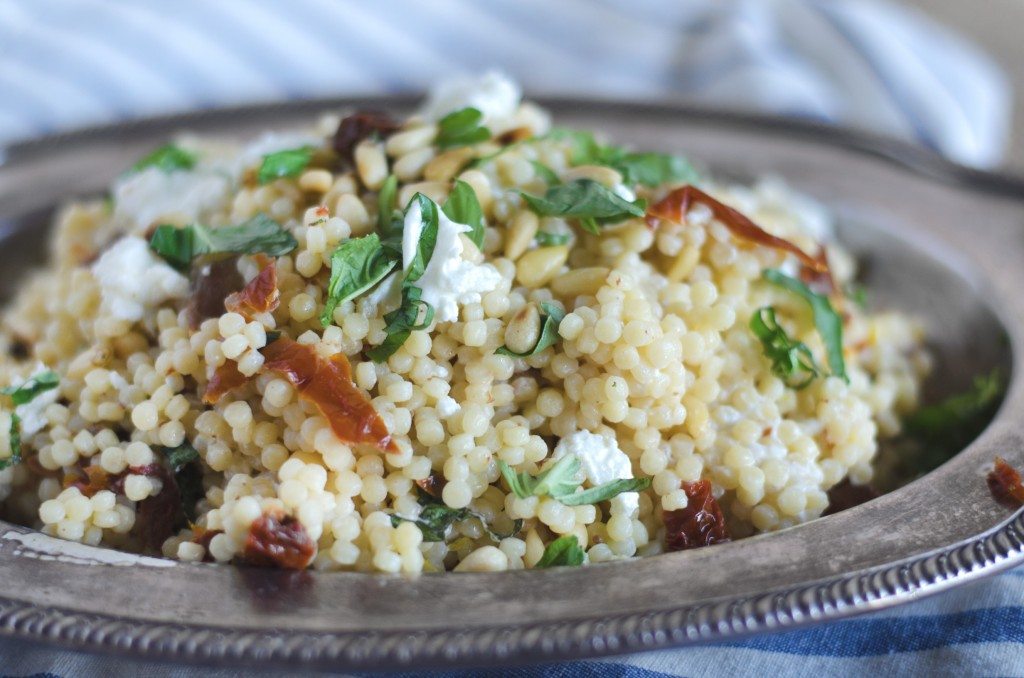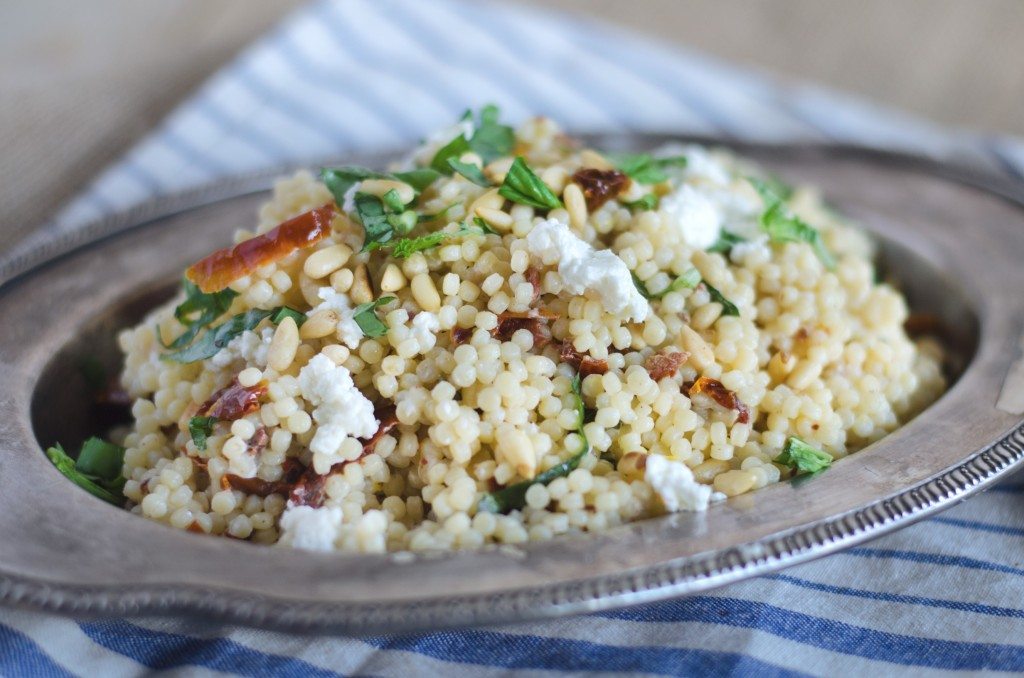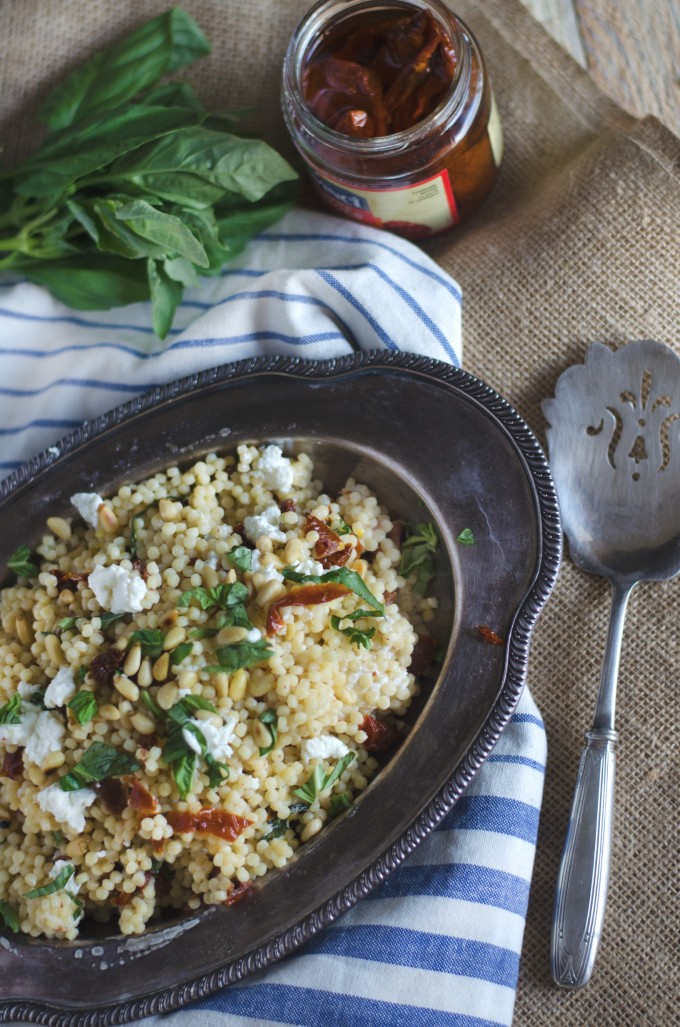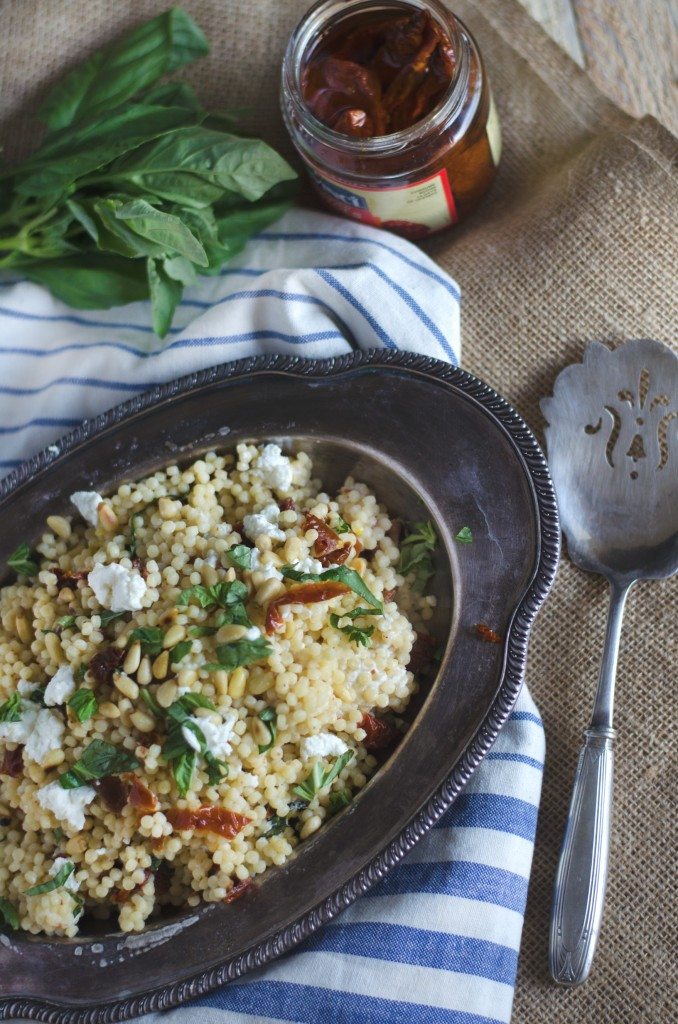 p.s. I think this would be great COLD as a pasta salad too! Food for thought for next summer.
Israeli Couscous with Sun Dried Tomatoes, Basil and Goat Cheese
Ingredients
1

cup

Israeli couscous

1/4

cup

thinly sliced basil

1/3

cup

sun-dried tomatoes packed in oil

chopped

1 1/2

T

red wine vinegar

3

oz

crumbled goat cheese

divided

3

T

pinenuts
Instructions
Bring a saucepan of salted water to a boil; add the couscous and cook until al dente. Drain.

Add the drained couscous to a large serving bowl. Add the basil, tomatoes and 2 oz. of the goat cheese. Toss together to combine.

In a small skillet over medium low heat, add the pine nuts. Toast them slowly until golden brown, frequently shaking the pan to keep them from burning.

Sprinkle the pine nuts over the top of the couscous and garnish with the remaining crumbled goat cheese. Serve.