This post brought to you by Fresh from Florida. The content and opinions expressed below are that of Go Go Go Gourmet.
Let me start off by saying: If you like my Pasta with Sausage, Basil and Mustard (and who doesn't), you're going to love these Couscous and Sausage Stuffed Peppers. Its a very similar flavor profile, but with an added "zip" from being baked in bell peppers.
When you think of Florida produce, you probably think "tropical"- oranges, obviously. Key limes? Of course. Lemons? I have a lemon tree in my backyard, so I assume those grow here.
What about bell peppers? No? Me neither.
Turns out that this is peak season for Florida bell peppers. "Fresh from Florida" produce happens to be at most of the grocery stores around me. It's probably all around you too- you've just never noticed it before.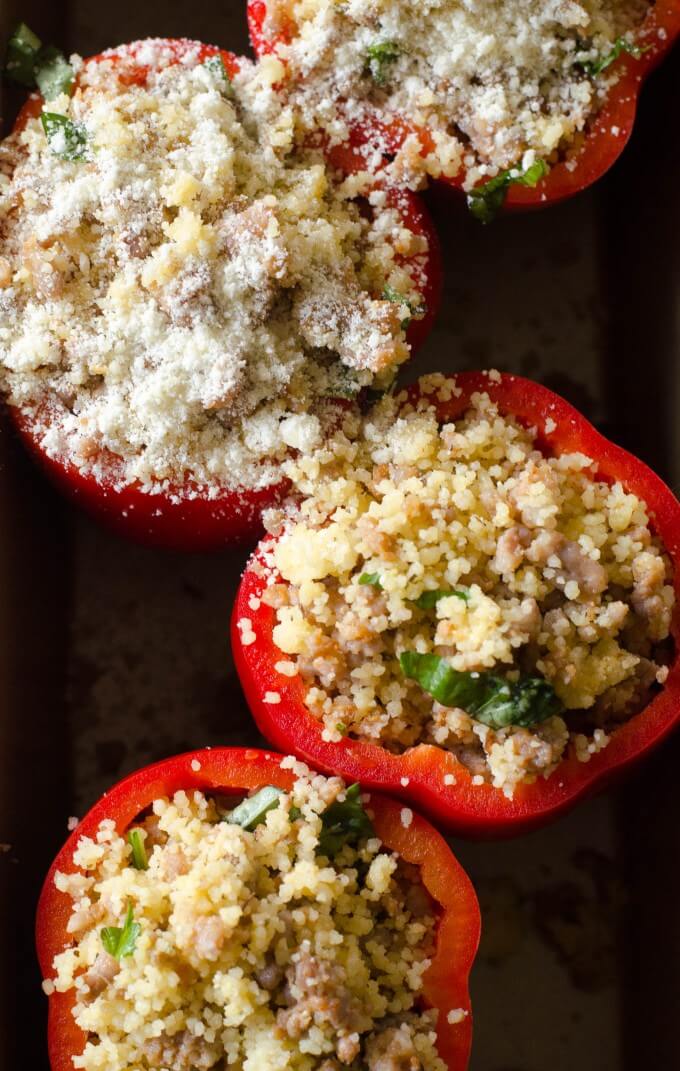 I love cooking with in-season, local produce as much as I can. Not only is it usually cheaper, it's usually better tasting. However, even I have mental blocks sometimes. Luckily, Fresh from Florida keeps a good rotation of recipes and ideas for whats hot in Florida's gardens right now.
So the next time you're out at the grocery store shopping for dinner, keep an eye out for the "Fresh From Florida" signs- it might just have originated around the corner from yours truly. And be sure to follow Fresh from Florida on Facebook, Instagram and/or Fresh from Florida on Twitter to get fresh recipe ideas brought straight to you.
Later this month- strawberries!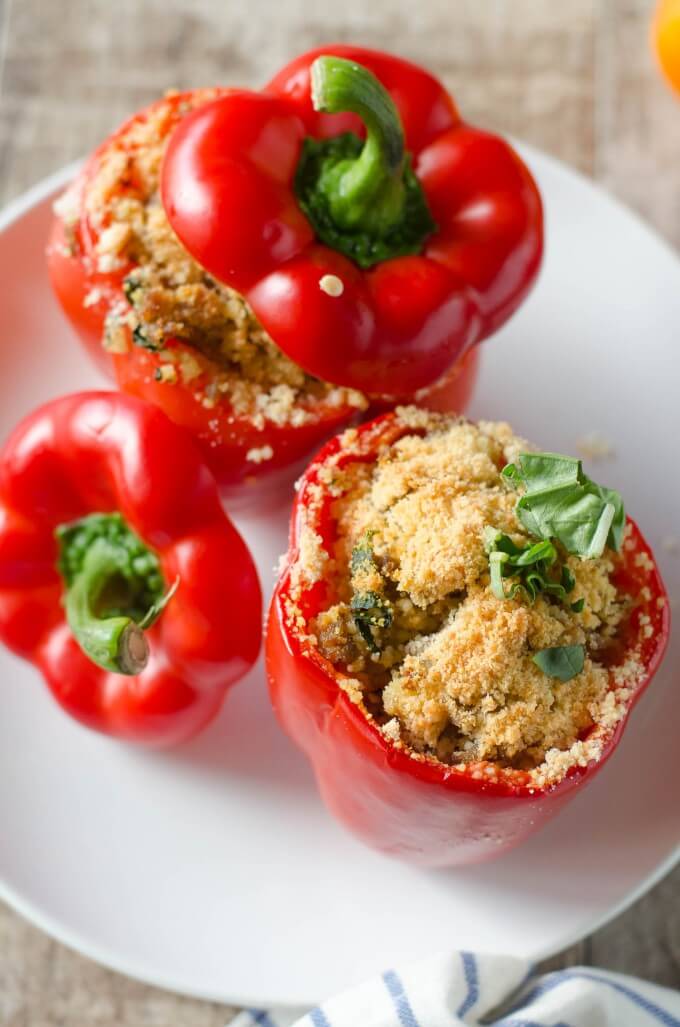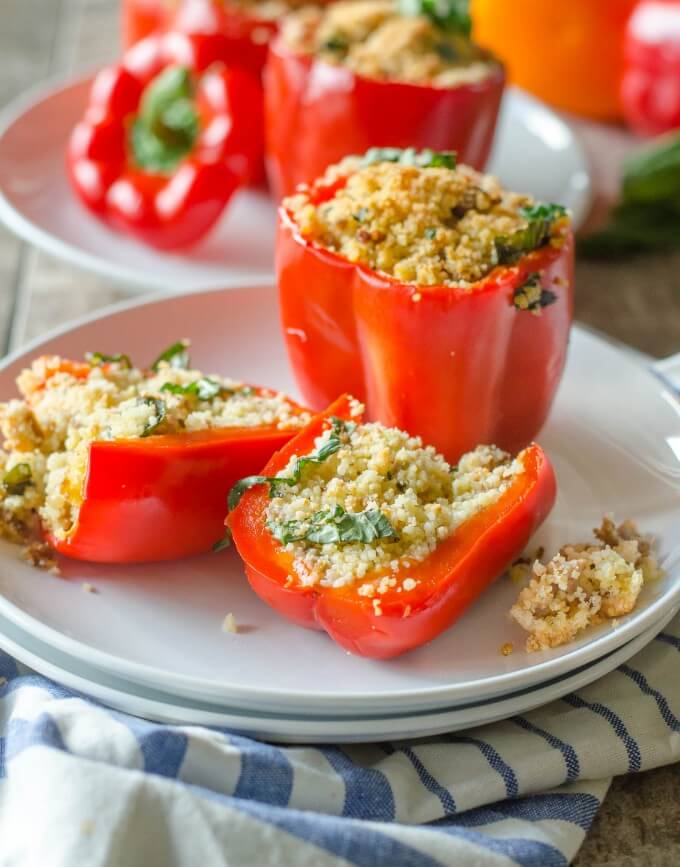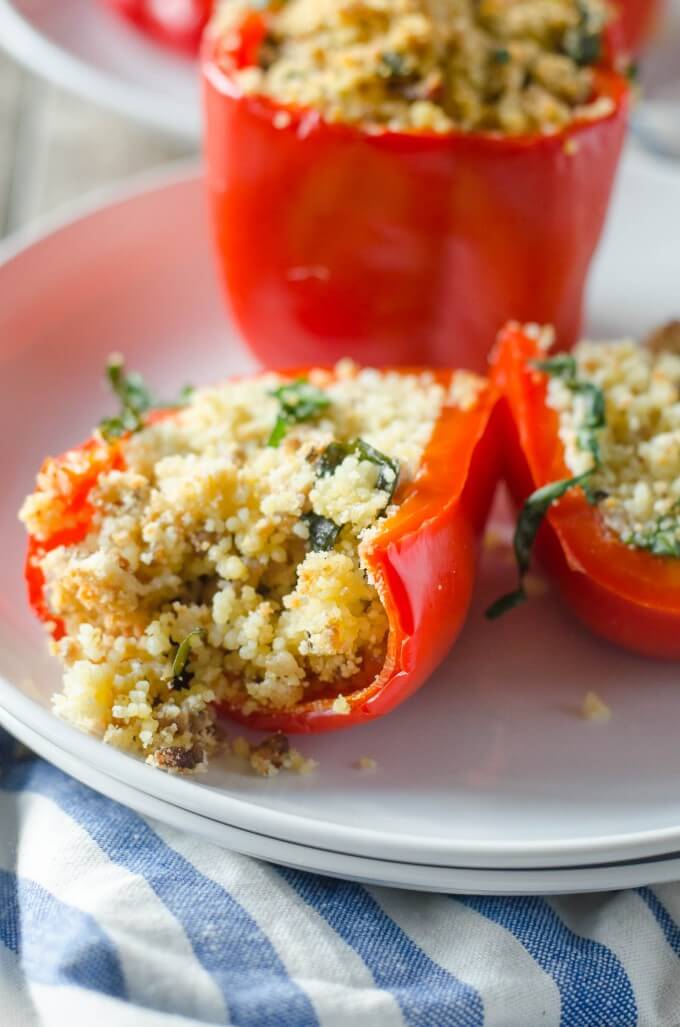 Couscous and Sausage Stuffed Peppers
Ingredients
1 1/2

cups

water

1 1/2

cups

couscous

1

lb

italian sausage

1/4

cup

dry white wine

1/4

cup

chopped basil

1/2

cup

grated parmesan

8

bell peppers
Instructions
Bring water to a boil in a medium sized saucepan or skillet. Season with salt and add couscous. Stir quickly with a fork, then cover and turn off the heat.

In a separate skillet, brown the sausage over medium heat, breaking it up into fine pieces with a wooden spoon.

Add the wine to the pan to deglaze, using a wooden spoon to scrape up any browned bits on the bottom of the pan. Pour into a large mixing bowl.

Fluff the couscous using a fork and add to the bowl with the sausage. Add the basil and 1/4 cup of the parmesan, toss to evenly combine.

Preheat the oven to 350F. Slice the tops off of the bell peppers; remove seeds and ribs. If needed, cut a thin slice off the bottom, being careful not to cut into the hollow of the pepper, to allow it to stand upright.

Place peppers in a baking dish and fill with the couscous filling. Add a small amount of water to the bottom of the pan (1/8"), and bake in preheated oven for 10 minutes. After 10 minutes, sprinkle the tops with parmesan cheese and return to oven for another 10 minutes.