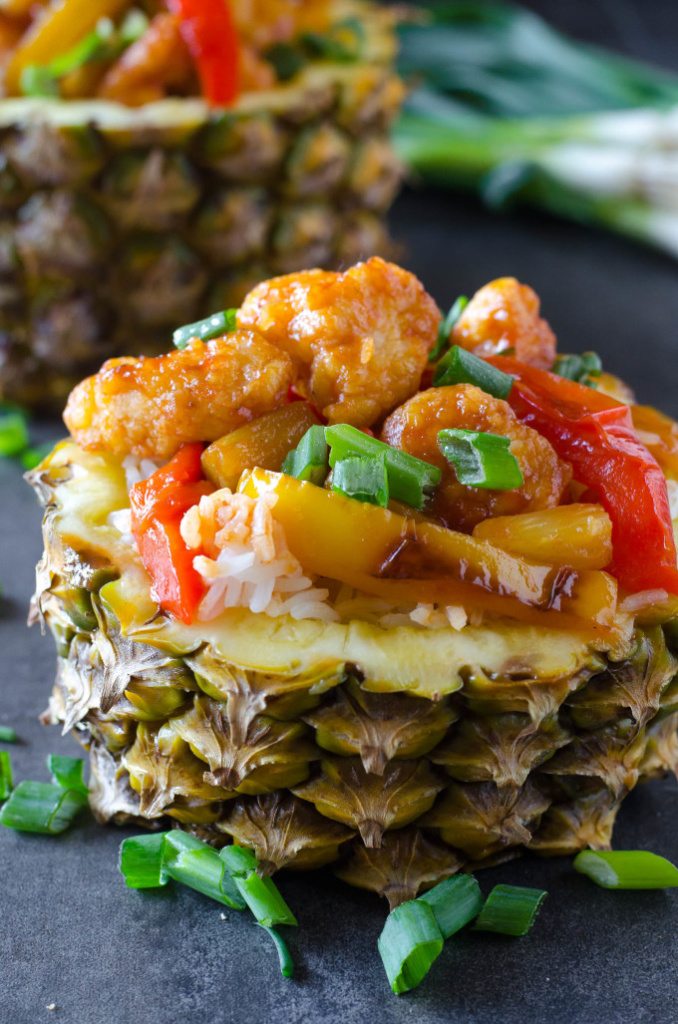 This dish excites me.
I have always loved Sweet and Sour Chicken- it was the first dish I ever started ordering from Chinese takeout, and even at nearly 31, I still love it. My ordering has expanding, but from time to time, I still indulge in it myself.
I've passed my love of this dish on to Jonathan- unsurprisingly, kids almost always seem to go for this dish. It's chicken, it's sweet, it has pineapple, it has rice- pretty much the mainstays of a kid's diet.
This version is loaded with pineapple, bell peppers and an incredibly simple sauce that uses basic household ingredients. I don't add any sugar to this dish like many other recipes- instead, I use the pineapple juice from the canned pineapple for a more natural sweetener. If you use fresh pineapple, it comes out to be about 3/4 cup of pineapple juice.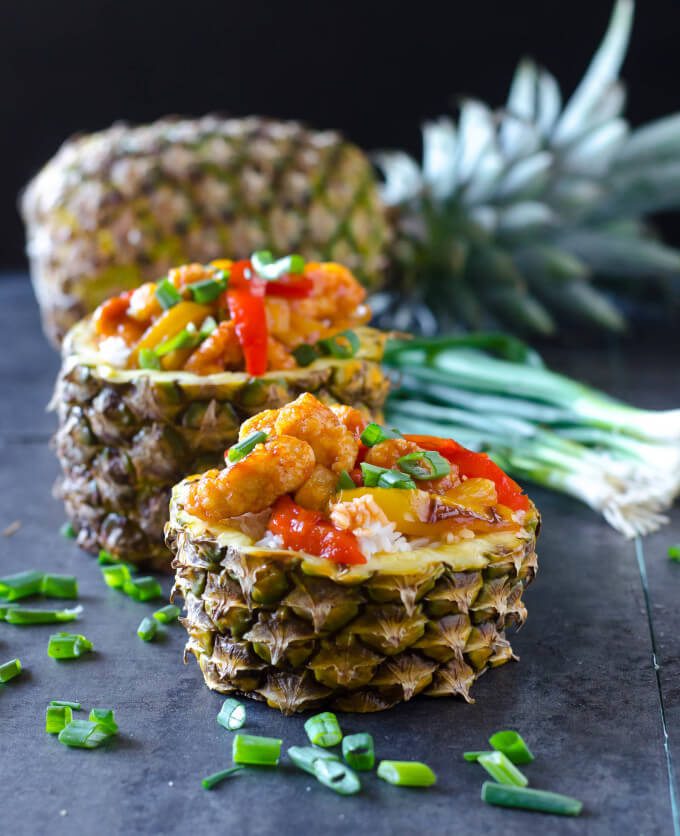 The bowls are a great way to serve this if you really want to knock someone's socks off. Cut the top and bottom off of a ripe pineapple and run a paring knife  around the outside edge, about 3/4″ in. Be careful not to go all the way through! Scoop out the pineapple (you can either use it in this dish or set it aside for another purpose), then layer in your rice and chicken! The rice will absorb any residual pineapple juice, so there's another bonus.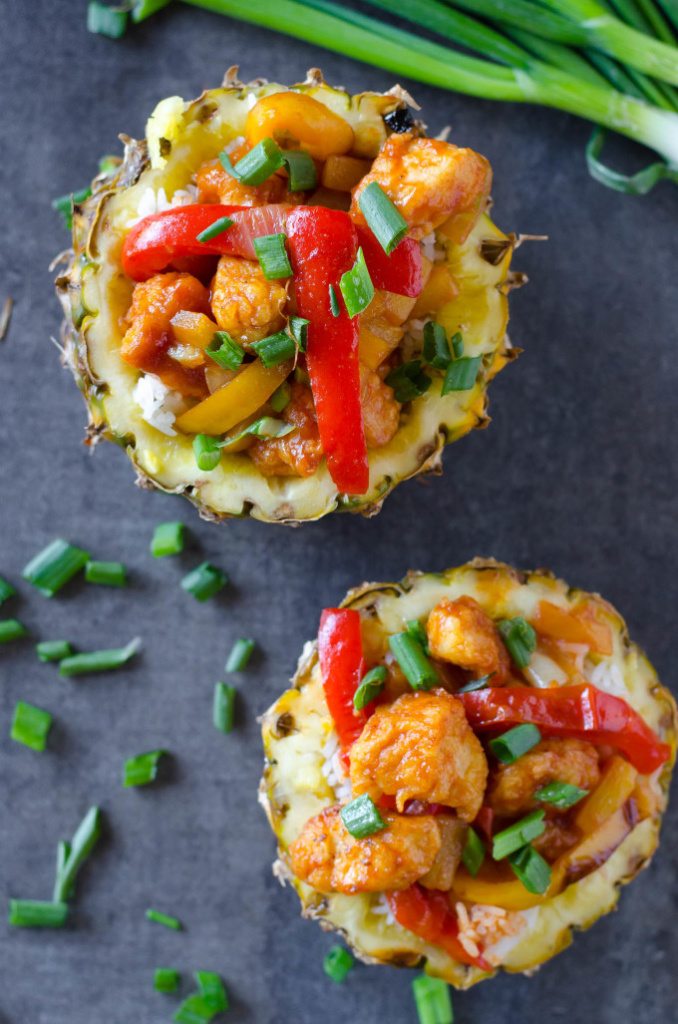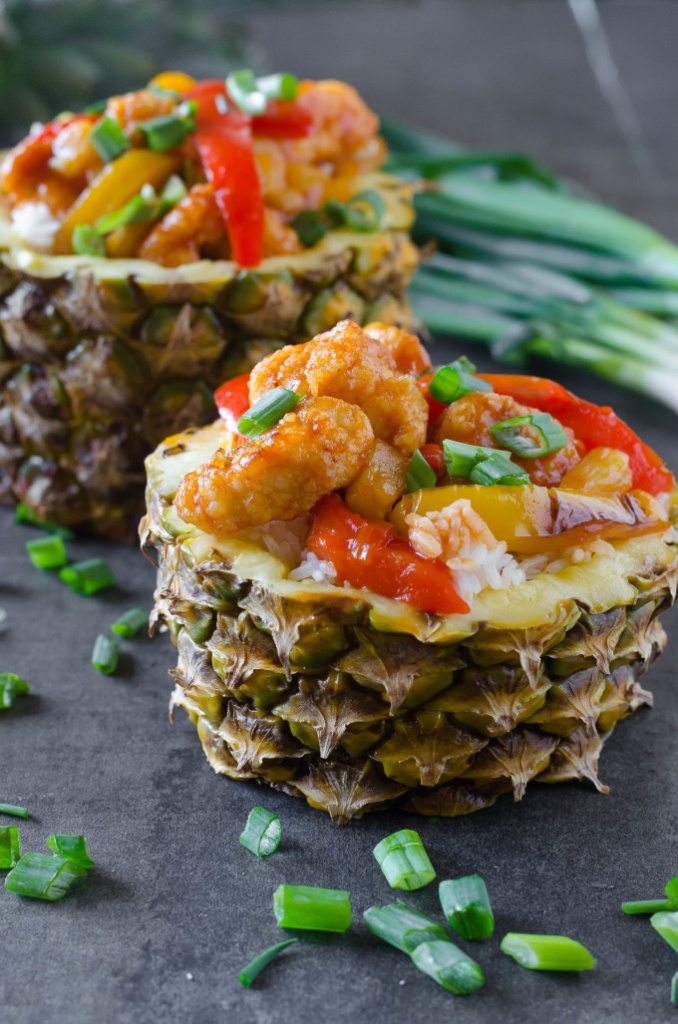 Sweet and Sour Chicken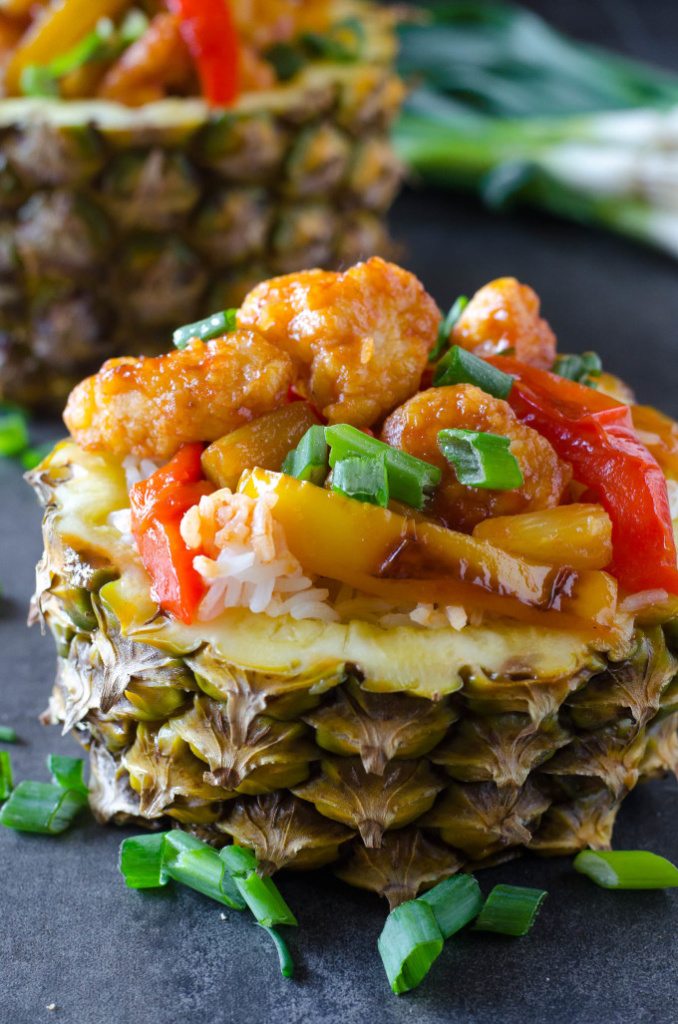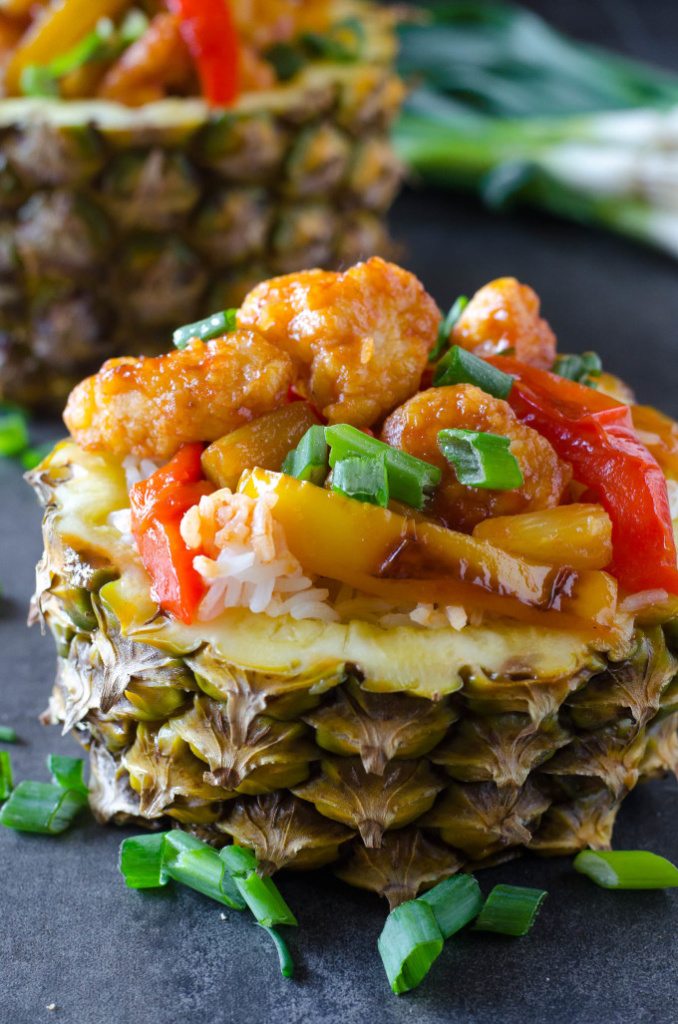 Ingredients
1/2

cup + 1 tsp cornstarch

2

eggs

2

large boneless, skinless chicken breasts, cut into 1 1/2" pieces

Vegetable oil

3/4

cup ketchup

2

T soy sauce

2T

rice wine vinegar

1

red bell pepper, cut into strips

1

yellow bell pepper, cut into strips

1/2

large onion, cut into chunks

20

oz can pineapple chunks or tidbits, juice reserved
Instructions
In a shallow bowl, beat eggs. Add ½ cup cornstarch to another bowl.
Heat 3T oil in a large frying pan over medium heat. Dip the chicken pieces in egg, then coat evenly with cornstarch, shaking off any excess. Place in the frying pan. Repeat with remaining chicken.
Pan fry the chicken until golden on the outside, turning as necessary (minimally). Chicken does not have to be cooked through. Remove from pan and set aside.
Combine ketchup, soy sauce and vinegar in a small saucepan over medium heat. Whisk cornstarch into the reserved pineapple juice, then add to the pan. Simmer until slightly thickened; remove from heat.
Dump all but 1 T oil (or add more oil to equal 1 T). Add the bell peppers and onion to the pan and saute over high heat until they begin to soften. Add the pineapple and cook until they begin to caramelize.
Return the chicken to the pan and pour sauce over. Toss until chicken and vegetables are evenly coated, saute until chicken is cooked through, approximately 3-5 minutes. Serve with white rice.