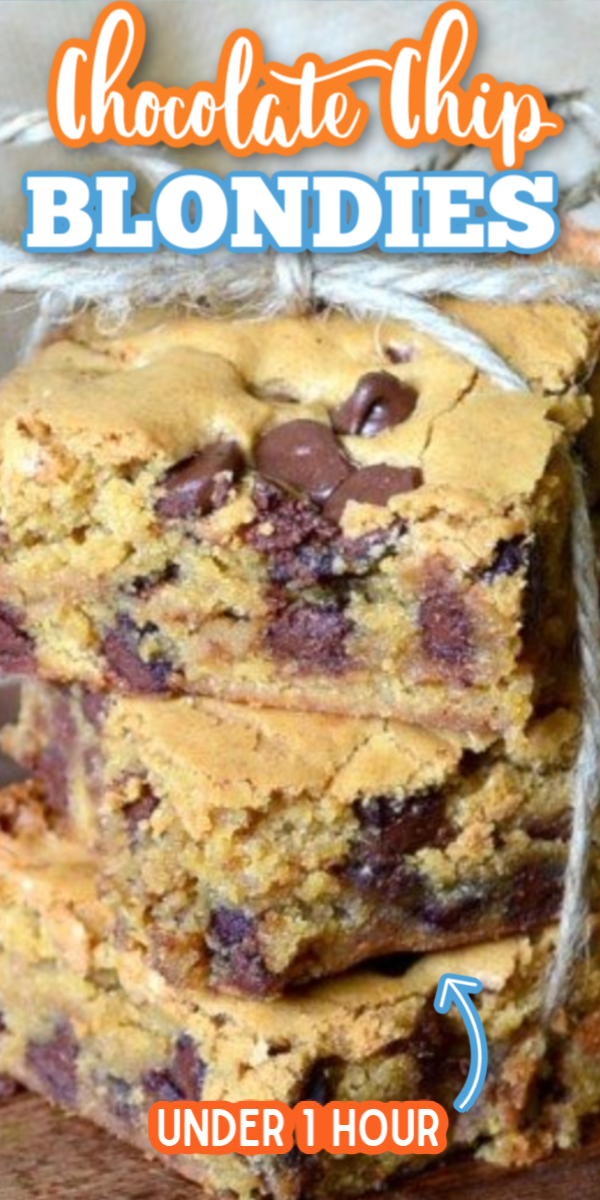 This Chocolate Chip Blondies recipe is a combination of a soft chocolate chip cookie and a brownie. Just a few minutes to mix together- you can't lose!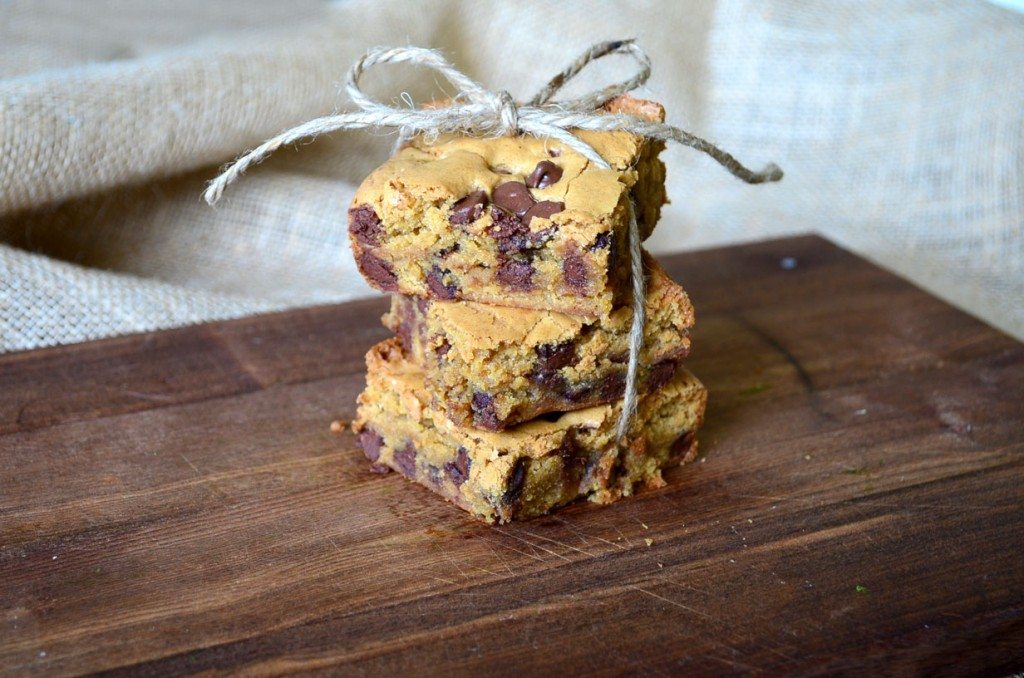 I feel as though I am obligated to make the following joke:
Everyone loves a sweet blondie!
Now that that's out of the way…
A few weeks back, I got a text from one of my friends here in our group text. It said, "Want to come over and swim on Sunday?"
"Sure," I thought. "Sounds fun. Our three families hanging out for a few hours before naptime, probably have a drink or too. Sounds like a nice little Sunday."
Then I arrived. In her true style, she had turned that simple little sentence into a thing. There was a large amount of food. She had set up drinks. Her husband was grilling. There were 3 other families there that we knew. Dave and I looked at each other and thought, "Crap."
We had walked into a legit party, and we were the assholes that came empty handed.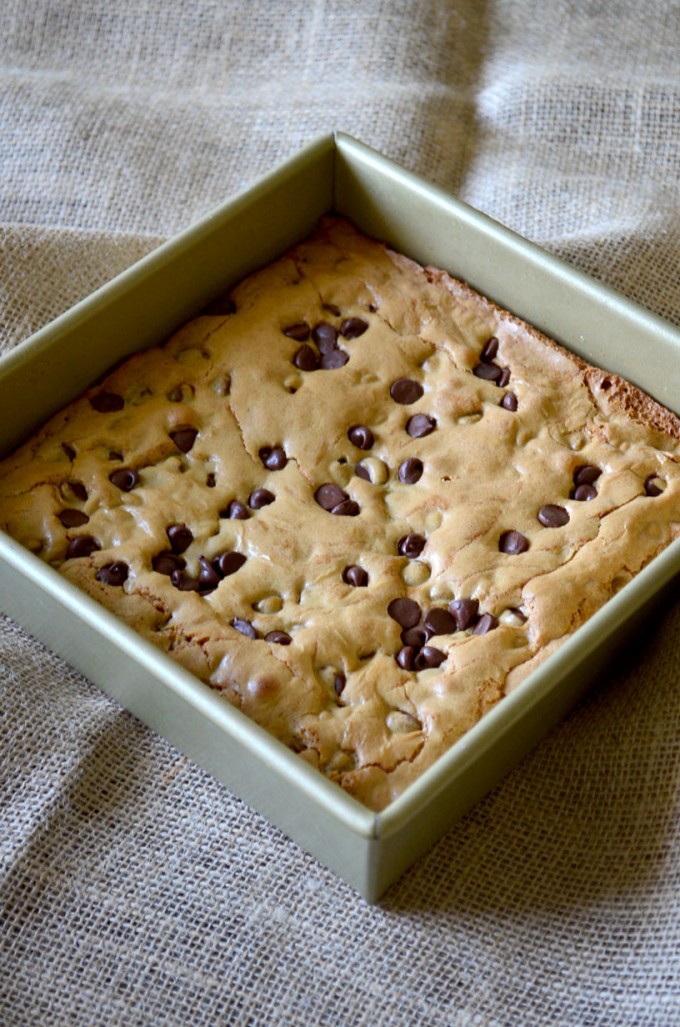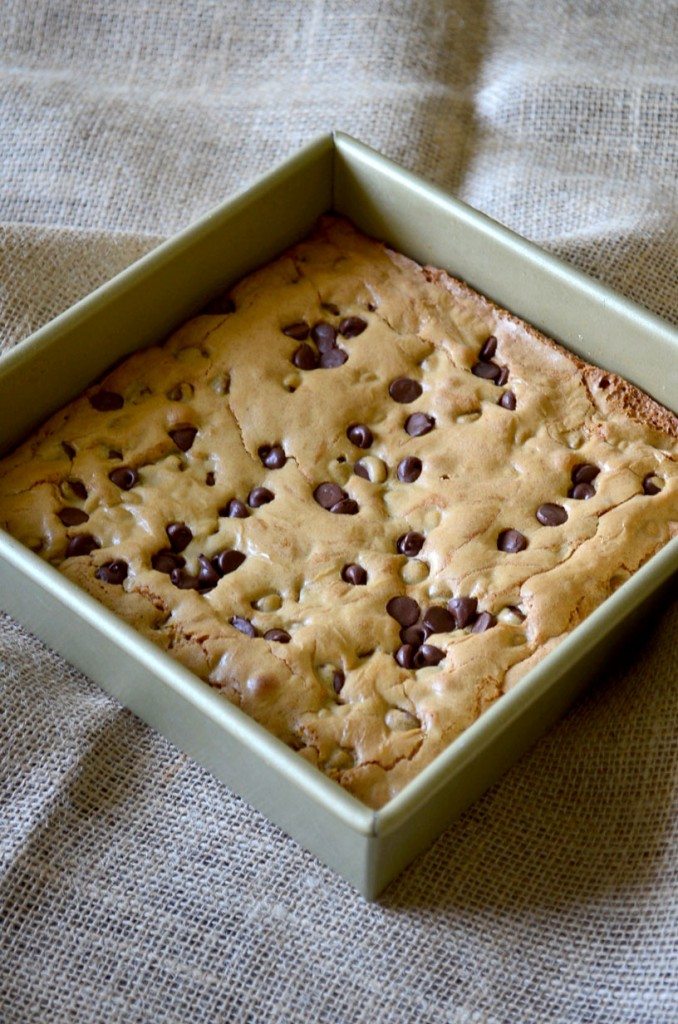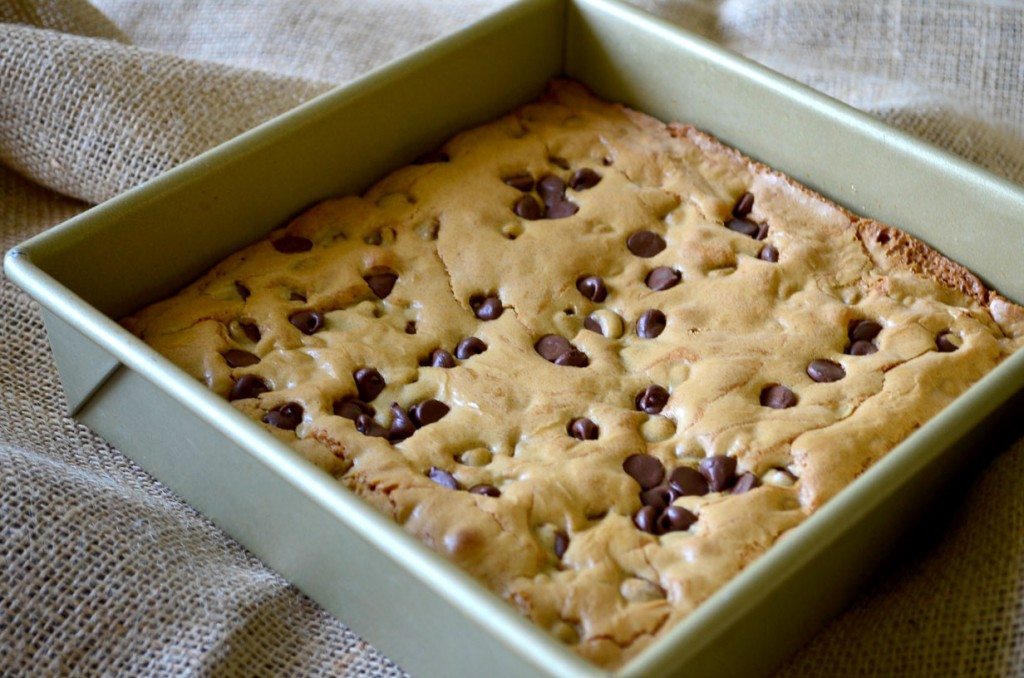 I tried not to let it get to me, but towards the end I felt super guilty (which was probably needless, but I felt that way nonetheless). I went over to her and asked her how stocked her pantry was. She replied, "Umm… I think okay?!" I asked her if I could go piece together something to make for dessert, and she laughed and told me to go for it.
The thing to know about Kate is that she is allergic to the most random thing ever- corn. Do you know how many things that keeps me from serving to her? Like everything. You wouldn't even believe how many things contain some sort of corn product (even vodka!). As I headed into the pantry to nose around, I was running through things in my head of what I could possibly make that contained no corn.
Chocolate Chip Blondies! These wondrous little bars are amazing- they've got the sweet flavor of a chocolate chip cookie, mixed with the dense softness of a brownie. And lo and behold, they contained no corn AND she had everything I needed. Score.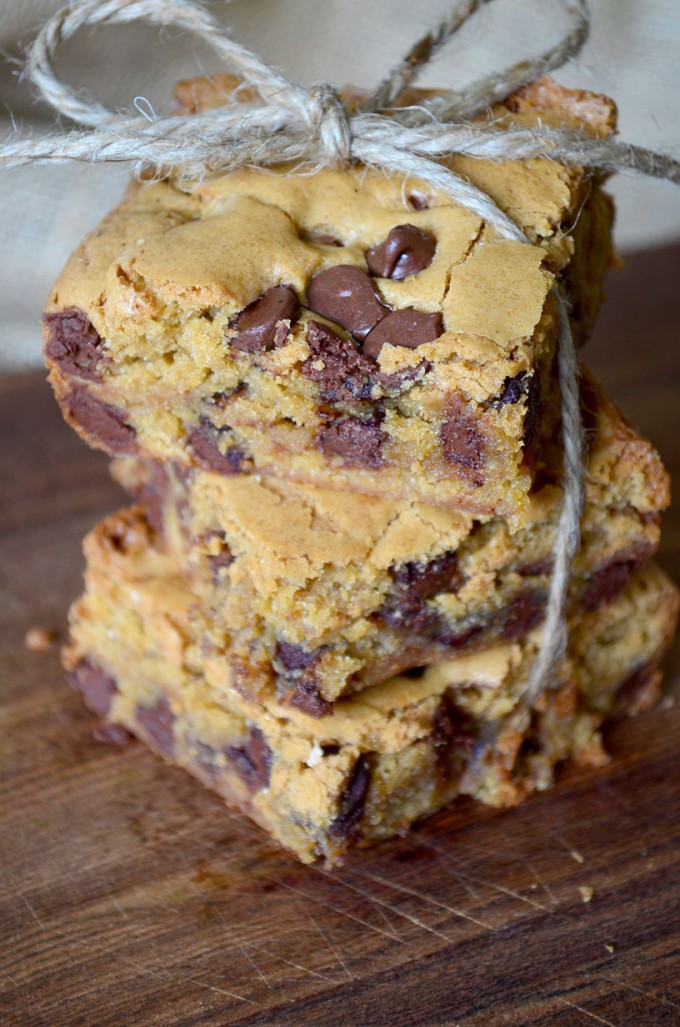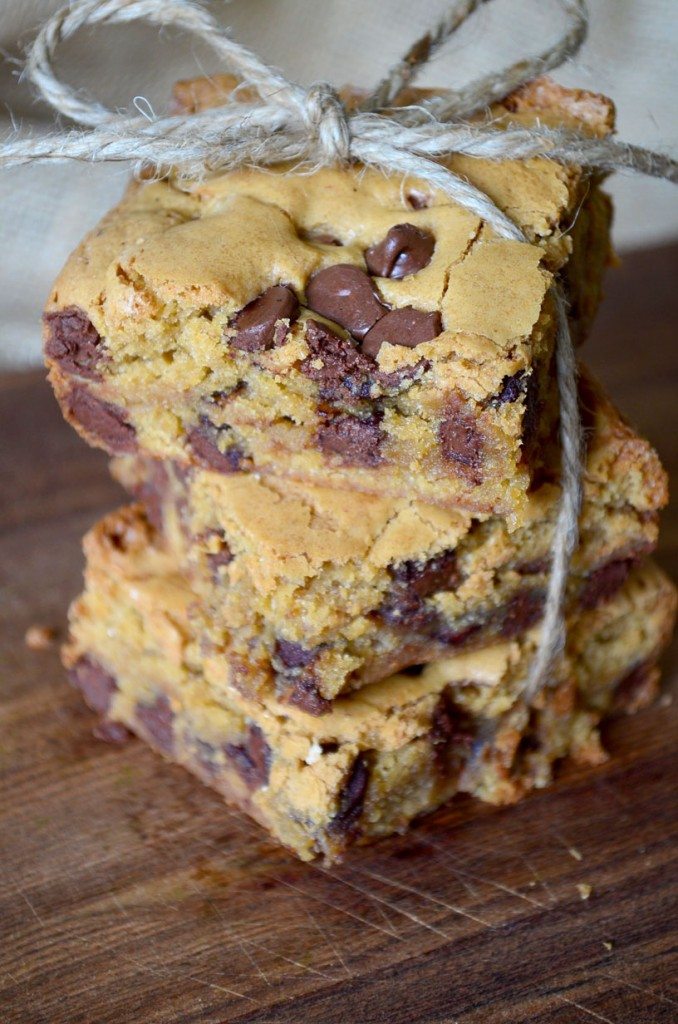 What I wasn't prepared for was what a spectacle this was going to cause. Her husband was a combination of shocked and amused as he helped me find what I needed and watched me literally just pour ingredients into a bowl. The nice thing about cooking so much is that, in a pinch, you can get by without measuring utensils- you just kind of know what 1 1/2 cups of flour looks like, and blondies are about the simplest things ever to mix up. It's really kind of a "dump" recipe, like my brownies.
Then Jonathan decided he had enough fun in the sun, so Dave took him home and I followed behind a few minutes later, as soon as I got the blondies out of the oven. I never even ate one. Figures.
I was relaying to Dave with a smile on my face about the comments I was getting while I was making them. He said, "Yeah, it was weird that you were baking in someone else's kitchen." I had no idea it came off this way, and immediately felt bad and texted Kate: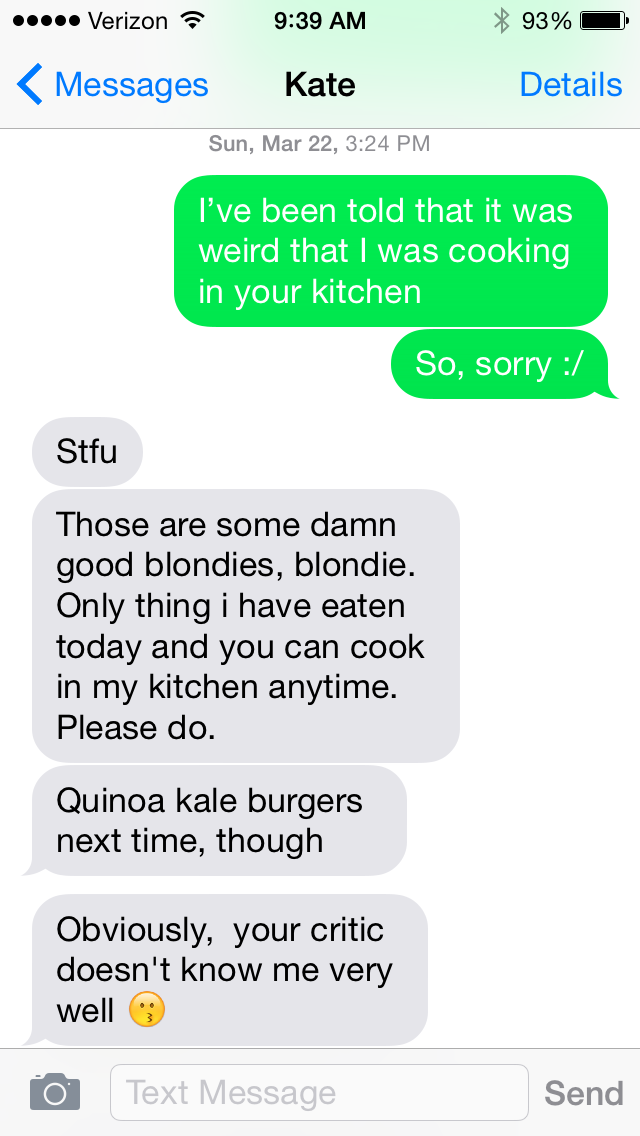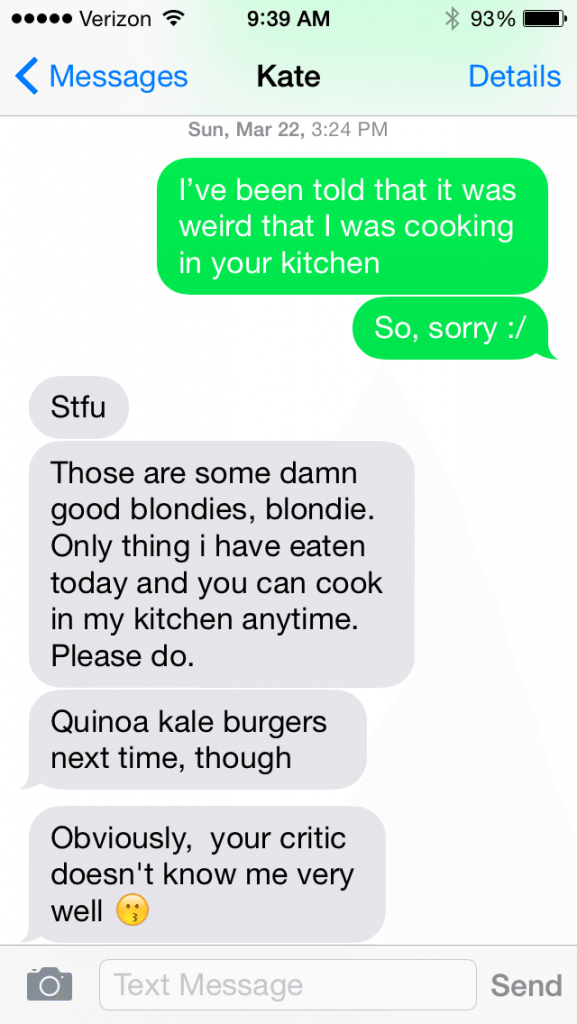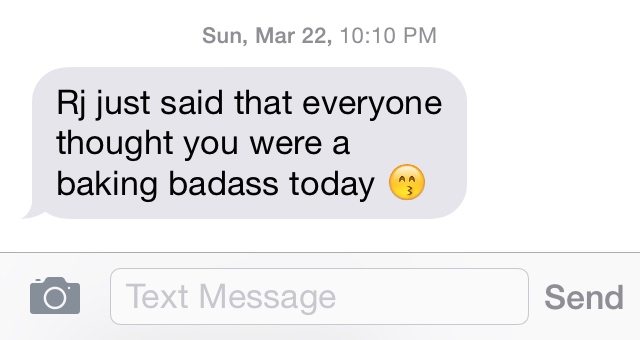 SO THERE.
If you like these Chocolate Chip Blondies, look at these options:
Blondies
This Chocolate Chip Blondies recipe is a combination of a soft chocolate chip cookie and a brownie. Just a few minutes to mix together- you can't lose!
Ingredients
1/2

cup

butter

3/4

cup

light brown sugar

3/4

cup

dark brown sugar

2

eggs

2

tsp

vanilla

1/2

tsp

salt

1

tsp

baking powder

1 1/2

cups

flour

1 1/2

cups

chocolate chips

divided
Instructions
Preheat an oven to 350F.

In a large glass mixing bowl, melt the butter. Stir in the brown sugar.

Mix in the eggs, vanilla, salt and baking powder until well-combined. Stir in the the flour, then 1¼ cups of the chocolate chips.

Spray a 9x9 baking pan with nonstick cooking spray, then pour in the batter, using a spatula to spread it to all four corners. Scatter the remaining ¼ cup of chocolate chips on the top of the batter.

Bake for 30 minutes, or until a toothpick comes out clean when inserted. Let cool to warm before slicing.