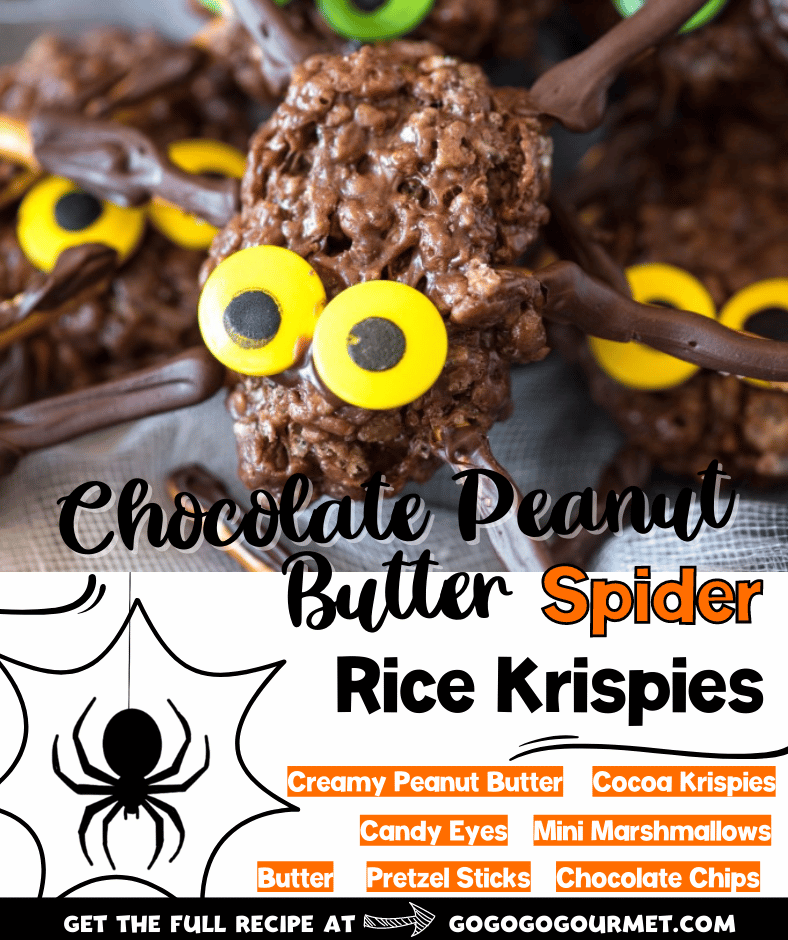 These Chocolate Peanut Butter Rice Krispie Treats Spiders are a super fun treat that are perfect for school Halloween parties. They're even easy enough that the kids can help too!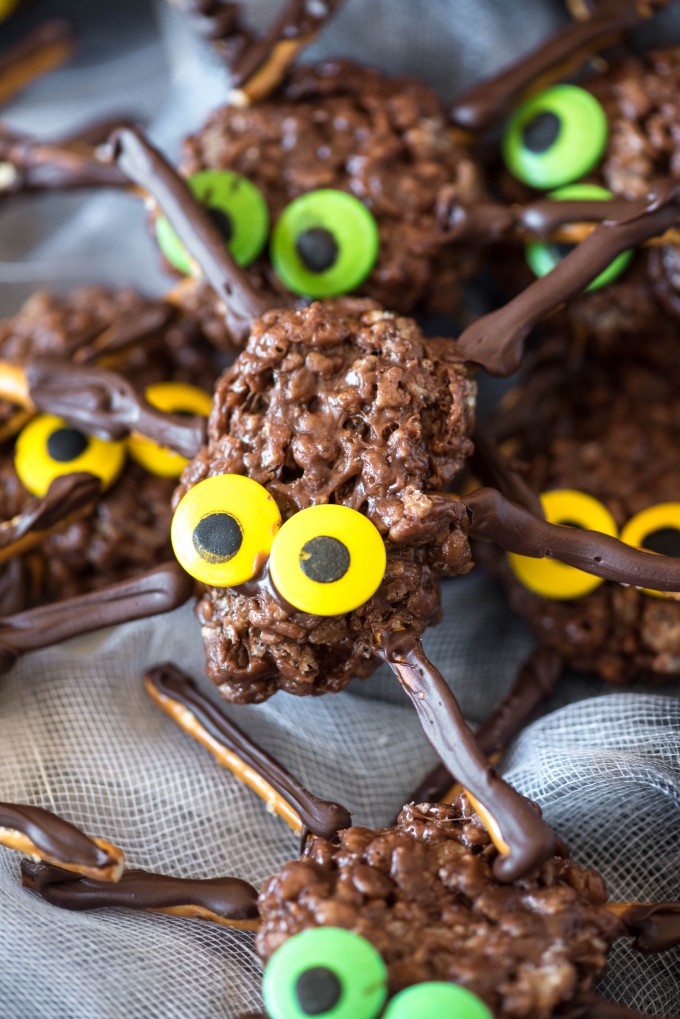 True story- I cut WAY back on my sugar lately (which has been slightly more murderous than I expected.) I came up with this idea for these spiders while I was walking through the grocery story fiending for sugar.
You may be thinking that the concept of me giving up sugar is kind of hilarious (especially if you know me in real life), but the scariest thing for me this Halloween is looking in the mirror. I've never been one to deprive myself of pretty much anything food-related, as long as I kept it in moderation. Chasing Jonathan around usually kept me busy enough.
However, then I turned 30 and had another baby and ratcheted this blog up to another level of successfulness. What those three things really ended up meaning for me was 2-3″ of fat sitting on top of some super stretched out abs. Nothing really seemed to help, so I took a radical step- cutting out as much sugar as possible Monday-Thursday as well as alcohol (again, Monday-Thursday. I'm not a masochist here.).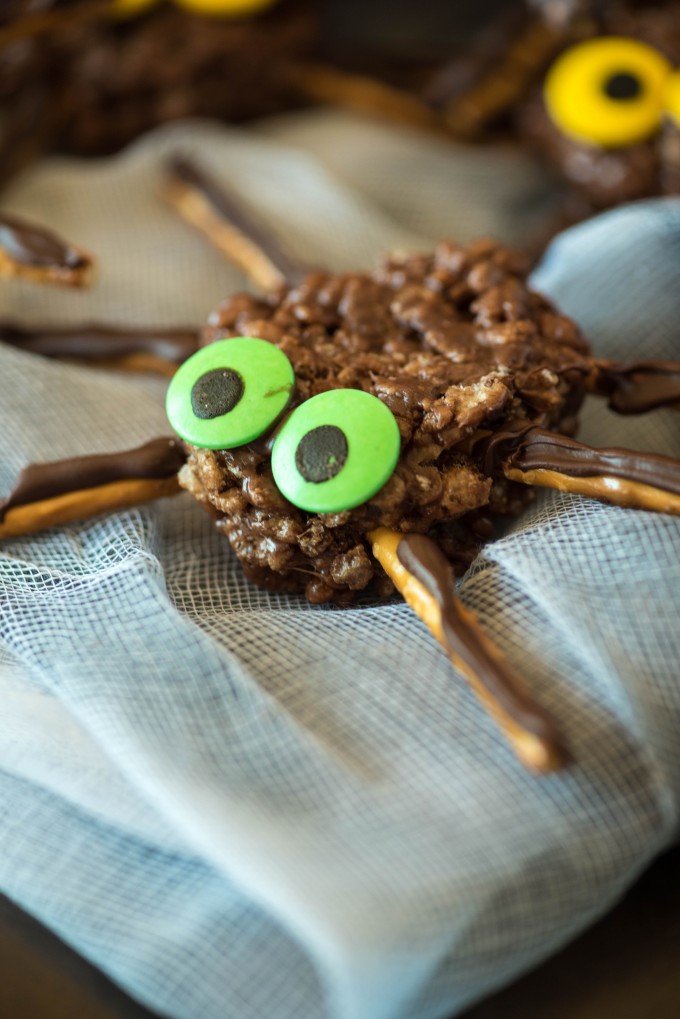 On to the recipe…
I'm aware that this story has zero to do with the Chocolate Peanut Butter Rice Krispie Treats, but I'm painting a picture of my mental state; as well as why I had to end up making them like three times until I reached the best intersection of cuteness and easiness.
So I was in Kroger, in a rare moment of actually being able to grocery shop by myself. I was thinking about the success of my Witch Cupcakes, and thinking that I should probably make a video for my Hot Chocolate Rice Krispie Treats because they were starting to do well on Pinterest already, and thinking that ALL of my Rice Krispie Treat recipes have been super popular, and that I should really make a Halloween version that kids could help with for school parties and oh my god I might be willing to punch someone for some sort of dessert.
That was a a hugely run on sentence, but that is how I got from point A to point B in my head in a matter of about 10 seconds.
My original plan was do just make regular Rice Krispie Treats with candy eyes and chocolate covered pretzel legs.
After round one of recipe creation, there were a few problems with this:
There weren't any chocolate covered pretzels at the store that weren't twists, so I had to make my own.
I had to use chocolate in the marshmallow base, because other wise they looked sort of like ghost spiders from the white marshmallow mixture.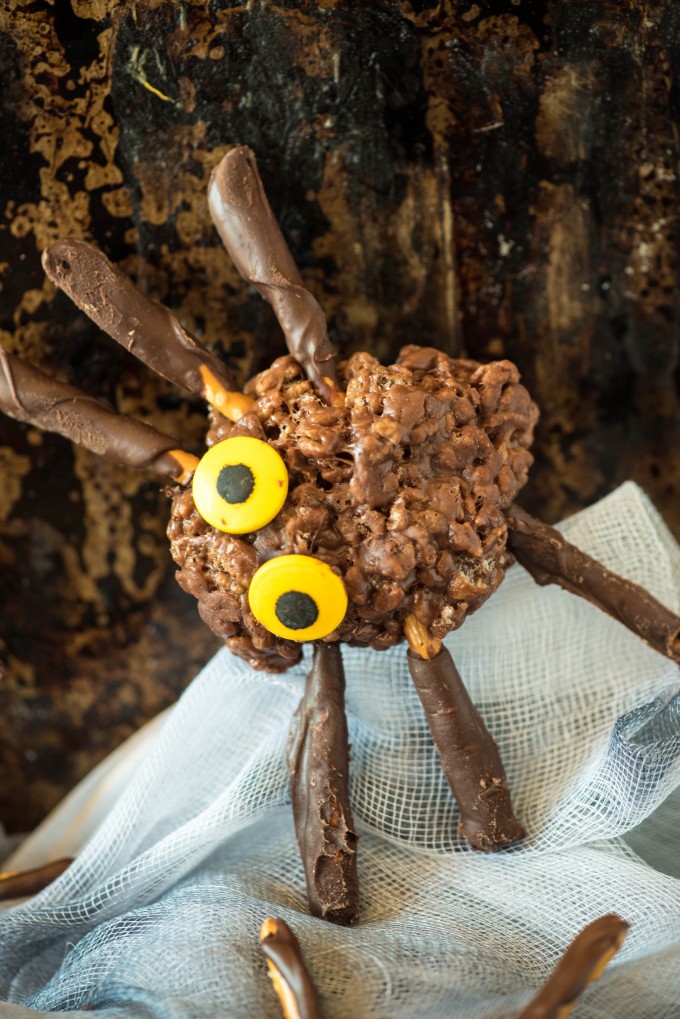 I decided to add peanut butter into the chocolate mixture to mimic my Puppy Chow Rice Krispie Treats. However, I made my own chocolate covered pretzel sticks by just dunking the pretzels in some melted chocolate chips and then throwing them in the freezer.
Problems with this:
I hate working with melted chocolate. The first batch burned, the second batch seized.
They melted all over my hands when I was trying to push the pretzels into the body.
I did a batch with adding peanut butter and dunking all the pretzels in the bowl at once, individually picking them out and laying them on parchment paper to set in the freezer.
Problems with THIS:
The chocolate peanut mixture, while delicious, also meant that the mixture didn't become solid, EVER, at room temperature.
I felt like I was covered in a thin aura of chocolate by the time that I was done. There was SO much chocolate under my nails, and I knew it would be so messy that people would end up pissed off. How do I know this? Because I no longer wanted to even look at these Chocolate Peanut Butter Rice Krispie Treats.
So this is what I ended up with; it took me several tries, but I got these treats to where they would be simple to make. By squeezing chocolate on top of the pretzels, you get the taste of chocolate covered pretzels, without the mess. And by having to push plain pretzels into the spider body, you keep your hands relatively clean.
I used store-bought cookie decorating icing to attach the eyes on these, and it worked really well. Since you will end up with melted chocolate in a squeeze bottle, ziploc bag, or piping bag, you could use that too. Now that I think about it, you might actually just be able to use the chocolate cookie decorating icing on your pretzels too- it sets up really nicely. The taste would be a little different, but probably not enough to matter. Can someone please try it and tell me if it works?
Jonathan loved these chocolate peanut butter rice krispie treats- they are the ultimate combination of salty and sweet, thanks to the chocolate, peanut butter, and pretzels. Everything worked super well together, and I even tucked them into the "Boo bags" I made for the neighbors that day. You can definitely easily pull these off for all those school Halloween parties!
Equipment needed to make these Chocolate Peanut Butter Rice Krispie Treats:
[easyazon_link identifier="B07DLFGMGC" locale="US" tag="gogogogo03-20″]Microwave safe bowls[/easyazon_link] – These microwave safe bowls will be useful when melting the chocolate.
[easyazon_link identifier="B01EXHJCTA" locale="US" tag="gogogogo03-20″]Piping bags[/easyazon_link] – I personally liked using a piping bad to add the chocolate to the pretzels.
[easyazon_link identifier="B01NAWYDV7″ locale="US" tag="gogogogo03-20″]Spatula[/easyazon_link] – You can never go wrong with a good spatula, and these rubber spatulas are perfect for mixing the sticky rice krispies and peanut butter!
If you like these Chocolate Peanut Butter Crispy Treats, check out these other easy rice krispie treat recipes: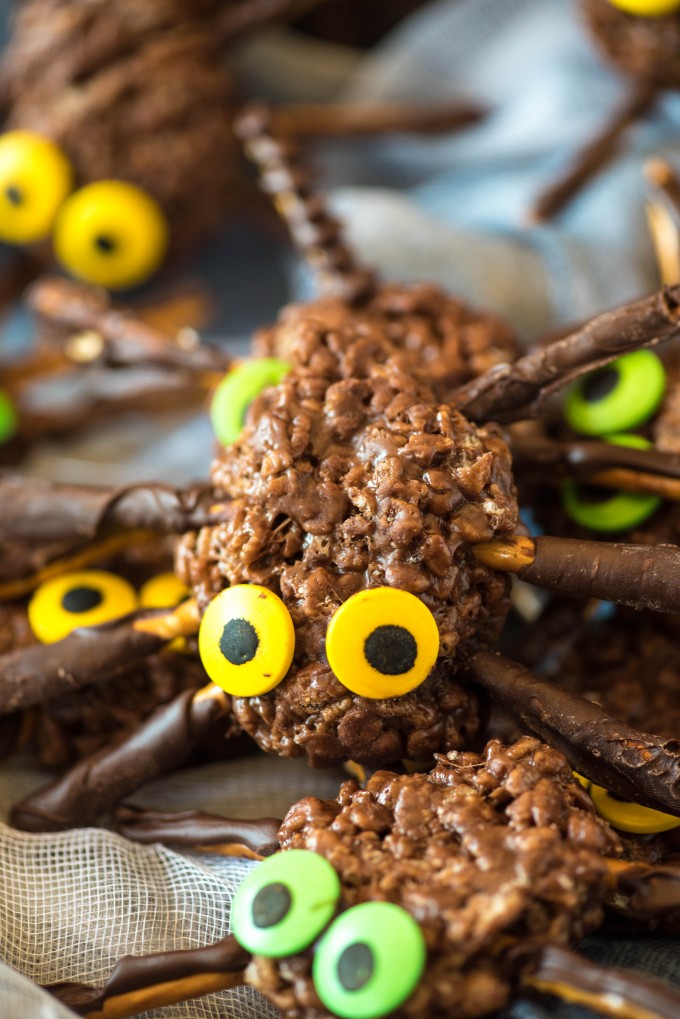 Halloween Chocolate Peanut Butter Rice Krispie Spiders
These Chocolate Peanut Butter Rice Krispie Treats Spiders are a super fun treat that are perfect for school Halloween parties. They're even easy enough that the kids can help too!
Ingredients
3 1/2

cups

cocoa krispies

14

oz

mini marshmallows

1 1/2

cups

chocolate chips

divided

1/3

cup

peanut butter

2

tablespoons

butter

36

small pretzel sticks

24

candy eyes

1

pouch chocolate cookie decorating icing
Instructions
In a large, microwave-safe bowl, add peanut butter, butter and 1/2 cup of chocolate chips. Microwave in 30 second intervals, stirring after each, until mixture is smooth.

Add in the marshmallows and microwave for 1 minutes. Stir until thoroughly combined.

Pour the cereal over and use a spatula to fold together until the cereal is evenly covered with marshmallow mixture. Set aside to cool slightly.

In a small microwave safe bowl, melt the remaining 1 cup chocolate chips in 30 second intervals, stirring after each, until smooth.

Spray hands with cooking spray. Pull off a lime-sized amount of cereal mixture and shape into a flattened oval. Repeat with remaining cereal.

Stick 6-8 pretzel sticks into sides of oval for spider legs. Use cookie frosting to attach eyes to front of body.

Lay out prepared spider bodies on cookie sheets lined with wax or parchment paper. Snip off the corner of your chocolate bag (if using) and pipe a line of chocolate along the top of the pretzel sticks. Place in refrigerator to set for 10-15 minutes.