These Candied Sweet Potatoes are the perfect sweet side dish to serve at Thanksgiving! They might just end up replacing one of your go-to dishes!
So on the flip side of the sweet potato debate- the sweet side- sits my family. I grew up eating candied sweet potatoes at Thanksgiving.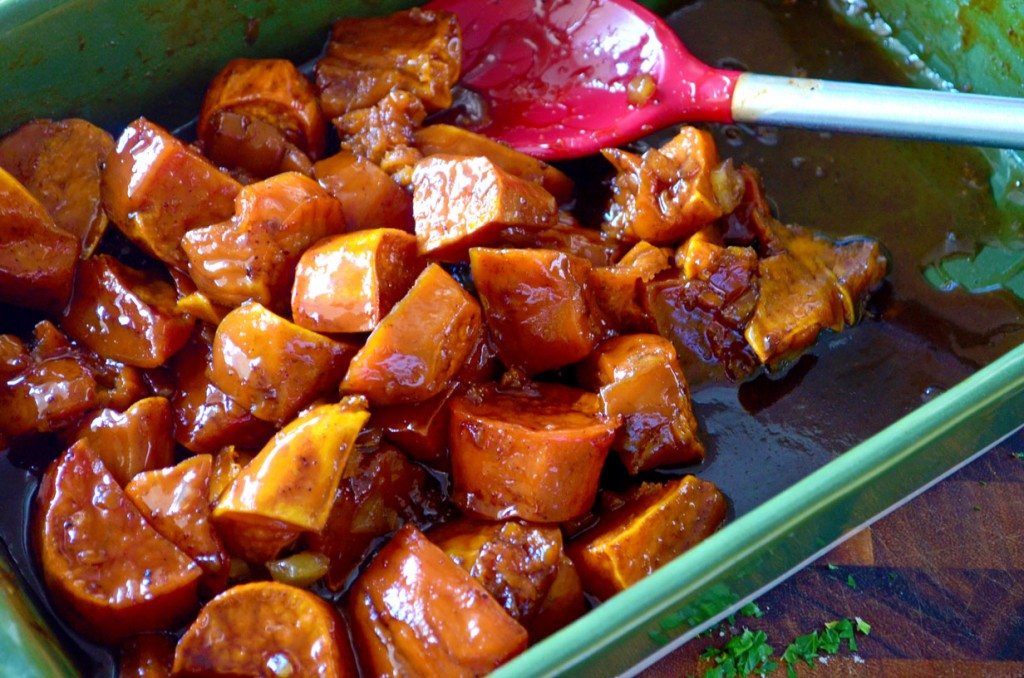 To be fair to Dave, they weren't my favorite thing on the Thanksgiving buffet, but they were good. I'm not giving up my stuffing for them, but I'll eat 'em up.
HOWEVER, I would consider sacrificing stuffing for these- they are just that good. I wanted to come up with my own recipe that would sway even the anti-sweet-side-dish-people *ahemhusbandahem.* I love these, and frankly, kept sneaking bites while I was taking pictures. Aaaaaand afterwards.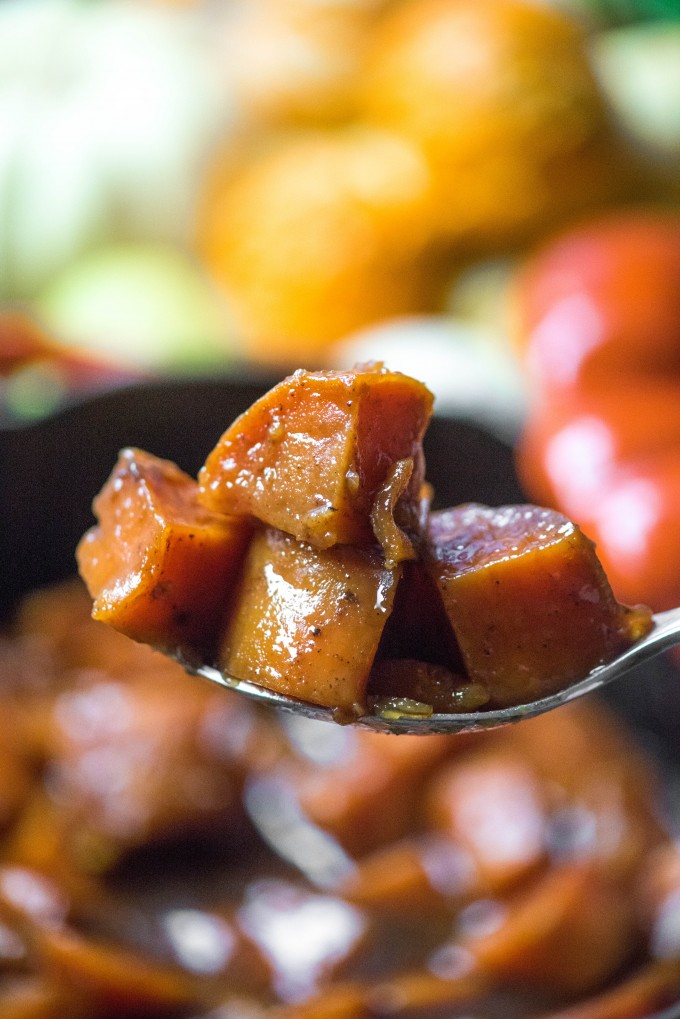 There's just a hint of maple syrup combined with the warm spices of fall. I think either some pecans, either spiced or plain, would be really excellent in this too, if you were so inclined. They'd add a nice bit of crunch that would be a nice contrast with the pillowy potatoes (I heart alliteration). I would have done that this time, except I knew this "dish from the test kitchen" was going to someone with a nut allergy (poor soul).
I'm so @$&#@(#**)#' excited for Thursday, hope you are too!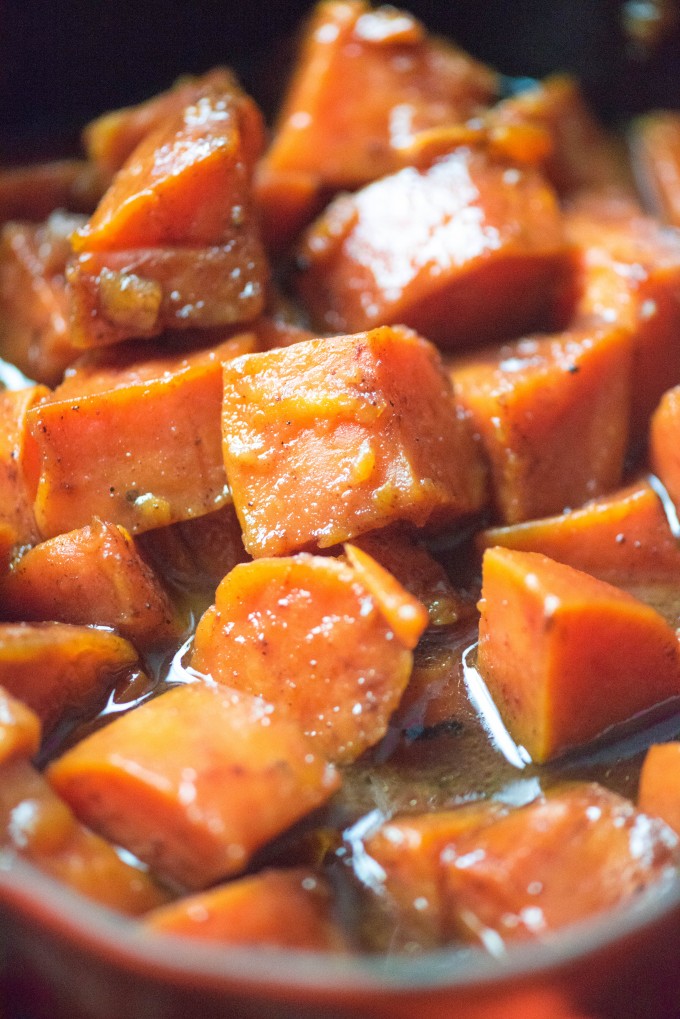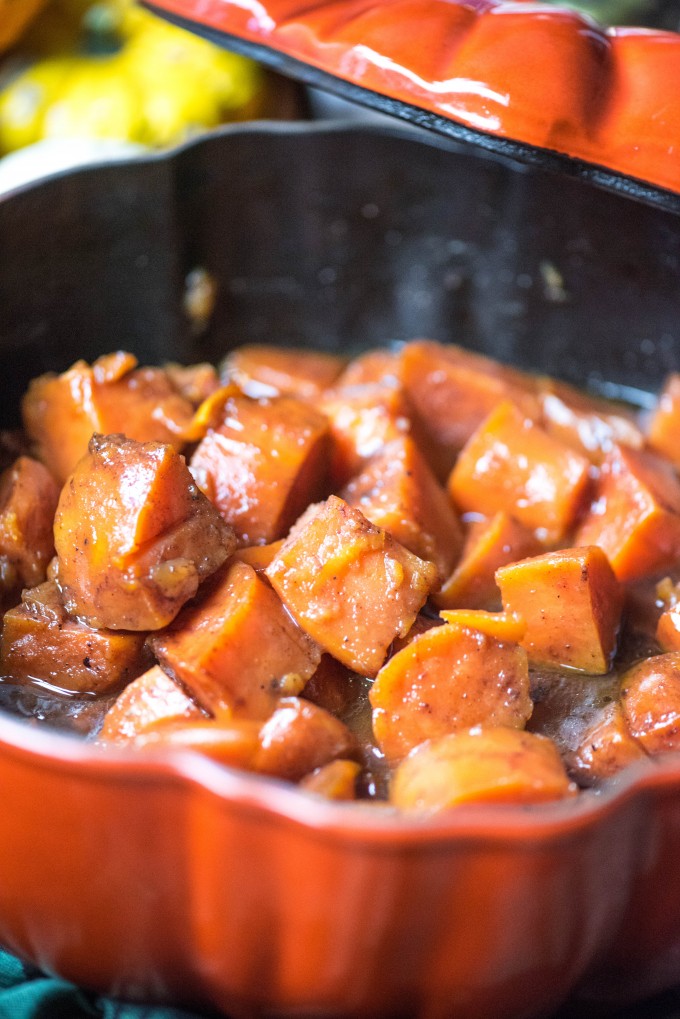 What you'll need for this recipe:
Saucepan – I recommend using a saucepan for making your syrup for the potatoes. You can grab this Nonstick Sauce Pan to use for this recipe and future ones!
Baking dish – This baking dish is perfect for cooking your potatoes! You can get yourself a Baking dish here!
Mixing spoon – A good sturdy mixing spoon that can do all the mixing you need done, is key to any successful recipe. Grab this Nylon Spoon to get your recipe done right!
Candied Sweet Potatoes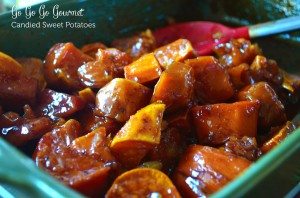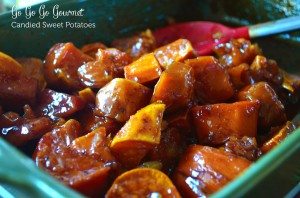 Ingredients
6-7 sweet potatoes
1/2 cup real maple syrup
3/4 cup brown sugar
3/4 cup water
2 heaping tablespoons chopped crystallized ginger
1 tsp cinnamon
1/2 tsp nutmeg
1/4 tsp cloves
2 1/2 T butter
Directions
Preheat oven to 375
In a small saucepan, combine syrup, water, brown sugar and spices. Bring to a boil, and stir until sugar is dissolved. Set aside.
Peel and cut the potatoes into large 2" chunks. Arrange potatoes in a 13 x 9 baking pan, pour syrup mixture over the top, and stir until potatoes are coated.
Bake for 1 hour or until potatoes are tender, stirring 3-4 times during to make sure the potatoes are coated evenly.
Recipe Notes
Loading nutrition data...
If you liked this recipe, be sure to check out these:
SaveSave
SaveSave