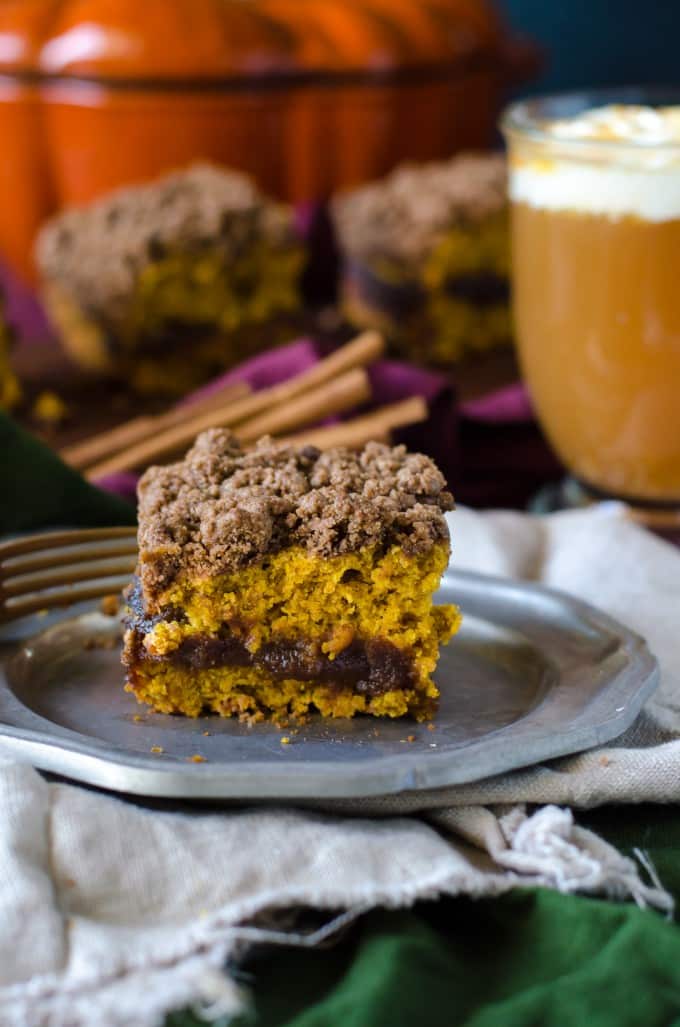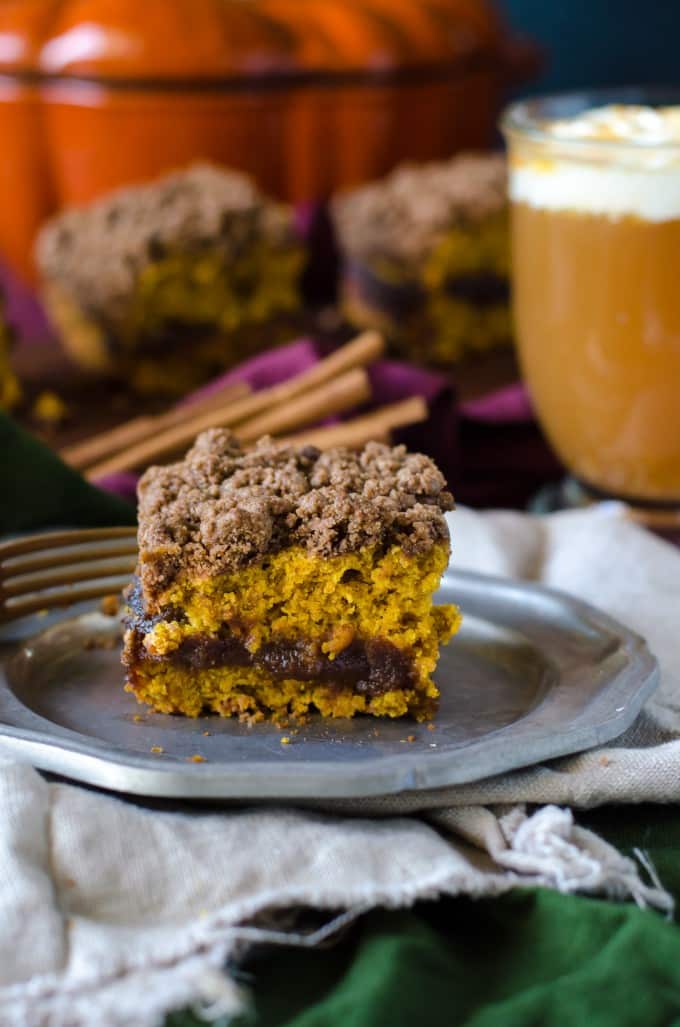 So, surprisingly, out of the 400+ recipes on this site, there is one recipe that has taken off, and is far and away my most visited post, thanks to Pinterest. You might have your own guesses, but you'd probably be surprised to hear that its for my Cinnamon Coffeecake.
Dave has become obsessed with checking my stats every day, and is everyday totally amazed at how many people are on that specific recipe. "Why?" he always asks. "I mean, its really good, but its just coffeecake! Why is that what everyone is focusing on??"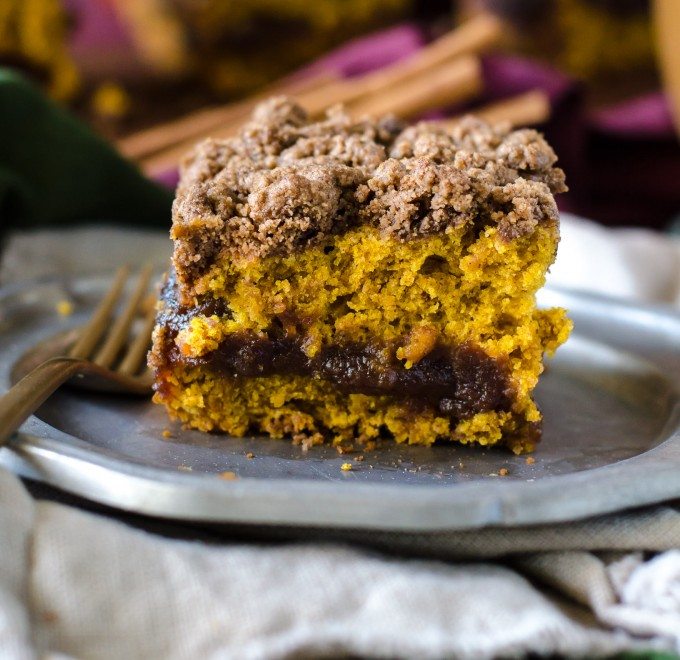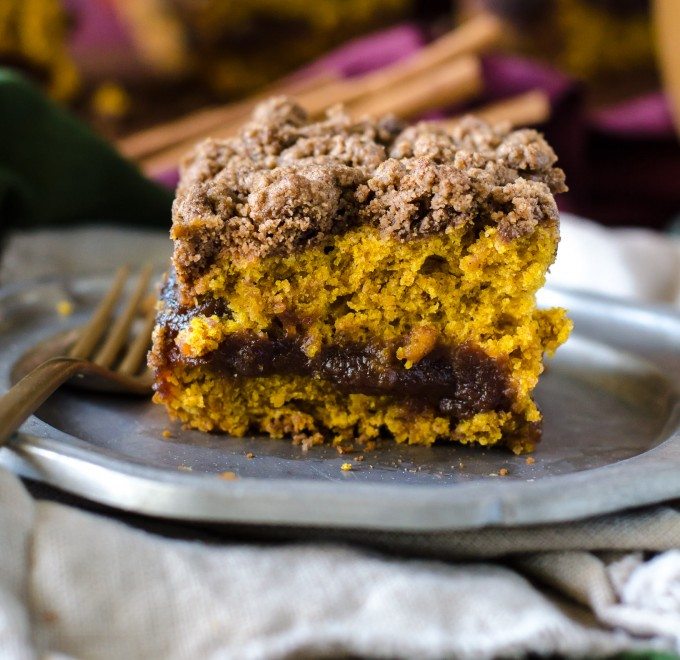 I don't know either, but we don't argue with Pinterest. And I'm going to give the people what they want, which is apparently coffeecake.
Since fall is rolling around, I really wanted to do a fall-themed one. Buttery pumpkin cake is topped with a mount of cinnamon streusel- and the icing on the cake (on in this case, the filling inside the cake!) is a ribbon of apple butter through the middle, just to really ramp up the fall-ness of the recipe. It is awesome.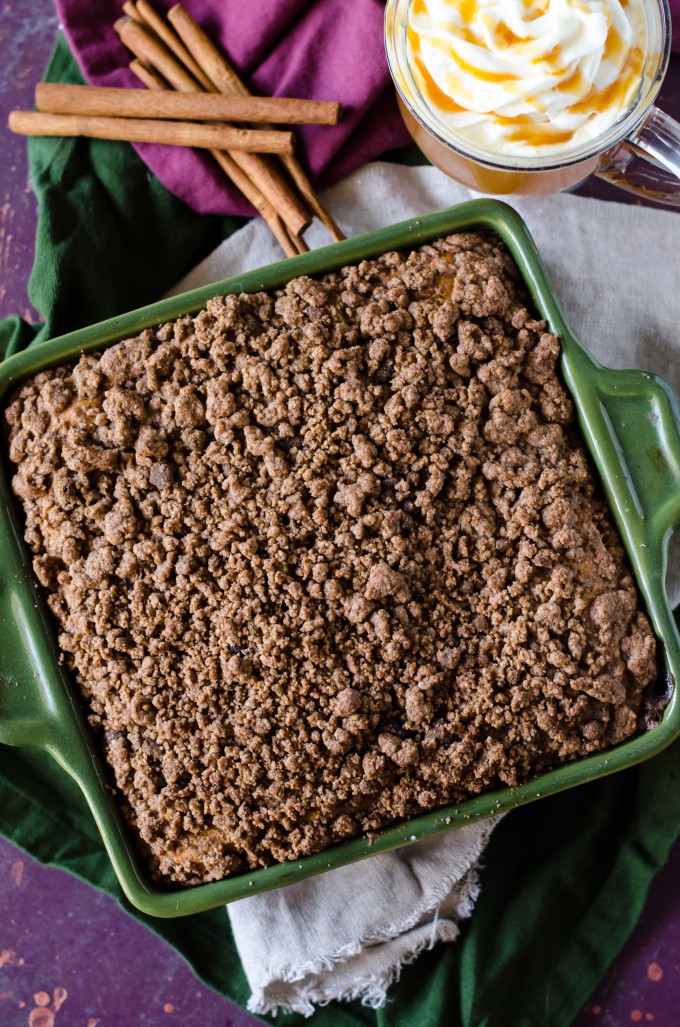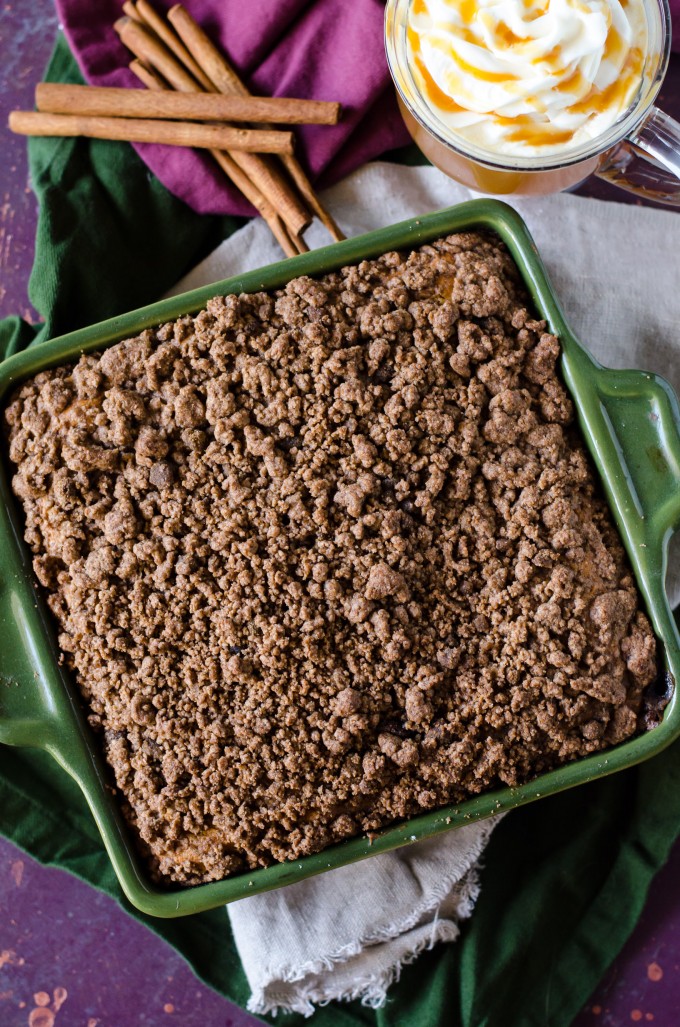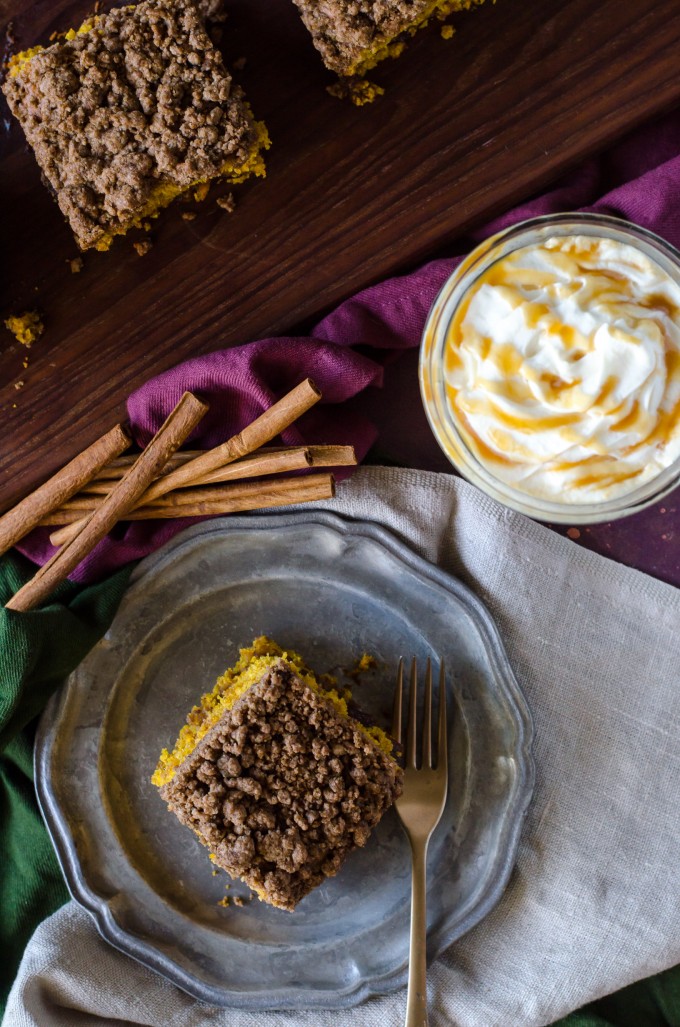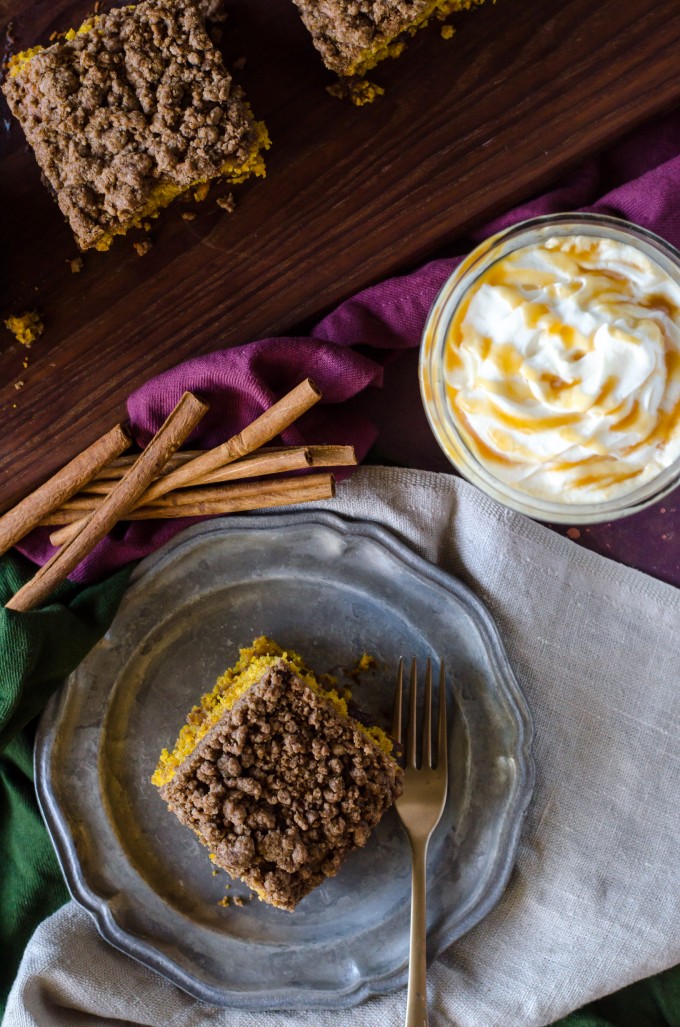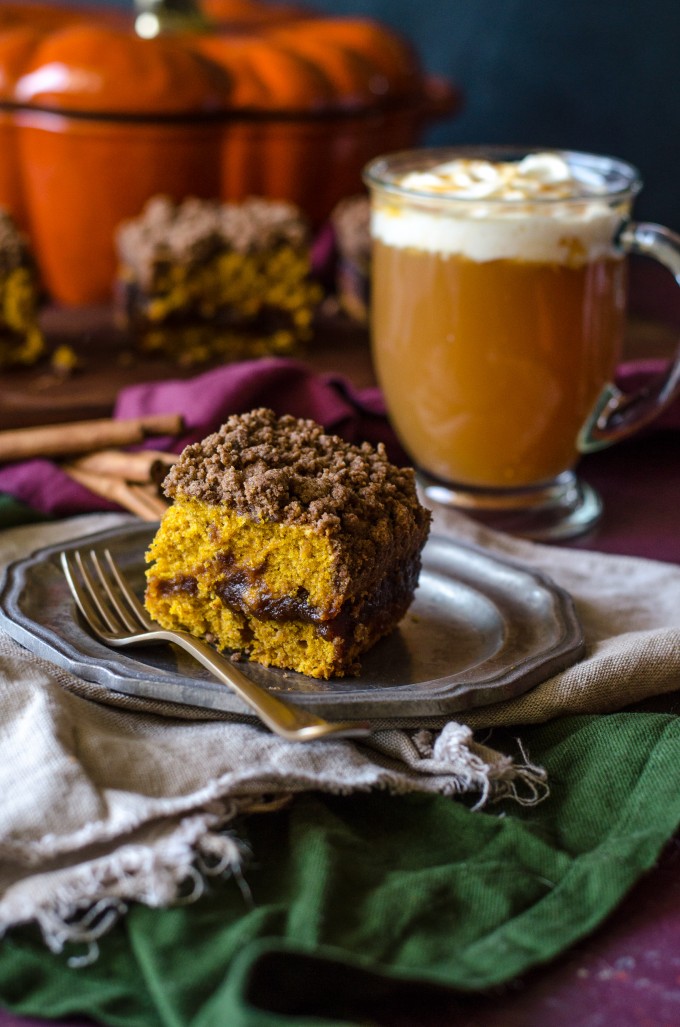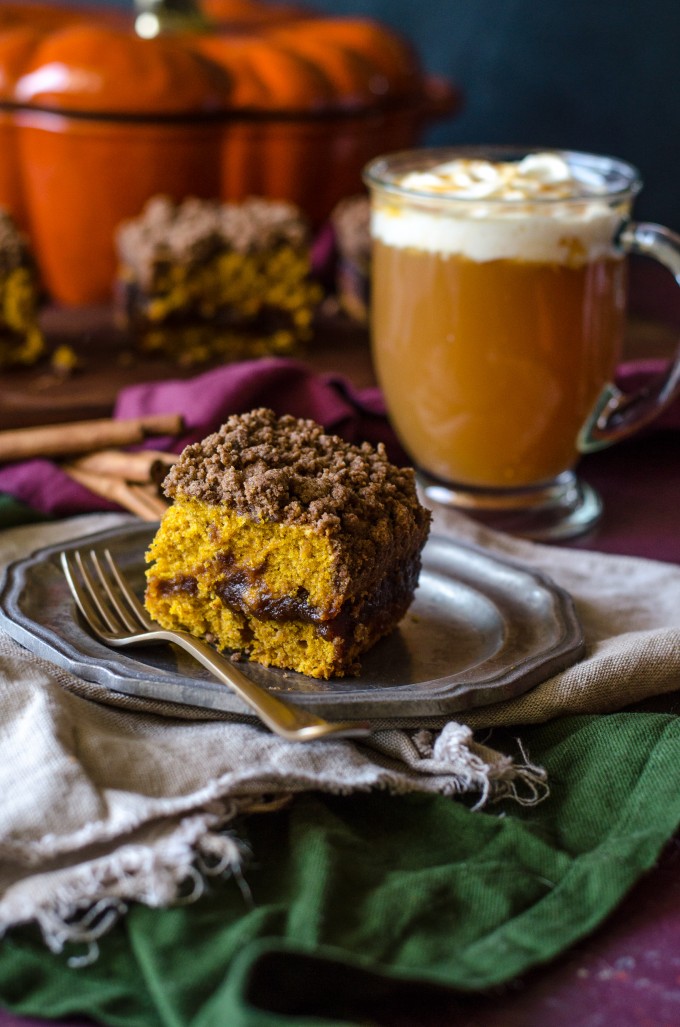 Like what you see? Subscribe to Go Go Go Gourmet's weekly newsletter to keep up on what's going on around here. You can also follow me on Facebook, Pinterest and Instagram to see what I'm up to!
Pumpkin Coffeecake with Cinnamon Streusel
Ingredients
Cake:
1 stick butter, softened
¾ cup sugar
1 tsp vanilla
1 egg
1 cup canned pumpkin
2¼ cups flour
2 tsp baking powder
2 tsp cinnamon
½ tsp nutmeg
¼ tsp cloves
pinch salt
⅓ cup milk
1 cup apple butter
Topping:
5 tablespoon butter, softened
¾ cup flour
½ cup packed brown sugar
1 tablespoon cinnamon
Instructions
Preheat the oven to 350F.
In the bowl of a mixer, cream together the butter and sugar, scraping down the sides occasionally. Add the vanilla and egg, mix in, then stir in pumpkin.
Sprinkle the baking powder, spices and salt over the wet ingredients and mix in, then stir in flour. Run the mixer on low and pour in the milk. When the milk is mostly incorporated, raise the mixer speed to medium and beat until no lumps remain and mixture is smooth
To make topping: add the butter, flour, brown sugar and cinnamon to a food processor and pulse until coarse crumbs form (You can cut in with forks or a pastry cutter, but I am not patient enough for that!). Conversely, you can combine the dry ingredients in a bowl and use your fingers to pinch in the butter until crumbs form.
Grease a 9x9 baking pan. Pour in ½ of cake batter, and spread to all four corners. Spread the apple butter over the top, then pour in remaining cake batter, and spread carefully across the top, disturbing the filling layer as little as possible (an offset spatula works well for this).
Sprinkle the topping over the top and press lightly so it adheres.
Bake in preheated oven for 50-55 minutes, until a toothpick inserted comes out clean. Cool to warm on wire rack before serving.