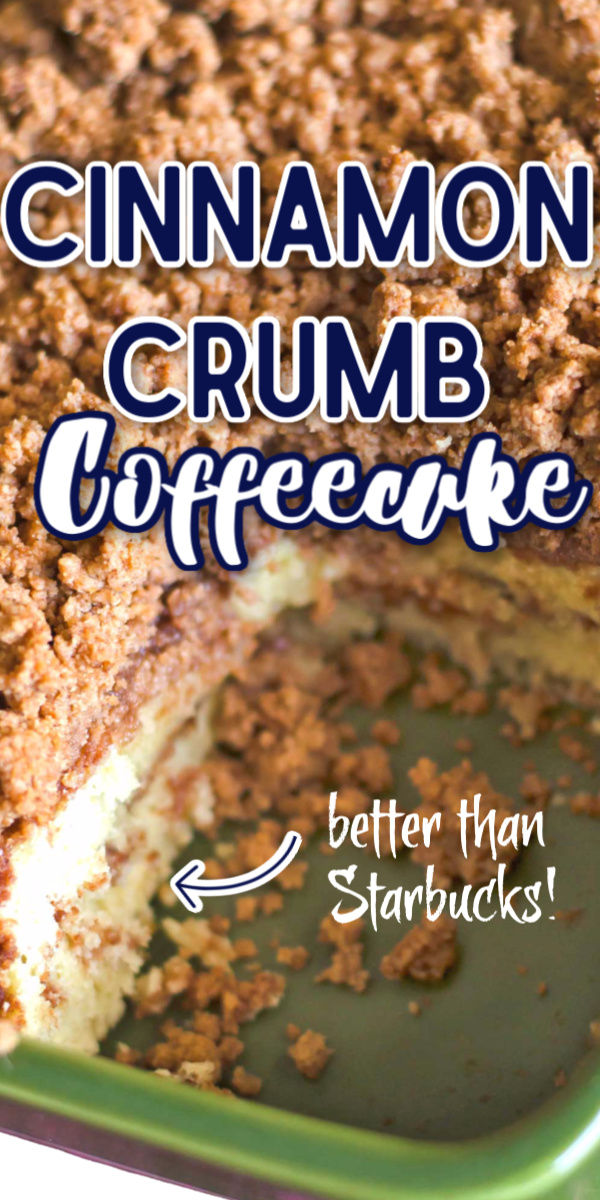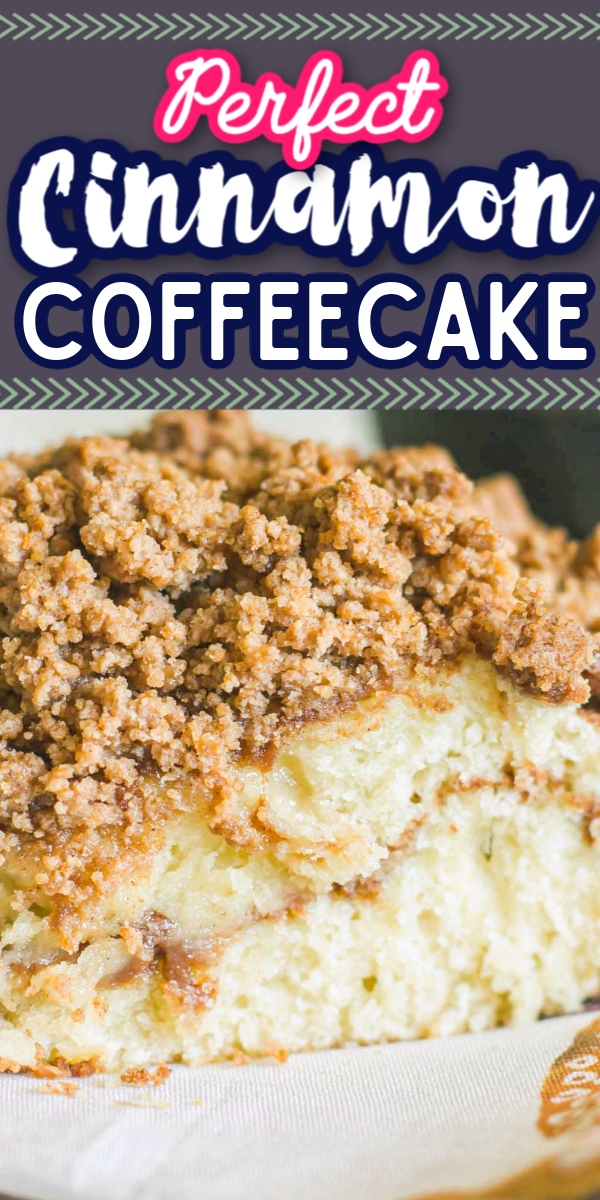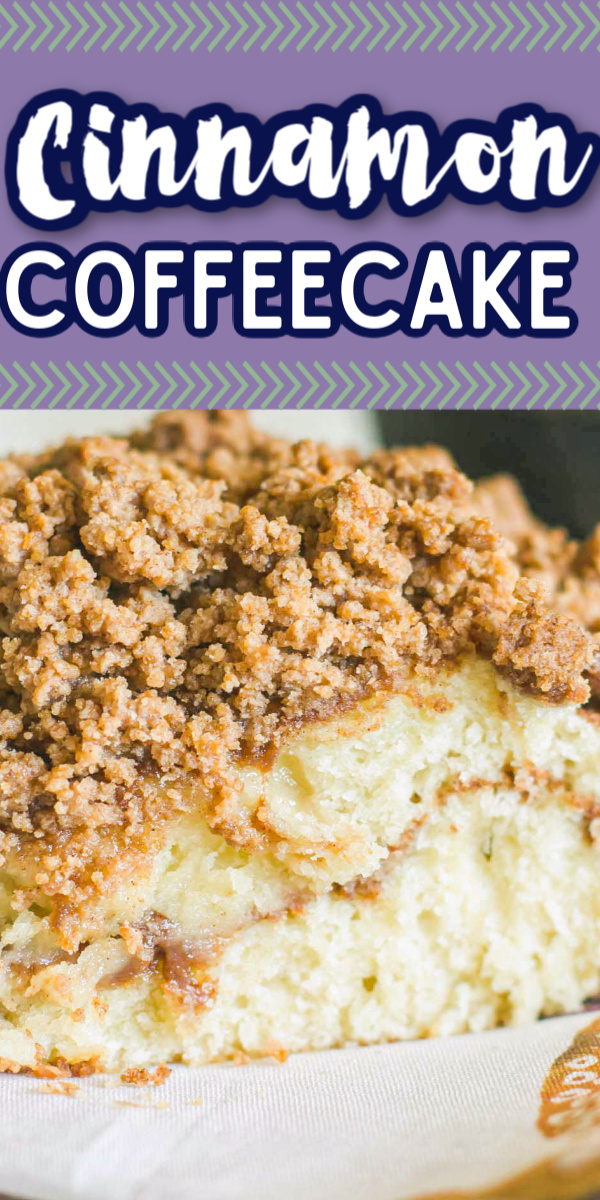 This Cinnamon Coffee Cake recipe is moist, buttery, and full of cinnamon flavor. It's perfect as an afternoon snack, a breakfast pastry or an after dinner dessert!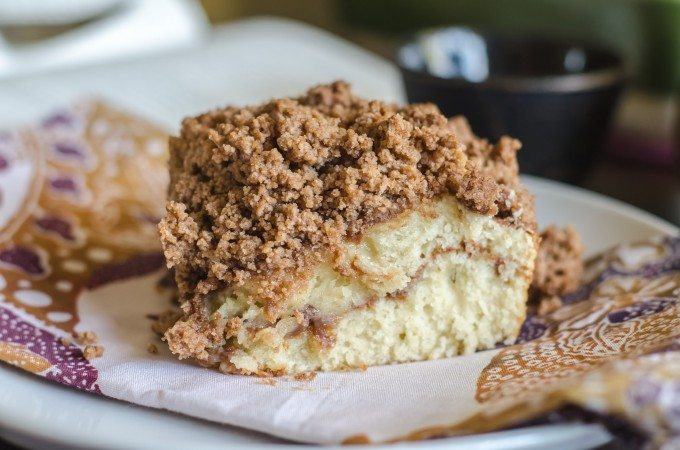 A homemade cinnamon coffee cake recipe doesn't get much better than this Cinnamon Coffee Cake with Streusel Crumb Topping!
While I am generally happy to share every recipe that I post, there are some that I am REALLY excited to share- and this is one of them. I'm not a huge breakfast eater, but one thing that I can never resist is coffee cake. Take a look at Coffee Works website where you can learn more ideas of how to enjoy even more your daily coffee.
This is also why I rarely ever buy or make it- I can't stay out of it.
I love the general idea behind a coffee cake recipe. Someone clearly really wanted to eat some sort of spice or fruit laden cake at 7 AM, but could still hear their mother's voice wheedling at them, "You don't eat cake for breakfast!"
"Hush Mom, this is COFFEE cake. Its totally different. You eat it in the morning with coffee! It's breakfast! Its practically health food."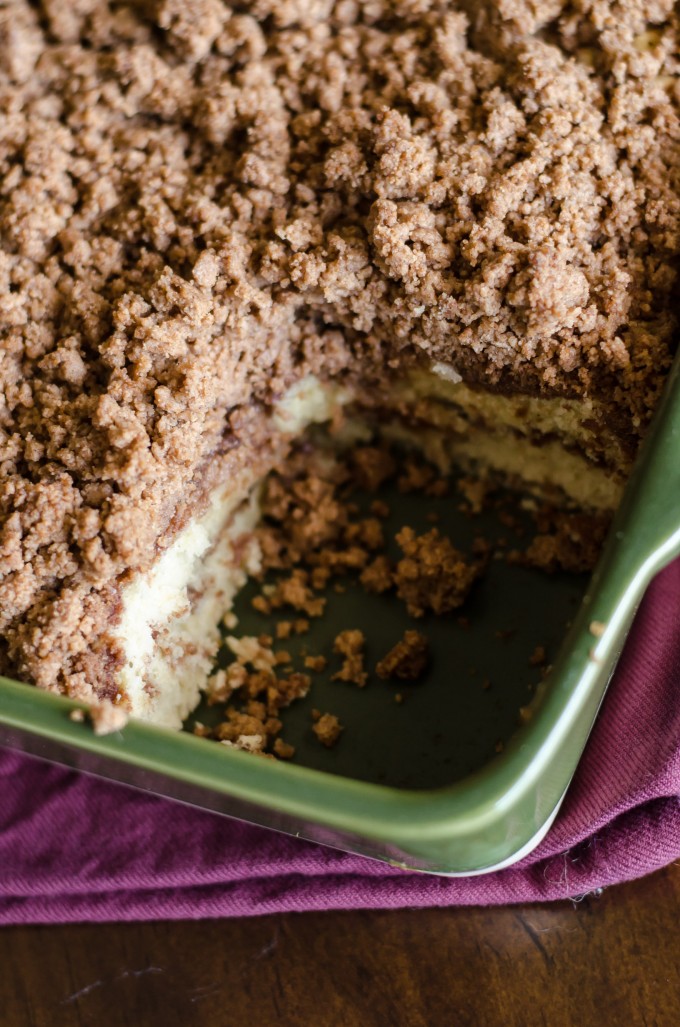 I'm not going to sit here and lie to anyone and tell you that this moist coffee cake is health food. It is most definitely not. I WILL tell you that this is the best cinnamon coffee cake and came out exactly the way that I had hoped. It has a light, buttery crumb, but yet is still somehow just a little dense.
There is a ribbon of cinnamon filling through the middle and it is piled with a cinnamon streusel on top. It DOES go perfectly with coffee… and ice cream too. Don't worry- I won't tell Mom.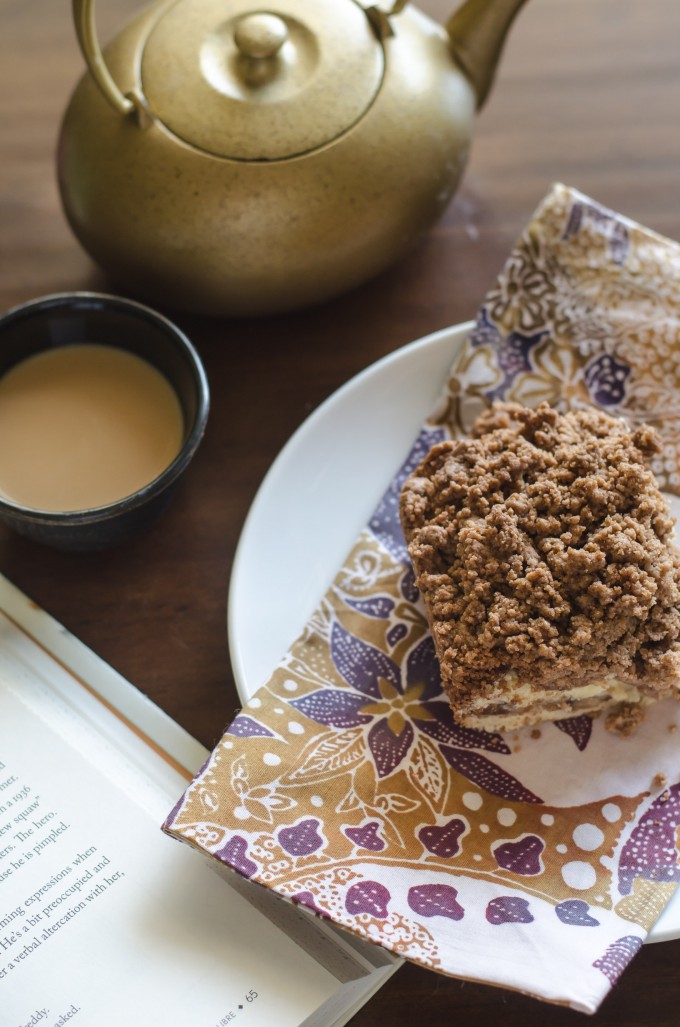 What is Coffee Cake, exactly?
Coffee cake is a butter-based cake that, contrary to what the name implies, does NOT contain coffee. Its somewhere between a regular cake and a pound cake in terms of weight and texture. It's not supposed to be over-the-top sweet, and is meant to be paired with a cup of coffee- hence the name!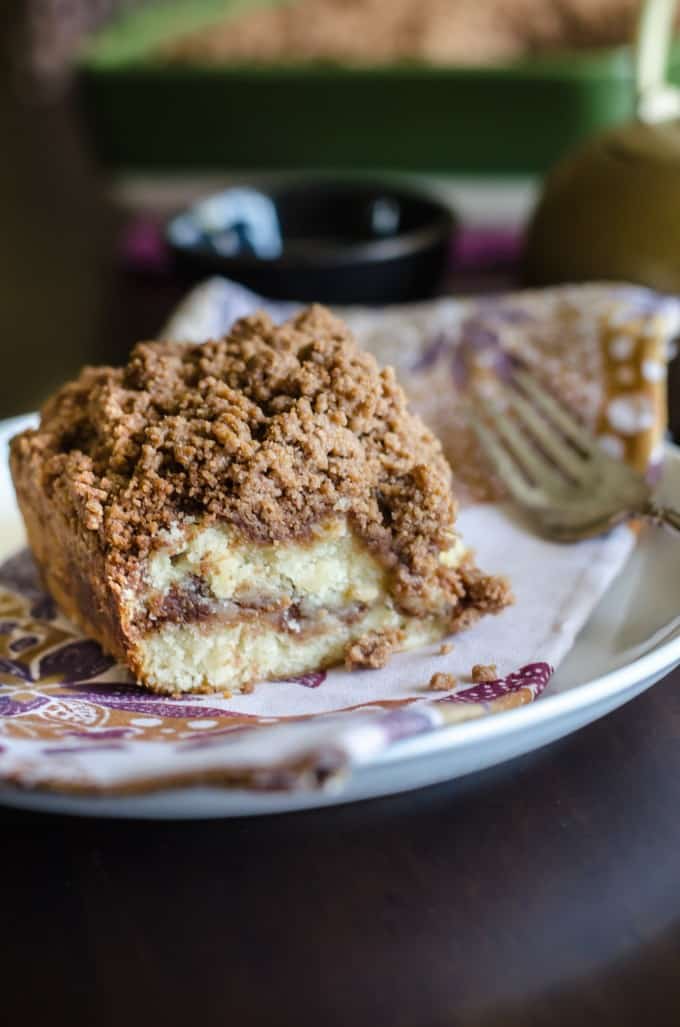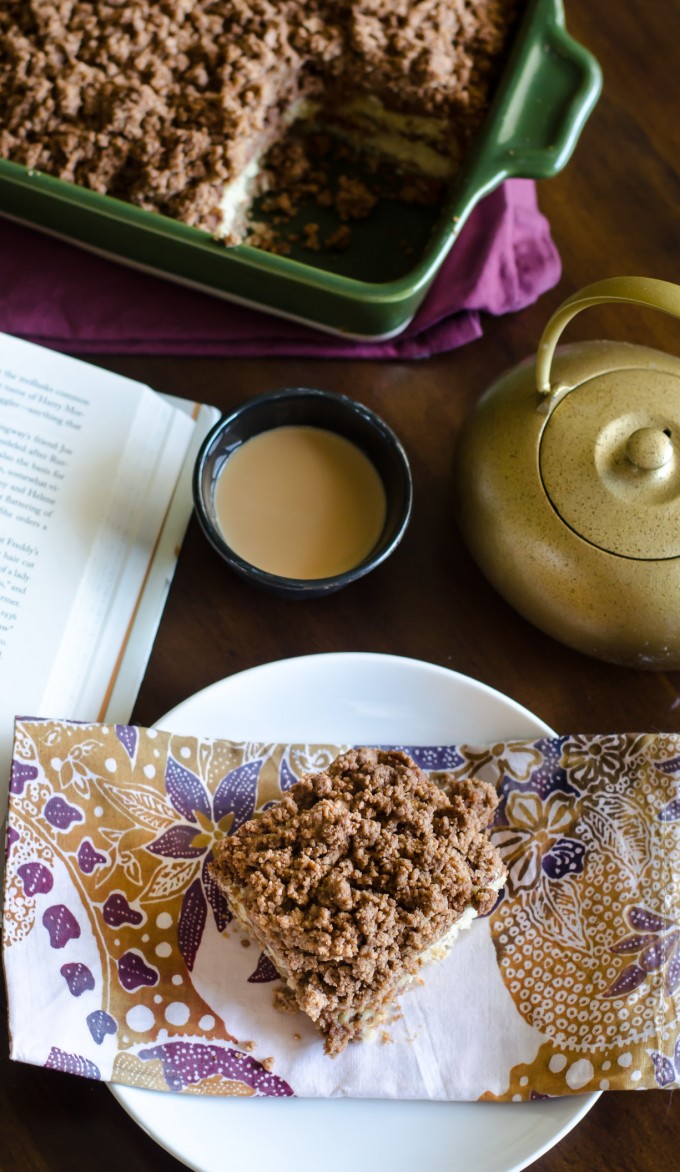 What you'll need for this breakfast coffee cake recipe:
Hand mixer – Having a hand mixer really comes in handy for making your recipes. Be sure to grab this [easyazon_link identifier="B001CH0ZLE" locale="US" tag="gogogogo03-20″]Hand Mixer[/easyazon_link] to get your recipes made right!
Mixing bowl – These bowls are perfect for mixing up any recipe and even come in three different sizes. Get your [easyazon_link identifier="B00LGLHUA0″ locale="US" tag="gogogogo03-20″]3-Piece Glass Mixing Bowl Set[/easyazon_link] here.
Food processor – I recommend using a food processor to make your toppings required in this recipe. This [easyazon_link identifier="B00755KNCS" locale="US" tag="gogogogo03-20″]Food Processor[/easyazon_link] should do the trick and even has dishwasher safe parts!
Baking pan – This [easyazon_link identifier="B001PKUXN8″ locale="US" tag="gogogogo03-20″]9 by 9 Inch Covered Pan[/easyazon_link] is great for any kind of baking. You'll get some great use out of it!
If you Like This homemade Cinnamon Coffee Cake recipe, you'll also like easy dessert recipes:
NOTE: after multiple readers telling me that they find the topping to be too heavy on the flour, I am amending the topping to reduce the flour by 1/4 cup and increasing the butter by one tablespoon.
Update (5/6/2016): Alright. As I keep getting comments that say that the batter is too thick and the cake is too dry and the topping has too much flour and its too sweet (and yet simultaneously not sweet enough!), I decided to remake this and test the recipe for the third time. It came out just like it did the first and second times I made it.
This recipe is based off my Blueberry Buckle with Streusel Topping, which is always a major success and I have never faced any complaints. The only thing that I changed was using softened butter in the topping, rather than cold butter, which I have now amended in the recipe ingredients. I'm sitting here and eating a piece of it and wondering why anyone would want this either more or less sweet.
I don't think its dry in any way- in fact the cake is quite moist. Its a butter based cake batter, so its not going to be runny like a boxed cake mix would be. As I state in the instructions, using an offset spatula makes spreading the batter over the filling much easier. I also took pictures at each step, so you can see what everything should look like along the way. These are below the instructions.
Like what you see? Subscribe to Go Go Go Gourmet's weekly newsletter to keep up on what's going on around here. You can also follow me on Facebook, Pinterest and Instagram to see what I'm up to! And don't forget to visit www.buttercreambakeries.com/book-online/, if you love bakeries you'll love the options they have.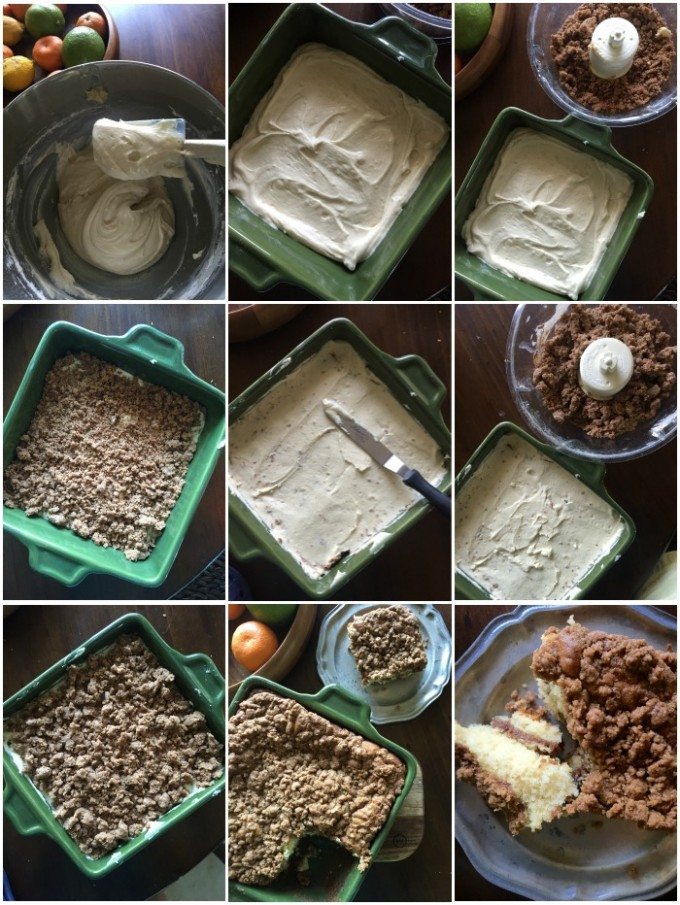 Cinnamon Crumb Coffee Cake
This cinnamon coffee cake recipe is moist, buttery, and full of cinnamon flavor. This is the best recipe for cinnamon crumb cake out there!
Ingredients
Cake
1

stick butter

softened

3/4

cup

sugar

1

tsp

vanilla

1

egg

2

cups

flour

2

tsp

baking powder

pinch salt

3/4

cup

milk
Filling
3

tablespoons

butter

softened

1

tablespoon

cinnamon

1/2

cup

flour

1/2

cup

packed brown sugar
Topping
5

tablespoon

butter

softened

3/4

cup

flour

1/2

cup

packed brown sugar

1

tablespoon

cinnamon
Instructions
Preheat the oven to 350F.

In the bowl of a mixer, cream together the butter and sugar, scraping down the sides occasionally. Add the vanilla and egg, mix in.

In a separate bowl, mix together the flour, baking powder and salt. Add one half of it to the mixer, and when mostly combined, add the milk. Once the milk is mostly incorporated, add the rest of the flour.

To make filling: in a small bowl, pinch together the softened butter, flour, sugar and cinnamon until soft crumbs form.

To make topping: add the butter, flour, brown sugar and cinnamon to a food processor and pulse until coarse crumbs form (You can cut in with forks or a pastry cutter, but I am not patient enough for that!).

Grease a 9x9 baking pan. Pour in ½ of cake batter, and spread to all four corners. Sprinkle the filling over top, then pour in remaining cake batter, and spread carefully across the top, disturbing the filling layer as little as possible (an offset spatula works well for this).

Sprinkle the topping over the top and press lightly so it adheres.

Bake in preheated oven for 45-50 minutes, until a toothpick inserted comes out clean. Cool to warm on wire rack before serving.
SaveSave