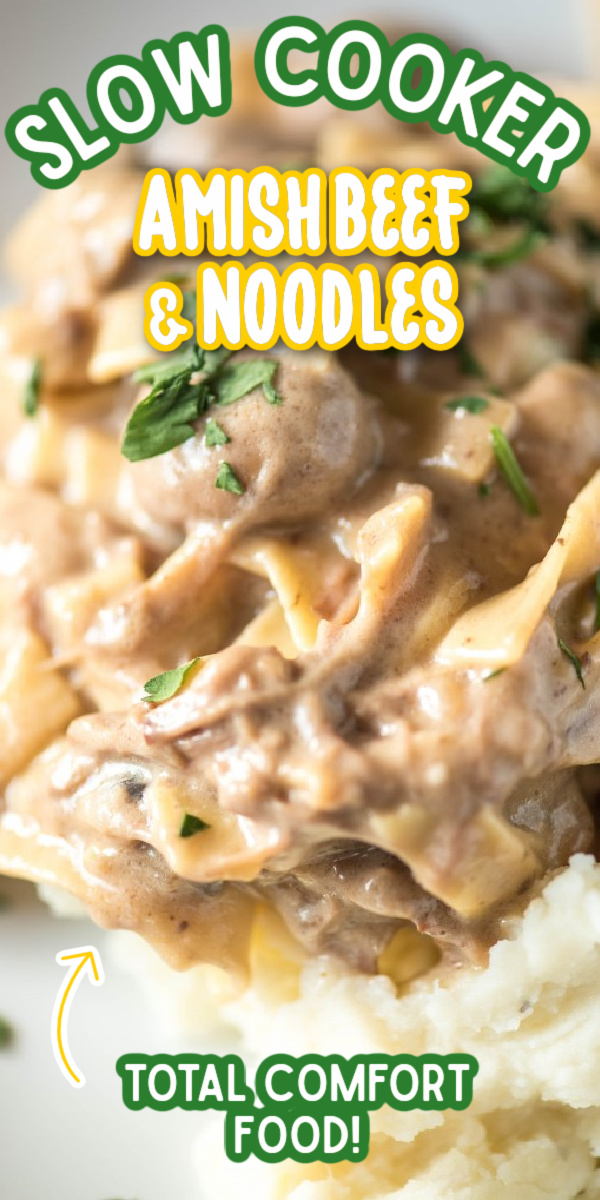 This Amish Beef and Noodles recipe can be made in a slow cooker or an Instant Pot. Served over mashed potatoes, it's an easy and loved dinner recipe!
Any Midwestern kid is well familiar with this Amish Beef and Noodles. Our school lunches would occasionally have this dish (but chicken flavored) and it was always one of my favorites to see on the menu – a creamy sauce with chunks of chicken, noodles, gravy, all served over an ice cream scoop of mashed potatoes. It was absolute heaven.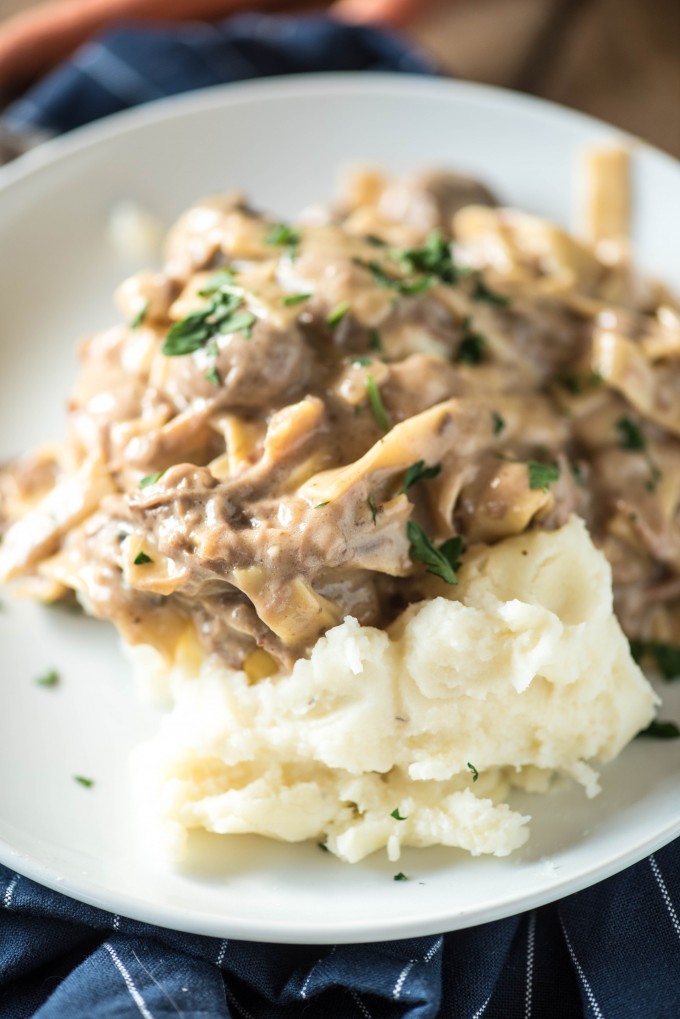 I grew up not far from Amish county- I had friends in high school that lived around there, so in the 20 minute jaunt over to their house, it wasn't uncommon to slow down because you got stuck behind a horse and buggy.
No, seriously.
So I guess I can't say for certain that this is truly Amish style, but I can tell you with 100% certainty that is "Midwest style," which more often than not means "comfort food." Good, hearty, homestyle food that sticks to your ribs when you eat it, and warms you from the inside out, body and soul.
I bet you didn't know that someone could talk about a dish so passionately, did you?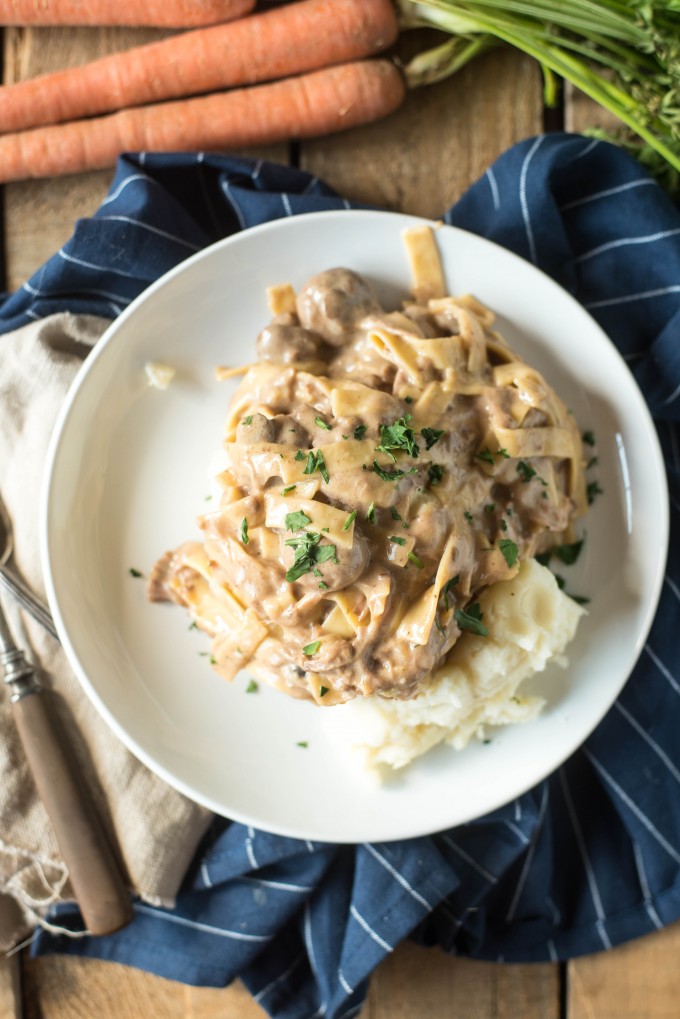 So somehow my memory of this dish got jogged last week. I think I was researching ideas of what to call another recipe of mine and was googling to see what to name it, and I ran across a similar concept in the results. As soon as I was reminded of it, I had a hankering that I knew had no chance of going away.
I decided to adapt the memory into this Amish Style Beef and Noodles with mashed potatoes, using a nice chuck roast instead of chicken, and doing the whole thing in a slow cooker for added ease, using just basic pantry ingredients. I always like to come up with new recipes to keep in my "default wheelhouse:" recipes that I can throw together because I already have everything I need to make it.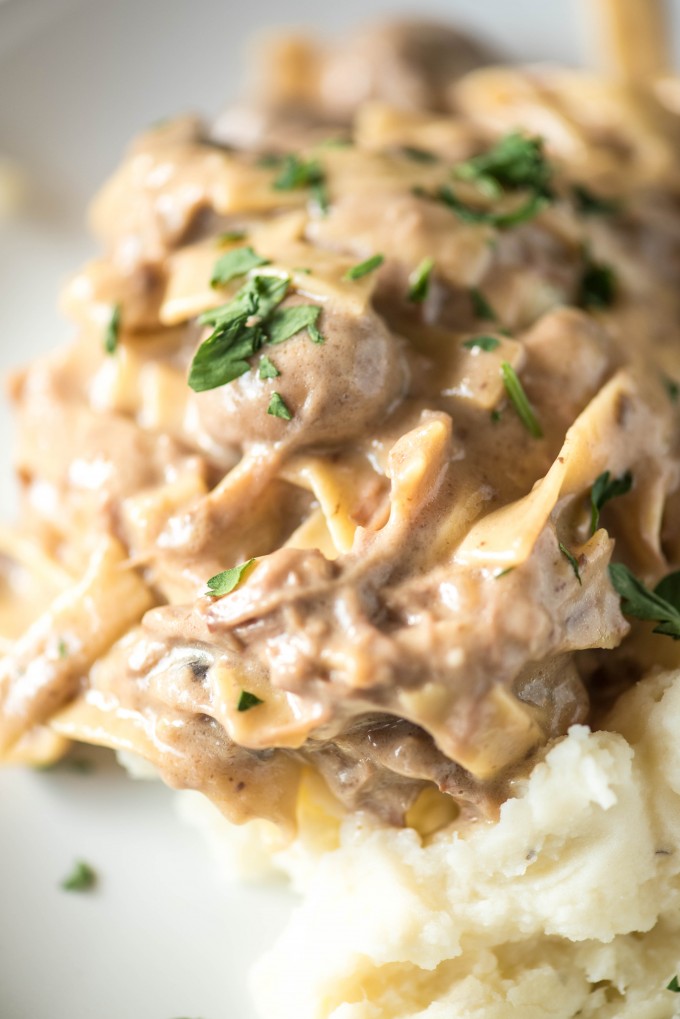 The whole thing was able to be cooked in my multi cooker- I browned the beef, then switched it over to the slow cooker setting for several hours on LOW to shred the beef. For the last hour, I stirred in the uncooked noodles, so they could cook in the broth and take on the flavor of the heavenly broth that was produced after 6 hours of slow cooking in a bath of flavor-makers.
[easyazon_infoblock align="none" identifier="B008YEXC22″ locale="US" tag="gogogogo03-20″]
Cooking Beef and Noodles in an Instant Pot:
I think this recipe could be very easily adapted for the Instant Pot. While I just got mine, so I'm a bit of a novice, I would say that you could brown the meat on the "sauté" setting, then switch to "Meat" for 40 minutes, 10 minute natural release, then quick release. Add your noodles and return to the "sauté" setting for 10 minutes, until the noodles are cooked through. Of course, you could also follow the recipe as written using the "slow cook" setting as well.
[easyazon_infoblock align="none" identifier="B00FLYWNYQ" locale="US" tag="gogogogo03-20″]
If you like this Amish Beef and Noodles recipe, try these:
Slow Cooker Amish Beef and Noodles
Ingredients
2 1/2

lbs

chuck roast

salt & pepper

1

packet onion soup mix

1

packet au jus mix

1 14

oz

can beef consommé

12

oz

canned whole mushrooms

1 10

oz

can cream of mushroom soup

8

oz

medium egg noodles

1

cup

milk or cream

mashed potatoes

for serving
Instructions
Heat a skillet over high heat. Add 1 tablespoon olive oil. Season chuck roast with salt and pepper, then sear in the skillet for 3-4 minutes, until browned. Flip and repeat on the other side. If your slow cooker has a "Roast" or "Sauté" setting, you could use this.

Place the roast in the slow cooker, and sprinkle with the onion soup mix and the au jus mix. Pour the consommé and cream of mushroom soup over top and briefly mix together. Add in the mushrooms.

Cook on LOW for 6 hours.

Finely shred the chuck roast in the broth. Stir in the uncooked egg noodles. Recover and cook on HIGH for 1 hour.

Pour in the cream and mix thoroughly.

Scoop mashed potatoes onto a plate and top with a hearty helping of beef and noodles.

SaveSave