If you're craving comfort food, these Red Wine Oven Braised Shorts Ribs are for you! Slow cooked in the oven, they are tender and delicious!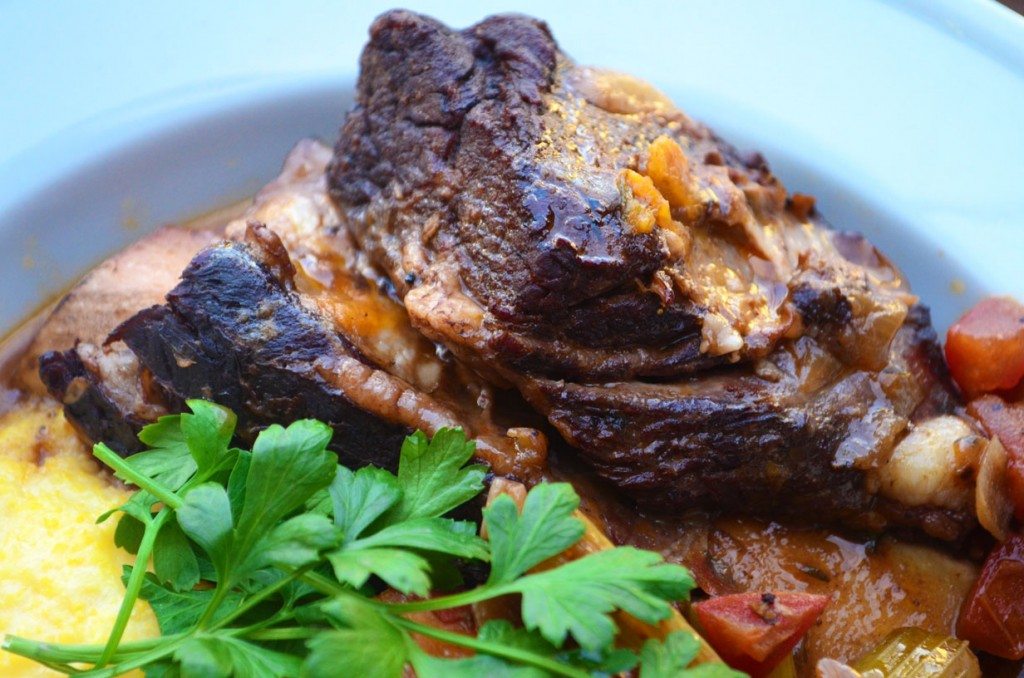 I'm going to be honest with you all. I actually made this about a month ago. But then I got wrapped up in the dinner party series and the Thanksgiving dishes, so it never got its day in the sun. But now, temperatures have dipped to a balmy low 60 degrees here, and I'm almost in the mood to make it again. There's just something about polenta and short ribs that is so warm and comforting.
This is absolutely another "set it and forget it" kind of recipe- perfect for this time of year. Think of all you can accomplish while this is just cooking away in the oven! So many cookies to mix! So much online shopping to complete! And so many presents to wrap!
'Tis the season for multitasking.
p.s. This could also easily be made in the slow cooker.
How to Make Oven Braised Short Ribs
Any time I'm baking a large piece of meat like this in the oven, I like to sear it in a pan first. This helps to make sure all of the juices are locked in, and provides a very tender and juicy product. So brown the short ribs on all sides in a pan with olive oil to start. You can set it aside once all sides are browned.
Next you are going to saute the vegetables in the same pan. Cook the celery, carrots and onions until they begin to soften, then add in the garlic and cook for two more minutes. Stir in the butter until melted, and also the flour. Cook all of this for a couple more minutes.
Now you can add the short ribs back into the pan, along with the red wine, stock, herbs and tomato paste. Cover with a lid and bake in the oven for about two hours. You'll know when it's done when you can easily shred the meat with a fork!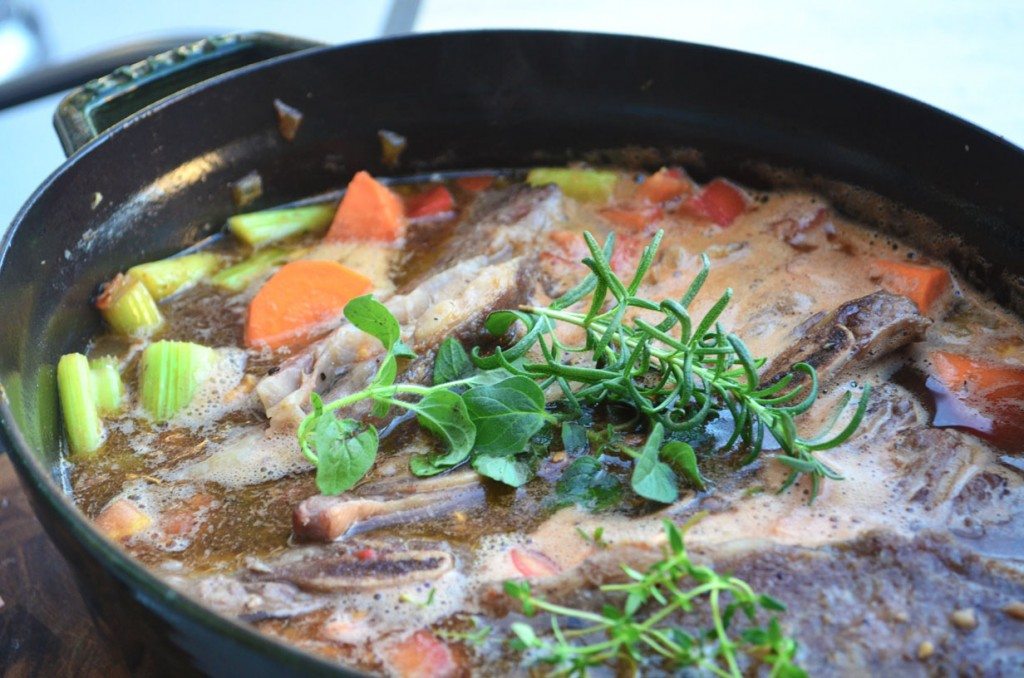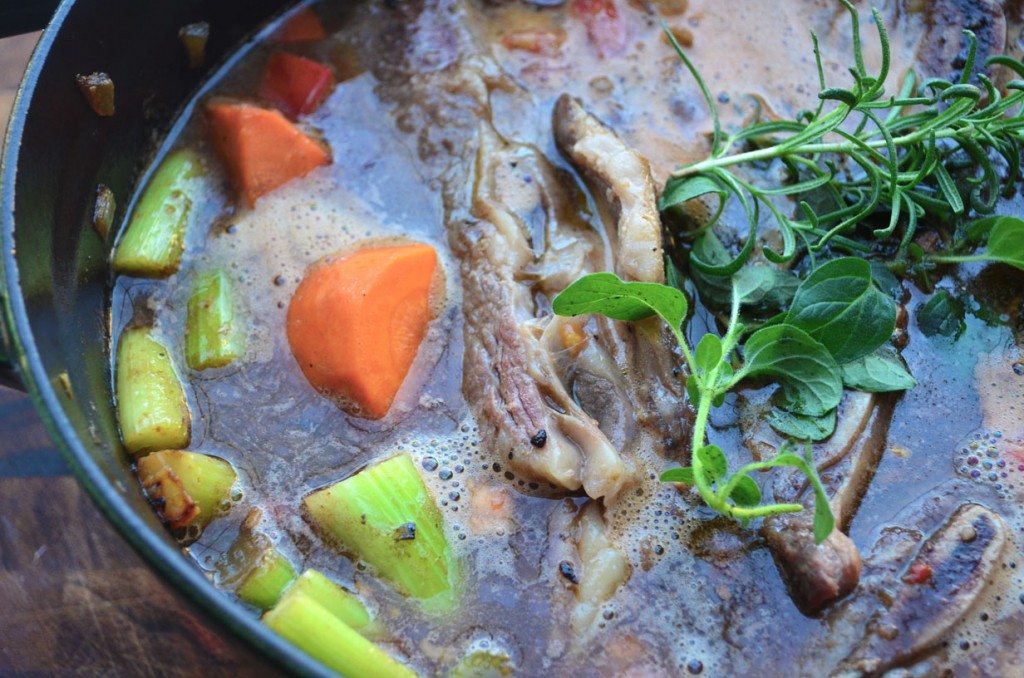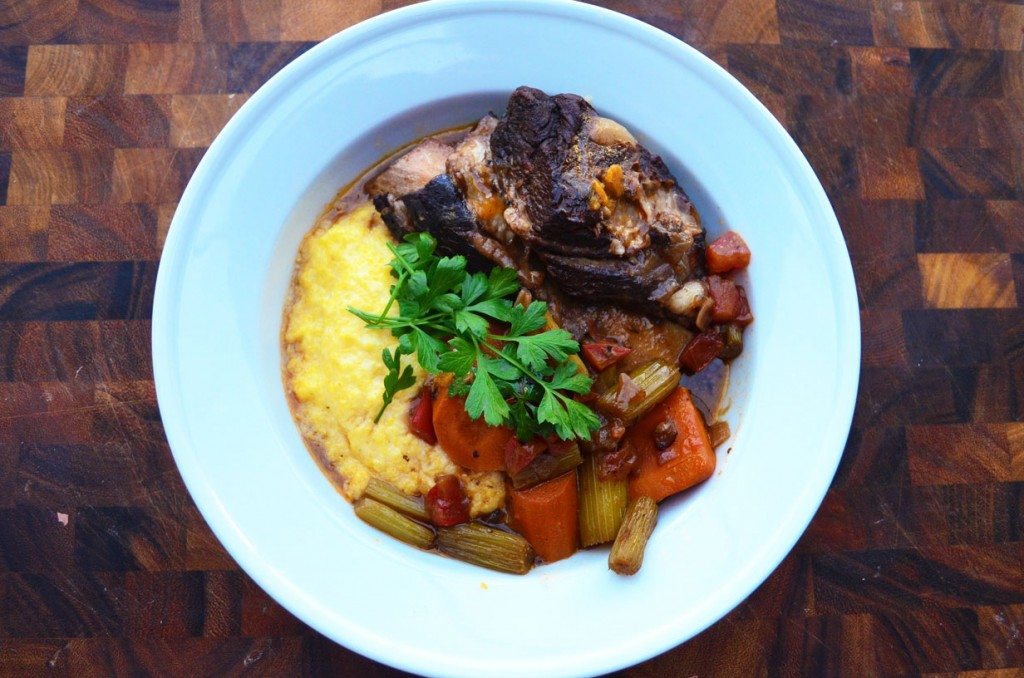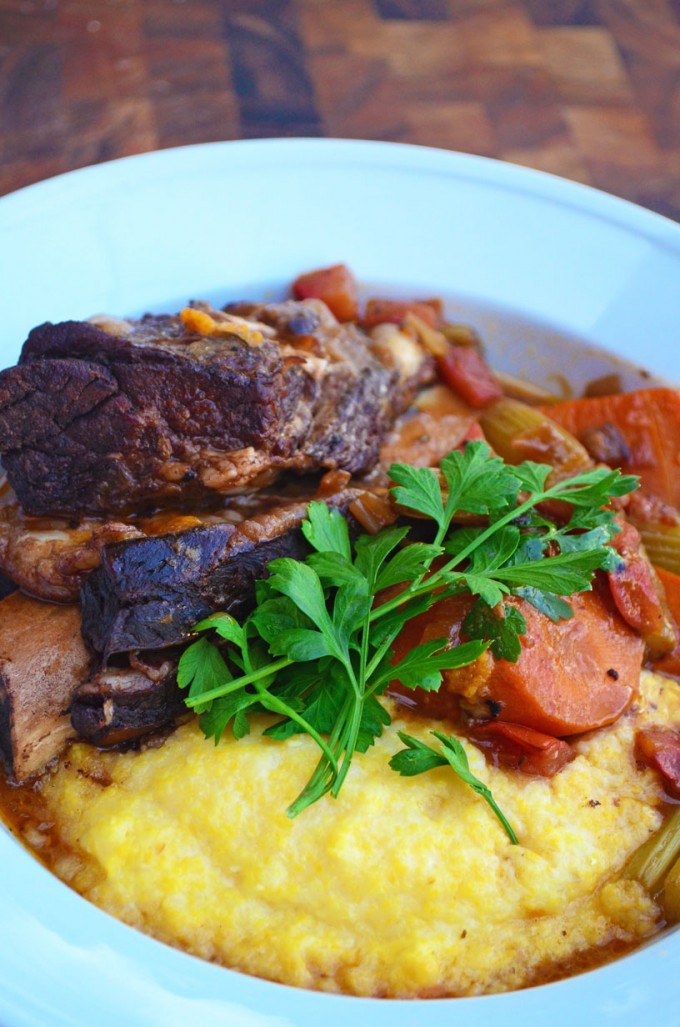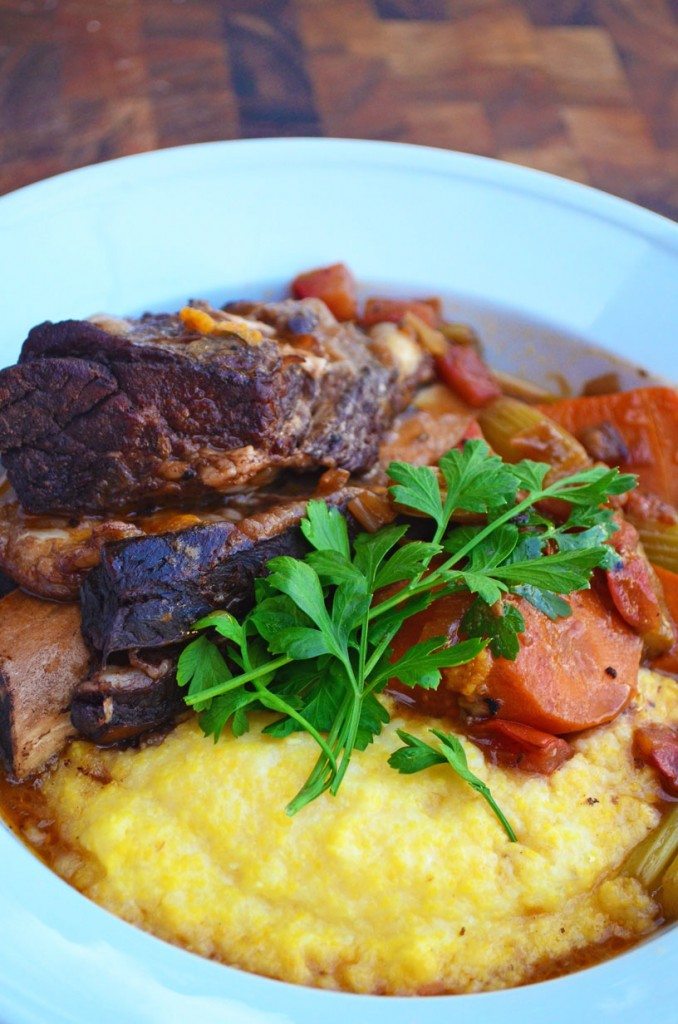 More comfort food recipes to try:
Braised Short Ribs
Ingredients
3

lbs

short ribs

3

ribs celery

cut into 1 1/2" lengths

3

carrots

cut into 1 1/2" lengths

1/2

onion

sliced into wedges

3

cloves

garlic

2

T

butter

1/4

cup

flour

2

cups

beef stock

3

cups

red wine

2

T

tomato paste

1

can diced tomatoes

1

sprig each rosemary

oregano and thyme
Instructions
Preheat oven to 350F.

Heat a large heavy lidded pot over medium high heat. Add 2 T olive oil to pan.

Season the short ribs with salt and pepper. Working in batches, brown the short ribs on all sides. Set aside

Add the celery, carrots and onion to the pot; sauté until vegetables are beginning to soften. Add garlic, cook 2 minutes longer. Melt butter to the pan, then stir flour in. Cook for 1-2 minutes.

Move the short ribs back to the pan. Slowly pour in red wine and stock. Add in herbs, tomatoes and tomato paste.

Cover and cook for 1 1/2- 2 hours. Dish is done when meat shred easily with a fork. Skim some of the fat from the top ands serve over polenta.