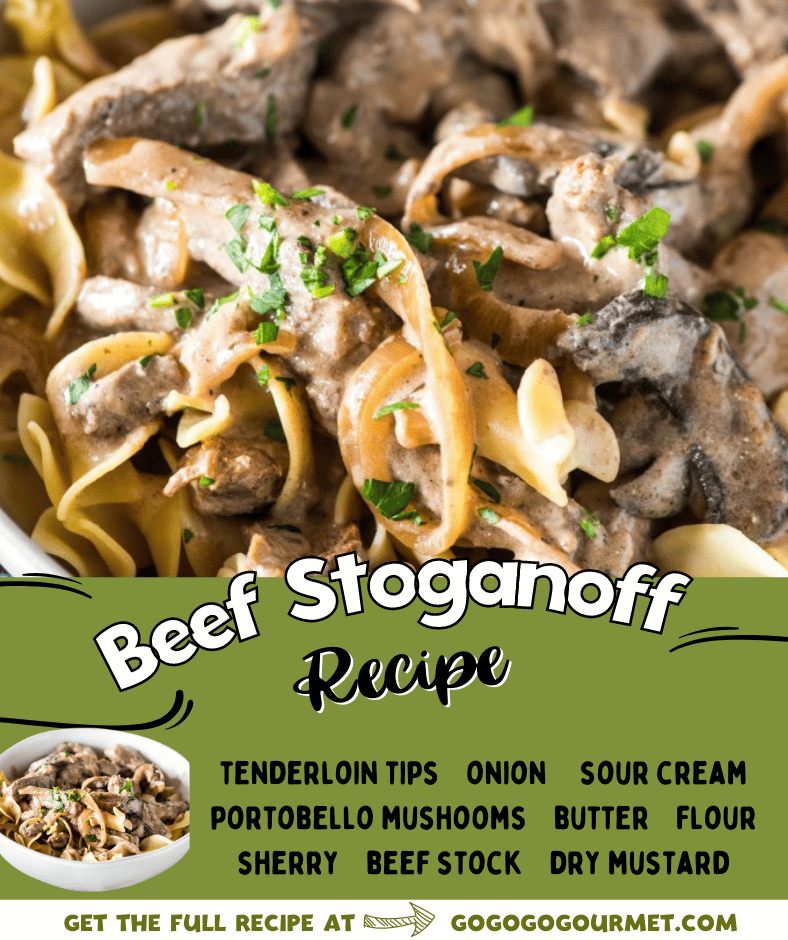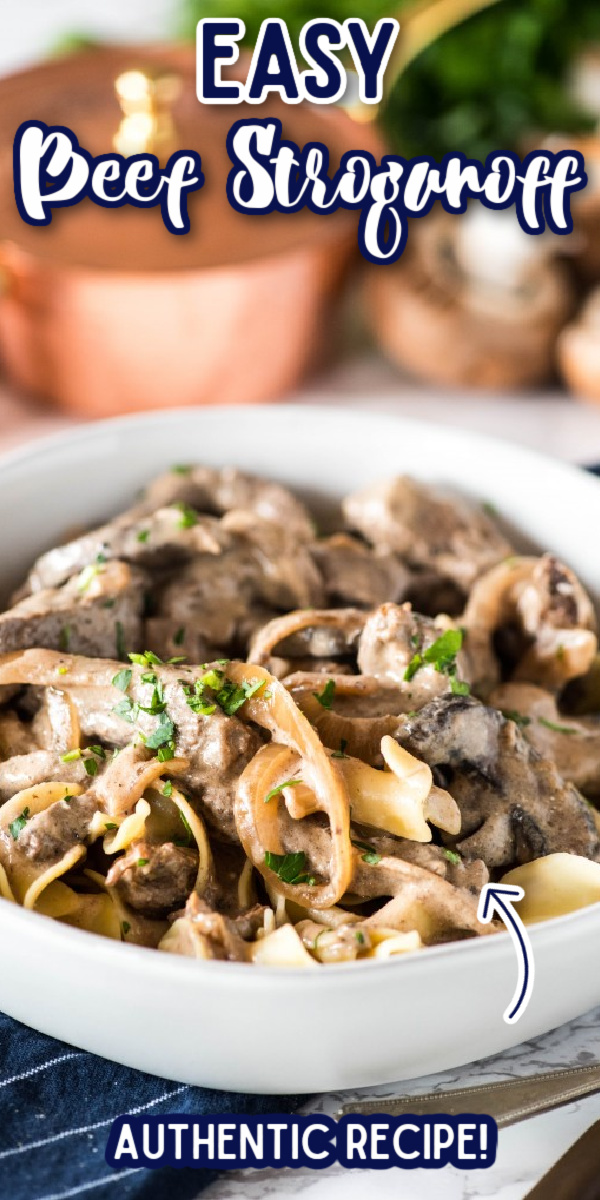 This easy beef stroganoff recipe is one of our family's favorite weeknight meals! We use tenderloin tips to make this fast weeknight meal with a creamy sauce, sautéed mushrooms and onions, perfect over buttered rice or egg noodles.
Quick recipe for an easy beef stroganoff today, due to the fact that I have picked up some sort of mild plague from the little Petri dish running around here.
Kids, man.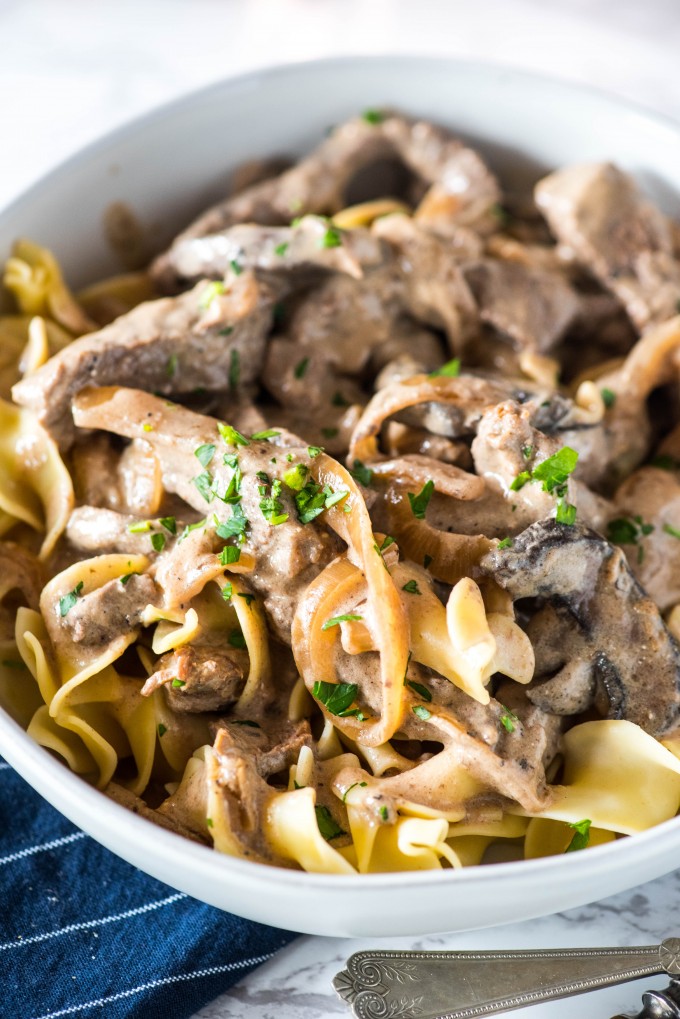 I am notorious for buying random ingredients in the grocery store "just to have on hand," usually in the hopes that I am going to come up with When I went grocery shopping after the leftovers were finally gone, I spied some tenderloin tips.
Scraps of tenderloin? An abundance of mushrooms? Sounds like the perfect opportunity to make beef stroganoff. Tender strips of beef, soft onions, sautéed mushrooms all in a creamy sauce? Take me to heaven.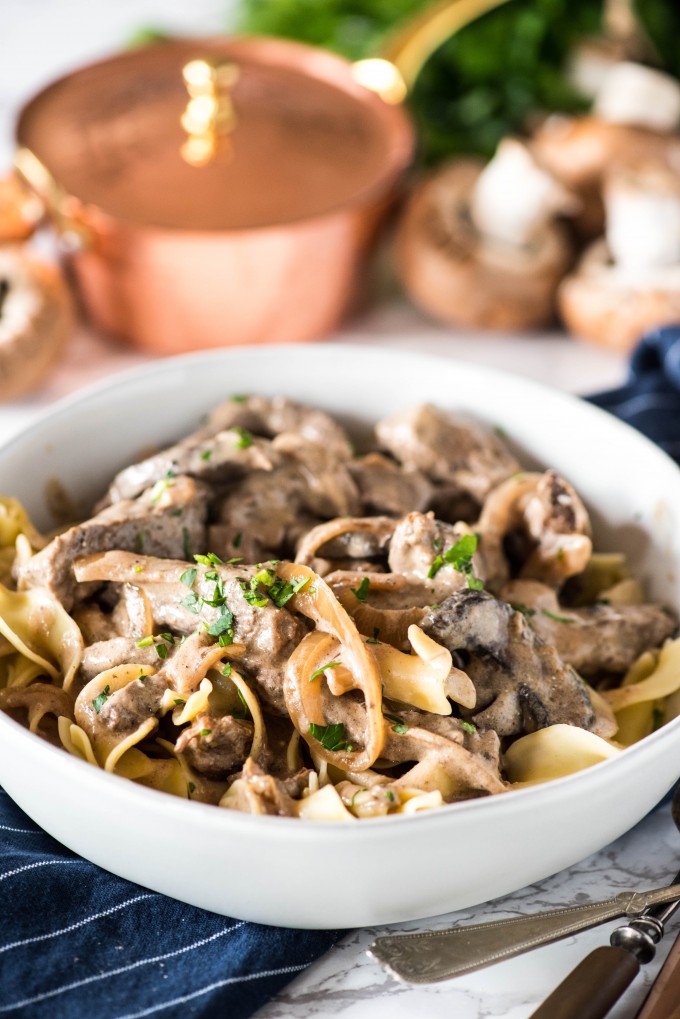 What is beef stroganoff?
This dish originally hails from Russia, and is a quick saute of beef, mushrooms and onions in a creamy sauce made with beef stock and sour cream.
There are countless variations on this dish, including slow cooker beef stroganoff and subbing the beef for chicken. There really is no sour cream alternative for this recipe- the sour cream is what makes it a stroganoff, really.
I've subbed in Greek yogurt if I've been in a pinch. While it's not my preference, it works if you need it.
Beef Stroganoff Notes:
There are other cuts that you can use to make this, but tenderloin is the classic- for good reason. The meat is so tender that it cooks in no time at all.
If you can't find tenderloin tips, you could buy a single filet and slice it into strips. I used to make this with other cuts, but have mostly abandoned that practice in favor of tenderloin. However, here are some other alternatives:
Stir Fry Beef
Thinly sliced sirloin
Thinly sliced ribeye
If you go this route, make sure that you slice it against the grain for the most tender result.
Here is the other thing that I have recently noticed about stroganoff- most people seem to eat this with buttered noodles. I always grew up eating this over white rice, and love it that way. Which way do you serve it?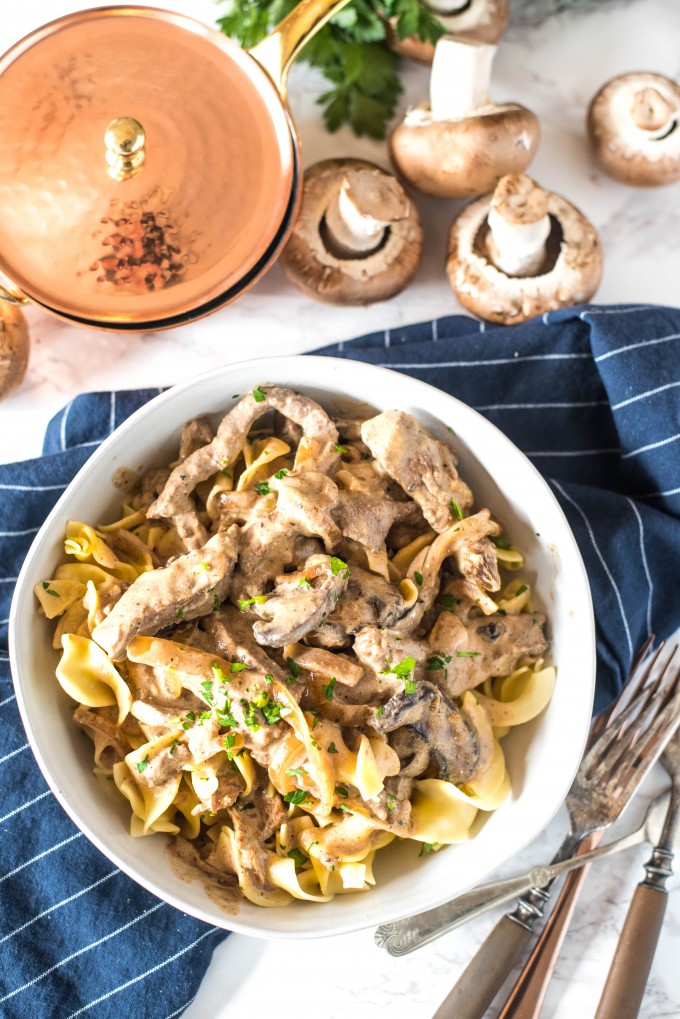 If you like this easy dinner recipe, try:
Beef Stroganoff
Ingredients
1.25

lbs

tenderloin tips or stir fry beef/sirloin/ribeye

1

onion

thinly sliced

12

oz

portobello mushooms

sliced

4

T

butter

divided

1/4

c

flour

1/4

c

sherry

1

cups

beef stock

1

tsp

dry mustard

1 1/2

cups

sour cream

buttered rice

for serving
Instructions
Heat a large, deep skillet over medium high heat. Add 2 T olive oil.

Season tenderloin with salt and pepper and add to skillet. Brown pieces, remove from skillet and set aside.

Add onions and mushrooms to skillet with 2 T butter. Cook until the onions are starting to caramelize and the mushrooms are golden brown.

Add remaining 2 T butter to the skillet. After it has melted, sprinkle the flour over and whisk in. Cook for 1-2 minutes to cook off the raw flour taste. Add in sherry, cook until reduced by half, then whisk in stock.

Simmer until stock has reduced and mixture has thickened slightly. Add in mustard and season to taste with salt and pepper.

Remove from heat and stir in greek yogurt and sour cream.

Serve over hot buttered rice.

SaveSave
SaveSave