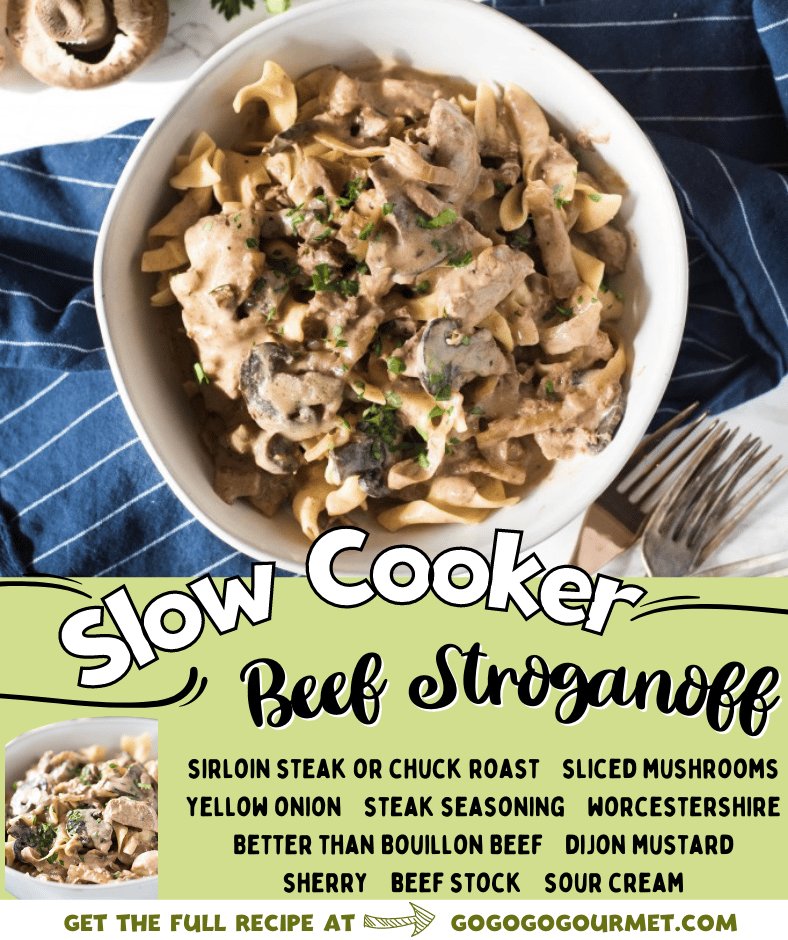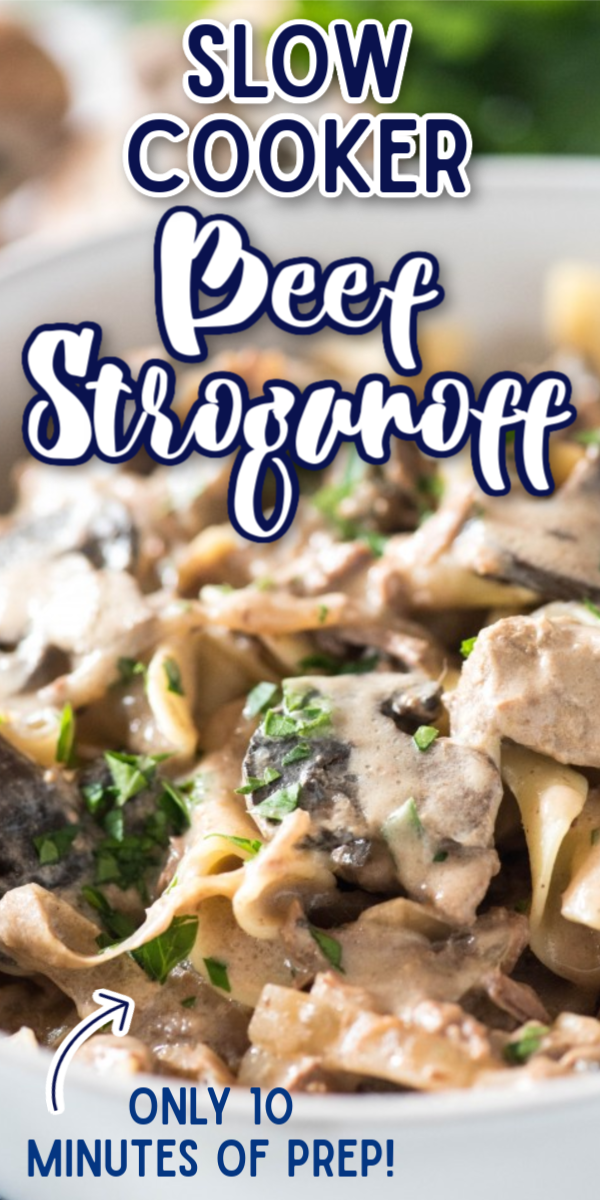 This Slow Cooker Beef Stroganoff is a wonderful alternative to the traditional stove top method of making beef stroganoff! Loaded with melt-in-your mouth sirloin, tons of onions and mushrooms, and a creamy sauce, it's absolutely perfect over egg noodles. This crock pot recipe is the best!
Even though I consider traditional stroganoff to be a pretty easy weeknight dinner, there are some days where you just want to walk in at the end of a long day and have dinner there waiting for you. Well, here you go- an easy recipe for a slow cooker beef stroganoff.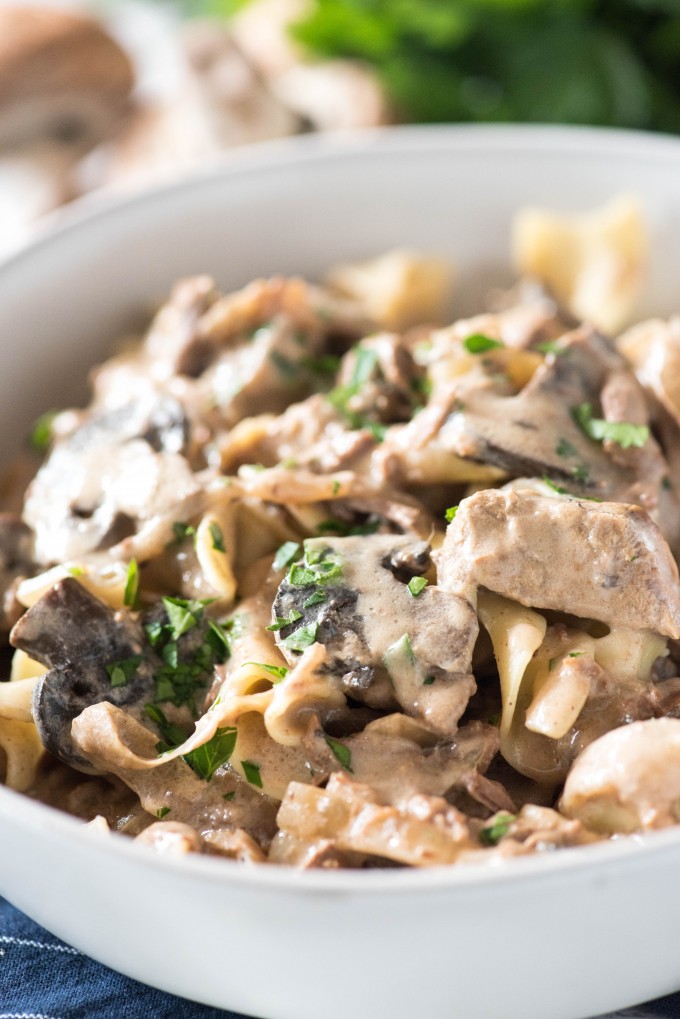 I think the best part of this recipe is the fact that it really opens you up to the kind of beef you can use. Traditionally, scraps of tenderloin are used, which can obviously get pricey if your grocery store doesn't sell tenderloin tells, or has a high price on filets.
Usually when I use tenderloin strips to make this, I can make it on the stove stop in under 20 minutes since the beef is so tender. Here, I was able to use a sirloin roast cut into strips (chuck roast would also work great here), but still ended up with a super fall-apart-in-your-mouth texture AND great flavor from this crock pot beef stroganoff.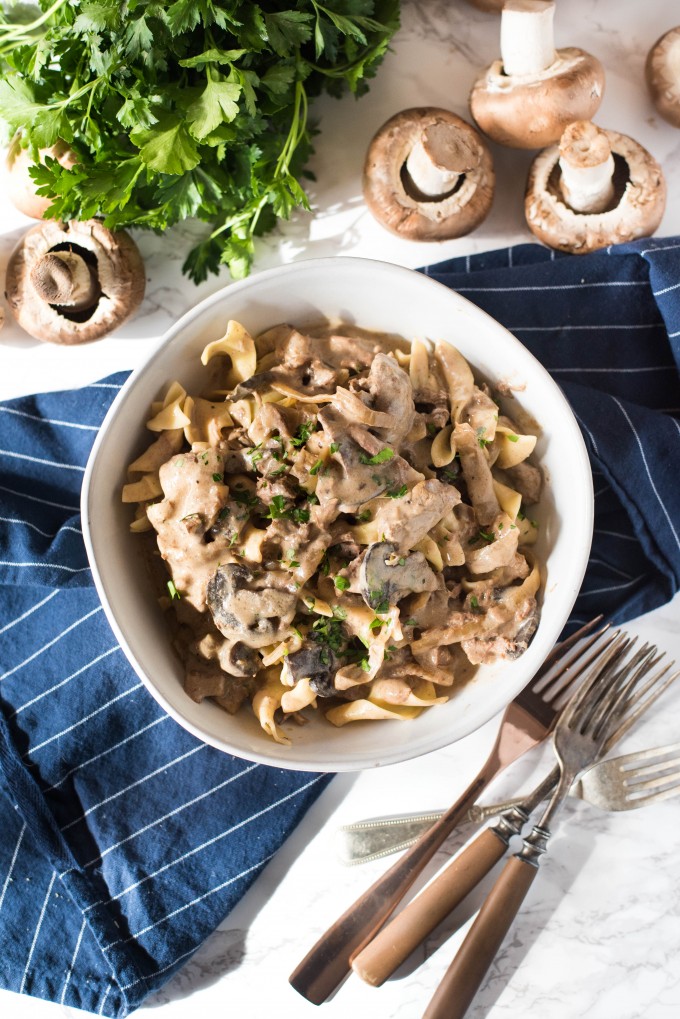 When researching for this post, I came across a lot of recipes that called for cream cheese at the end instead of sour cream. I don't know that I can get on board with this, because the sour cream is THE ingredient that makes a stroganoff a stroganoff!
I can maybe see a combination of the two to improve and thicken the texture if you used too much beef stock, but I did not have that problem with my recipe- and the tangy, creamy bite of the sour cream at the end is what took this from" just another slow cooker beef recipe" to "the best slow cooker beef stroganoff recipe!"
You'll also note that this recipe contains a little bit of sherry- you may find this a little unconventional, but it really does make it stand out from other recipes! I use it in my traditional beef stroganoff as well, and I can ALWAYS tell when I don't use it. It just adds a little oomph!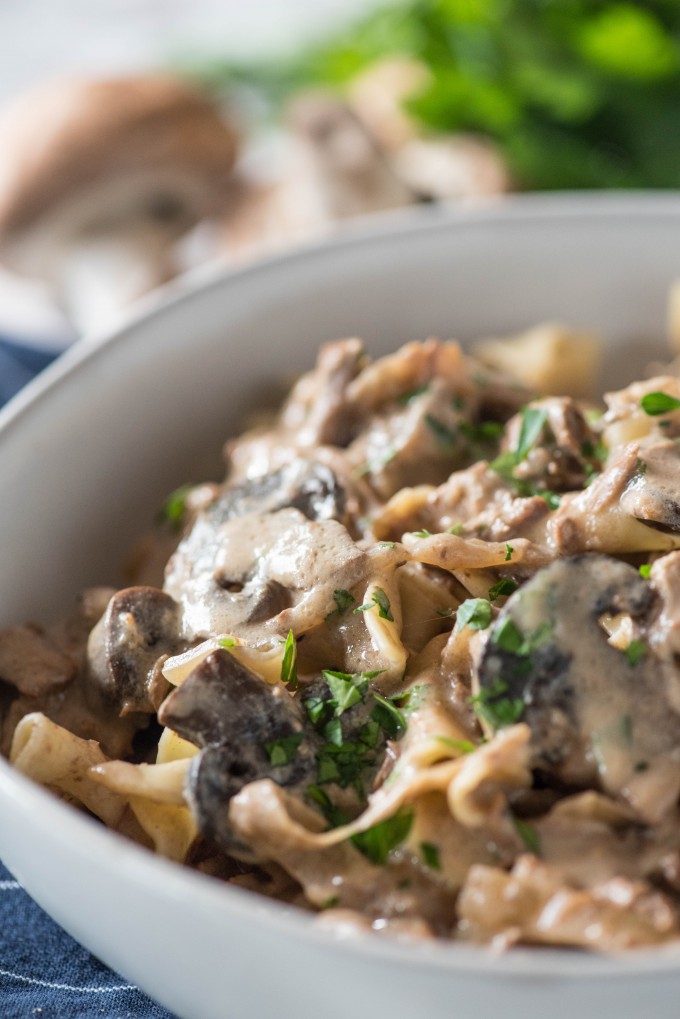 I also made this with no creamy of mushroom soup, but I think it would be a fantastic addition to the pot. I, in a shocking surprise, was actually out of it when I made this. I'm NEVER out of it!
Side note-I've never quite understood why some people take an anti-cream of whatever stance (okay, okay, I'll admit the sodium is a little high)- they are a great base ingredient for achieving a creamy texture in your recipes.
Looking for more recipes like slow cooker beef stroganoff?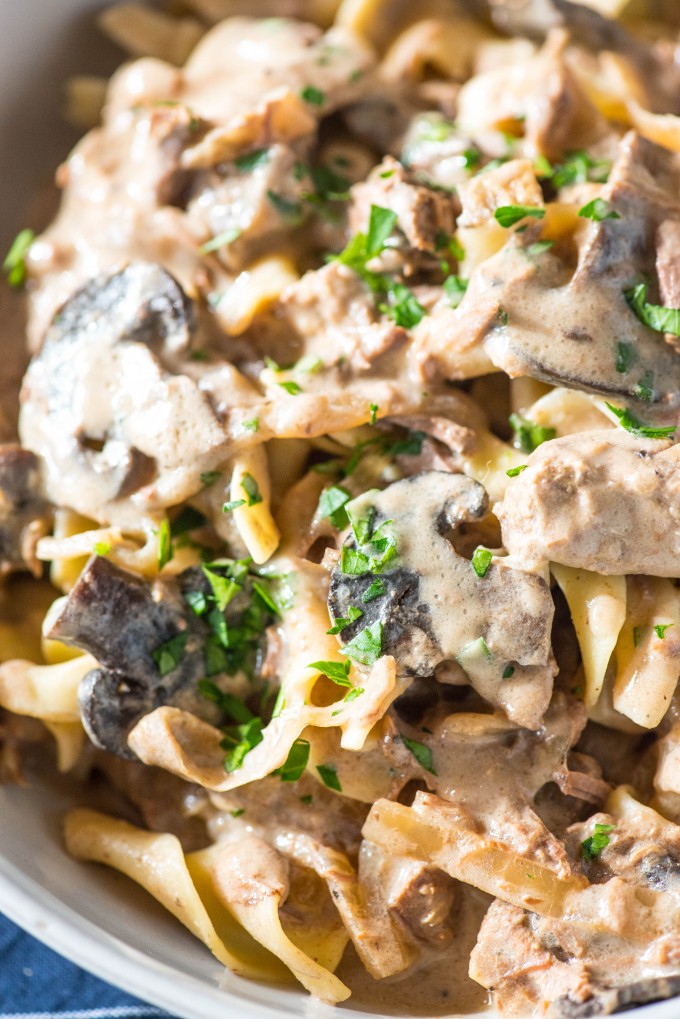 Slow Cooker Beef Stroganoff
Ingredients
1 1/2

lbs

sirloin steak or chuck roast

cut into 1" strips

8

oz

fresh sliced mushrooms

1

large yellow onion

cut in half, sliced 1/4" across

3

tablespoons

steak seasoning

1

tablespoon

worcestershire

1

tablespoon

Better than Bouillon Beef

1

tablespoon

dijon mustard

1/4

cup

sherry

3/4

cup

beef stock

2

cups

sour cream
Instructions
Add beef, onions, mushrooms, steak seasoning, Worcestershire, mustard and Better than Bouillon to the insert of a slow cooker. Pour sherry and beef stock over mixture and stir to combine.

Cover and cook on LOW for 6 hours.

Uncover and stir in sour cream. Turn to HIGH and cook partially covered for 30 minutes.

Serve over egg noodles.
Notes
I like to use steak seasoning because it takes care of my salt, pepper, garlic powder and onion powder so I don't have to add them all individually. If you don't have steak seasoning on hand, use a combination of the above.
If you'd like to add a condensed soup to this, I recommend using golden mushroom soup. Add this at the beginning with the other ingredients, and then cut your sour cream in half at the end.
SaveSave