This Slow Cooker Brisket and Gravy can be done in the oven or a slow cooker. A four ingredient recipe from my grandmother's archives gets updated!
When I posted the recipe for Belgian-Ale Braised Brisket, I felt dirty inside.
As I said then, I have eaten brisket one way my whole life, and to me, it is perfect. I promised that I would write it up soon.


I lied. It's been like 7 months. To be fair to myself, I actually DID make it back in March or April, but the pictures were "enh." This is a hard dish to take pretty photographs of. It's a pretty beige dish. These aren't awesome… but they are an improvement.
However, better late than never, here it is. The easiest and most delicious brisket known to man. Yes, I am biased, but I don't care. To me, this is HOME. Hell, my mom even taught my dog to go down stairs using brisket gravy on her fingers (this is also why she gets referred to as Gravy Fingers by Rock).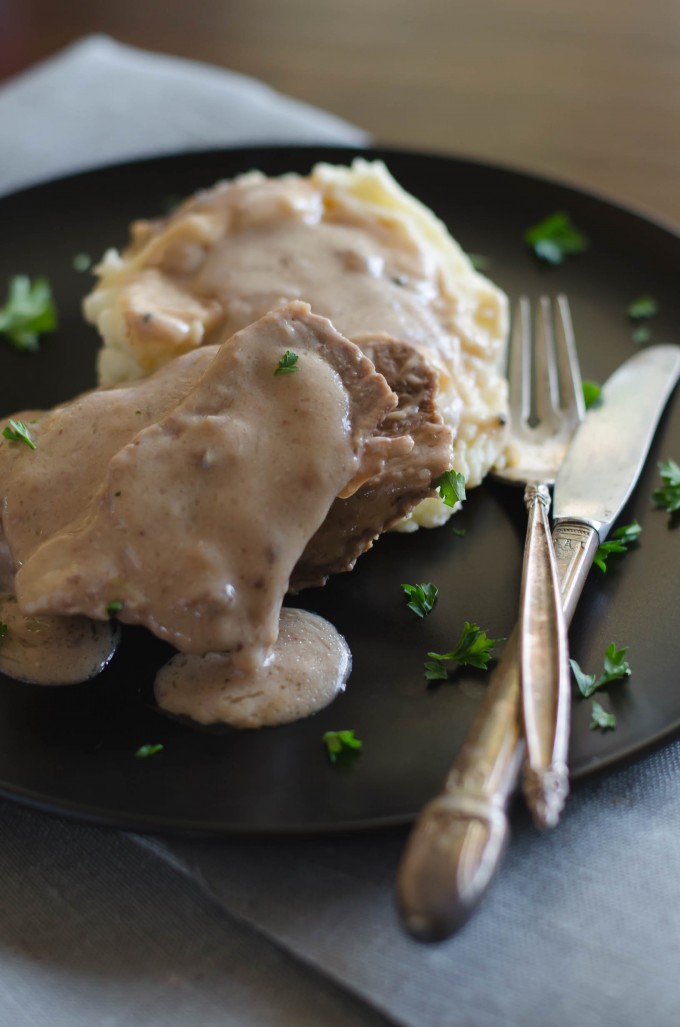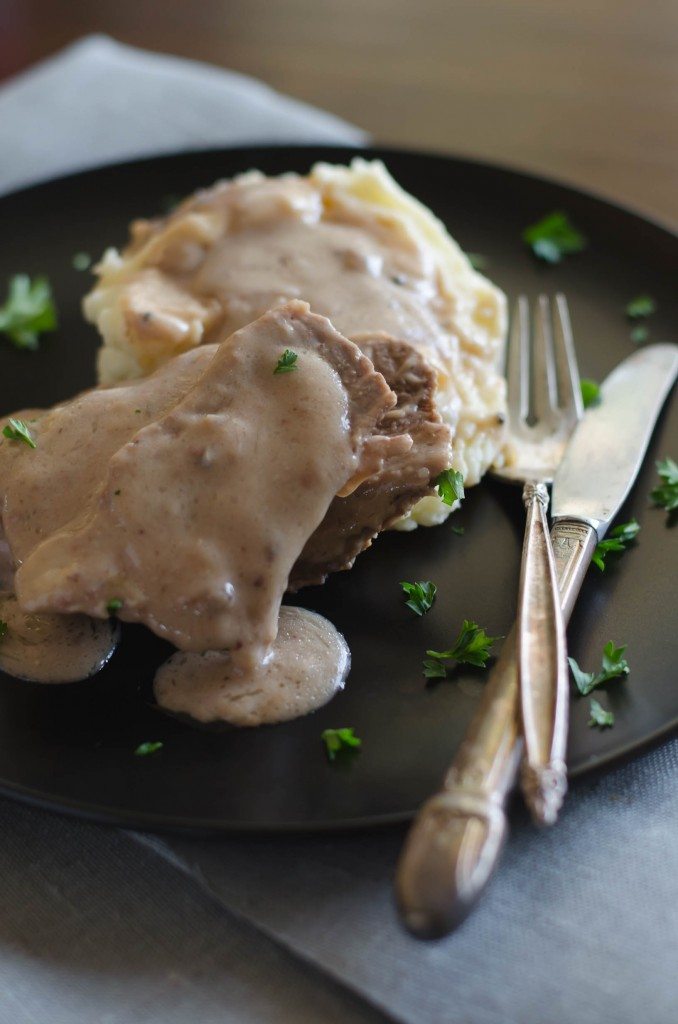 The cream of mushroom soup and onion soup mix come together with the brisket juices to make an incredible gravy (so don't skimp, you're only reducing your gravy). I'm not going to sit here and preach that this is low-fat, low-sodium or whatever. It's not. It's a straight out of the 60s and 70s recipe full of soup mixes. But it is simultaneously awesome. And I'd rather eat a big plateful of this than a bowl of quinoa and kale
Even though I trimmed up the brisket (and I do like to leave SOME fat on), there was also a lot more rendered fat on top. I scooped it out before whisking in the gravy mix.
I took half of it over to David's mom and stepdad for dinner and they both loved it. It was a clean plate club over at our house too, with everyone eating eerything. Now that the boys are four and one, that is getting to be a taller older (much to my chagrin). The brisket was incredibly tender and juicy, the gravy turned out perfectly, and it was smashing over mashed potatoes. I think it might even be my new preferred method of cooking it!
If you like this Slow Cooker Brisket and Gravy recipe:
Homestyle Brisket
If you go with a full sized brisket, add two additional cans of cream of mushroom soup and one more envelope of soup mix. Cut brisket in half and stack the halves (with a can of soup and half envelope of soup mix between them.
Ingredients
3

cans cream of mushroom soup

1

envelope Lipton Onion Soup Mix

3-4

lbs

beef brisket
Instructions
Preheat oven to 325.

Take two long sheets of aluminum foil, lay them on top of each other and fold al the way across the long side, then repeat. Open the sheets- you should have "one" very large and wide sheet.

Scoop out one can of soup, top with half the soup mix.

Place brisket, fat side up, on top of the soup mixture. Add remaining cans of soup and onion mix on top of the meat, stir together (does not have to be completely or evenly mixed).

Bring the sides of the foil up and fold together.

Place foil pouch inside a large lidded pot. Cook in preheated oven for 3 hours. Serve with mashed potatoes.
Notes
Can also be done in a slow cooker- LOW for 8 hours, remove from insert. Whisk in one packet brown gravy mix and cook on HIGH for 20 minutes, or until thickened.
SaveSave
SaveSave
SaveSave