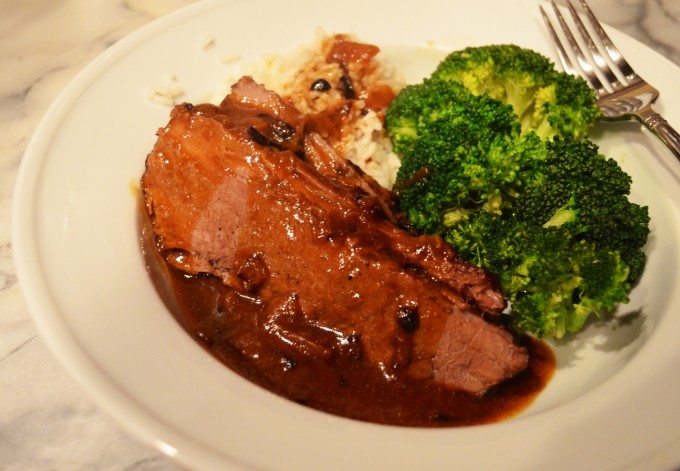 I'm thoroughly impressed with myself. I managed to get through four months of Bon Appetit and Food & Wine magazines that I had been back logged on. I found this recipe while I was reading, and wanted to try it.
Confession: I have made brisket one way my entire life. It's the way that my grandmother made it, the way my mother made it, and the way that I now make it. But that's a recipe for another day.
The only reason that I considered this is because I had a brisket that was big enough for two dinners. I have to say, it was excellent. I altered it slightly from the original, mainly due to the fact that I didn't initially notice that it needed to be started the day before. C'est la vie, move on and make no apologies. After eating it, I wasn't too torn up about my modifications.
Speaking of things not going according to plan, here's a laugh for the weary-minded. I would have served this with mashed potatoes rather than rice. Why didn't I? Well, my dears, I had some made from a previous meal that I had heated up while the baby took his nap. He suddenly woke up absolutely hysterical, and forced me to abandon my potatoes on the coffee table and run upstairs. After getting him calmed down and back to sleep, no more than 5 minutes, I came back down to the living room, only to find that my rascal (jackass?) dachshund had pulled the entire bowl (complete with gravy) off the table, onto the carpet, and was gleefully devouring The. Entire. Bowl.
I was livid. I put the dog out and didn't talk to him for several hours. He hid in the bathroom.
Anyway, give this a try. Although it's not something that can be thrown together with 20 minus until dinner, it requires very little work for a big return on flavor and comes together with things that you likely already have. I'd say it has 10 minutes of actual, real prep work. The meat was wonderfully flavorful and tender-no knives required!
Belgian-Ale Braised Brisket
Ingredients
1 4-

lb.

piece flat-cut beef brisket

untrimmed

Kosher salt

¼ 

cup 

Dijon mustard

¼ 

cup 

packed dark brown sugar

1 

tablespoon 

grated peeled ginger

or 1 tsp ground

2 

tablespoons 

bacon fat or vegetable oil

2 

medium yellow onions

thinly sliced

¼ 

cup 

all-purpose flour

1 

bay leaf

1 750-

ml

bottle Belgian-style triple ale

I used 2 bottles of Hoegaarden

4 

cups 

vegetable stock
Instructions
Season brisket with salt. Wrap tightly in plastic and chill at least 8 hours. (I did not do this. In all honesty, I forgot about this step for three days in a row, then started to worry about the usability of the meat, so I just skipped it today.)

Let brisket sit at room temperature 1 hour.

Preheat oven to 400°. Combine mustard, brown sugar, and ginger in a small bowl. Unwrap brisket, place on a large rimmed baking sheet, and rub mustard mixture all over brisket. Roast until top is nicely browned, 30–40 minutes. Remove brisket from oven and reduce oven temperature to 300°.

Meanwhile, heat bacon fat in a large heavy ovenproof pot over medium heat. Add onions; season with salt and cook, stirring often, until deep golden brown, 8–10 minutes. Reduce heat to medium-low, add flour, and cook, stirring often, until mixture smells nutty, about 4 minutes. Add bay leaf, ale, and stock. Bring to a simmer. Add brisket, cover, and transfer to oven. Braise, turning every 30 minutes (forgot to do this too, don't make more work for yourself), until fork-tender, 3–4 hours. Discard bay leaf.

Transfer brisket to a cutting board and let rest at least 20 minutes.

If braising liquid is thin, bring to a boil, reduce, and simmer, skimming surface as needed, until thick enough to coat a spoon; season with salt, if needed. Slice brisket against the grain. Serve with braising liquid.