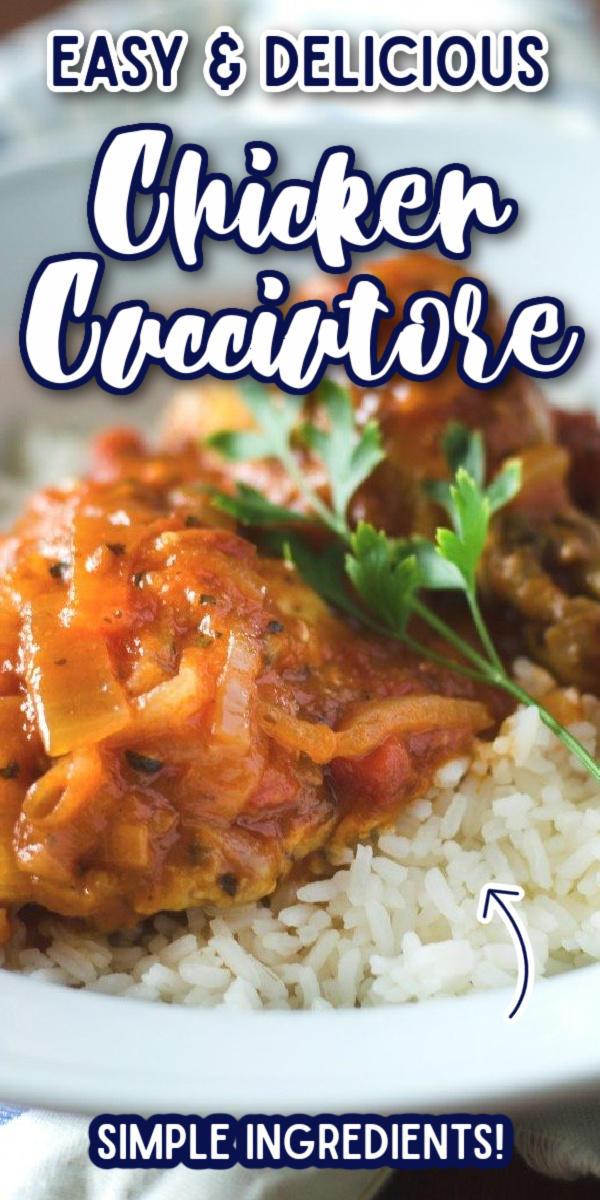 This Chicken Cacciatore is an incredibly easy dinner to put together! It will be your go-to recipe when you have no dinner plan, because you'll almost always have all the ingredients in your kitchen!
It seems only fitting that this should be the first recipe that I post. It was, after all, the recipe that birthed the idea.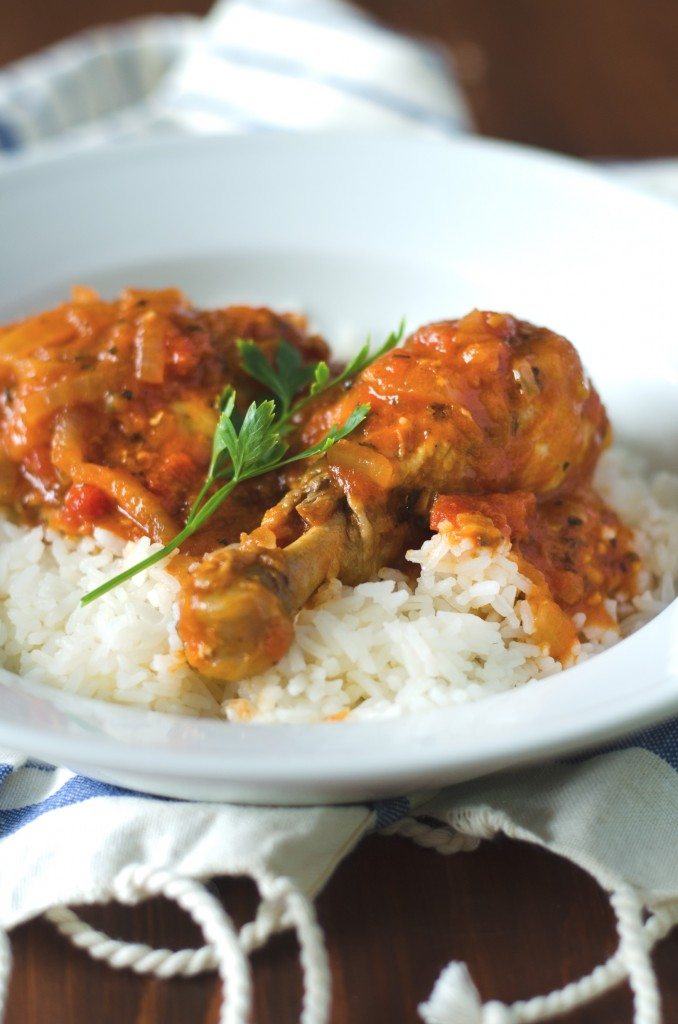 One of my favorite meals for when I have NO clue what to make, but I know I have chicken! The best part about this particular cacciatore is that its not, to the best of my knowledge, a "traditional" or "fancy" cacciatore. There are no mushrooms. There are no peppers. There are just onions, garlic, and canned tomatoes– all of which I guarantee you have in the pantry now. If you don't, then you need a stock-up trip to the grocery store tout de suite!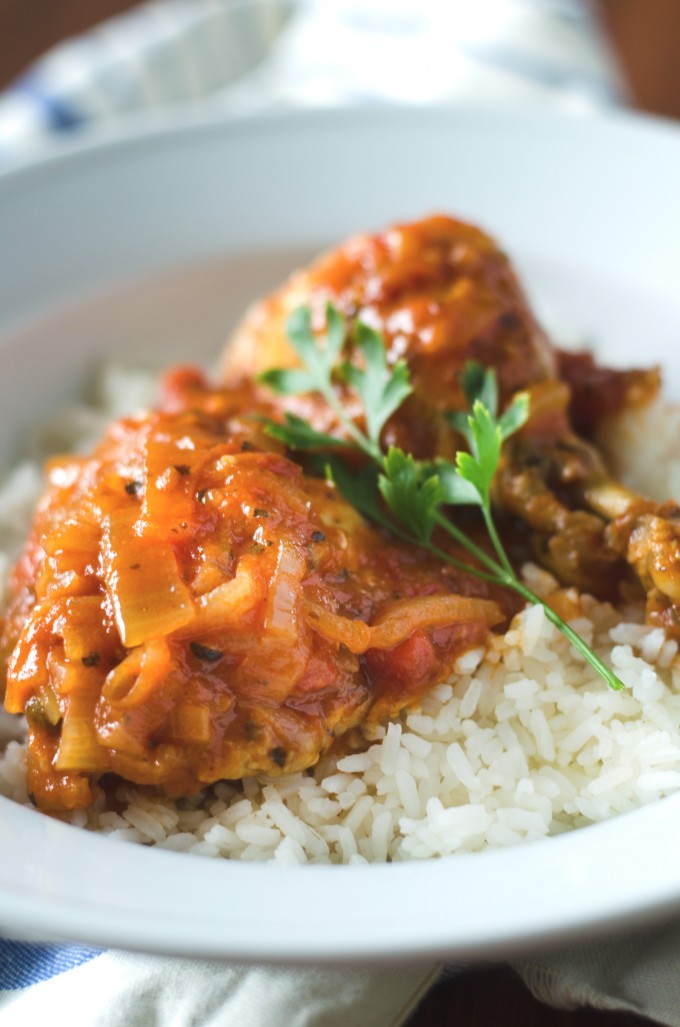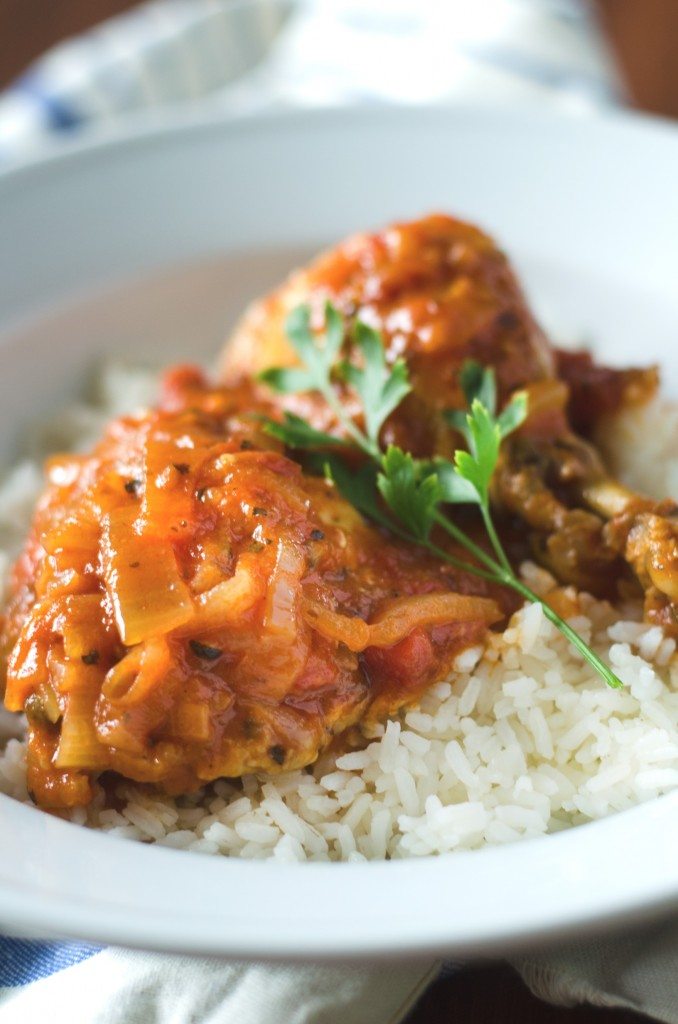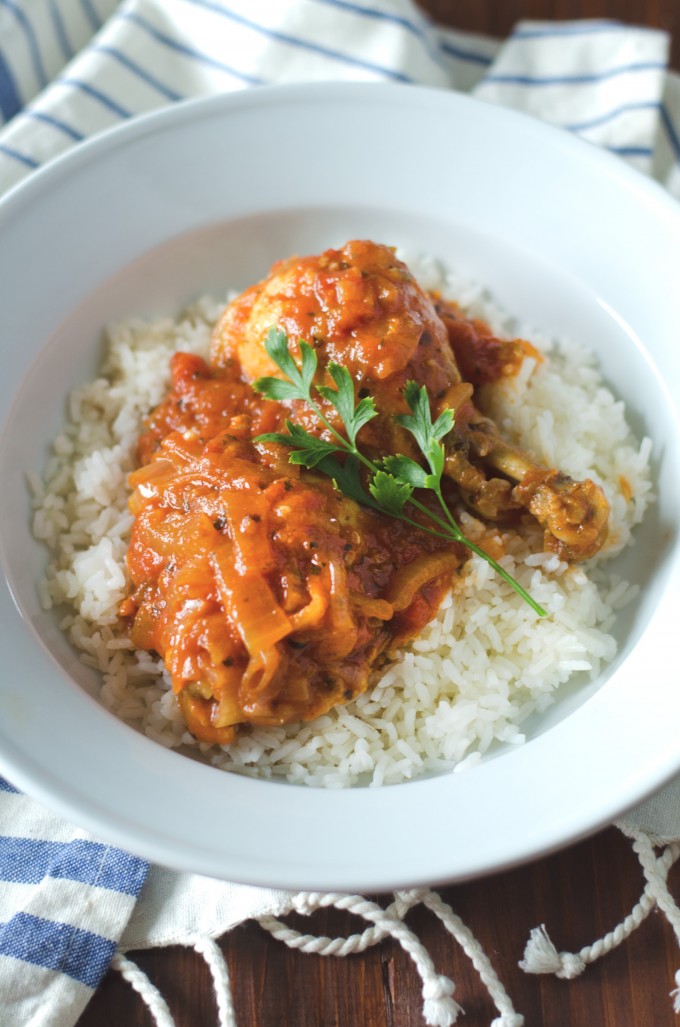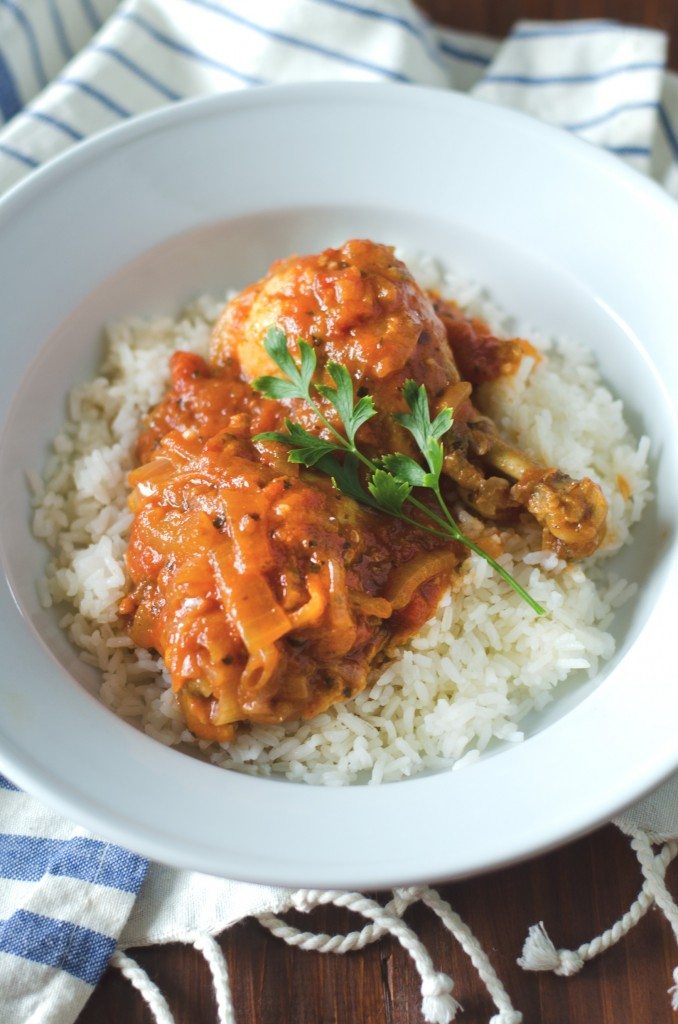 The recipe came from my mother, although I have no idea where she got it from. I can remember the first time she ever made this for us when I was growing up; I was instantly hooked. Truly, chicken that is so tender that it falls off the bone is one of life's best simple pleasures.
My go to with this dish is rice, but it is also great with polenta.
What you'll need for this recipe:
Skillet – I recommend using a deep-sided skillet for sautéing to get even cooking. You can grab this [easyazon_link identifier="B00006JSUA" locale="US" tag="gogogogo03-20″]Skillet[/easyazon_link] to use for this recipe and future ones!
Nonstick spatula – A good cooking spatula that will last, is a key kitchen gadget to own. Grab this [easyazon_link identifier="B000HJ76DS" locale="US" tag="gogogogo03-20″]Nylon Spatula[/easyazon_link] to add to your kitchen utensils!
Serving dish – These [easyazon_link identifier="B06Y53MXB6″ locale="US" tag="gogogogo03-20″]Porcelain Serving Bowls [/easyazon_link] are great for serving soup, salads, side dishes, entrees, etc. You'll get some great use out of them!
Rice cooker – Having a kitchen gadget that does more than one thing is always great to have! Grab this [easyazon_link identifier="B016Y8JSK4″ locale="US" tag="gogogogo03-20″]Rice Cooker and Food Steamer[/easyazon_link] to make the rice needed to go along with this recipe!
If you enjoyed this Chicken Cacciatore recipe, be sure to check out these:
Chicken Cacciatore
Ingredients
2

tablespoons

olive oil

2

medium onions

cut in 1/4 inch slices

2

cloves

garlic

minced

1 3

lb

broiler chicken

cut up

1 16

oz

can tomatoes

cut up

1 8

oz

can tomato sauce

1

teaspoon

salt

1

teaspoon

dried oregano

1

teaspoon

dried basil

1/2

teaspoon

celery seed

1/4

teaspoon

pepper

1

or 2 bay leaves

1/4

cup

dry white wine

Hot cooked rice

Parsley

for garnish
Instructions
In a large skillet heat oil; add onions and garlic. Cook over medium heat until onions are browned and tender. Remove onions, set aside.

Salt & pepper the chicken. Add more oil to skillet, if needed. In same skillet over medium heat, brown chicken pieces for 15 minutes, turning as necessary (but minimally, this is how you get good color on your chicken).

Return the cooked onions to the skillet. Combine undrained tomatoes, tomato sauce, salt, oregano or basil, celery seed, pepper, and bay leaves. Pour over chicken in skillet. Cover, simmer for 30 min.

Stir in wine; cook, uncovered over low heat for 15 minutes longer, turning occasionally. Chicken is done when it is easily pierced with a fork. Remove bay leaves. Transfer chicken and sauce to a serving dish. Serve with hot cooked rice. Makes 4 servings.