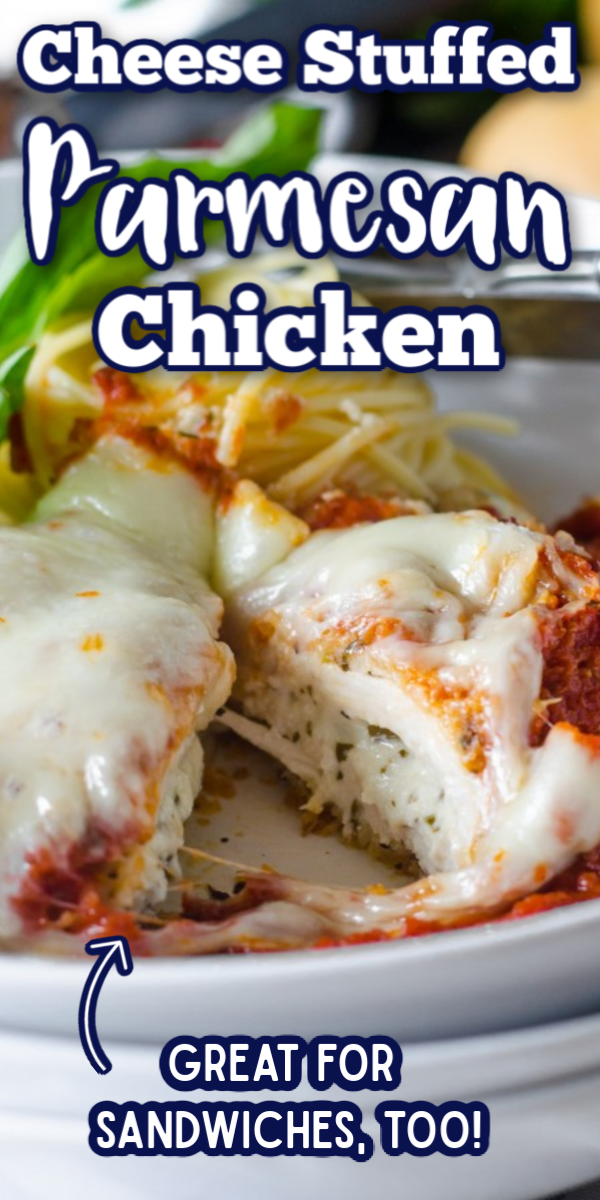 Easy dinners don't get any better than this baked Stuffed Chicken Parmesan recipe! With parmesan, mozzarella and ricotta, what's not to love?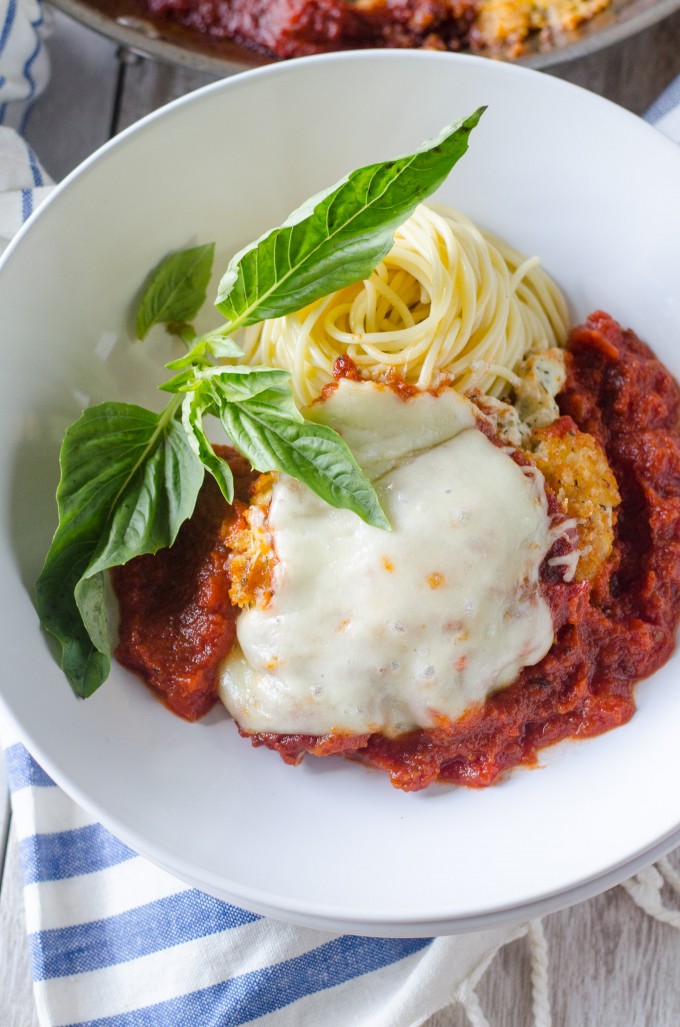 One of the things that I really miss about Ohio is the summer growing season. I have had a garden for about as long as I can remember- all the way down to pictures of me at 7 or 8 holding zucchini that was half my size. I've always grown tomatoes, even though I don't particularly like raw tomatoes. Except on caprese salad. Or BLTs. Or bruschetta.
Ok, maybe I just don't like them on salad.
One of my favorite things that Dave and I used to do was make sauce. I bought a tomato press/mill on clearance at Williams Sonoma, and we would clamp that thing onto our kitchen counter and go to work. I would blanche the tomatoes to remove their skin, then seed them and quarter them. Dave cranked them through the mill, to a huge pot down below. Then the smooth sauce was simmered with copious amounts of sautéed onion, garlic, oregano and basil for hours until it was thick.
It may surprise you to know we haven't done that since the first kid was born.
Good news, it doesn't matter any longer- Ragu has a new line of Homestyle sauces that have that homemade flavor ready to go, straight from the grocery store. This is the thickest store-bought sauce that I have ever seen, perfect for all your pasta dishes. Homestyle from Target. Gotta love it.Make sure to check out all five of their amazing flavors! It was the perfect sauce to make this Stuffed Chicken Parmesan!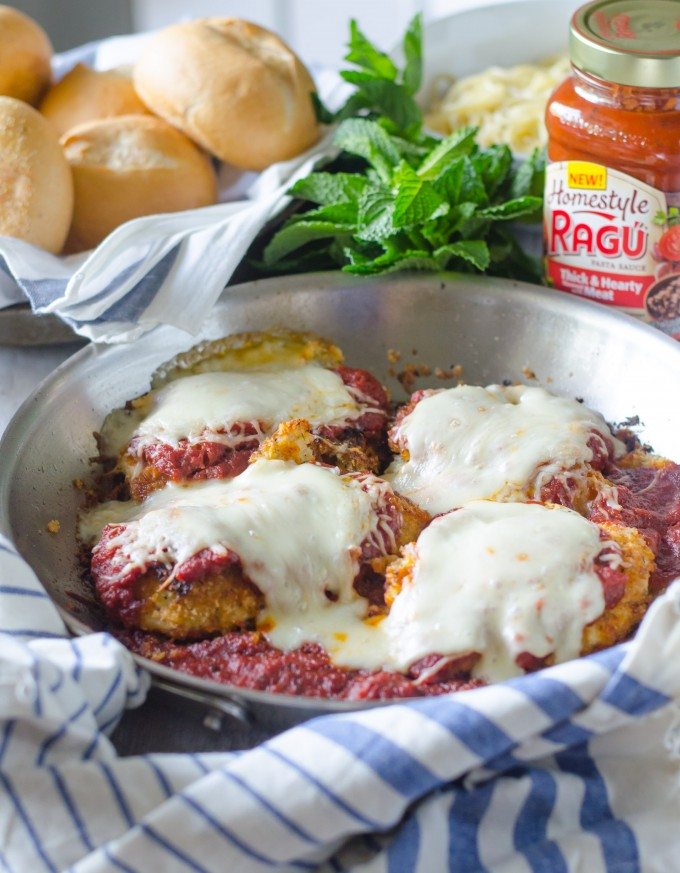 ---
I decided to put it to the test and make a classic. Chicken Parmigiana is a fantastic dinner option for two big reasons- its homey AND its flexible. It's a perfect sit-down family meal, complete with a big bowl of salad, pasta, and garlic bread. But let's be honest- we are heading into summer, and that means Little League games and beach trips and parties and a million other things that will keep you on-the-go. In this case, grab some fresh bakery hoagie buns, spread them with garlic bread spread on top, more sauce on bottom, throw the chicken on, and bake for a delicious Chicken Parm Sandwich.
This version of stuffed chicken parmesan is even better than the classic though- I had an annoyingly small amount of ricotta left in the refrigerator that I have been dying to use up. I mixed it with some pesto and shredded cheese, cut slits in my chicken cutlets, and stuffed it in. It made this classic dish even tastier, and there were no complaints from anyone at the table. The sauce was perfect in the dish, and it required no additional seasoning on my end- and I'm all about less work for myself!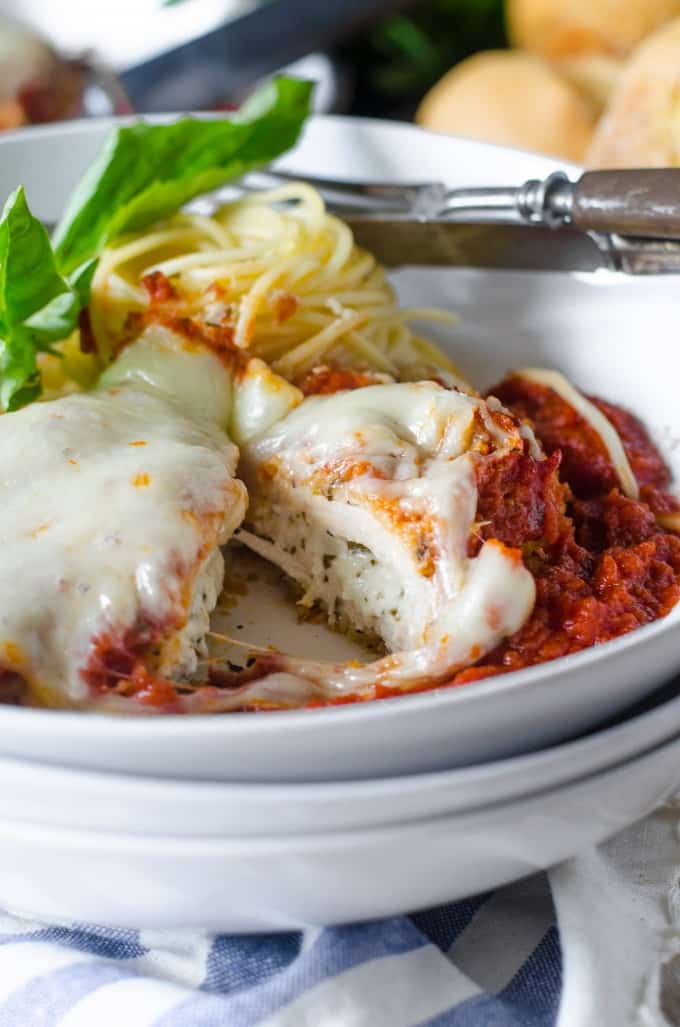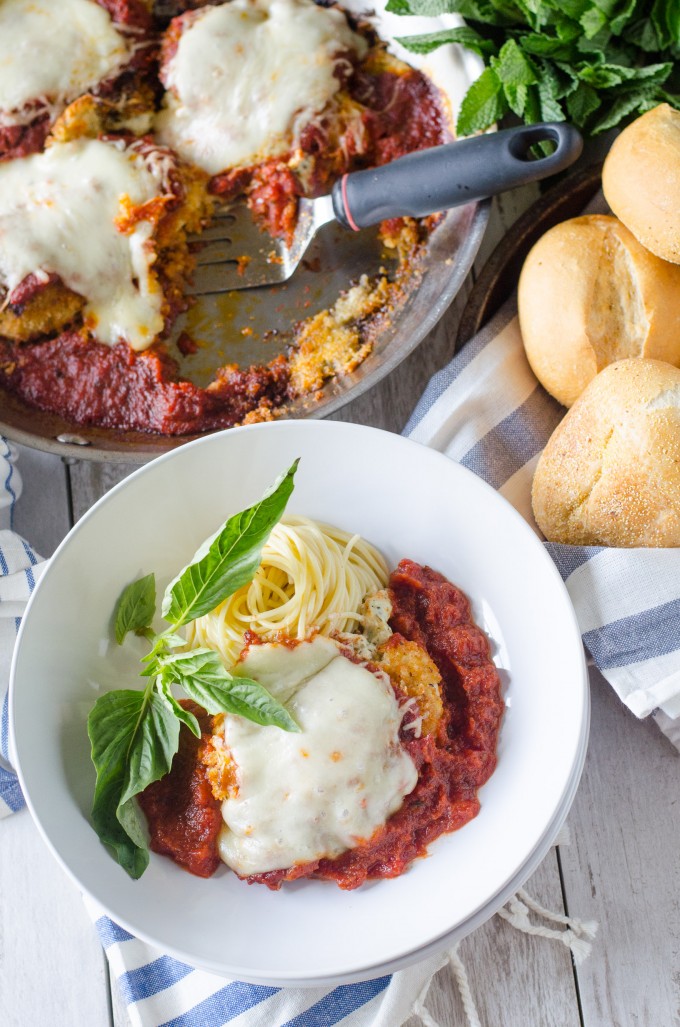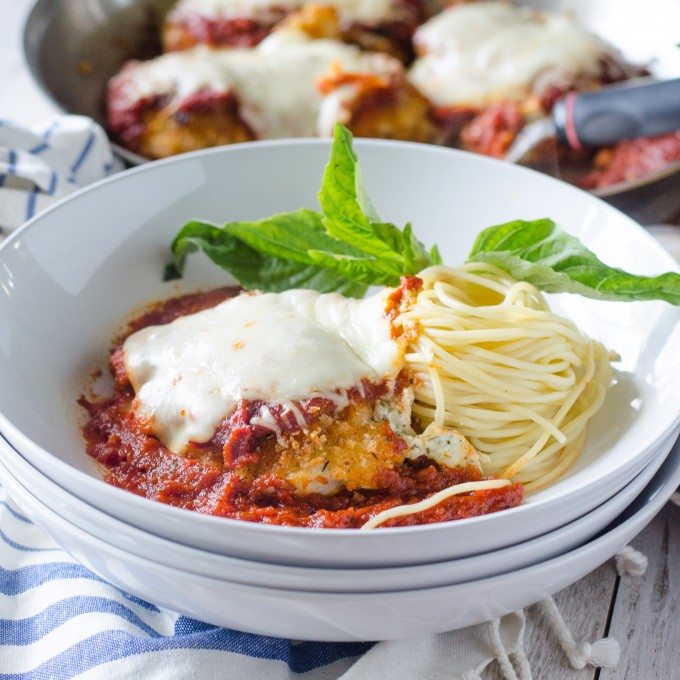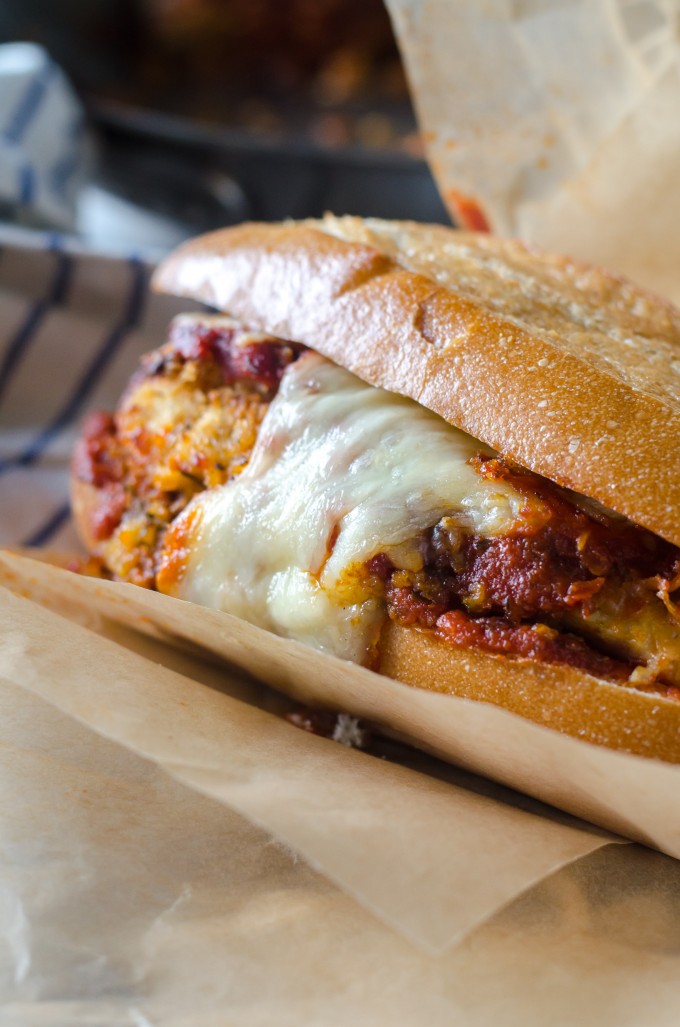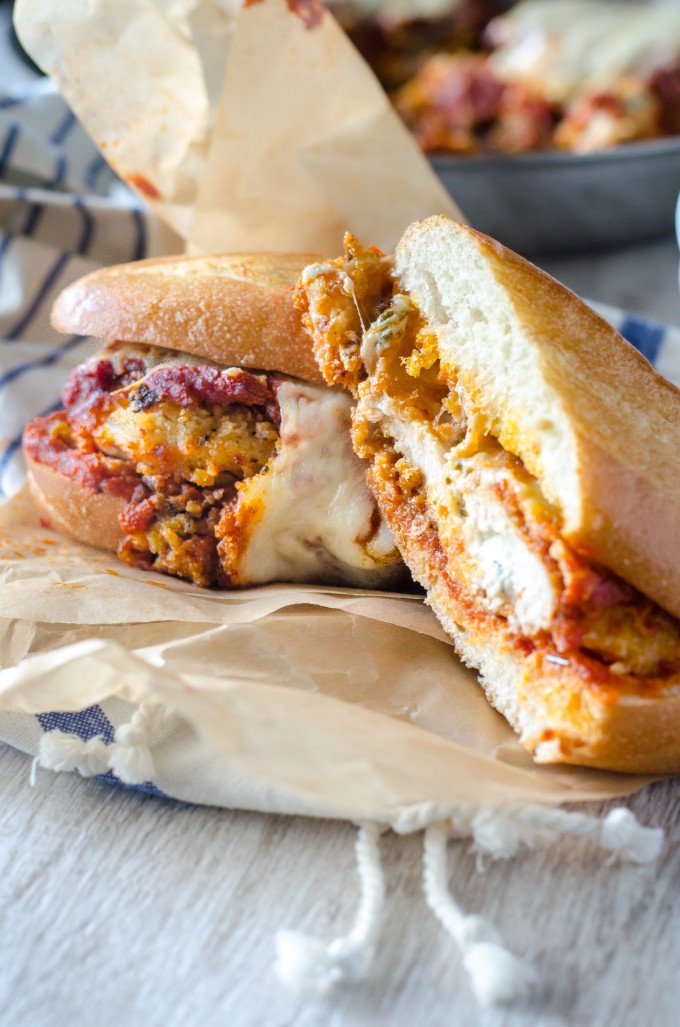 If you liked this easy Stuffed Chicken Parmesan recipe, you might like these other easy chicken recipes:
Tools needed to make this Stuffed Chicken Parmigiana:
A good [easyazon_link identifier="B01DDBJF12″ locale="US" tag="gogogogo03-20″]sharp knife[/easyazon_link] is really important for this recipe. In order to make pockets for the cheese to be "stuffed" into the chicken, a sharp knife really helps.
I really like using an [easyazon_link identifier="B00006JSUA" locale="US" tag="gogogogo03-20″]oven safe skillet[/easyazon_link] for this recipe.
As for a lot of recipes, a nice set of [easyazon_link identifier="B00LGLHUA0″ locale="US" tag="gogogogo03-20″]mixing bowls[/easyazon_link] is always good to have on hand.
Stuffed Chicken Parmigiana
Ingredients
4

thin chicken cutlets

3/4

cup

ricotta

2/3

cup

shredded italian cheese blend

2

T

pesto

1

egg

1 1/2

cups

panko

2

tsp

italian seasoning

1/4

cup

grated parmesan

For topping:

1 1/2

cups

Ragu Homestyle traditional pasta sauce

4

oz

shredded italian cheese blend

4 1/3

" slices fresh mozzarella
Instructions
Preheat oven to 350 F.

Using a sharp knife, cut a pocket in each chicken breast, being careful not to cut all the way through.

In a small mixing bowl, stir together the ricotta, shredded cheese, and pesto.

Spoon cheese mixture into the pockets of the chicken breast, being mindful not to overstuff (you may not use all the filling, depending on the size of your chicken cutlets).

Heat a large, oven-safe skillet over medium high heat. Add 2 T olive oil and 2 T vegetable oil to the pan.

Beat egg in a wide, shallow bowl. Stir together panko, parmesan, and italian seasoning in separate wide bowl or dinner plate. Dip each stuffed chicken cutlet in the egg, then coat with the panko mixture.

When the oil is shimmering, place the coated cutlets in the pan. Cook until golden brown, then flip over, adding more oil to the pan if necessary. When golden brown on both sides, remove from heat.

Spoon the pasta sauce over the top of the chicken breasts. Top with the shredded cheese and fresh mozzarella. Place in preheated oven for 15 minutes, until chicken is cooked through and cheese is melted. Serve immediately.