Sometimes its easy to forget about the classics, the old favorites. The dishes that made you fall in love with food, that you swore you'd never get sick of, that even though they may be simple dishes, they're perfect. But things happen, you drift on through life, until one day you're standing in the middle of a butcher shop, looking at a big bowl of fresh mozzarella.
How had I forgotten about caprese salad??? The holy trinity (quadrinity(?), if you count balsamic) of fresh buffalo mozzarella, tomato, and basil in combination is just wonderful. To me, it signals as though summer is here, and there are fresh tomatoes and basil just steps from my door, begging to be picked at the peak of ripeness and flavor.
(I miss my big garden.)
I had a skip in my step anyway, because I finally found a GOOD butcher around. Not "suitable", not "decent", not "acceptable", not "okay"- GOOD. Excellent even. You've gotta trust a place thats been in business for 35 years and makes their own sausage.
I bought some cheese & parsley sausages and mozzarella (along with a bevy of other culinary wonders, let's be honest here) for dinner.
Ah, caprese, I swear I won't ever forget you again.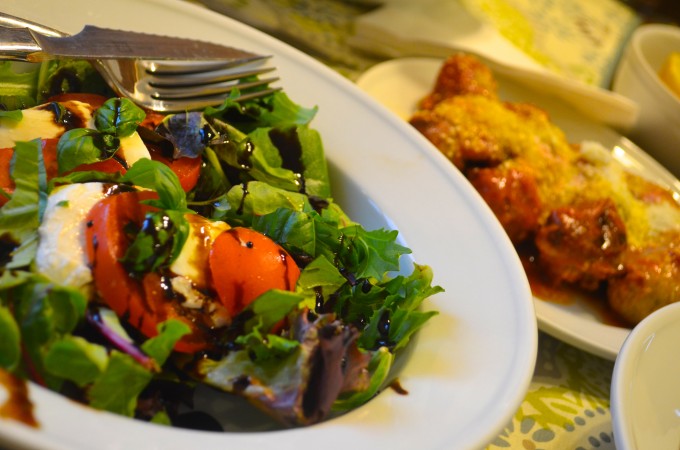 Caprese Salad with Baby Greens
Ingredients
Assorted Baby greens

Fresh Mozzarella

sliced 1/4" thickness

Fresh Tomato

sliced 1/4" thickness

Bunch fresh basil

chiffonade (a more beautiful way to say "cut into thin ribbons"

Balsamic Vinegar or Glaze

Salt & Pepper
Instructions
Arrange baby greens in a wide bowl. Alternate slices of mozzarella and tomato. Sprinkle with basil and drizzle with balsamic. Season with salt and pepper.