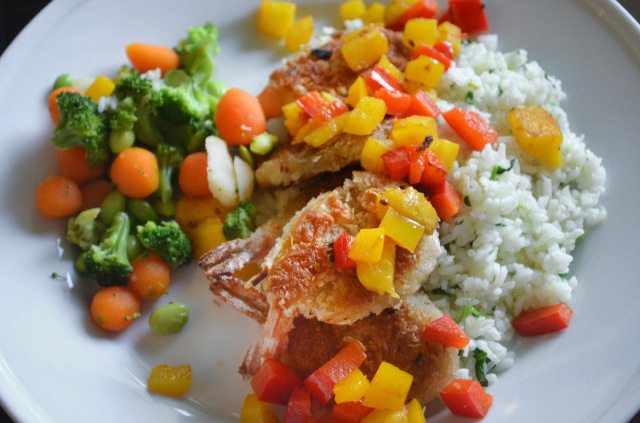 The byline of this site should really be "Even the best laid plans go awry."
I had gotten some fresh tomato, basil, mozzarella ravioli at the store the other day, and knew with 100% certainty that I had one jar of DeViti's Sugo Fresco sauce left at home. I was all psyched up for dinner the other night. I had the water boiling, the ravioli out of the fridge, and I went to the pantry to retrieve the sauce.
And I saw nothing.
*Rummage, rummage, rummage.*
"I know its here."
*Grumble.*
"Where IS IT???"
*Rummage, rummage, rummage.*
Gone.
I swear, I think the movers took a bottle of pasta sauce and a bottle of rum. Both of which I know were packed, and neither of them are anywhere to be found now.
So. Back to square one. My pantry, fridge and freezer are nowhere at the level of stocked that they were back in Ohio, so I had limited options for what i could improvise. I remembered that I bought a dozen coconut shrimp the other day. It wasn't on my radar as something to make for dinner, more for an appetizer, but I figured I'd work with it anyway.
This is what I came up with, and I was pleasantly surprised. I bought my shrimp already breaded, but I'm including those instructions as well. I feel like this is a great summer meal- light, crisp and refreshing! Citrus flavors just go so well with swelteringly hot weather (and even better with a shandy!)
Coconut Shrimp with Mango-Bell Pepper Salsa & Cilantro-Lime Rice
Ingredients
12

large shrimp

1

cup

coconut

1 

cup

flour

1

egg

Vegetable oil

for pan-frying

1/2

red bell pepper

seeded and chopped

1/2

yellow bell pepper

seeded and chopped

1/2

mango

peeled and diced.

1

lime

1

cup

white rice

1/4

cup

cilantro

chopped fine
Instructions
Divide flour evenly between two large plates. Add coconut to one of the plates, stir to combine.

In a shallow bowl, beat the egg with 2 T water.

In a separate saucepan, bring 1 cup of water to a boil. Add rice to pan. Cover; remove from heat.

In a large frying pan, heat approximately 1/4 cup oil over medium heat.

Coat your shrimp- first a light coating of flour, then egg, then coconut. Add to the frying pan, cooking until golden brown crust forms, about 3 minutes per side. Remove from pan. Most of your oil should be gone, but if more than 1 T remains, pour it off. Add the bell pepper and mango to the pan, sautéing for approximately 3 minutes, or until the pepper begins to soften and brown.

Fluff your rice, add cilantro and zest from your lime. Serve your shrimp alongside, topped with salsa, with half a lime squeezed over the top (put the other half in a Corona!). Serve immediately.