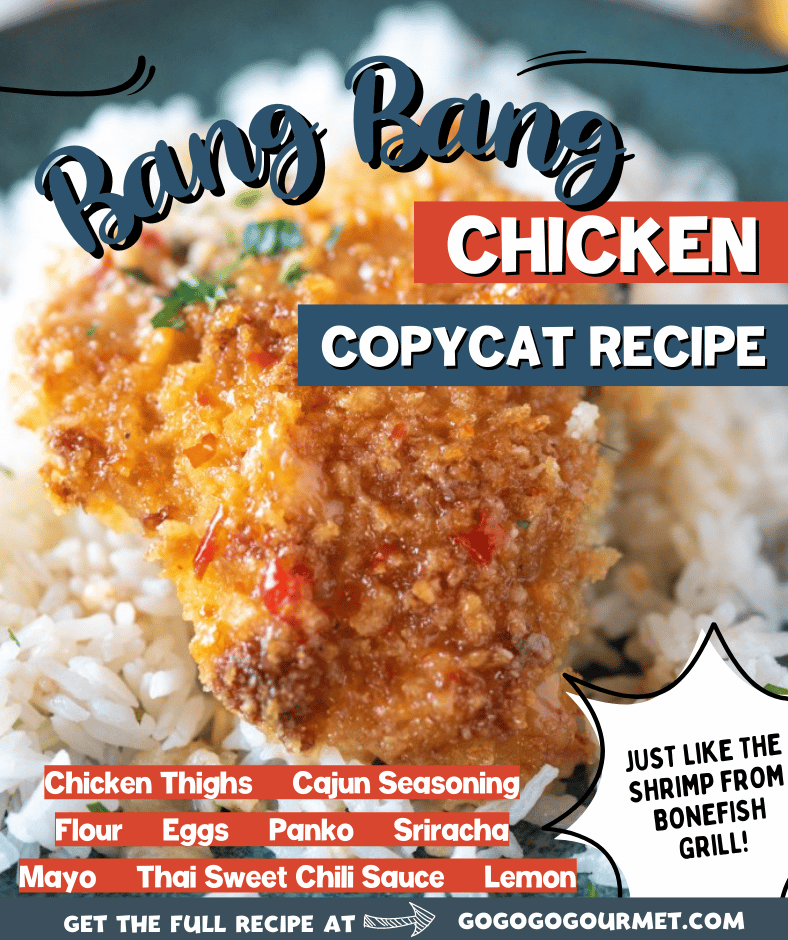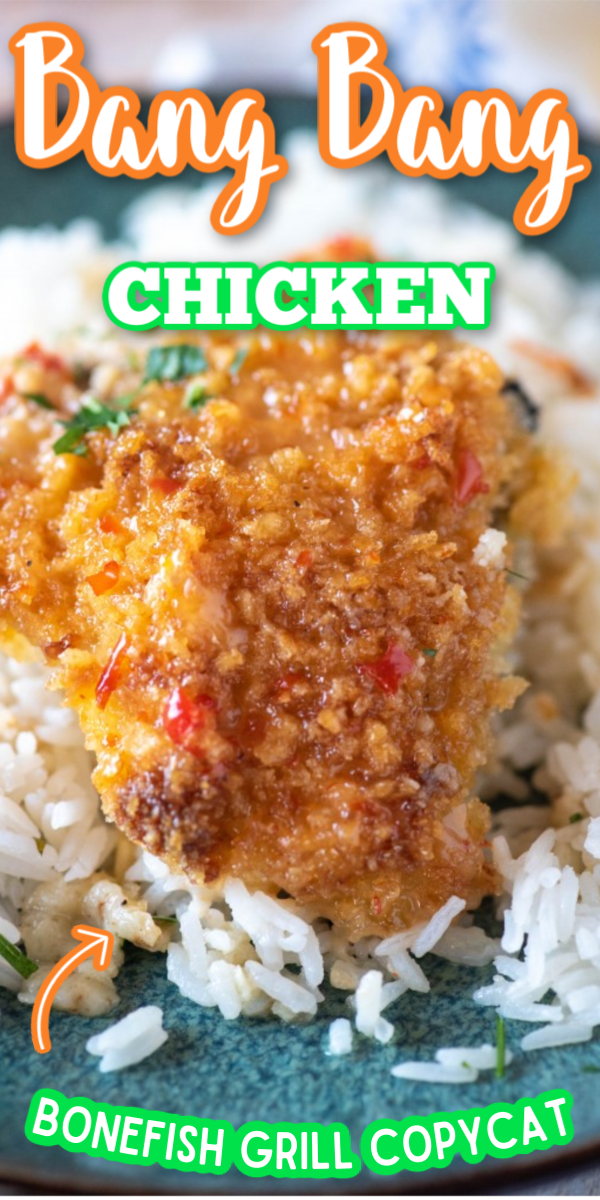 Are you obsessed with the Bang Bang Shrimp from Bonefish Grill? This Bang Bang Chicken has all the copycat spicy, creamy flavor of their most popular dish, but with a change in protein!
I don't know a single person that doesn't love the Bang Bang Shrimp appetizer from Bonefish. There is a reason that it's their (I imagine) most popular dish. When I was in high school and college, my family and I would out to eat there and order two orders for the four of us. You just can't beat that crunch exterior coated with the creamy sauce, right?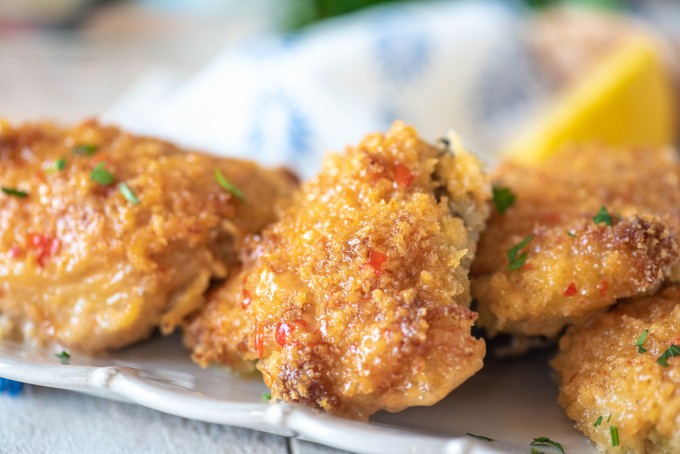 I've been making a copycat of this for years and years now (and everyone loves it!), but I wanted to try out the sauce on something new and see if it was just as good. I also wanted to lighten it up a bit by baking instead of frying.
I opted for always beloved chicken. I am always a fan of bone-in chicken, particularly chicken thighs. They're cheap, juicy and super flavorful, and I thought the sauce would complement them really well.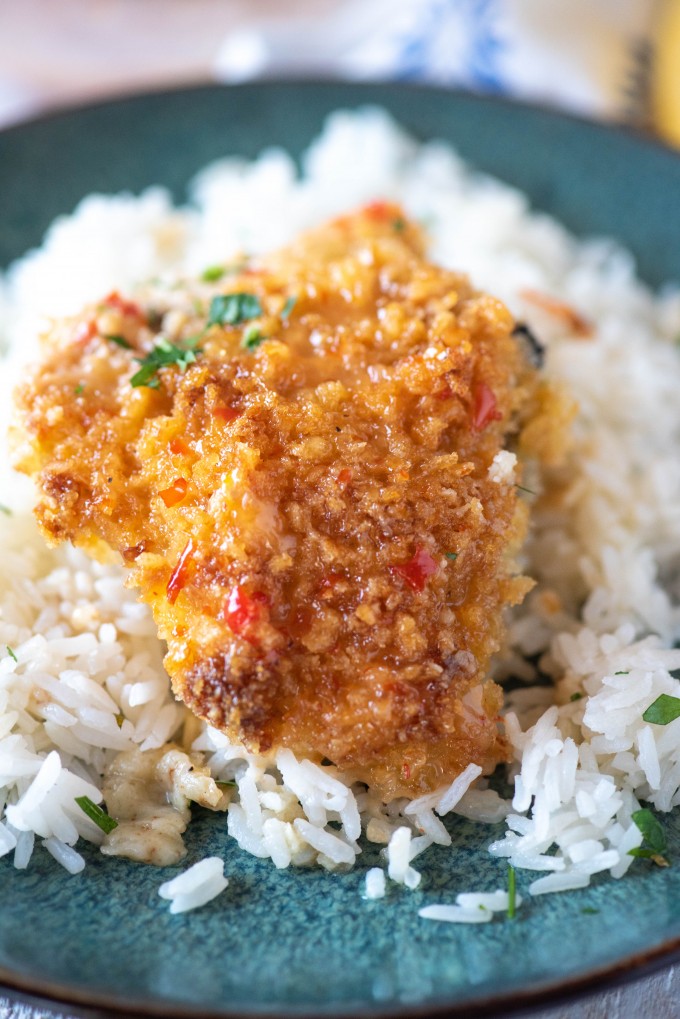 Here's the thing about David at this point- he is so incredibly, stupidly spoiled at this point. He is my guinea pig for all of my new creations, all of my tweaks, all of my crazy ideas. I would say that for 90% of the time, I get the following response:
"Yeah, it's good."
Dude has no idea how good he has it.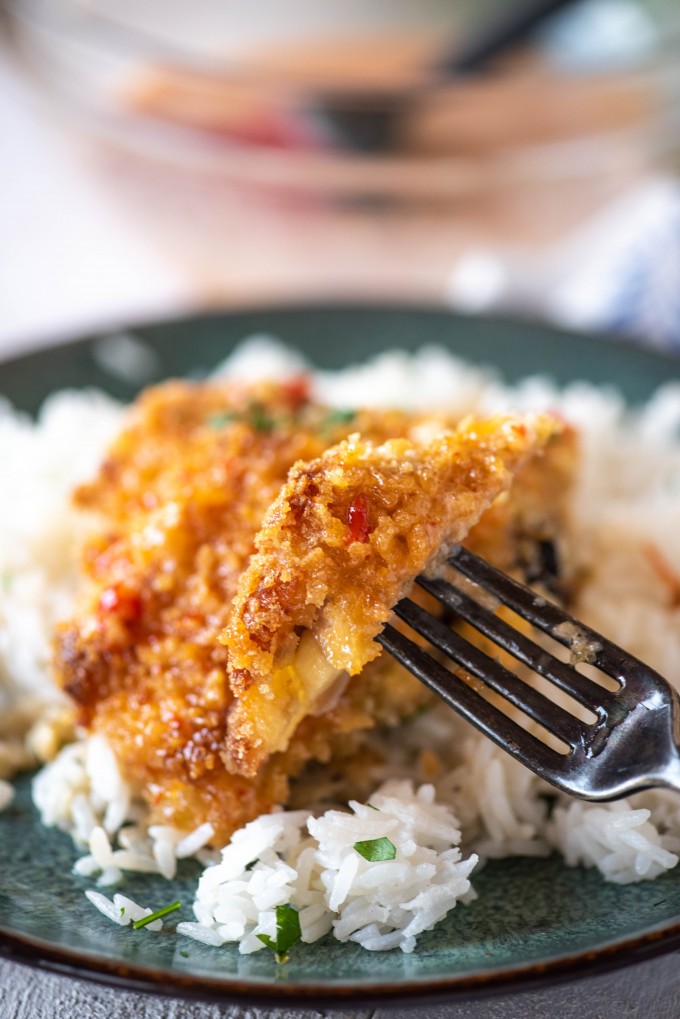 I know that he'll defend himself from this by saying, "well it's ALL so good, I can't say that every time, it won't mean anything!" or some nonsense like that.
HOWEVER, while his perceived nonchalantness does irritate me from time to time (ok, frequently), it really DOES make me feel good when he loses his damn mind over something I made.
Well, I can tell you that he lost his mind over these.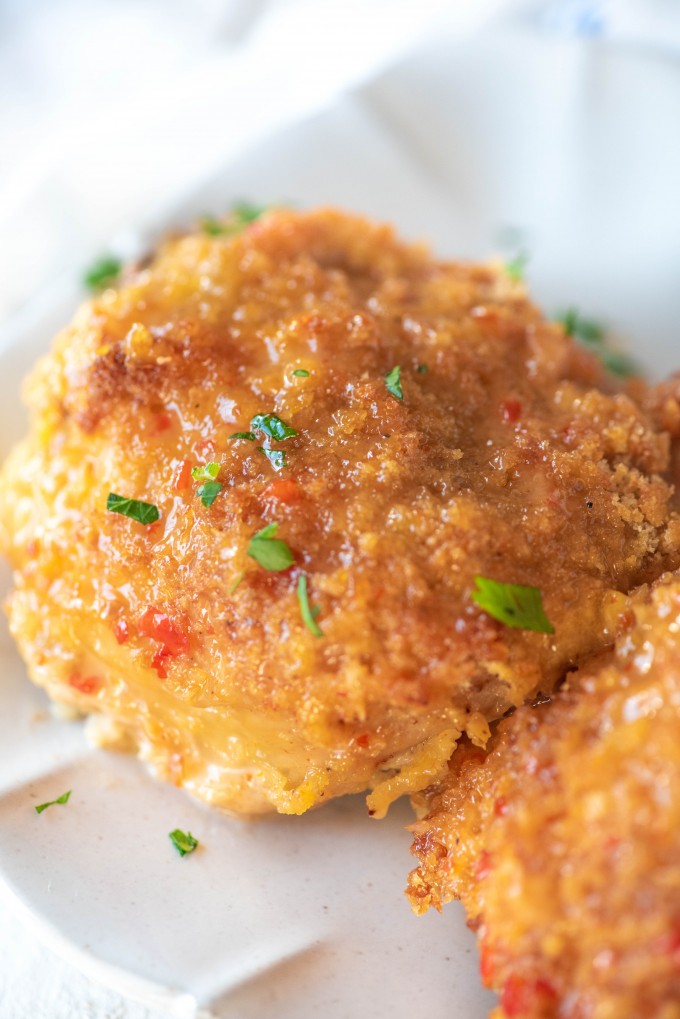 He was excited to hear that I was making these, because like everyone else on the planet, he loves Bang Bang Shrimp.
After about two minutes of eating, completely unprovoked, he said "Wow. You have a winner here. Just… wow."
So, you know it was good. And by good, I mean Earth shattering.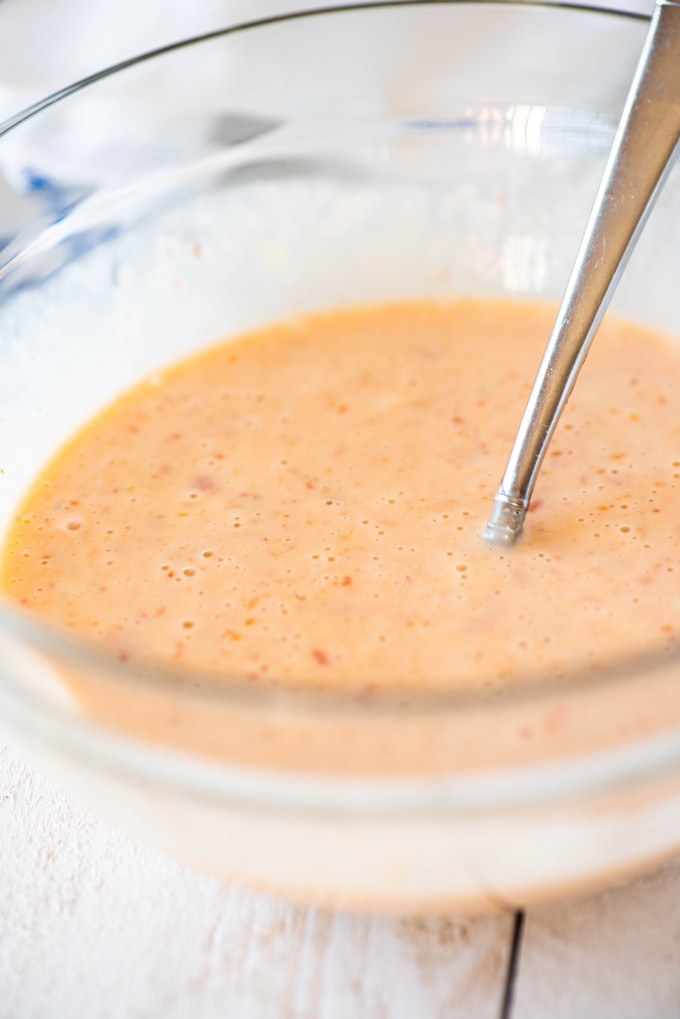 Bang Bang Chicken Equipment and Tips
You need to get the sauce on to the chicken, but gently enough that it doesnt pull off your lovely, golden coating. I made this sauce a little on the thinner side than I normally would if I was tossing it with fried shrimp, ala Bonefish. I recommend using a [easyazon_link identifier="B015COKN5A" locale="US" tag="gogogogo03-20″]silicone basting brush[/easyazon_link] because the sauce drizzles off them easily and they're very gentle. Perfect in this situation.
Feel free to swap out the chicken thighs for boneless breasts of thighs. Crazy thought- chicken wings??? I think yes. Please someone, do it.
Use [easyazon_link identifier="B006JCWGIC" locale="US" tag="gogogogo03-20″]parchment paper[/easyazon_link] or a [easyazon_link identifier="B0725GYNG6″ locale="US" tag="gogogogo03-20″]silicone baking mat[/easyazon_link] for easy cleanup.

Related Recipes
Bang Bang Chicken
Ingredients
6

chicken thighs

2

tablespoons

cajun seasoning

3/4

cup

flour

2

eggs

1 1/2

cups

panko

Cooking spray

3/4

cups

mayonnaise

1/2

cup

Thai sweet chili sauce

1/2

lemon

juiced (about 3 tablespoons)

1 1/2

tablespoons

sriracha sauce
Instructions
Preheat oven to 400 F.

Season your chicken thighs with Cajun seasoning. Spread flour and panko on separate plates; lightly beat eggs in a shallow bowl.

Working with one piece of chicken at a time, coat lightly with flour, then egg, then cover thoroughly in panko. Repeat until all chicken thighs are prepared.

Line a baking sheet with parchment paper for easy cleanup. Place the chicken approximately 1" apart on the baking sheet and spray lightly with nonstick baking spray.

Bake in preheated oven for 30 minutes.

While the chicken is baking, make the sauce. Stir together the mayo, chili sauce, lemon and sriracha in a small bowl.

Remove chicken from the oven. Gently drizzle and baste the prepared sauce over the surface of the chicken. Return to the oven and bake for another 5 minutes.

Serve immediately.