Honey Garlic Chicken Thighs are a guaranteed family hit! Tender chicken thighs are cooked until browned and crispy, then drizzled with a sweet and salty sauce that ends up deliciously sticky in the pan. A little dose of sriracha adds a great kick if you want one.
I'm so glad to have come up with another recipe for bone-in chicken thighs, this family's favorite cut of chicken. These are incredibly simple to whip up, and you can have dinner on the table in under 30 minutes.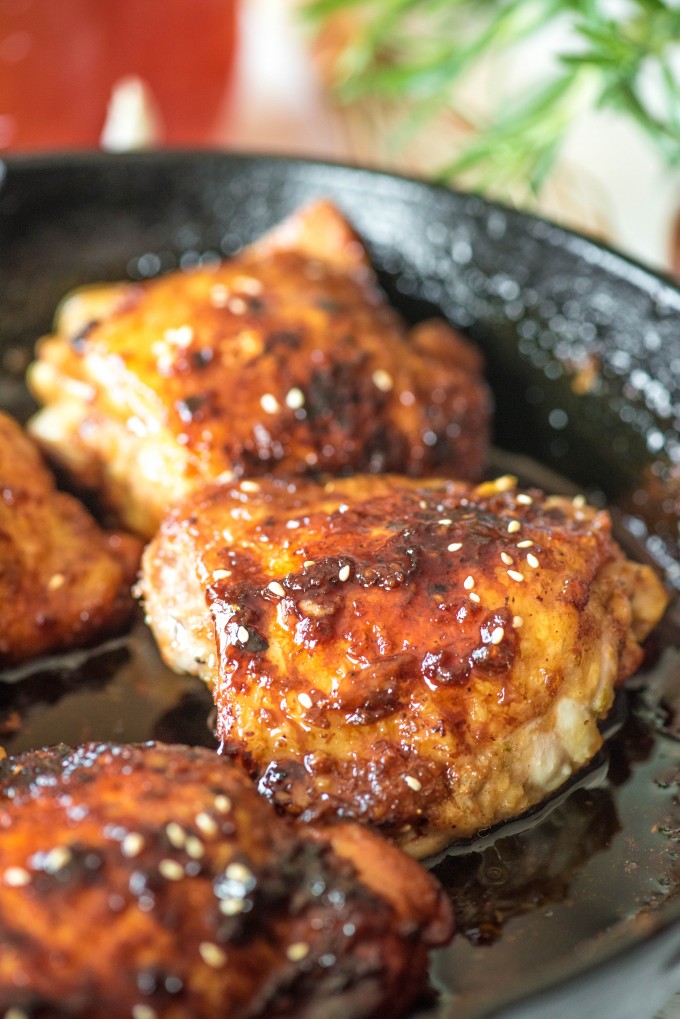 The sauce for these couldn't be simpler- a TON of fresh minced or pressed garlic, honey, and soy sauce. There are a lot of variations of this recipe out there, but I wanted to jazz mine up. I added some bright notes with some lime zest and juice.
One of my favorite things about this recipe is that it's made with things that I almost always have- tons of garlic, soy sauce, honey, sriracha and a lime. Pantry recipes are my jam, I love creating something that can be a fall back for me when I have no idea what to make for dinner.
Don't feel like you're married to the chicken thighs in this recipe either. We love them because they are so tender and juicy (not to mention dirt cheap!), but wings, boneless skinless breasts or thighs, even a whole cut-up chicken!
These were great over white rice (cilantro rice would also be incredible), especially since it soaked up the remaining honey garlic sauce.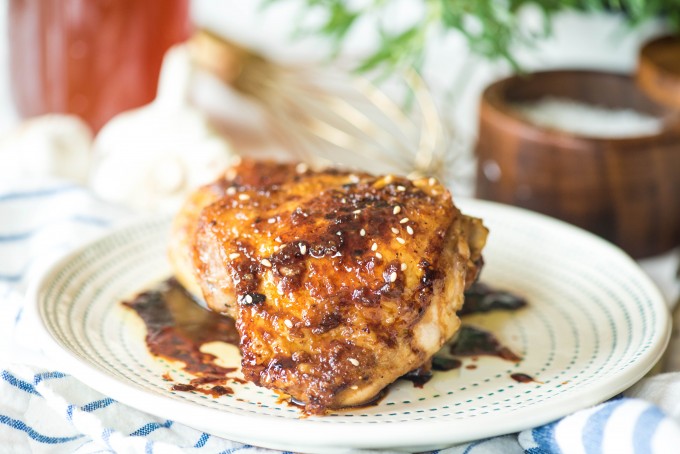 Tips and Equipment:
I love using my cast iron skillet for dishes like this. A nice 10″ pan fits about 6 chicken thighs, so you will either want to do this in batches or go for a 12″ skillet. You can also go with a large
You don't want to crowd the chicken while it's browning. You can crowd it once the sauce gets drizzled over the top, but you need space to get that golden crispy crust.
I added some sriracha into my sauce. I loved the heat it added (I LOVE a good spicy-salty-sweet combination!), and you can dial it up or down depending on your personal preference.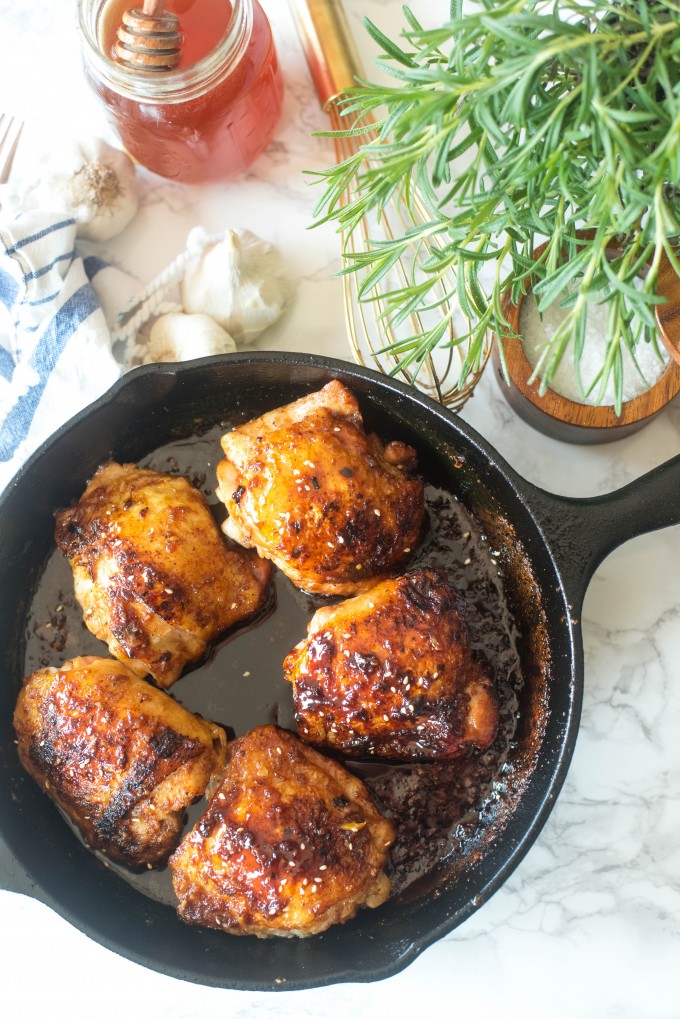 Related Recipes:
Crispy Baked Chicken Thighs with Bacon and Creamy Mustard Sauce
Creamy Chicken Casserole with Mushrooms and Wild Rice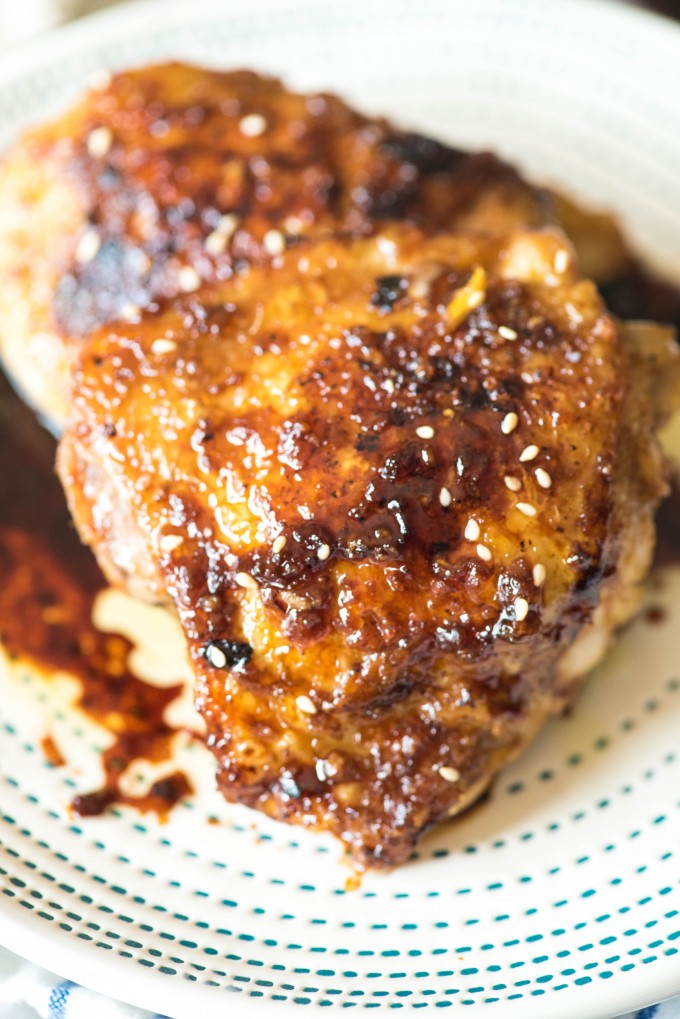 Honey Garlic Chicken Thighs
Ingredients
1

teaspoon

crushed red pepper flakes

1

teaspoon

kosher salt

8

bone-in chicken thighs

1

tablespoon

olive oil

1/2

cup

honey

1/3

soy sauce

6

cloves

garlic

minced

1

lime

zested and juiced

2

teaspoons

sriracha

optional

sesame seeds

for garnish
Instructions
Season chicken thighs on both sides with red pepper and salt.

Place a large heavy bottomed skillet (I used cast iron) over medium high heat. Add the chicken thighs, skin side down, to the skillet. Work in batches if necessary, but don't over crowd the chicken (it won't brown properly).

After 5-6, minutes, flip the chicken thighs and repeat until both sids are crispy and golden.

Meanwhile, combine honey, soy sauce, garlic, zest, lime juice and sriracha in a medium bowl. Whisk to combine.

Pour the sauce over the chicken in the skillet. Turn the heat down slightly to medium.

Simmer slowly for about 10 minutes, until chicken thighs are cooked through and sauce has reduced, basting the sauce over the top halfway through cooking.

Sprinkle with sesame seeds. Serve immediately over white rice.
SaveSaveSaveSave