There are few things better than a hearty dish of chicken and noodles, no matter what season it is! This recipe is made in the crockpot, and tastes like a homemade version of Bob Evan's! You can serve this Amish style chicken and noodles over mashed potatoes for the ultimate comfort food.
So, to start off- a few things about this recipe. I made this a couple of months ago, but didn't get around to writing the post until now. Usually when I create a new dish, I write the recipe in a post draft so I don't forget it.
I didn't do that this time.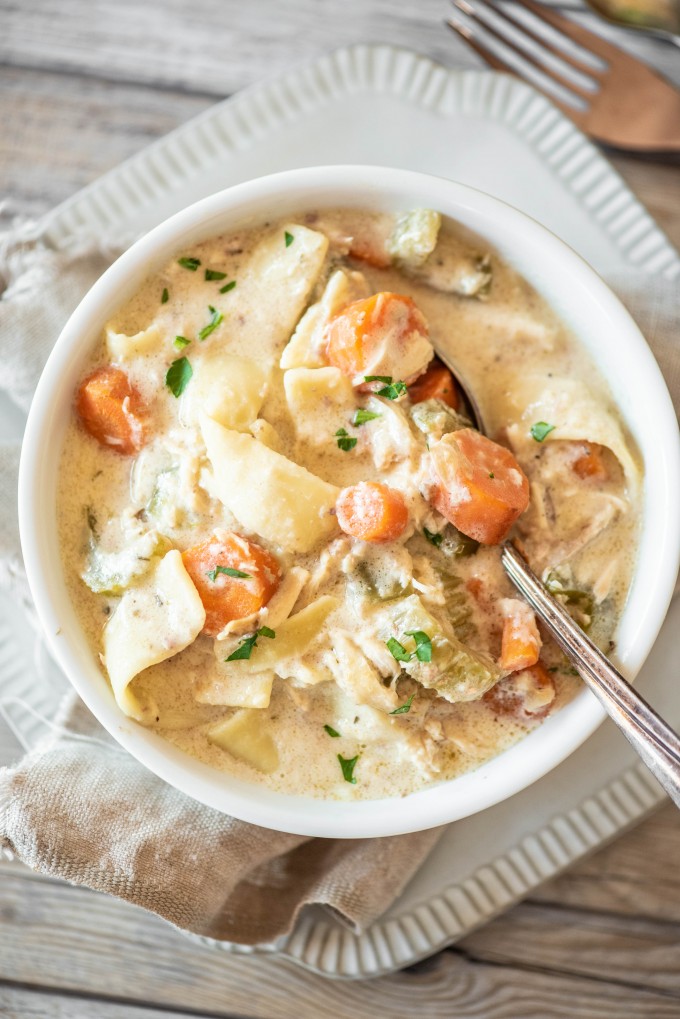 When I finally ran across the pictures and remembered that I never actually published the post, I was more than a little to disheartened to see that there was no draft post, which meant that there was no recipe. There was also 0% chance that I remembered what it was.
So I set out to remake it.
Since I had no idea what method I used to make it the first time, I basically started from scratch and hoped that I ended up in the same place. I grabbed a whole chicken and cut it into pieces, chopped some carrots and celery into large pieces, threw in some chicken broth, cream of chicken soup and some seasonings, started the slow cooker and hoped for the best.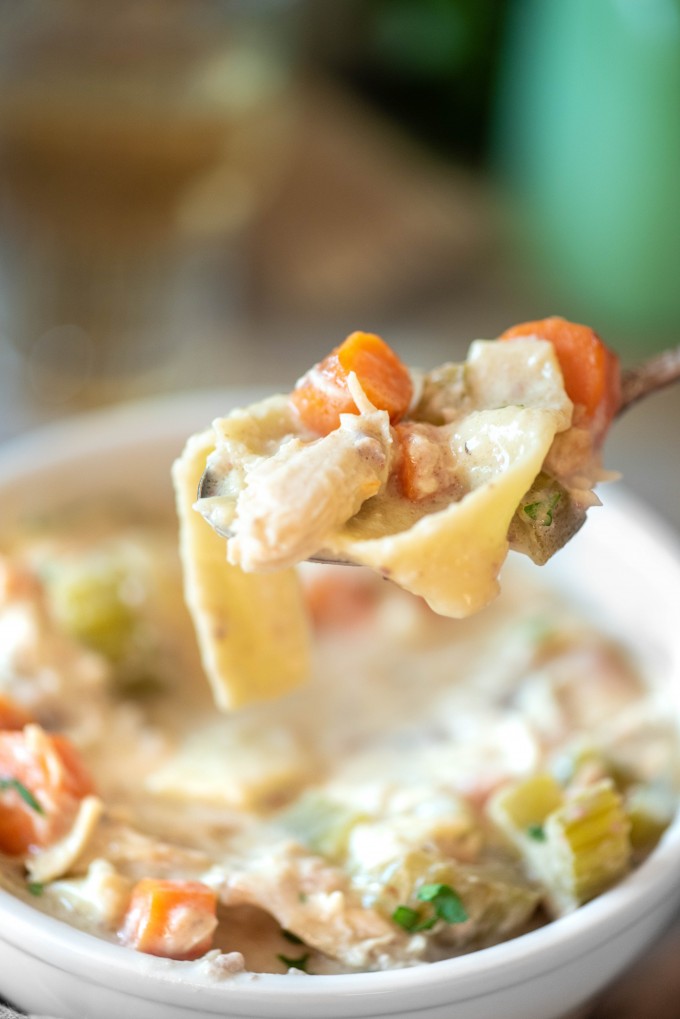 Once it finished cooking, I removed the chicken, stirred in some wide homestyle noodles, put the chicken on top, and ran out of the house to Jonathan's pre-K art show.
When we came home, the noodles were perfectly cooked. I removed the chicken from the bone, stirred in some cream (or half-and-half, if that's more your jam), and we ate.
The chicken and noodles was absolutely DIVINE! Creamy, hearty, with tons of flavor, everyone cleaned their plates (and Michael required seconds!). I knew I had a winner on my hands, so I grabbed my lovely little Cinderella themed recipe book off my desk. You know, the one that I use to scribble down recipes  when I'm developing or my laptop's dead and I don't want to forget anything.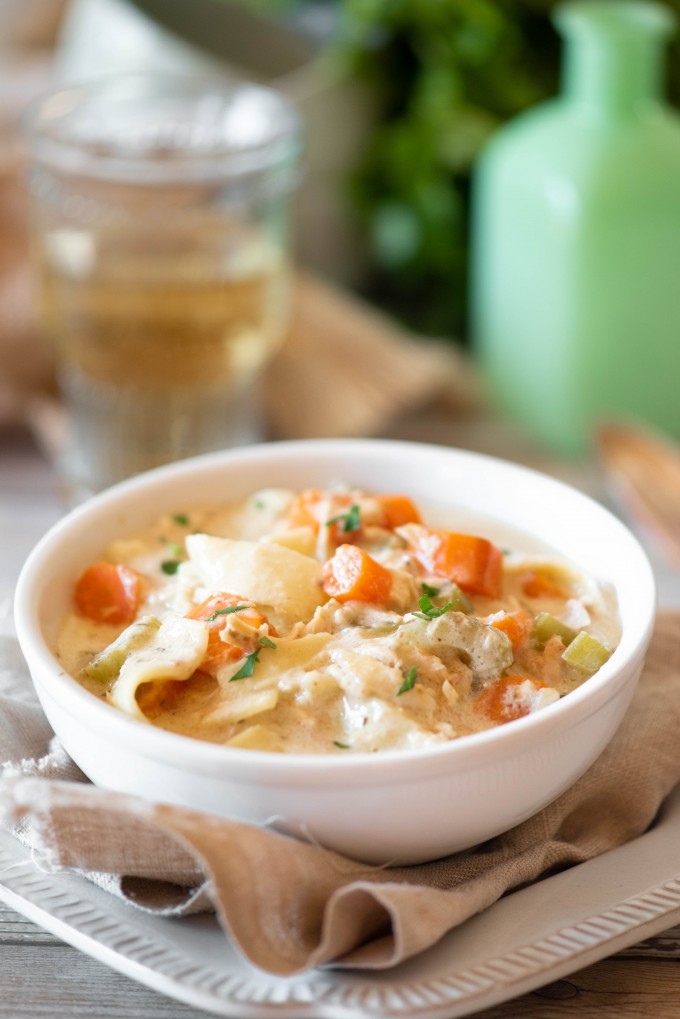 Guess what the last recipe in there was?!? Slow Cooker Creamy Chicken and Noodles.
I was borderline mad, but only slightly since I loved the dish I made SO much and the two recipes were, oddly, absolutely nothing like each other. I guess that one will get it's own post after all!
Tips and Tricks:
I'm in love with throwing cooked chicken in a stand mixer or in a glass bowl with a hand mixer. It's seriously so fast, and you don't have to wait or the chicken to cool.
Make sure you use homestyle Amish-style wide noodles for this. If you want to serve this over mashed potatoes, like my Amish Beef and Noodles, you totally can- just use thinner noodles.
You can probably sub milk in for the half-and-half or cream. I just had some that I wanted to use before it expired. It MAY have a slightly more liquid consistency, but nothing problematic, honestly.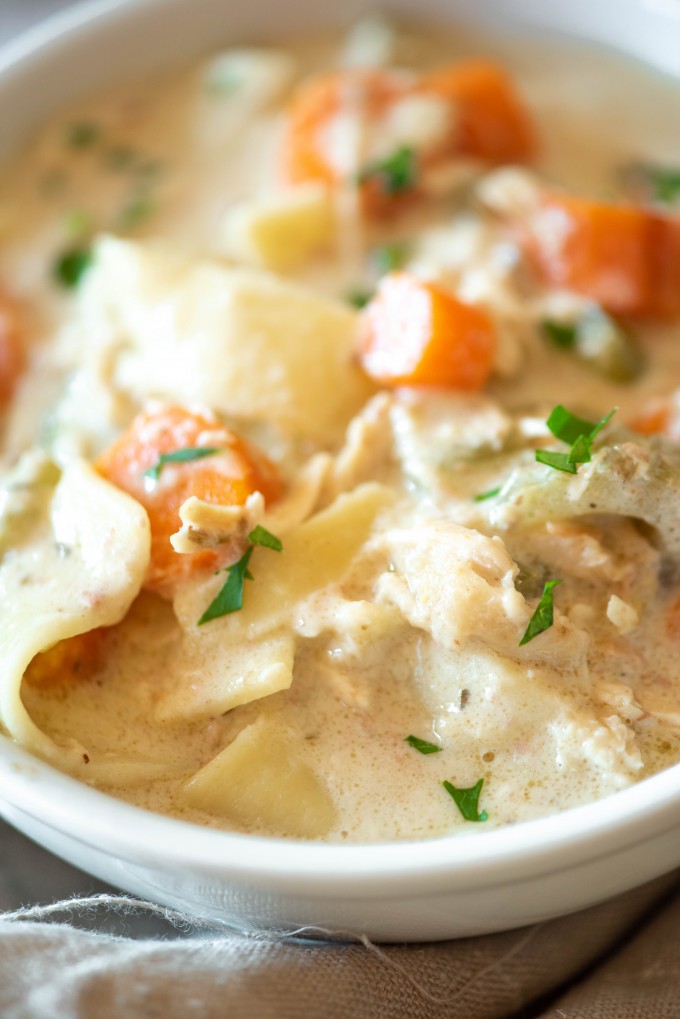 Equipment needed
Barely none.
Crock-Pot 6-Quart Programmable Cook & Carry Slow Cooker with Digital Timer, Stainless Steel , SCCPVL610-S. For obvious reasons, right?
Cuisinart HM-90BCS Power Advantage Plus 9-Speed Handheld Mixer with Storage Case, Brushed Chrome or a KitchenAid KSM150PSER Artisan Tilt-Head Stand Mixer with Pouring Shield, 5-Quart, Empire Red. Amazing for shredding chicken!
Related Recipes to Crockpot Chicken and Noodles
Crockpot Chicken and Noodles
Ingredients
1 chicken, cut into breasts, thighs and legs
3/4 lb peeled carrots, cut into 1/2" round slices
4 stalks celery, sliced 1/2"
1 can condensed cream of chicken soup
2 teaspoons garlic powder
2 teaspoons dried oregano
3 cups chicken broth, divided
3/4 lb homestyle wide noodles
2 cups half-and-half or cream
Directions
Place chicken in crockpot insert, along with vegetables and seasoning. Dot top with spoonfuls of condensed soup, then pour over 1 cup of the chicken broth. Use tongs to gently coat and combine.
Cover and cook on LOW for 6-7 hours or HIGH for 4 hours.
Remove chicken from crockpot insert and set aside. Stir in noodles until covered with cooking liquid. Place chicken on top. Recover and cook on HIGH for 1 hour.
Remove chicken meat from bones and shred, either by hand or by using a hand mixer or stand mixer. Stir in shredded chicken, remaining chicken broth and half-and-half. Recover until heated through and serve.
Loading nutrition data...
SaveSave