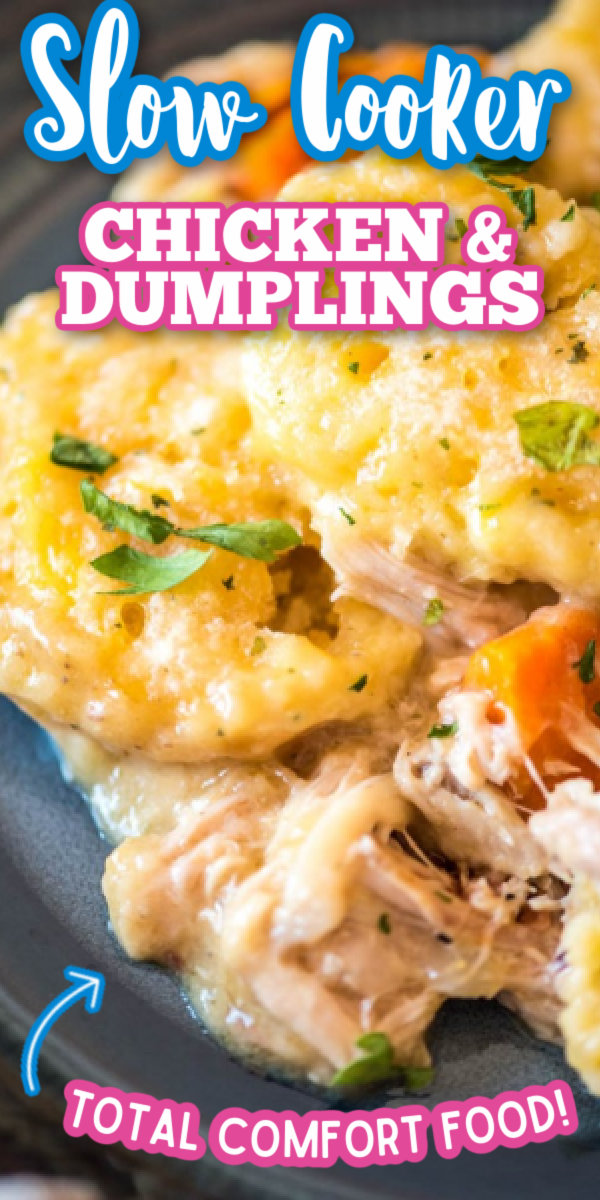 These Slow Cooker Chicken and Dumplings have a special, not-so-secret ingredient for the dumplings- Red Lobster Cheddar Bay Biscuits!
I am so excited to share this Slow Cooker Chicken and Dumplings. I had this idea about six months ago, but March in Florida is pretty much already summer, and I just didn't feel like making a warm and comforting version of chicken and dumplings when it was 85 out. I decided to table it until we were settled back in the Midwest and the fall was nipping into the air.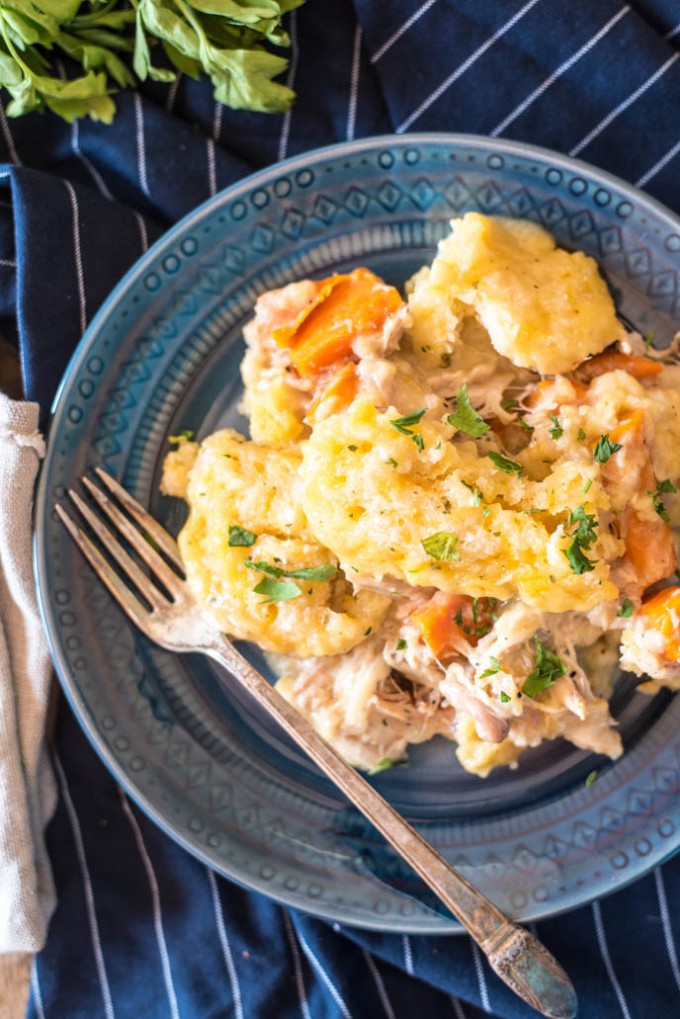 Well, the nip has arrived, and I am busting out my slow cooker left and right these days. My first orders of business were to concoct an Amish-style Beef & Noodles, followed closely by adapting my grandmother's recipe (and my FAVORITE recipe) for brisket and gravy for the slow cooker.
And then it was time to tackle this amazing idea in my head.
This is no ordinary slow cooker chicken and dumplings recipe- I used the boxed Red Lobster Cheddar Bay Biscuit mix as the base for the dumplings!
Now, I have a confession- I'm not sure that I have ever actually eaten at a Red Lobster. However, I have heard that these biscuits are basically the reason to go. Once I found out that a boxed mix existed, and it only required cheese, water and butter, I was all in. We eat them often with our meals. They are just like heaven.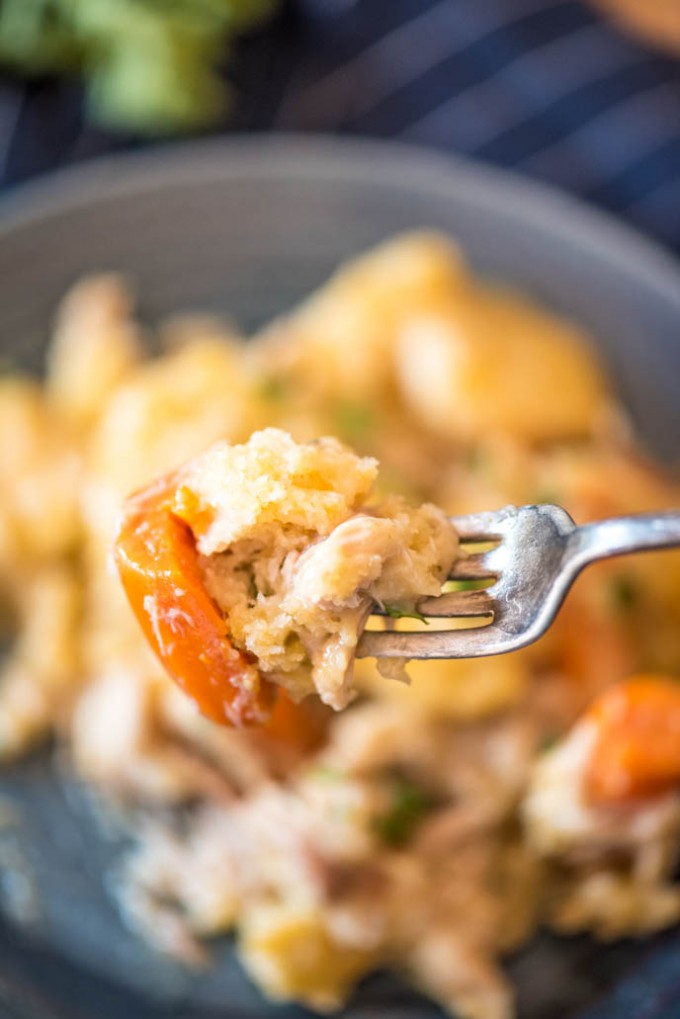 Now, I know that you can steam dumplings in a slow cooker. I know that it has worked with my other Chicken & Dumplings recipe, so I figured that it would be easy enough to do with these- mix, drop in, cover and cook for 30-60 minutes on HIGH.
It didn't exactly work out that way. If you plan on making this recipe, please, for the love of all that is holy, read what I have to say:
I made this twice. The first time, I just followed my initial instincts- mix up the dough/batter per package directions, then drop in and cook until fluffy. Initially, I was totally thrilled, because they puffed up and looked really nice and big. However, after an hour, the dumplings had pretty much mostly spread and had stopped rising like they should have.
My slow cooker is really a multi cooker, so after awhile I got frustrated and turned it to "simmer" and then the were done and fluffy in about 10 minutes.
The second time, I decided to simplify the chicken base of the chicken and dumplings, and amend some of my processes for the dumplings. My thought was that perhaps there was just too much liquid in the base, and the dumplings kept absorbing liquid instead of rising. I thought if I reduced the water, had a thicker, creamier chicken base, and increased the leavener, that perhaps this would work out just like I had intended.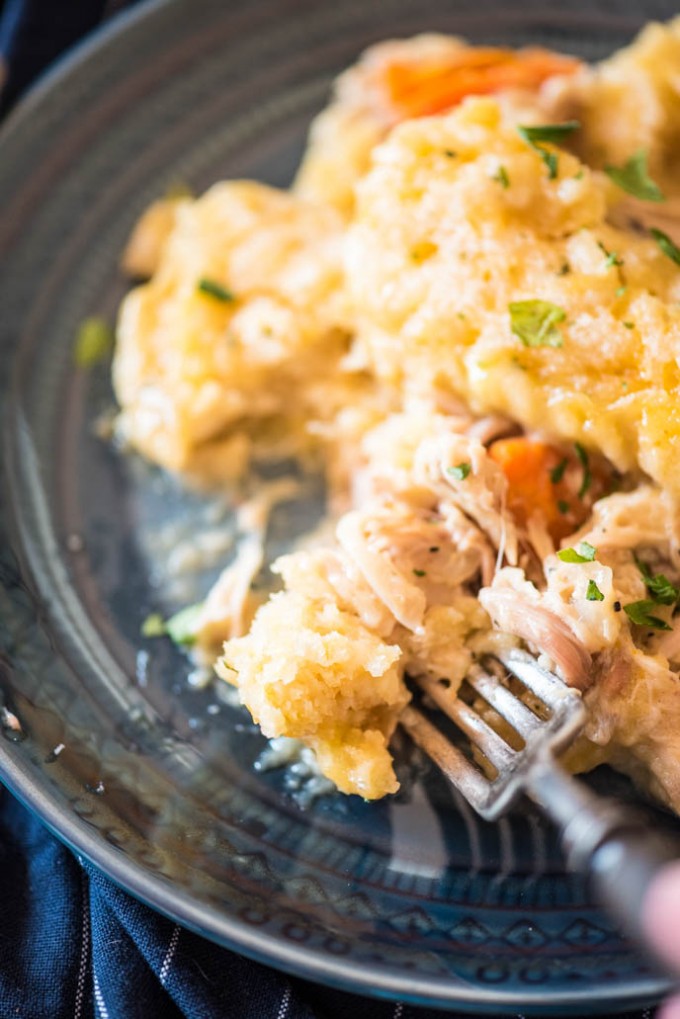 The same thing happened! That being said, I heavily preferred the chicken part of this chicken and dumplings recipe over the original. But I was really frustrated about the dumplings.
Then I had a thought- is there a reason that the slow cooker insert couldn't just go into the oven for ten minutes or so? I couldn't think of one. The insert of my [easyazon_link identifier="B008YEXC22″ locale="US" tag="gogogogo03-20″]Cuisinart multi cooker[/easyazon_link] has plastic handles, so I figured it would be a good benchmark for all of you as to whether it would work.
It worked like a charm, actually. I preheated my oven to 350, and then threw the half-risen dumplings in there for 10 minutes. They came out even better than I had hoped or expected, because the top of the dumplings weren't soft, like they would have been if they had just been steamed. There was just a little bit of a top crust, which I thought was a great contrast to the fluffy center, creamy sauce and tender chicken and vegetables.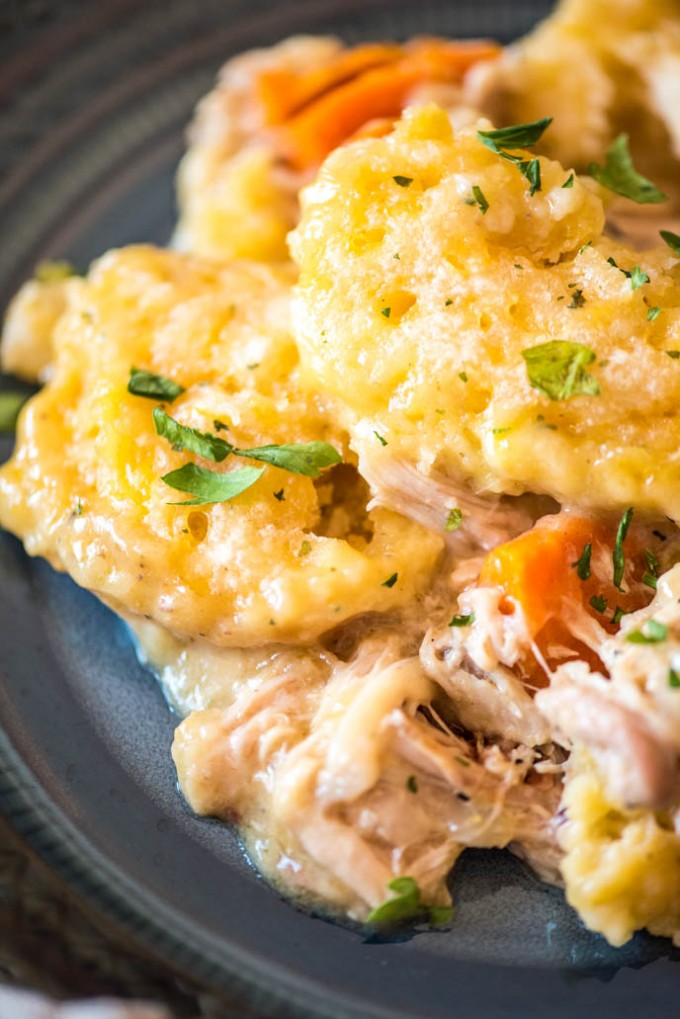 So, here are my final thoughts on the recipe:
It's definitely a repeater. It was incredibly simple to make. If you have a little less time, you can cook the chicken on HIGH, but if you need to set it before you go to work, you can also cook it on LOW for 8 hours.
I think that the steaming of the dumplings and doing the whole thing in the slow cooker would work if I added an egg to the biscuit mix in lieu of maybe half the water.
I don't want to get a deluge of comments and emails about putting a slow cooker insert in the oven if it doesn't work. I did research it and it appears that most of them (especially the all-ceramic ones) are rated to 400-500 degrees, and mine (even with its plastic handles) was fine in a 350 F oven for 10-15 minutes. In fact, it wasn't even close to melting, because I tried to pry the plastic handles off, broke one, and was sort of hoping that it would melt enough that I could fix it. Not even a tiny bit. So it works for me, and I don't know why it wouldn't work for you, but please know that I'm not buying you a new slow cooker insert. 😉
All that being said, this was so great. It was really easy and I LOVED the flavor that the biscuits brought to this. Its a great twist on a classic.
If you like this Slow Cooker Chicken and Dumplings Recipe:
Slow Cooker Chicken and Dumplings
Ingredients
1

cut up fryer chicken

1

packet Italian salad dressing mix

4

celery stalks

cut into 1 inch chunks

5

carrots

peeled and cut into 1 inch chunks

1 10

oz

can cream of chicken soup

1

box cheddar bay biscuit mix

2/3

cup

shredded cheddar cheese

1

tsp

baking soda

2/3

cup

of water

1

chicken gravy mix packet

1/2

cup

milk
Instructions
Place chicken pieces in the insert of a slow cooker. Sprinkle with Italian salad dressing mix. Add in the carrots and celery. Pour/spread the condensed soup over top. Cover and cook on HIGH for 4 hours (or LOW for 7-8).

Remove chicken from slow cooker and set aside to cool slightly. When cool enough to comfortably handle, remove chicken from the bone and shred.

In a small bowl, combine the biscuit mix, cheese, baking soda, biscuit seasoning packet, and water.

Return the chicken to the slow cooker. Whisk in the gravy mix and milk and change heat to HIGH.

Drop spoonfuls of biscuit dough on top of the chicken mixture. Recover and cook on HIGH for 1 hour. Alternatively, you can heat your oven for 350 F and bake the mixture for 15 minutes until dumplings are baked through (I assume no responsibility for anything happening to your insert, but mine was fine).
SaveSaveSaveSave
SaveSave
SaveSave