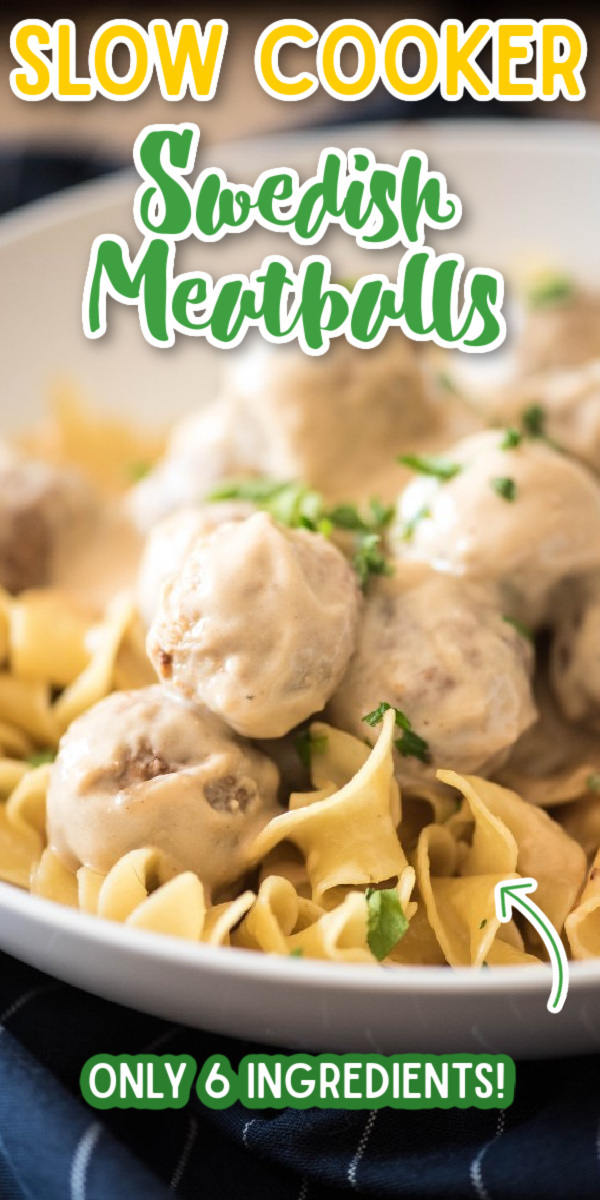 These Slow Cooker Swedish Meatballs are the perfect back-to-school dinner that everyone will love. Only six ingredients in this fast and easy meal!
This is a sponsored post written by me on behalf of Cooked Perfect® Meatballs. All opinions are 100% mine.
HI, my name is Jacqueline, and I take shortcuts to make my culinary life easier. Hello Jacqueline. I use cake mixes and boxed biscuit mixes and frozen pie crusts sometimes because they make my life easier. And I don't feel bad about it for one second of my life, ever.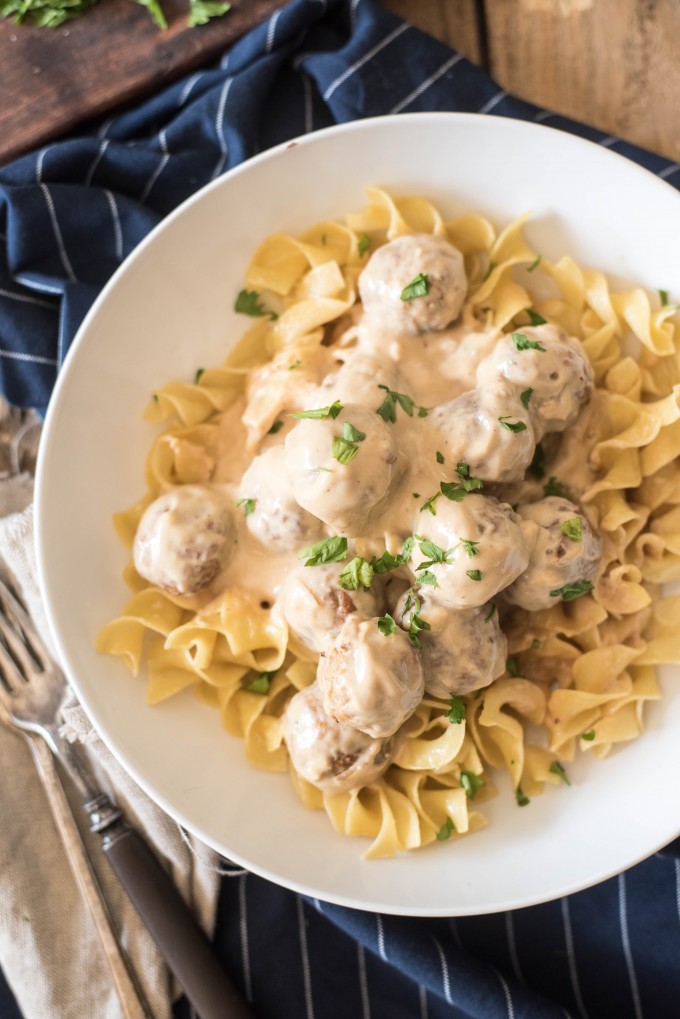 [Well except for one time that I brought an insanely good chocolate cake into work and a disgruntled person sneered behind my back that there was no way I made it from scratch because it was too moist. Then I felt badly about it, so I revoked her cake privileges and I felt better.]
But you know what my REAL dinnertime hack comes in? Frozen meatballs.
Look, yes, at one point I did make like 50 meatballs in a day so I could test a bunch of different cooking methods to see which one was the best. I do love my mom's meatball recipe from a super old cookbook (with some tweaks) and make it all the time.
BUT- for those nights when I get caught up and dinnertime sneaks up on me? Well, let's just say that there's always a bag of frozen meatballs, Cooked Perfect brand (because the name says it all) in my freezer. They have tons of variety- Turkey, Swedish-style, Homestyle, Sweet Italian, Chicken, Angus – and that's not even all of them! Hand-crafted, great meats and cheeses, herbs and spices and then flame-broiled to sear in the flavor for a delicious tasting meatball.
They are incredibly versatile little things- use them in calzones or on pizza, chop them up and add them to a jar of spaghetti sauce, make a pasta bake, brush them with BBQ sauce and bake them, or (obviously) throw them in some sauce on the stove to thaw out while your sauce heats up for a super crazy easy spaghetti and meatballs.
Oh, and don't forget about game day season now- talk about your best friend when it comes to football parties and tailgating! Like these Cola Glazed Meatballs? Forget about it.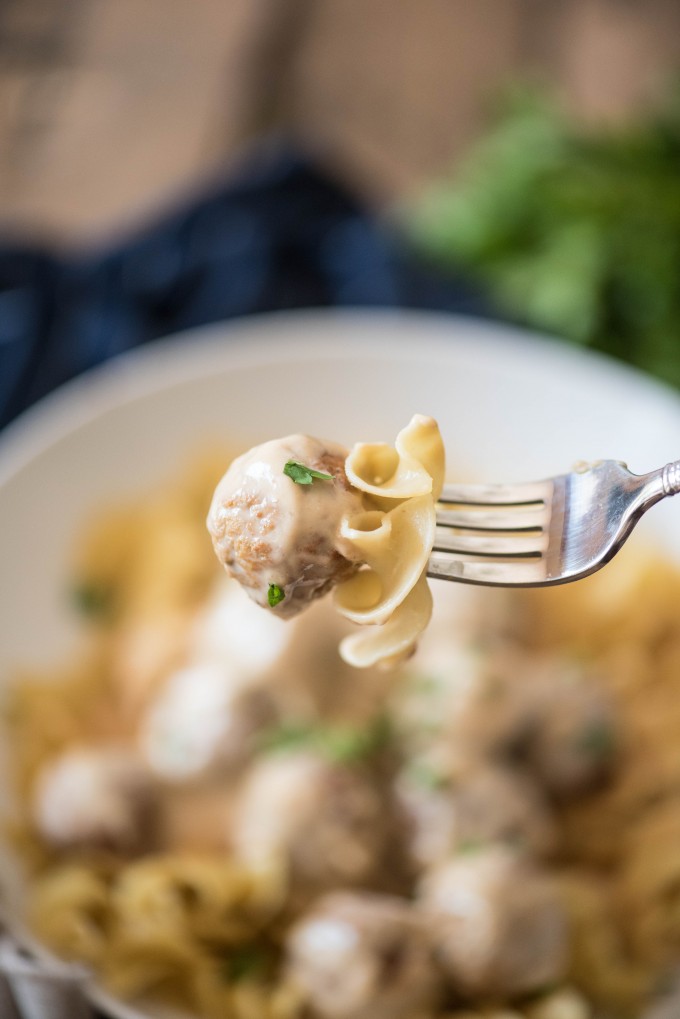 So for this recipe, I decided to play on my recipe for Copycat IKEA Swedish Meatballs and come up with a version of slow cooker Swedish meatballs!
While the original recipe is great and fairly fast, now that the kids are back in school, it's even easier to start something in the morning and have it almost ready to go later on in the day. You can serve it with buttered egg noodles or mashed potatoes, dealer's choice on this one.
They turned out great and the kids loved them- especially Michael, who is not a huge meat eater. They were unbelievably soft, tender and juicy, with a great flavor that was enhanced with the creamy Swedish meatball sauce. Honestly, they were even better than I hoped that they would be.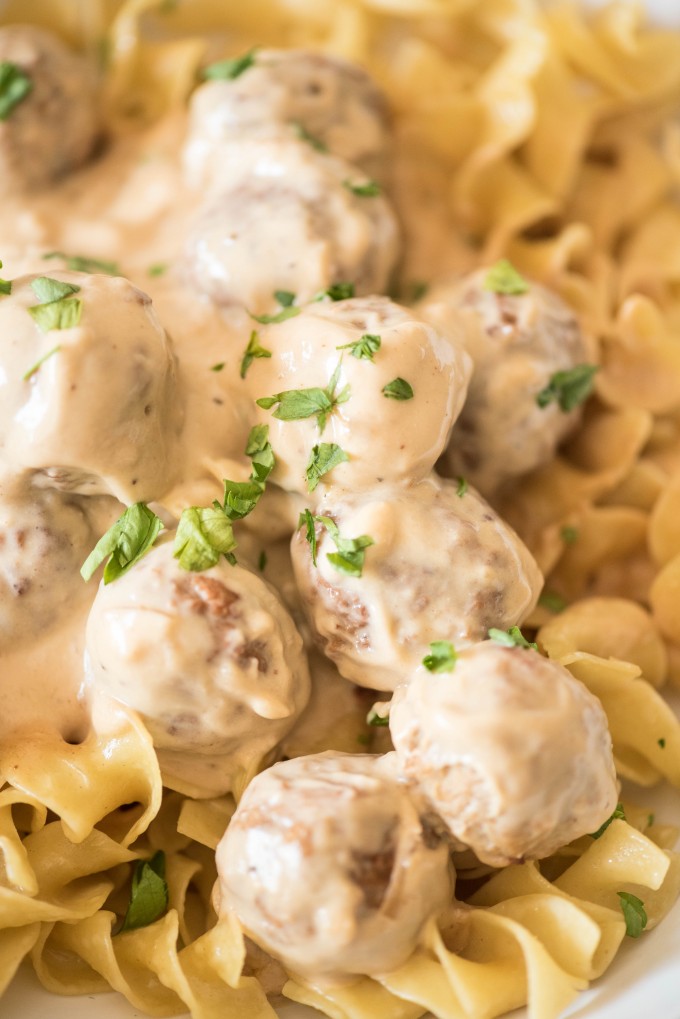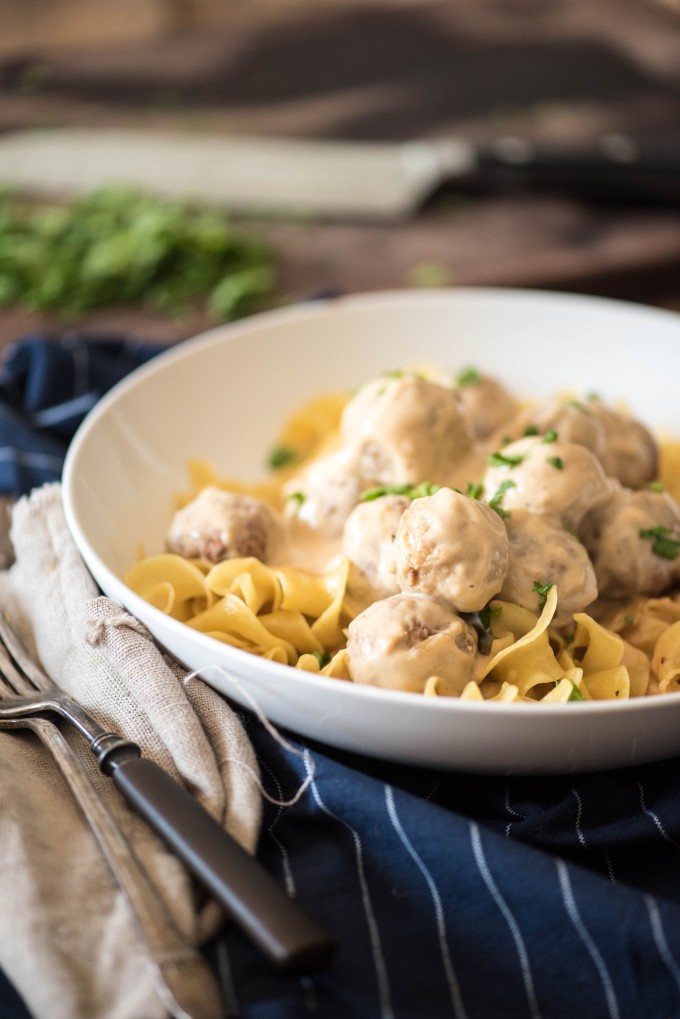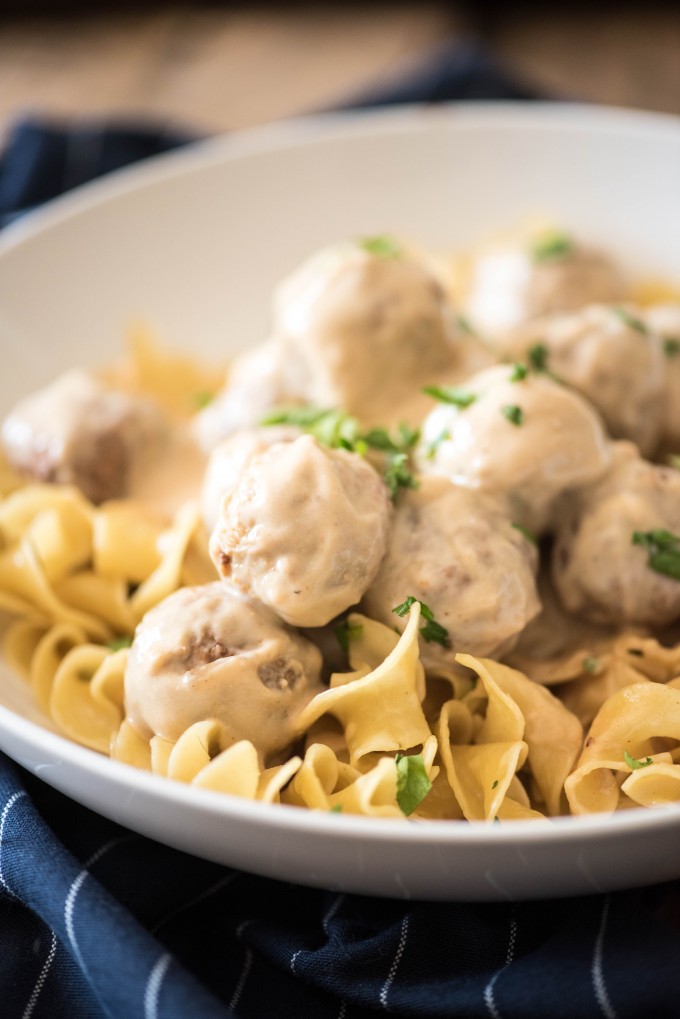 What you'll need for this recipe:
Slow cooker- This [easyazon_link identifier="B004P2NG0K" locale="US" tag="gogogogo03-20″]Crock-Pot Slow Cooker[/easyazon_link] is programmable and easy to use!
Spatula-

You always need a good set of spatulas in your kitchen to use for any recipe. This [easyazon_link identifier="B01DLHA9OA" locale="US" tag="gogogogo03-20″]Silicone Spatula Set[/easyazon_link]

is perfect for mixing and they are dishwasher safe!
If you like this recipe, make sure to check out these:
Slow Cooker Swedish Meatballs
These Slow Cooker Swedish Meatballs are the perfect back-to-school dinner that everyone will love. Only six ingredients in this fast and easy meal!
Ingredients
2

lbs

Cooked Perfect Homestyle Meatballs

2

cups

beef stock

1

package onion soup mix

1 1/2

tablespoons

cornstarch

16

oz.

sour cream

2

tablespoons

dijon mustard

Buttered egg noodles or mashed potatoes

for serving
Instructions
Add the frozen meatballs, beef stock and soup mix to the slow cooker. Stir to combine. Cook on HIGH for four hours.

Mix together the cornstarch and just enough beef stock or water to dissolve the starch (1-2 tablespoons).

Add the cornstarch mixture, sour cream and mustard to the slow cooker and carefully stir until mixed. Cook for 30-60 minutes more, until mixture is thickened.

Serve with mashed potatoes or egg noodles according to preference.
Browse more meatball recipes using Cooked Perfect® Meatballs, and click to Save $1 on your next purchase!
SaveSave

SaveSave