This Black and White Stripe Marble cake is a breeze to do and a total show stopper!
This is a sponsored conversation written by me on behalf of Pillsbury™. The opinions and text are all mine.
Are you back in the swing of normal, non-summer life yet? Are you running around like crazy already? Dealing with homework, sports, appointments, school lunch making and already thinking "How can it only just be beginning? I'm already so tired."
As much as I love to bake (and I do), sometimes you just get hit with a hankering for cake but don't really feel like doing all of the associated work (and let's not even begin to get into the cleanup of it all. I'm tired just thinking about washing all those bowls). It's no secret that I frequently make use of boxed cake mixes for my cakes and my cupcakes and then make my own frosting.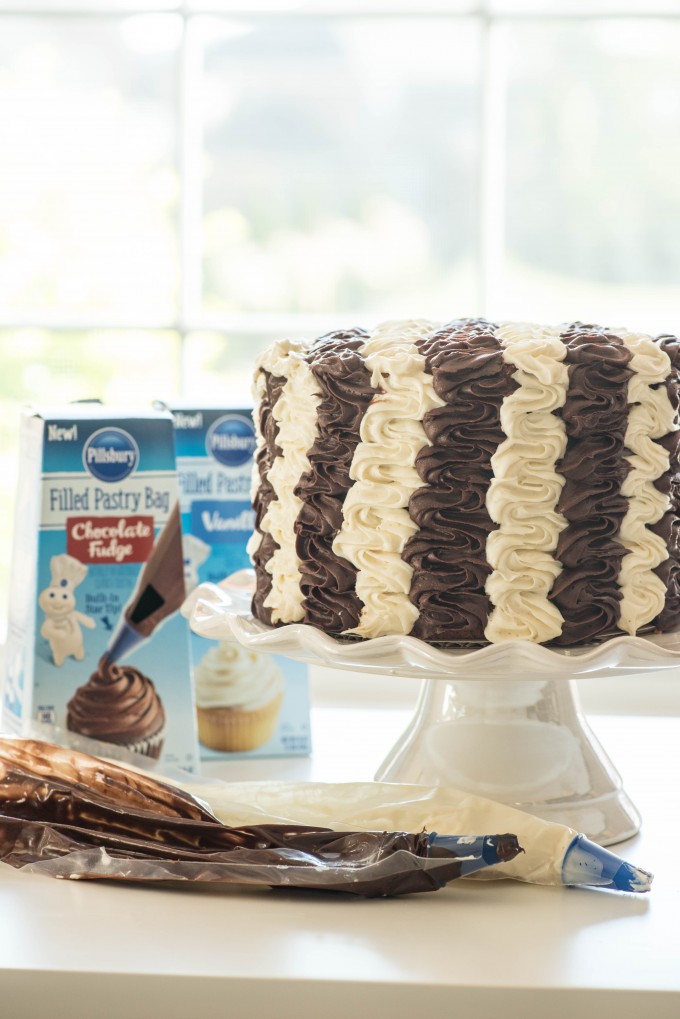 But sometimes I don't even want to do that. I just want cake, and I want it now. I want it now and with minimal effort and no mess, than you very much.
Especially now that I am surrounded by family, I can 100% see myself scrambling for a last minute dessert. This is why I always keep a variety of cake mixes stocked, and now they'll be joined by the newest, life-altering, minimal-mess offering from Pillsbury- the new Pillsbury™ Filled Pastry Bag that I bought at Meijer. I found them in the baking aisle.
Using a pastry bag has really grown in popularity in recent years, and while it does make frosting cupcakes 19483294 times easier, getting the frosting in there can be messy and then disassembling it afterwards is even messier.
But this??? This Pastry Bag is ready to go, star tip and all. Filled with delicious vanilla, chocolate or cream cheese frosting and fitted with a star tip, they are ready for your cupcake topping, cooking filling, and cake frosting pleasure. All you have to do is open the box!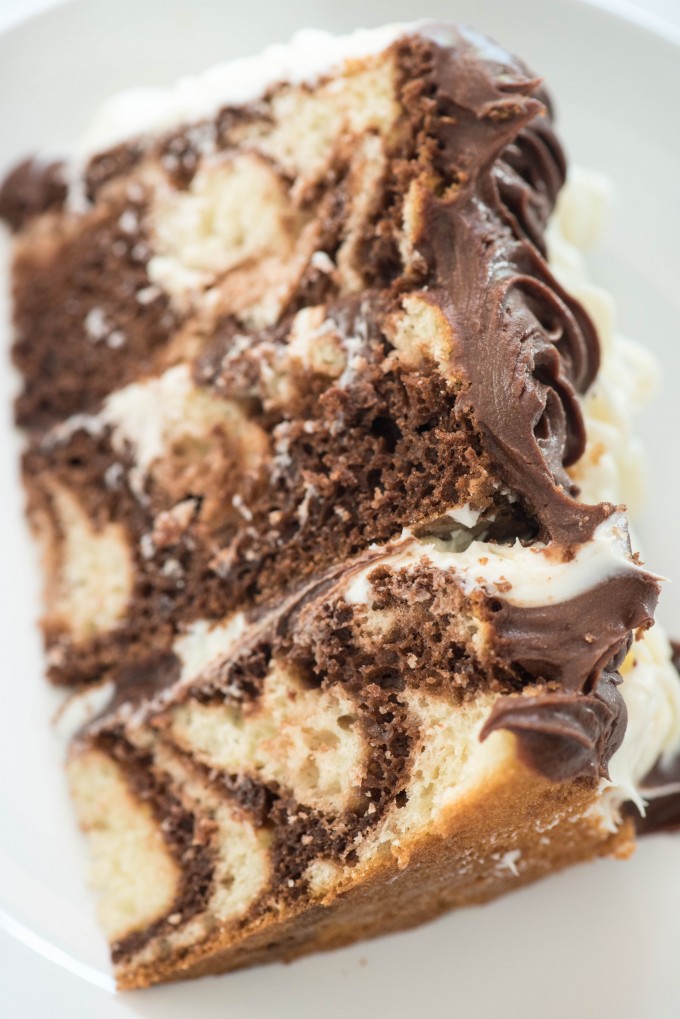 Game changer for all those times your kids tell you at 8 PM that you're supposed to bring two dozen cupcakes to school tomorrow, right?
In fact, this show stopper cake was made with two boxes of cake mix and four packs of frosting. Without baking time, it took me 25 minutes to do this cake. That's it.
So I used a box of Pillsbury Moist Supreme White Cake Mix and a box of Pillsbury Moist Supreme Chocolate Cake mix, two Vanilla filled Pastry Bags and two Chocolate filled Pastry Bags. I didn't use all the frosting, but I wouldn't have had enough with only one bag of each.
I marbled the cake mixes, which sounds complicated, but really only means I put both batters in my prepared cake pans and then swirled them with a knife. David was blown away. He thought that there was a specific marble cake mix.
Bless his heart.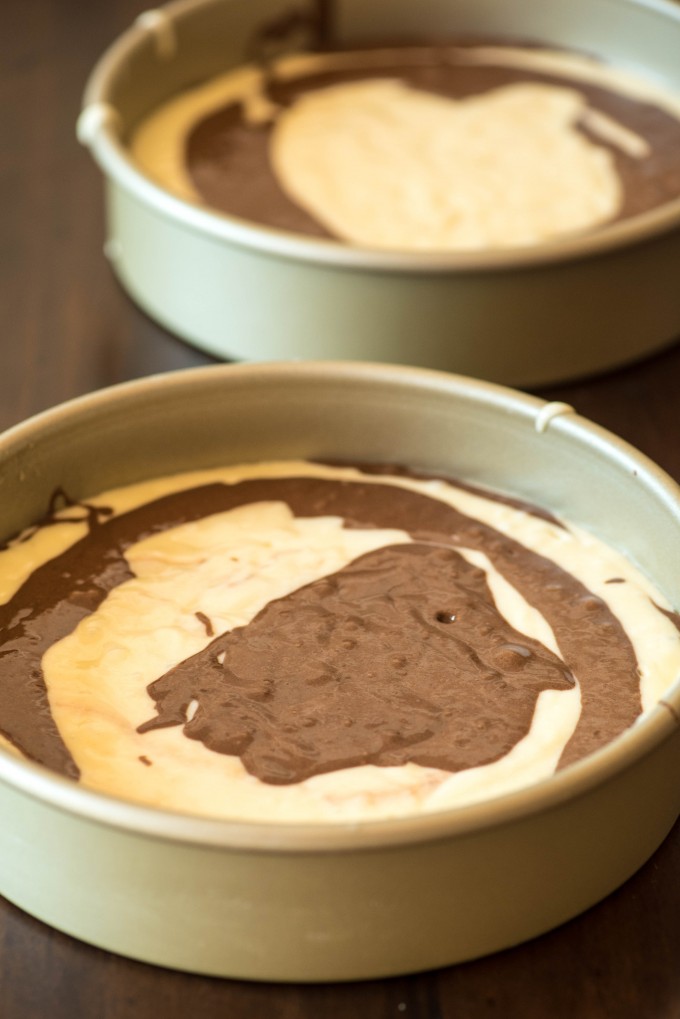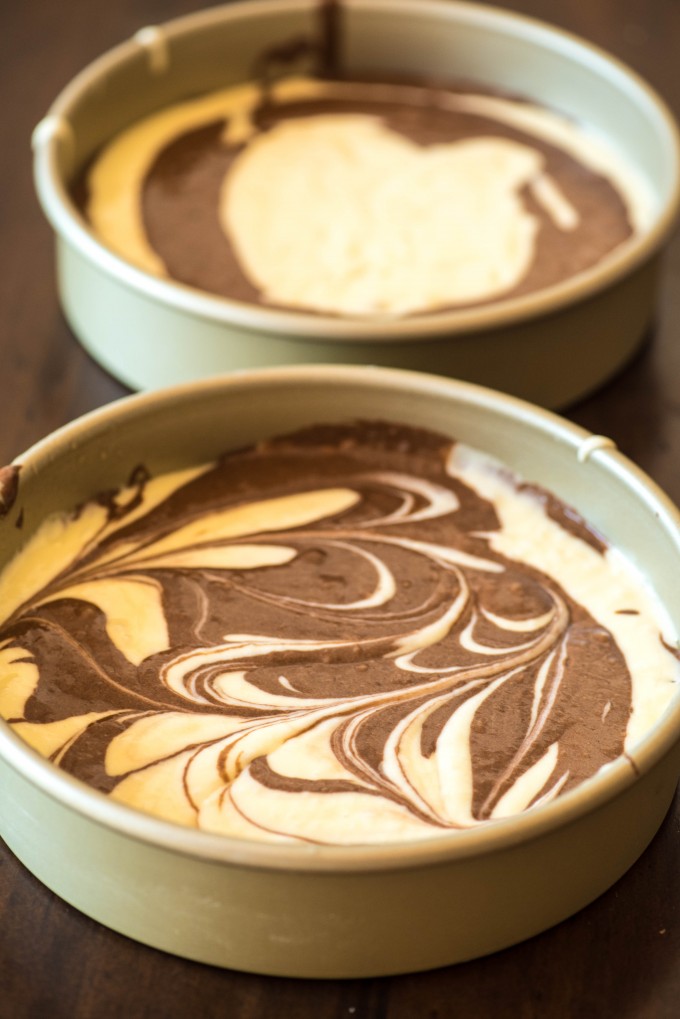 I used the two cake mixes and divided them between three 8″ cake pans. After baking them according to package directions, I turned them out to cool on wire racks and leveled them off.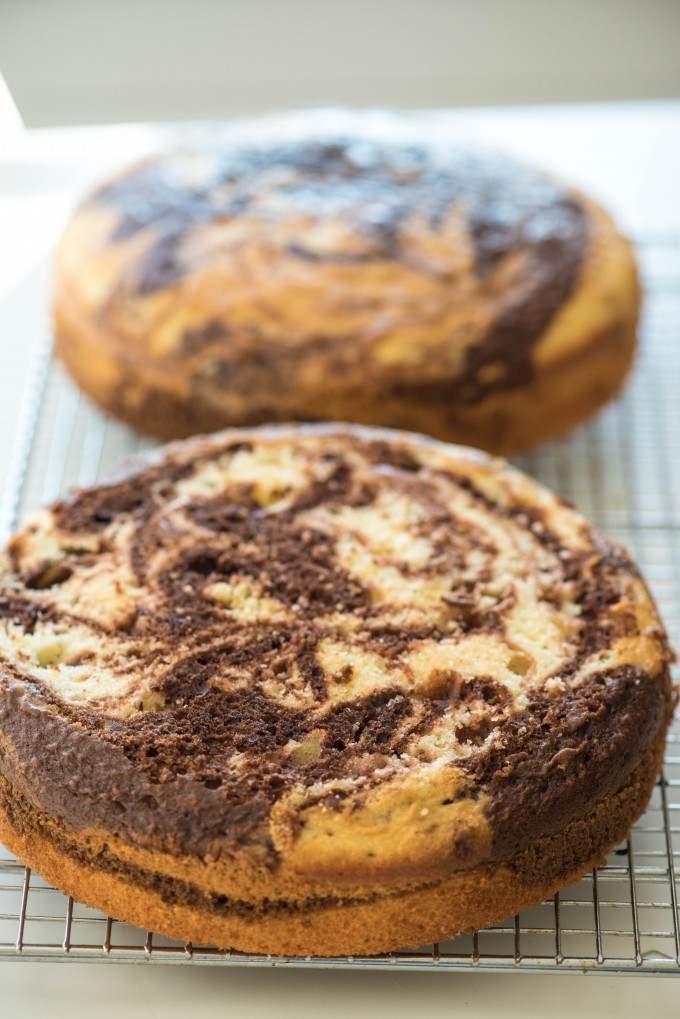 The pastry bags made frosting between the layers a cinch. I did concentric circles of alternating frostings to mimic the marbling of the cake. Once I did that, I set about doing the outside of the cake. I only used the bags to decorate, just to show you that it was possible to pull this off using only the bag.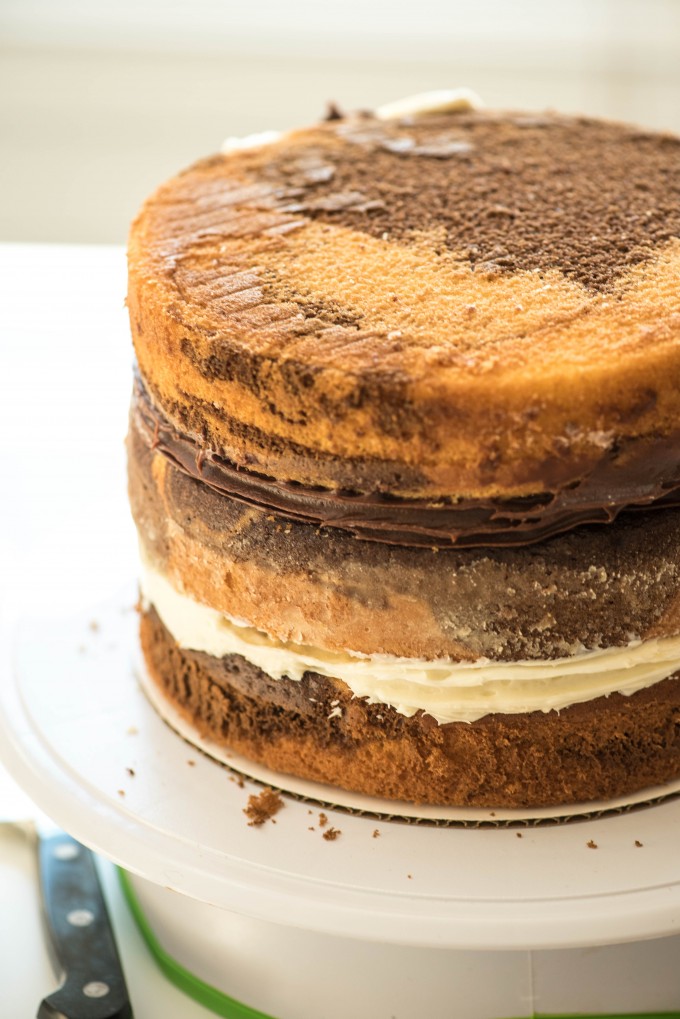 Starting at the bottom, I created wavy stripes about an inch and a half wide, all the way up the cake to the top. I found it was easier to get down at eye level with the cake, because when I stood up, my stripes got a little lean-y. I did this all the way around the cake, alternating the chocolate and vanilla.
Once that was done, I found two vanilla stripes that were across from each other and did the same pattern across the top to connect them.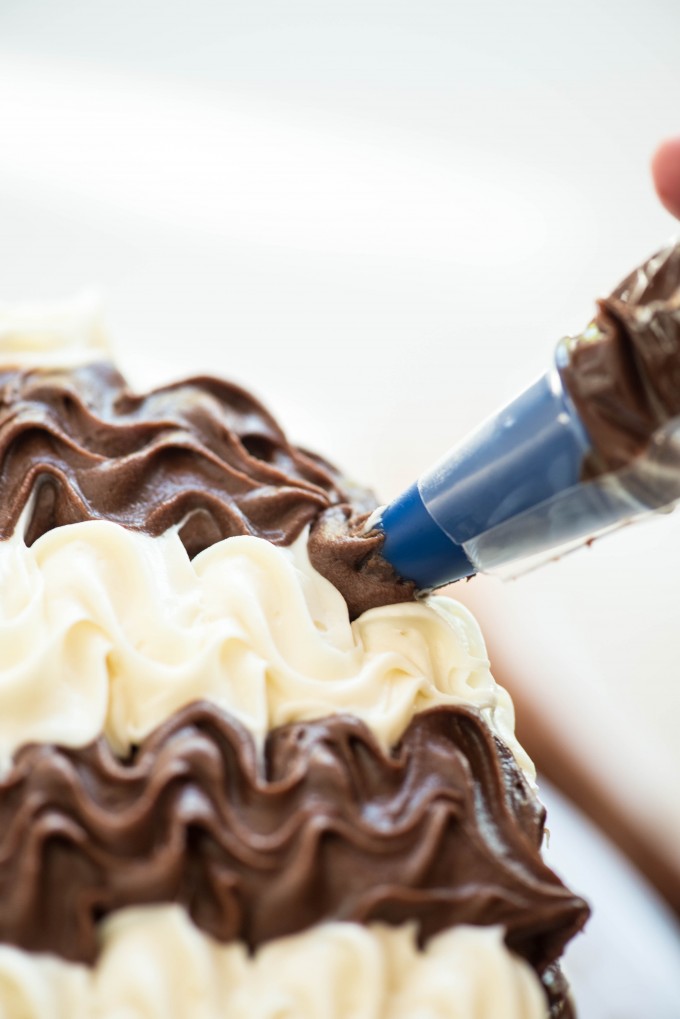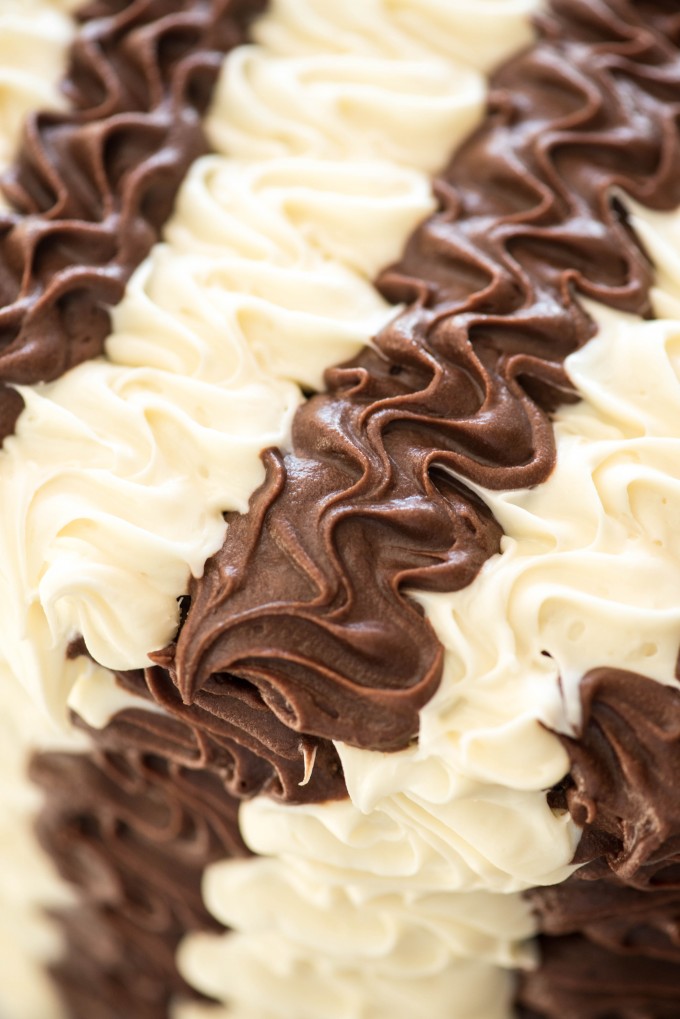 The cake turned out gorgeous and was a total breeze to do. I loved how it all looked when the slice was cut. Best part? NO CLEAN UP! I just threw everything away! Easy peasy. Best cake cleanup ever.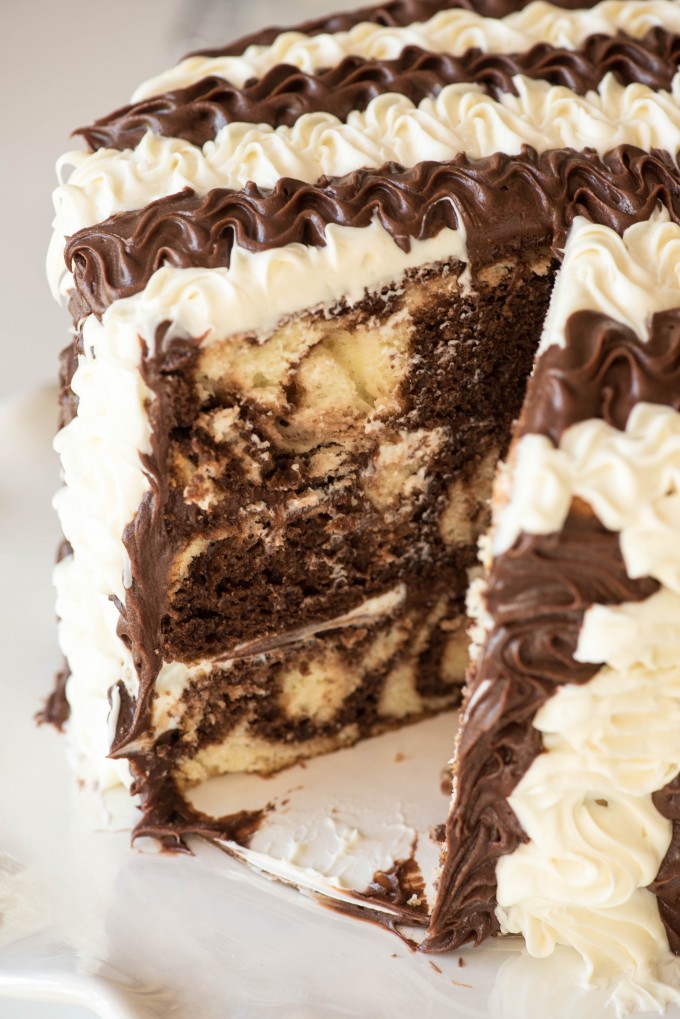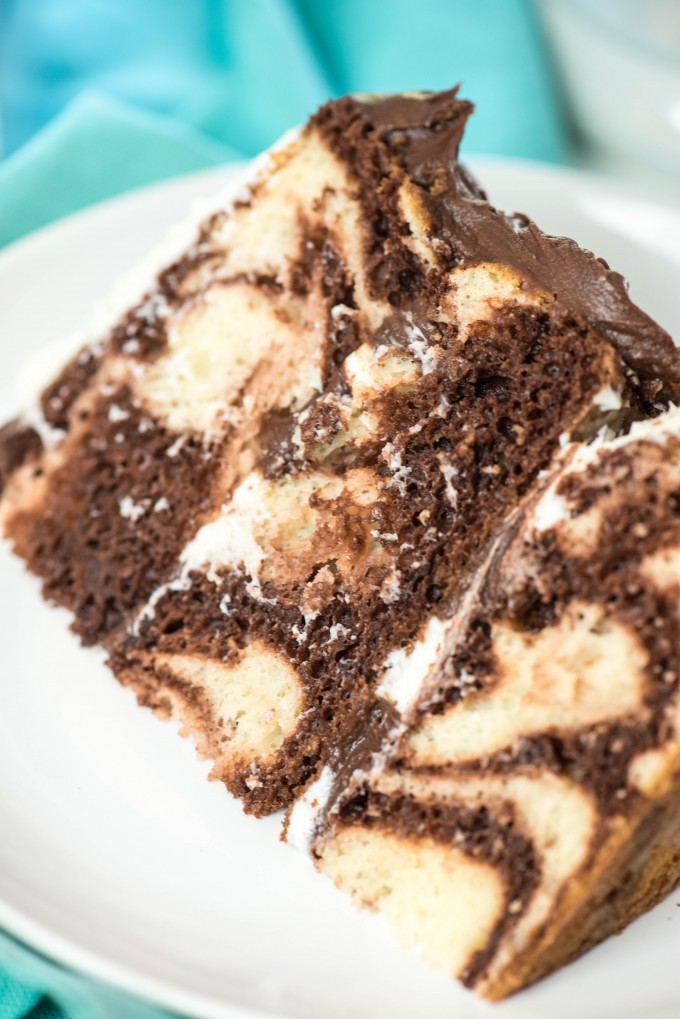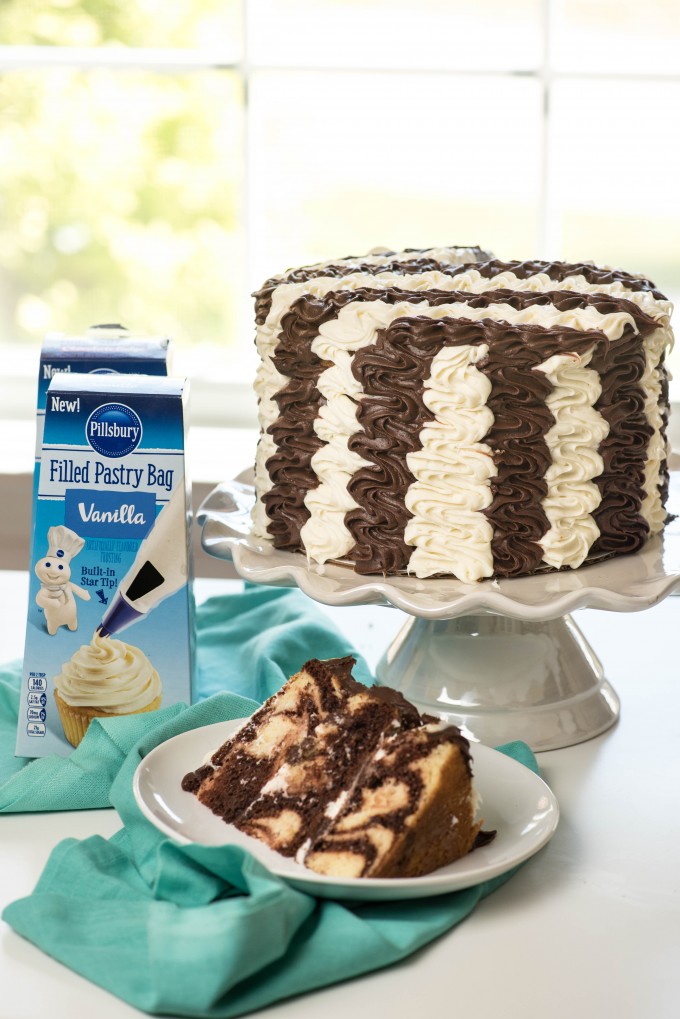 For a limited time, save $1 on any Pillsbury Filled Pastry Bag with mPerks digital coupon.
SaveSave
SaveSave