This Oreo Brownies recipe is totally out of this world! Just a few pantry ingredients for a fudge brownie stuffed with Oreos- or use a box mix!
I'd like to think that I'm a fairly smart person, so I always find it personally irritating when a recipe doesn't turn out perfectly the way I envisioned it the first time.
I made these Oreo brownies after a not-so-subtle line drop from David- "I was going to make brownies, but I see we don't have any brownie mix." If there is a clearer sign that somebody wants me to make some brownies the next day, I don't know of one.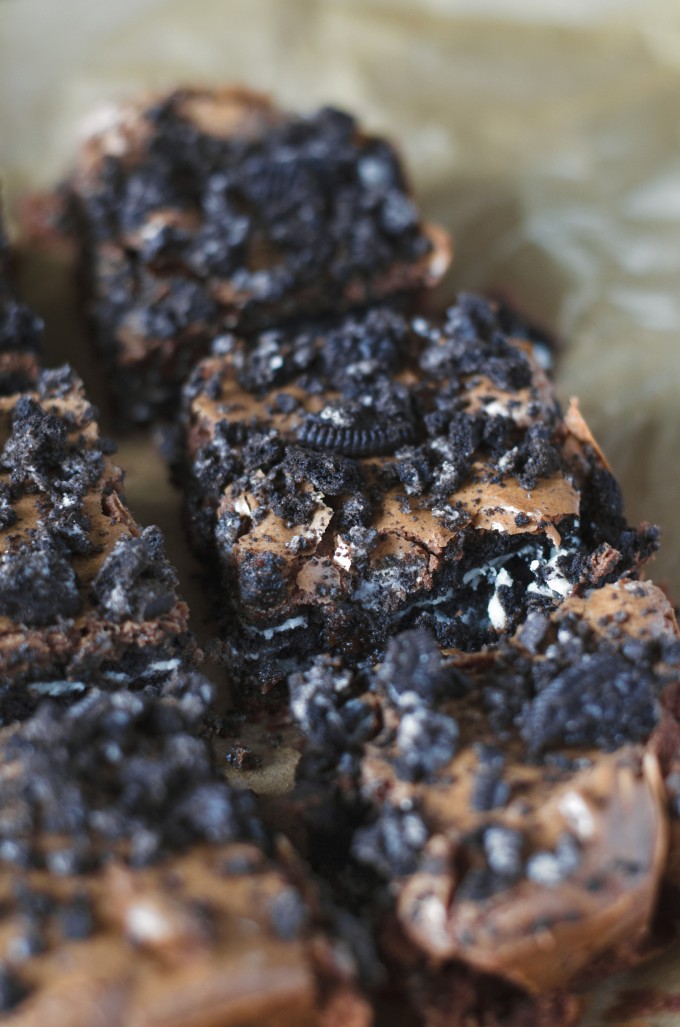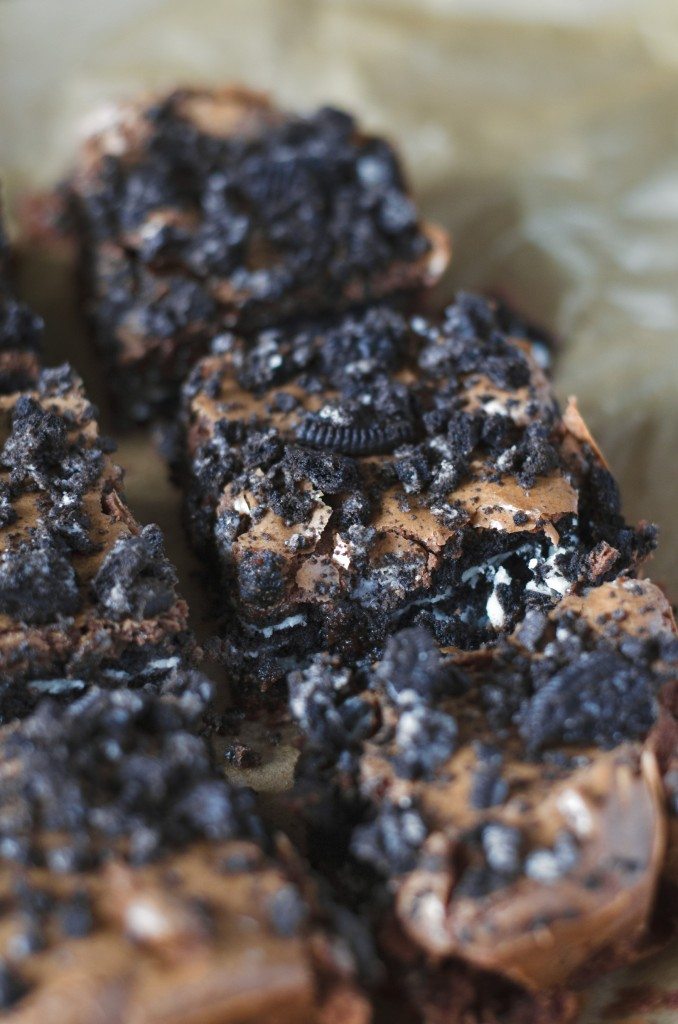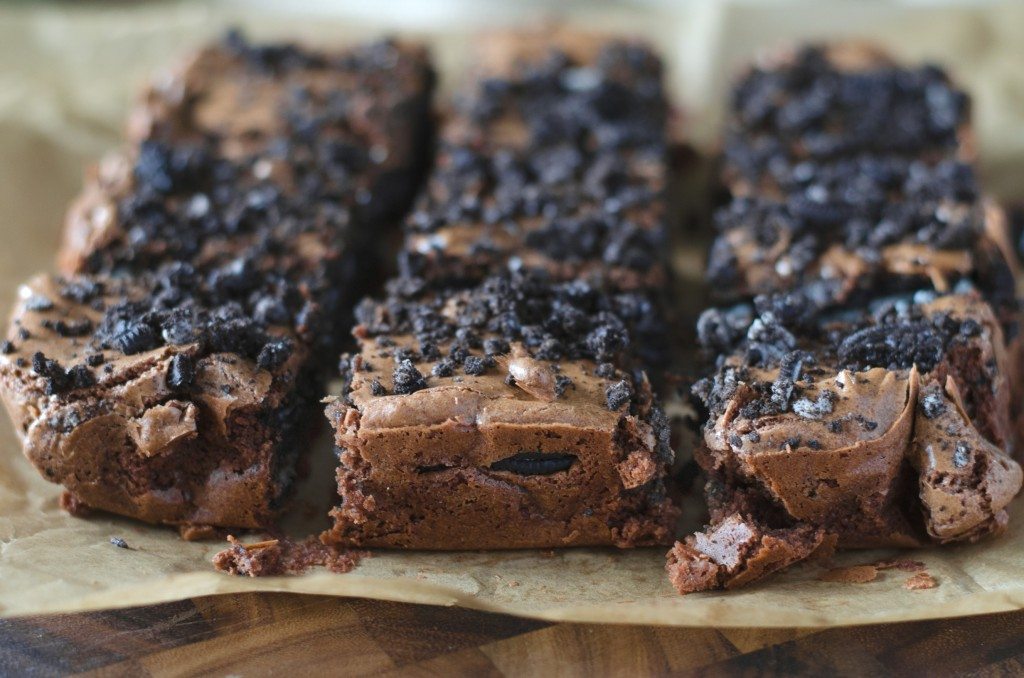 I had had an idea for a brownie studded with a nice thick layer of soft Oreo cookies- as far as I'm concerned, they should figure out a way to sell Oreos that are already soaked with milk. They'd make a killing just from me. So I thought I would combine two of Dave's favorite things– Brownies and Oreos.
I didn't want to use
my original from scratch brownie mix
, because it is
incredibly
rich and I thought it would be too much with the Oreo cookies in it as well. I set out to do a different from-scratch version, making only minor adjustments to my original recipe. The new recipe is vastly different than my old one- not quite as rich and not quite as sweet.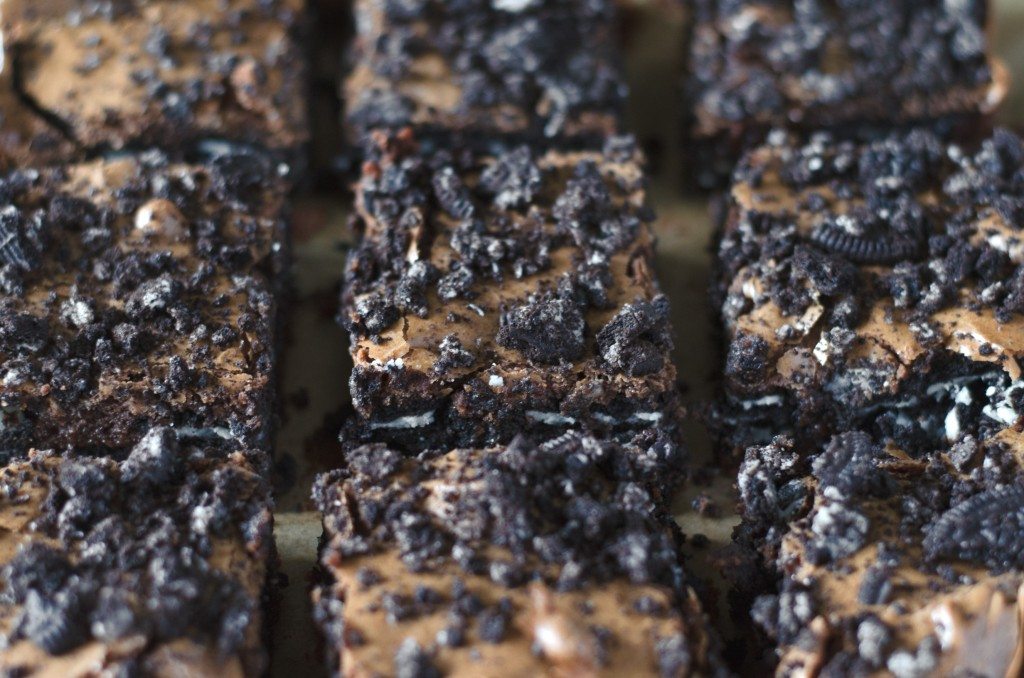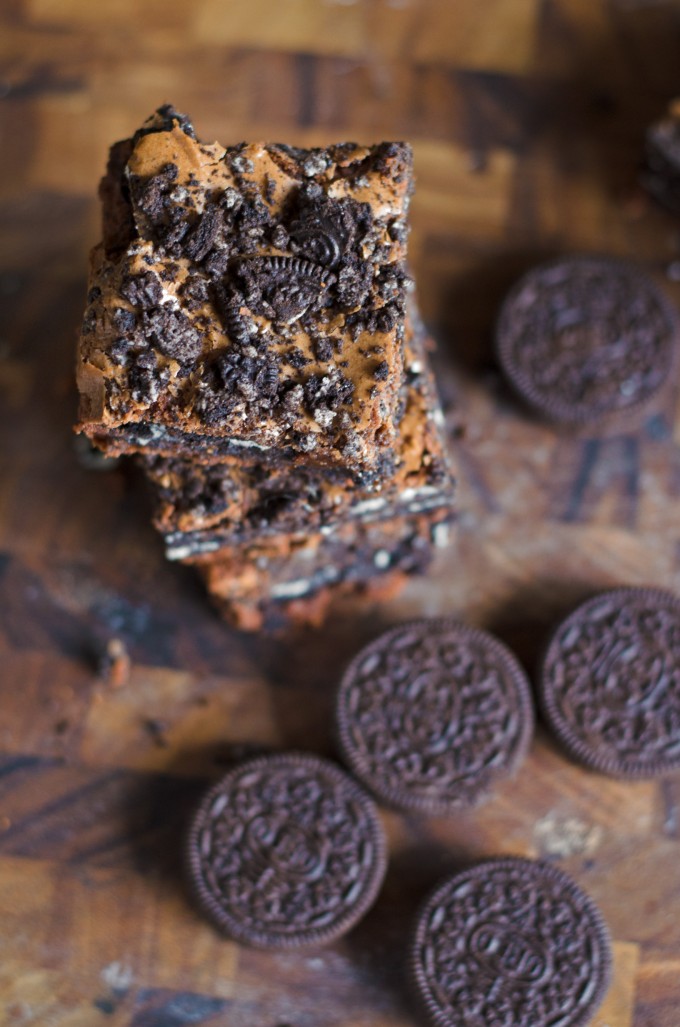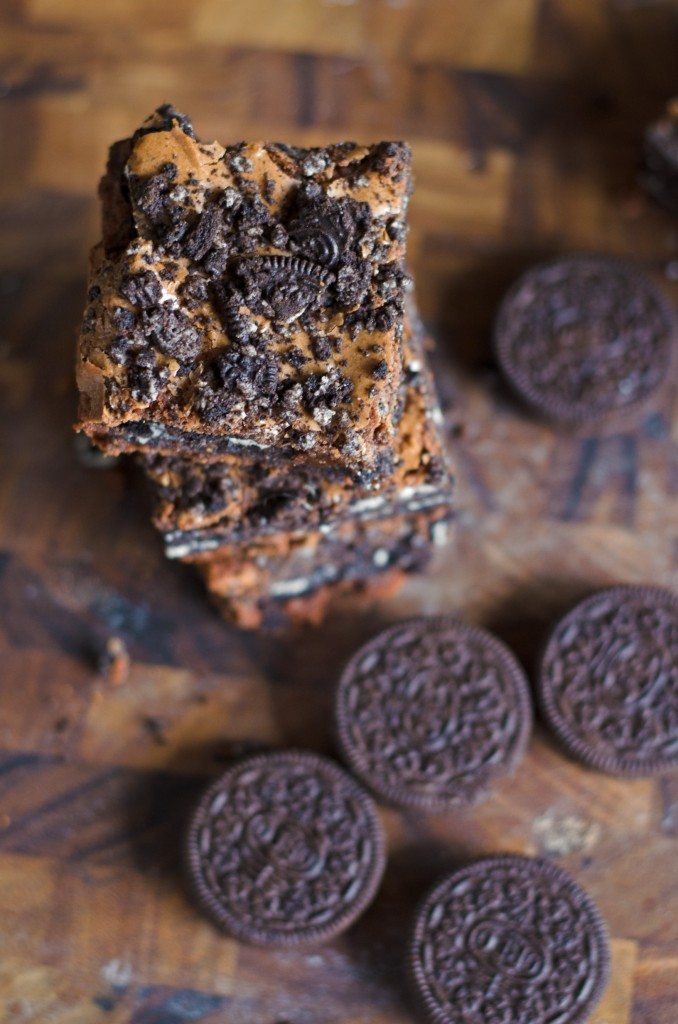 I can't lie- I didn't get there on my first try. I made my original batch of Oreo brownies for David and he was pretty excited about it. Originally, I just put two layers of Oreos in the bottom of the pan, poured my altered brownie batter over it and baked them. They were just fine- but I don't accept just "fine." The brownie itself was a little too cakey AND they were over baked.
I tried again the next day, reducing my batter by one egg, shortening the baking time by 10 minutes, and sprinkling the top with crushed Oreos (because why not?!). I also did more of a layering with the batter and the cookies, and they turned out wonderfully. Still moist, still fudgy, and embedded with Oreo deliciousness.
Unfortunately, my timing was still less than perfect, as I decided the perfect day to remake these for the second time was the same day that I did my
peanut butter chocolate chip cookies
AND my first attempt at
s'mores brownies
(which also need to be redone, grrr). There are so many sweets here right now I feel like I'm getting diabetes just looking at my kitchen counter. Who wants some dessert mailed to them?
p.s. If you are unlike me and can manage to 1. keep a box of brownie mix in your pantry or 2. remember to buy one at the grocery store when you are there, feel free to use it. I am positive it will work just as well!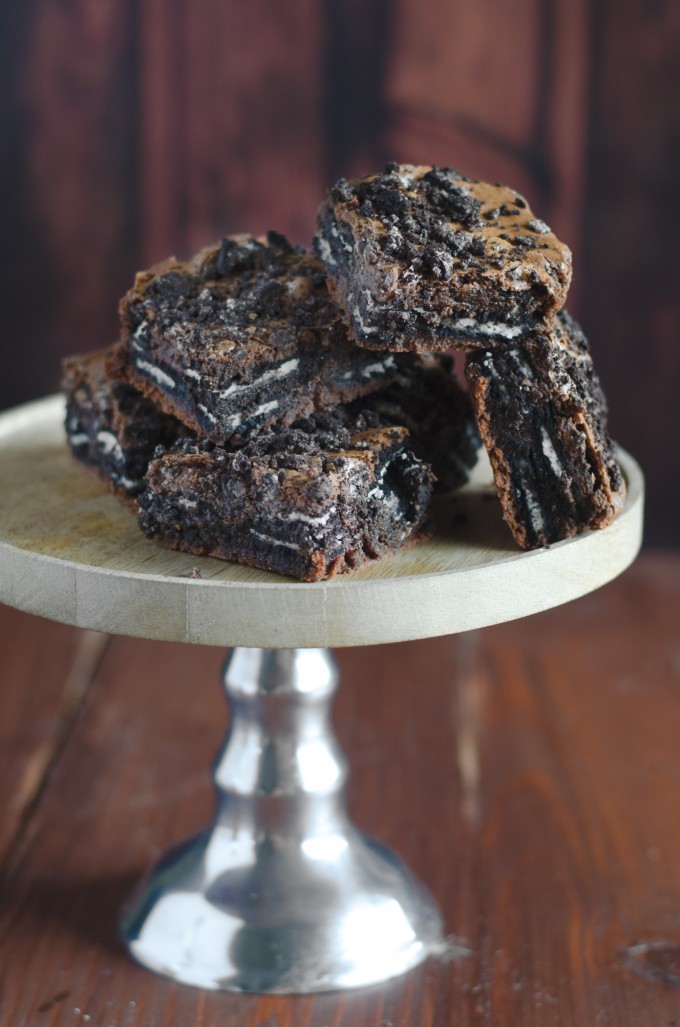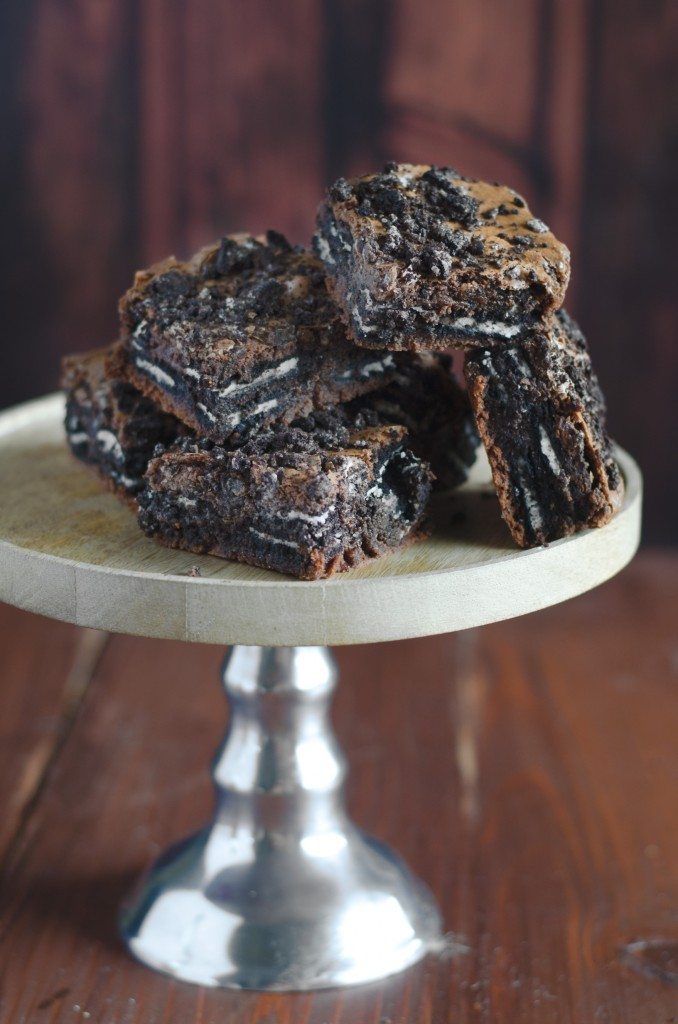 What you'll need for this recipe:
Microwave safe bowl – These bowls are perfect for mixing up any recipe and are microwave safe. Get your [easyazon_link identifier="B00LGLHUA0″ locale="US" tag="gogogogo03-20″]3-Piece Glass Mixing Bowl Set[/easyazon_link] here.
9×9 square baking pan – This [easyazon_link identifier="B001PKUXN8″ locale="US" tag="gogogogo03-20″] 9 x 9 Inch Covered Pan[/easyazon_link] is great for any kind of baking. You'll get some great use out of it!
Rolling pin – A good rolling pin that will last, is a key kitchen gadget to own. Grab this [easyazon_link identifier="B0091QO3RK" locale="US" tag="gogogogo03-20″]Adjustable Rolling Pin[/easyazon_link] to add to your kitchen utensils!
If you love these Oreo Brownies, you'll probably also love:
Oreo Brownies
This Oreo Brownies recipe is totally out of this world! Just a few pantry ingredients for a fudge brownie stuffed with Oreos- or use a box mix!
Ingredients
1/2

cup

butter

1

cup

semi sweet chocolate chips

1

cup

granulated sugar

2

eggs

1

tsp

vanilla

1

tsp

salt

1

cup

flour

20

Oreo cookies
Instructions
Preheat the oven to 350.

In a large, microwave-safe bowl, add the butter and chocolate. Microwave for 1 minute, then stir until the chocolate is fully melted and the two have created a smooth mixture. Add in the eggs, sugar, salt and vanilla and mix in.

Add the flour and stir for 50 strokes until the mixture is evenly and thoroughly combined.

Spray a 9x9 square baking pan with nonstick spray, or line with parchment paper.

Pour in approximately ⅓ of the batter and spread to all four corners. Create one layer of cookies on top of the batter. Repeat with another ⅓ of the batter and another layer of cookies.

Pour the remaining batter on top and evenly spread around the pan, making sure the cookies are all covered.

Place the remaining cookies in a small sandwich bag and crush with a rolling pin. Sprinkle on top of the brownie batter.

Bake for 35 minutes, or until a toothpick inserted comes out clean. Allow to cool to warm before cutting and serving.
Nutrition