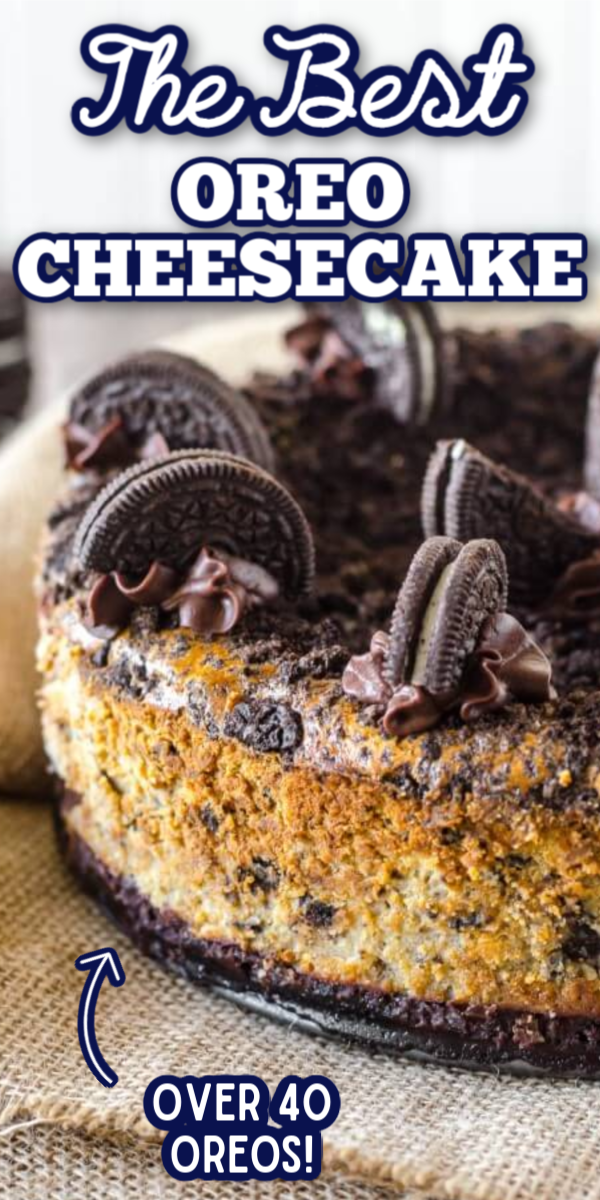 Have you ever wondered how to make Oreo cheesecake? This easy Oreo Cheesecake recipe is stuffed with over 40 Oreos and a layer of chocolate ganache! It's decadently delicious and super easy to make!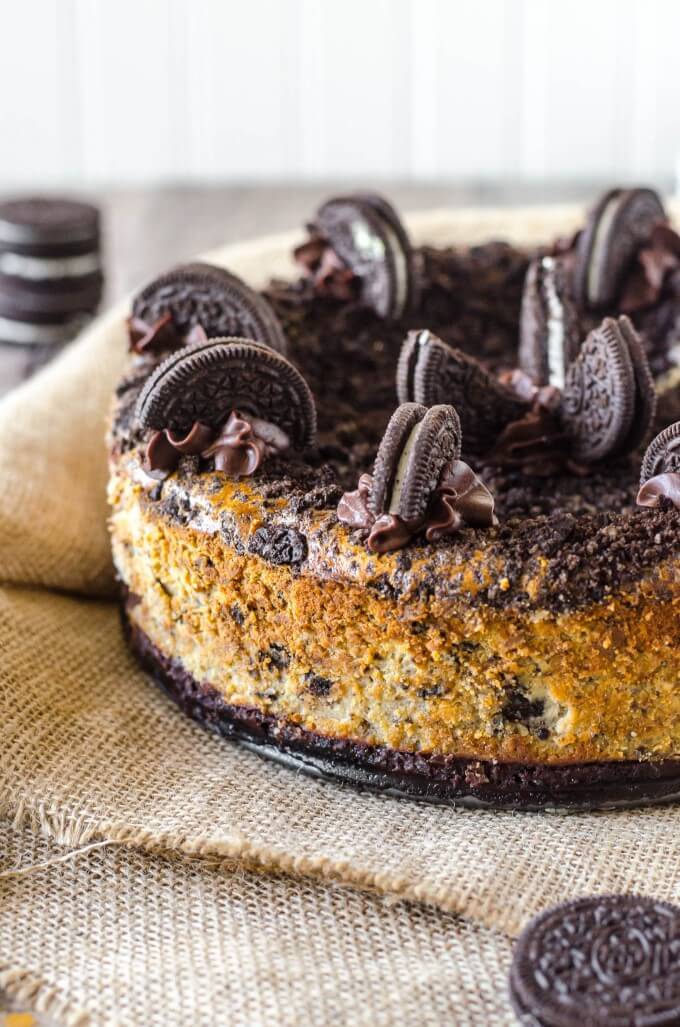 I'm sure there are about 5764 recipe for Oreo cheesecake on the Internet. But I swear, this one HAS to be the best one.
This pregnancy, I just can't get enough cheesecake. Or Oreos. It seemed like the perfect reason to make one using my new favorite recipe.
Now, remember before when I said that part of the reason that I like this cheesecake base so much is because it wasn't super dense or rich? That's no longer the case when you add 40 oreos to it. However, it is insanely delicious and worth every single calorie.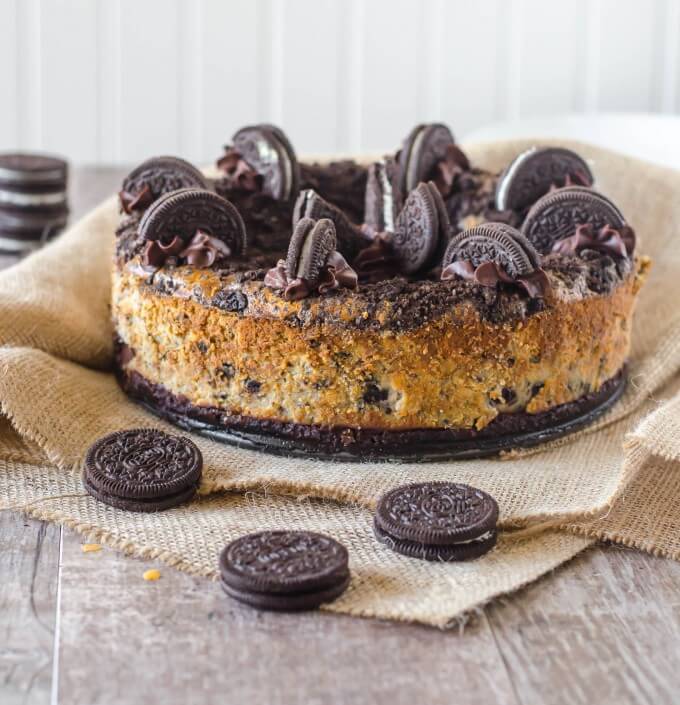 Generally, I have pretty good luck baking this cheesecake. I have it written as 60-70 minutes in the directions, but the last couple times I have made it, I've been more in the 70-75 minute range. Make sure that you let it cool on the countertop for awhile (like I'm talking a couple hours here), before putting it into the fridge to chill and finish setting. When I did the video, I actually had to make it twice, because not only did I not bake it quite long enough, I put it in the fridge too early and it cracked to hell and back.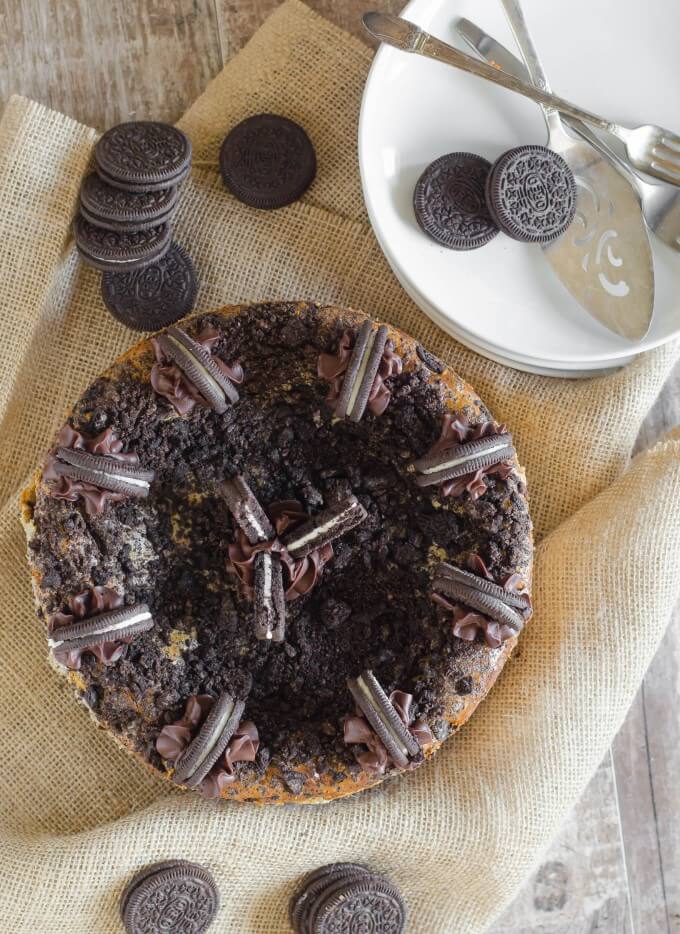 However, the great thing about this cheesecake is that even if you do end up with cracks, you can just brush some of those crushed Oreos from the topping into the cracks and no one will know any better.
I made another 1/2 batch of the ganache to decorate the top. Totally optional, but who is honestly going to object to more chocolate and more Oreos on this? The answer is no one.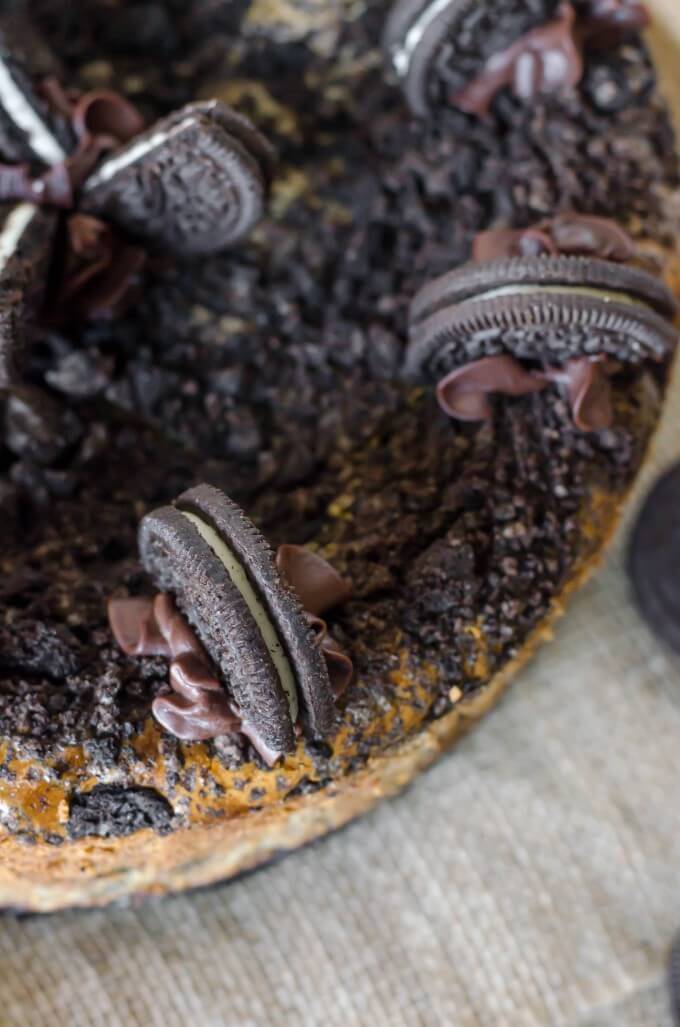 Tools needed to make this homemade Oreo Cookie Cheesecake:
For any cheesecake recipe, you'll need a [easyazon_link identifier="B000237FSA" locale="US" tag="gogogogo03-20″]springform pan[/easyazon_link].
A [easyazon_link identifier="B00755KNCS" locale="US" tag="gogogogo03-20″]food processor[/easyazon_link] is a quick and easy way to make sure your Oreos are crumbled really finely.
If you like this Oreo Cheesecake recipe, check these out:
Oreo Cheesecake
The Best Oreo Cheesecake recipe out there! With 40 Oreos and a layer of chocolate ganache, how could it not be?
Ingredients
For the ganache:
8

oz.

bittersweet chocolate

1

cup

cream
For the filling:
4 8

oz.

pkgs cream cheese

room temperature

1 1/2

cups

sugar

6

eggs

room temperature

2

tsp

vanilla

15

Oreos

pulsed in food processor until roughly chopped

For the topping

5

Oreos

pulsed in food processor until roughly chopped
Instructions
Preheat the oven to 350F.

Place the oreos in the bowl of a food processor. Run until finely ground, then pour in the melted butter with the machine running. Scrape down the sides and pulse a few extra times to make sure that the crumbs are evenly coated. Press into the bottom of a [easyazon_link identifier="B000237FSA" locale="US" tag="gogogogo03-20"]9 inch springform pan[/easyazon_link].

For the ganache: Heat the cream in the microwave for 90 seconds. Pour over the chocolate and let sit for 1 minute. Stir until creamy and melted, with no lumps remaining.

Pour the chocolate over the cookie crust in the pan; spread to edges. Place in freezer for 30 minutes.

In the bowl of a stand mixer, beat together the cream cheese and sugar until fluffy. Add the eggs, one at a time, scraping the bowl between eggs. Add the vanilla and beat on medium speed for 1 minute. Fold in the oreos.

Pour the cheesecake mixture into prepared pan and place on a baking sheet. Sprinkle the remaining chopped oreos over the top.

Bake in preheated oven for 60-70 minutes, until the top is lightly browned and the middle is just a little jiggly. Turn off the oven and open the oven door. After ten minutes, remove from oven and cool for another 30 minutes. Place in refrigerator until cool. Cut and serve.