Slightly different than a traditional eggplant parmigiana recipe, this Eggplant Parmigiana Pizza combines two of your favorite Italian dishes into one amazing weeknight dinner option thanks to the ideas i found at https://yourveganadventure.com.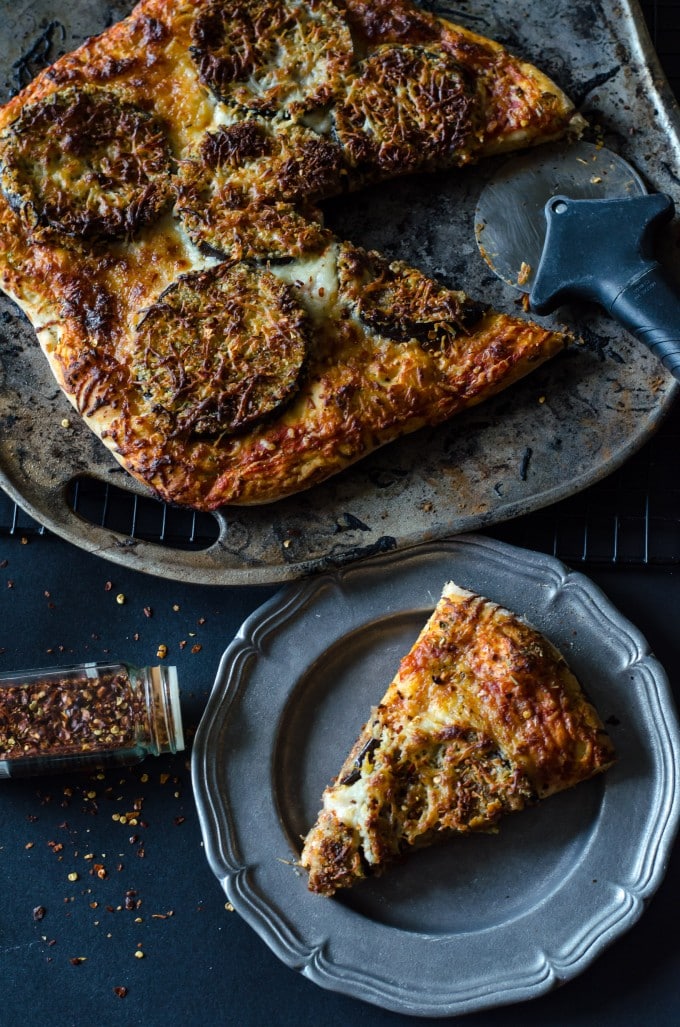 I'm writing this on April 3, and I'm officially 38 weeks.
I've already been told that I'm going to be induced in a week if I don't go on my own before that. Having gone through a particularly long and not-overall-pleasant induction with Jonathan, I am extremely motivated to trying get things going on their own. Really- I will try just about anything.
One of the things that was recommended to me over and over was eating eggplant and eating spicy food. Only problem with this? I'm not particularly fond of eggplant and I have terrible heartburn this go around. I just couldn't see myself sitting down to eat a plate of eggplant parmigiana for dinner one night, so I brainstormed different ideas of how to eat eggplant and came up with this.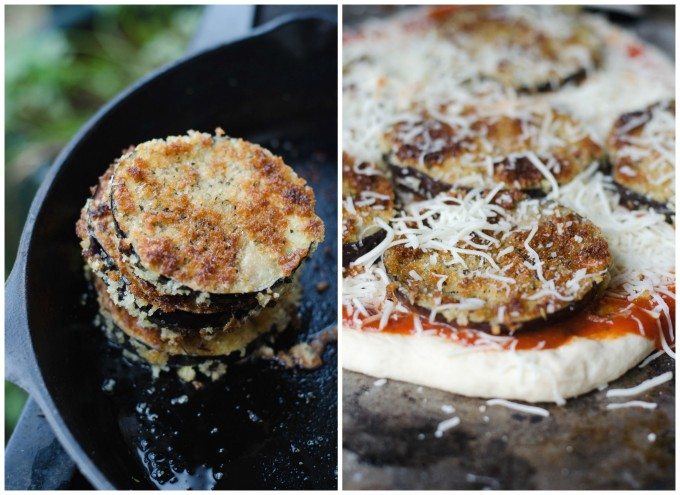 David asked me why I was making Eggplant Parm Pizza, knowing that eggplant purposely doesn't show up on our dinner table very often, and I told him that it supposedly helps to get labor going.
Of course, him being a doctor, he generally scoffs at everything unless it's been published in The New England Journal of Medicine. As predicted, this received a fair amount of eyebrow raising and joking at my expense. Luckily, both of us were in good moods and so we were having a pretty good time with it.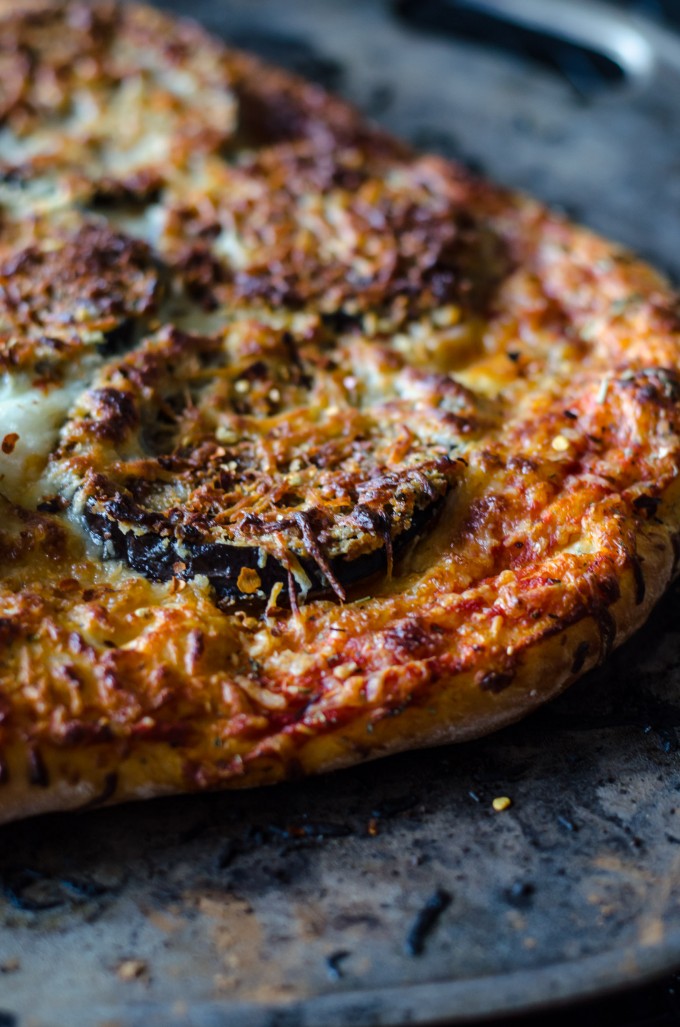 Some highlights:
While slicing and breading the eggplant (Dave, to me): "The black magic of eggplant is so powerful that it's inductive properties probably just get absorbed through the skin. Jonathan, you better stay away."
Me calling Dave inside while I was waiting for the pizza to cook, pretending to double over with pain: "Oh my GOD Dave, I think the baby is coming RIGHT NOW! The baby can smell the eggplant!"
We are a couple of strange birds. But we have a good time.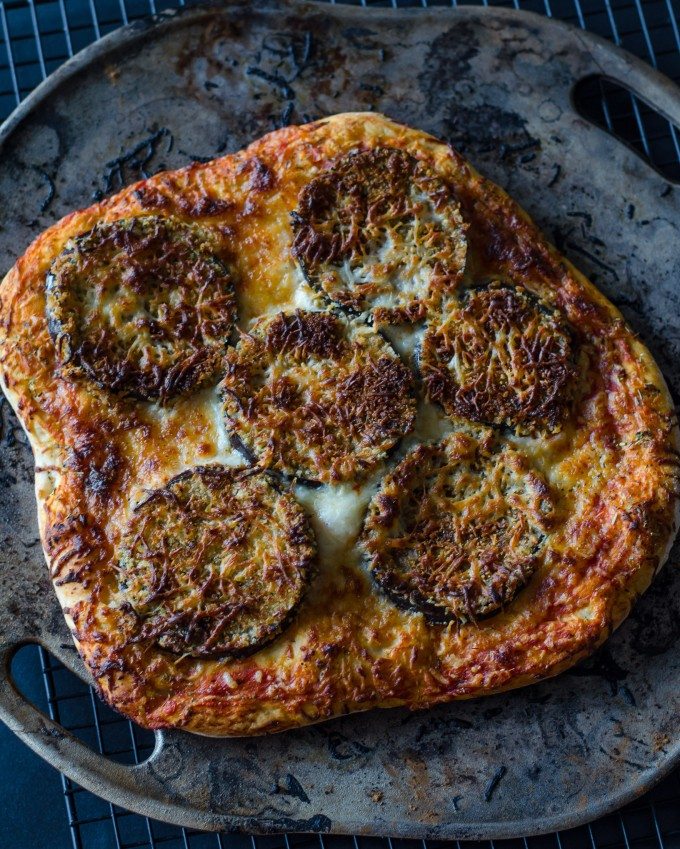 The pizza was great, Dave and I loved it. I made mine on the grill on my nacho pan, which gave it a great crust and a slightly smoky flavor. A liberal sprinkling of red pepper flakes gave it just the right amount of kick. I think I finally found a way to eat eggplant!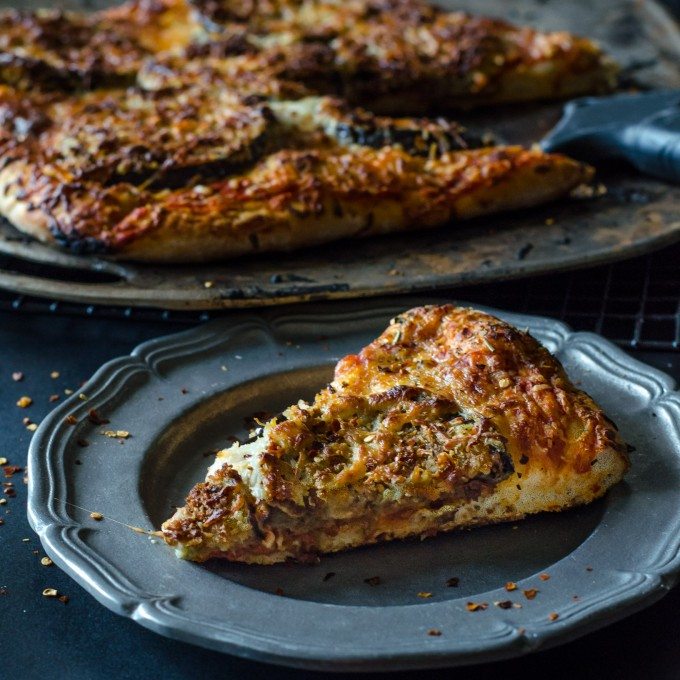 Tools needed to make this no fry eggplant parmigiana:
A [easyazon_link identifier="B00006JSUA" locale="US" tag="gogogogo03-20″]cast iron skillet[/easyazon_link] is crucial for not only this recipe, but so many others! It's a great tool to have in your kitchen!
Unless you're using a pre-made pizza crust, you'll need a [easyazon_link identifier="B0000VLPAS" locale="US" tag="gogogogo03-20″]rolling pin[/easyazon_link] to roll out your pizza dough.
If you liked this best Eggplant Parmigiana recipe, you'll also love these ones:
Eggplant Parmigiana Pizza
Ingredients
1

eggplant

cut into 6-7 1/3" slices (may only use half)

1/2

cup

flour

2

eggs

3/4

cup

panko

2

T

italian seasoning

divided

Vegetable oil

for frying

1

lb

pizza dough

2/3

cup

pizza sauce

1 1/2-2

cups

6-cheese shredded Italian blend
Instructions
Preheat a grill to 400F.

Lay the eggplant slices on a plate and sprinkle with salt. Let set for 10-15 minutes to draw out the water. Blot with paper towels and repeat on the other side.

Place a cast iron skillet over medium heat. Add 2 T vegetable oil.

Spread the flour on a small plate. Place the eggs in a shallow bowl and beat lightly. Mix the panko and 1 T Italian seasoning on another small plate.

Working with one at a time. Coat the eggplant slices with flour, then dip in egg and then transfer to panko, breading as much as possible.

Add eggplant to the cast iron skillet in a single layer. Cook for 3-4 minutes per side, until golden brown (not burned!). Remove from skillet and set aside.

Roll out the dough to a 14" circle and place on pizza stone or grill tray. Spread the sauce evenly around the dough, leaving a1/2" border. Sprinkle the remaining tablespoon of Italian seasoning over the crust portion. Sprinkle half the cheese over the surface and lay the eggplant slices evenly over the pizza, then top with remaining cheese.

Transfer the the pizza tray to the grill and cook for 10-15 minutes, until desired level of browned-ness is achieved. Let cool for 5 minutes, then slice and serve.
For more great vegan recipes, you can check out https://janeunchained.com/.