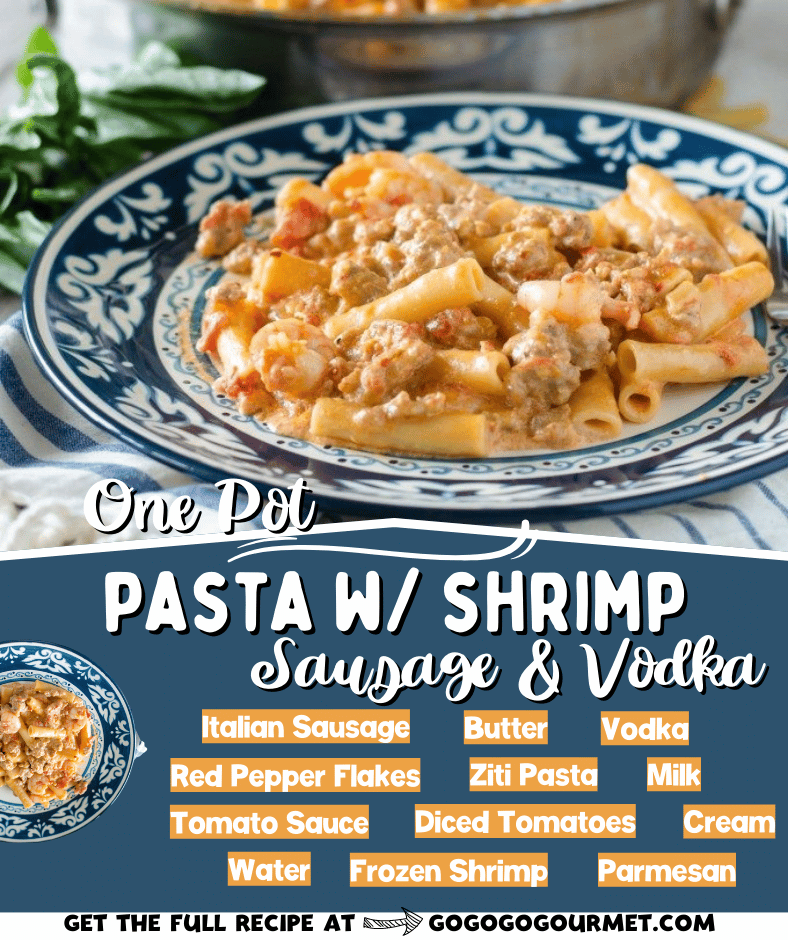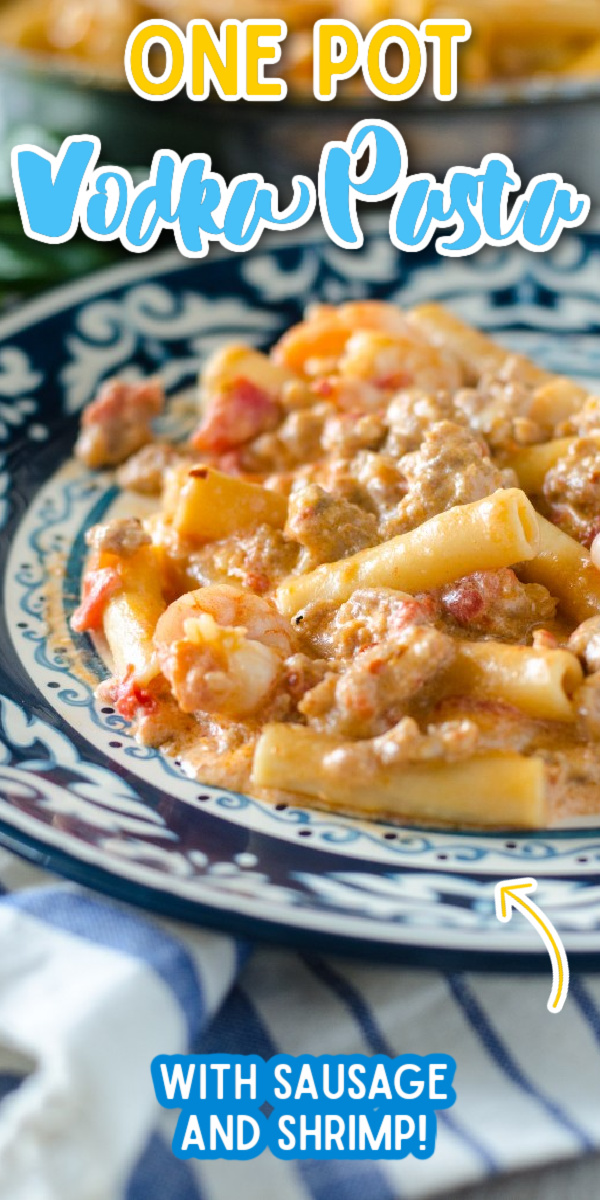 One Pot Pasta with Shrimp, Sausage and Vodka Sauce- less than 30 minutes, packed with flavor, and only one pan to clean!
What could be better than throwing all your ingredients into one pot and the end result is a delicious one pot pasta loaded with flavor!?
I'm wary of food fads.
Everything seems to come and go, except good food with tried-and-true ingredients and methods. That's the kind of food that you find here- and if you're here, that's probably the kind of food that you like too.
However, I'm always up for trying something new. That's how evolution happens.
When Dave and I first got together, we had a deal- I cooked, he did the dishes. It was a pretty good situation for us- he couldn't cook, I hated doing dishes. It worked. We didn't complain. That was the status quo for about the first eight years we were together. After we moved and I focused on Jonathan and this blog full-time, it slowly started slipping away. At first, I'd do them because he'd had a long day, but as you know, it's a slippery slope. I would say I end up doing the dishes about 75% of the time now.
And I still despise doing dishes.
So after the one pot pastas started popping up all over Facebook and Pinterest, I gave it a shot using fresh pasta. It worked beautifully. Only problems are, one, I'm old and set in my ways; and two, I use way more dried pasta than fresh (as I'm sure most of you do too).
One night, I made this dish using fresh ravioli, and it turned out GREAT. Dave loved it and said I should put it on here. When I went to make it the other day, I decided to give it a try using dried pasta. It was overall a successful experiment, but I will tell you this- watch your heat. Leave your pan/pot vented when covering. If it bubbles over, you will NOT enjoy the stove cleanup. It negates the whole point of less cleanup!
So let me get this straight, a less-than-30-minutes dinner, that's packed with flavor AND only leaves me with one pan to clean up? Count me in.
What you'll need for this recipe:
Deep skillet – I recommend using a deep-sided skillet for sautéing to get even cooking. You can grab this [easyazon_link identifier="B0095PRPT0″ locale="US" tag="gogogogo03-20″]Deep Skillet[/easyazon_link] to use for this recipe and future ones!
Wooden spoon – A wooden spoon will come in handy for making multiple recipes. Grab this [easyazon_link identifier="B008H2JLPS" locale="US" tag="gogogogo03-20″]Wooden Corner Spoon & Scraper[/easyazon_link] to add to your kitchen utensils!
If you enjoyed this One Pot Pasta with Shrimp, Sausage and Vodka Sauce Recipe, be sure to check out these recipes: