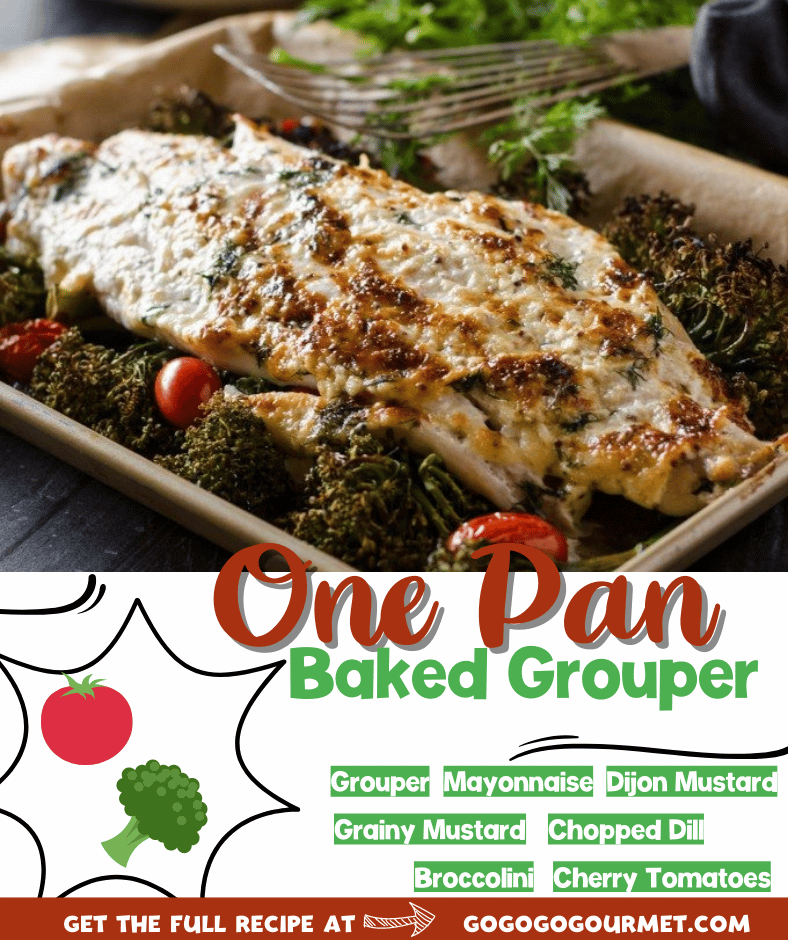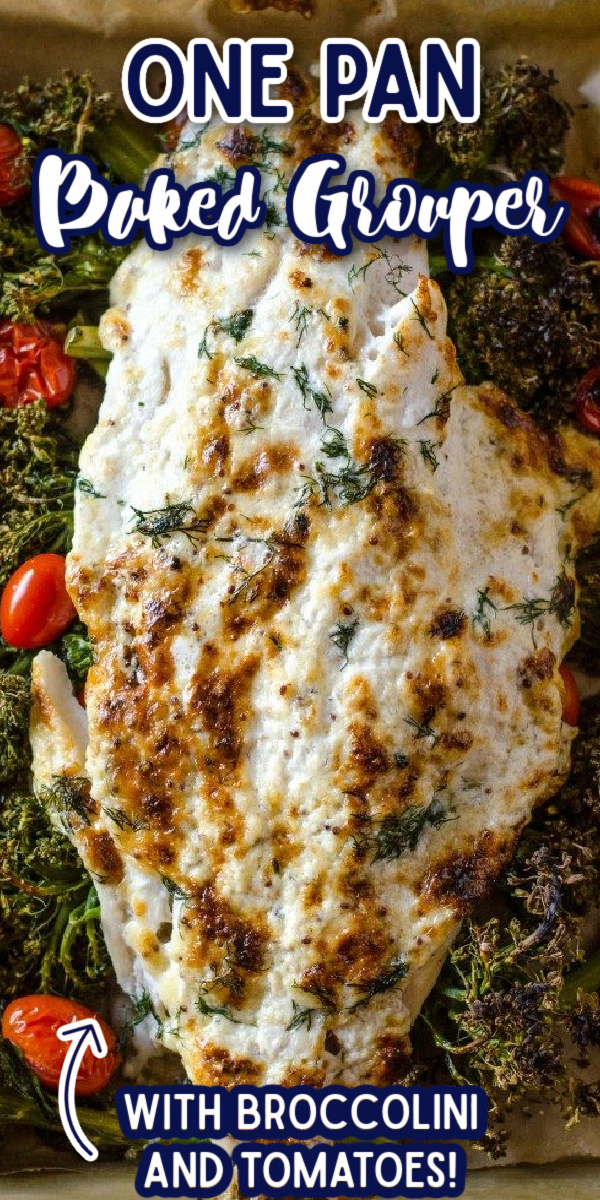 This One Pan Baked Grouper recipe takes seconds to put together and seconds to clean up, while still being absolutely delicious! You can't ask for more!
This recipe is the perfect intro for making Baked Grouper for the first time. It's quick and easy to make and is sure to leave you wanting seconds!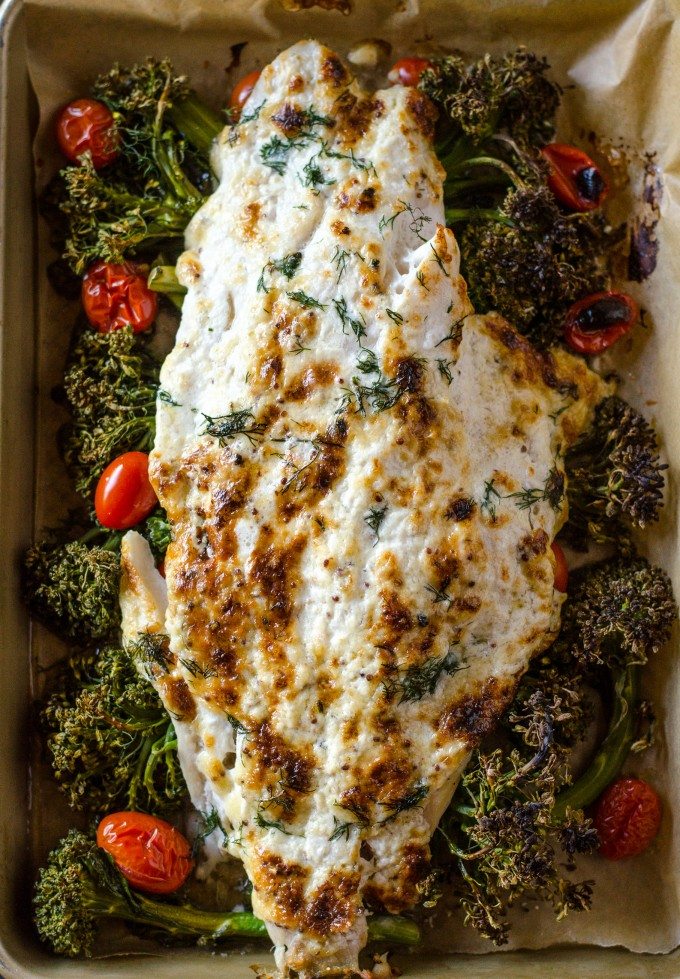 The first time I ever heard of somebody topping fish with mayonnaise, I thought it was perhaps the grossest thing I'd ever heard of. However, I couldn't pass up the opportunity to buy some of the beautiful red grouper that was in the grocery store recently. Prepared properly, grouper can be one of the most delicious, buttery, light fishes out there. However, if over baked it becomes very dry, very quickly.
Enter the mayonnaise topping. Now, bear with me (because I know it sounds odd), but the mayonnaise actually makes sense, if you really think about it. Mayonnaise is basically an emulsion of lemon juice, salt, eggs and oil, so it stands to reason that it would be a great topping for fish- three of those things are what you normally put on fish anyway! The mayonnaise sort of "melts" as you cook the fish, essentially slowly and continually basting it, while simultaneously protecting the meat from the heat. The result? A tender, juicy, melt-in-your-mouth piece of fish.
I chose to roast broccolini and tomatoes under the fish so that they would catch the melting topping from the fish, and they turned out great. You could even add some white wine to the bottom of the pan as well, if you were so inclined.
All in all, this is a dinner that takes seconds to put together and seconds to clean up, while still being absolutely delicious. You can't ask for more.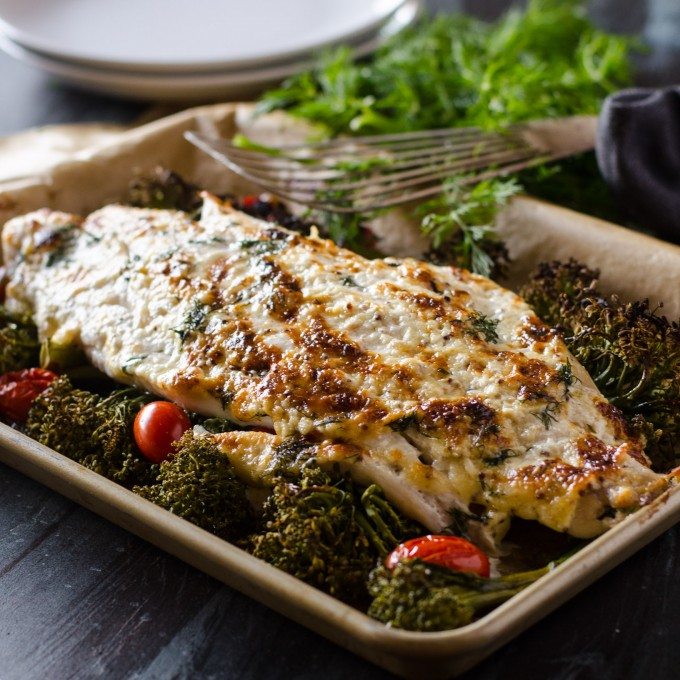 What you'll need for this recipe:
Baking sheet- This 3-Piece Baking Pan Set is great for any kind of cooking. You'll get some great use out of them!
Parchment paper- Always use some Parchment Paper for easier clean up with your baking sheets!
Mixing bowl- These bowls are perfect for mixing up any recipe and even come in three different sizes. Get your 3-Piece Glass Mixing Bowl Set here
If you loved this One Pan Baked Grouper Recipe, be sure to check out these similar recipes:
One Pan Baked Grouper with Broccolini and Tomatoes
Ingredients
1 to 1 1/2

pounds

grouper fillet

1/3

cup

mayonnaise

1

teaspoon

roasted garlic

minced

2

teaspoons

Dijon mustard

1

teaspoon

grainy mustard

1

tablespoon

chopped dill

kosher salt and pepper

2

bunches broccolini

approximately 12 stems

1/2

pint

cherry tomatoes
Instructions
Line a sheet pan with parchment paper and preheat oven to 350F.

In a small mixing bowl, stir together the mayonnaise, garlic, and mustards.

Lay the broccolini and tomatoes out on the sheet pan and drizzle with olive oil, salt and pepper.

Place the grouper filet on top of the vegetables and sprinkle with salt and pepper.

Spoon the mayonnaise mixture on top of the fish and spread to cover.

Bake for 20-25 minutes, until the fish easily flakes with a fork.