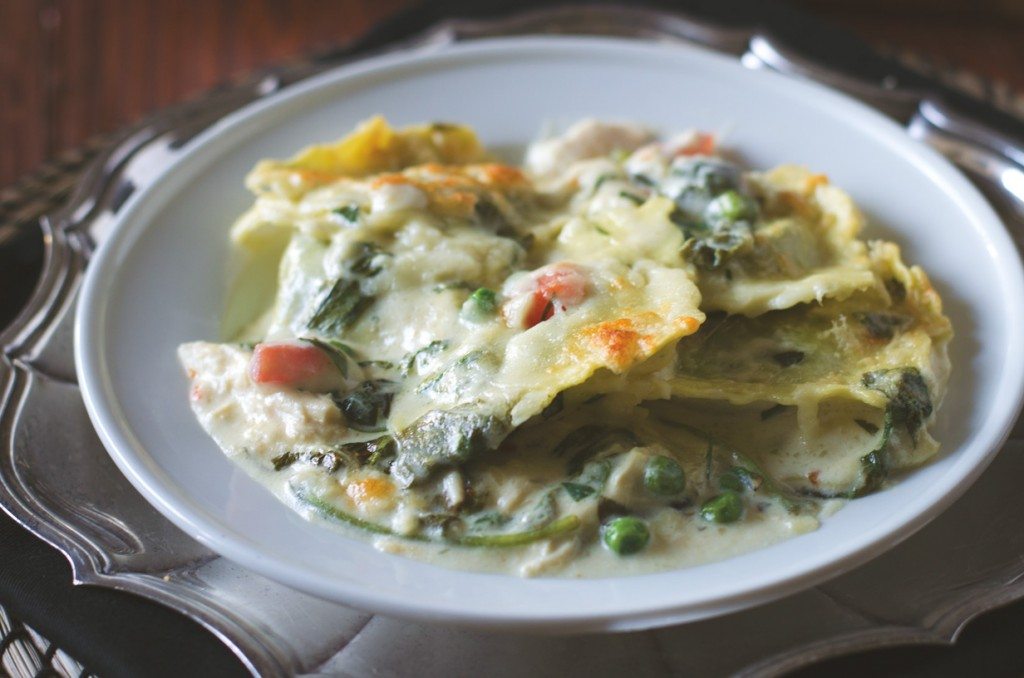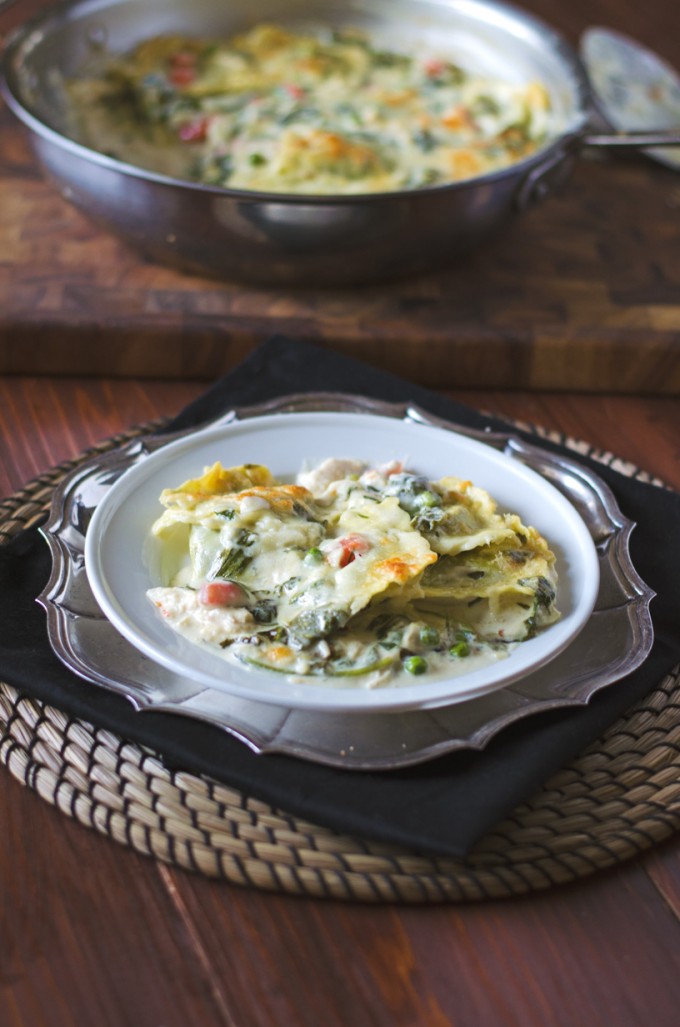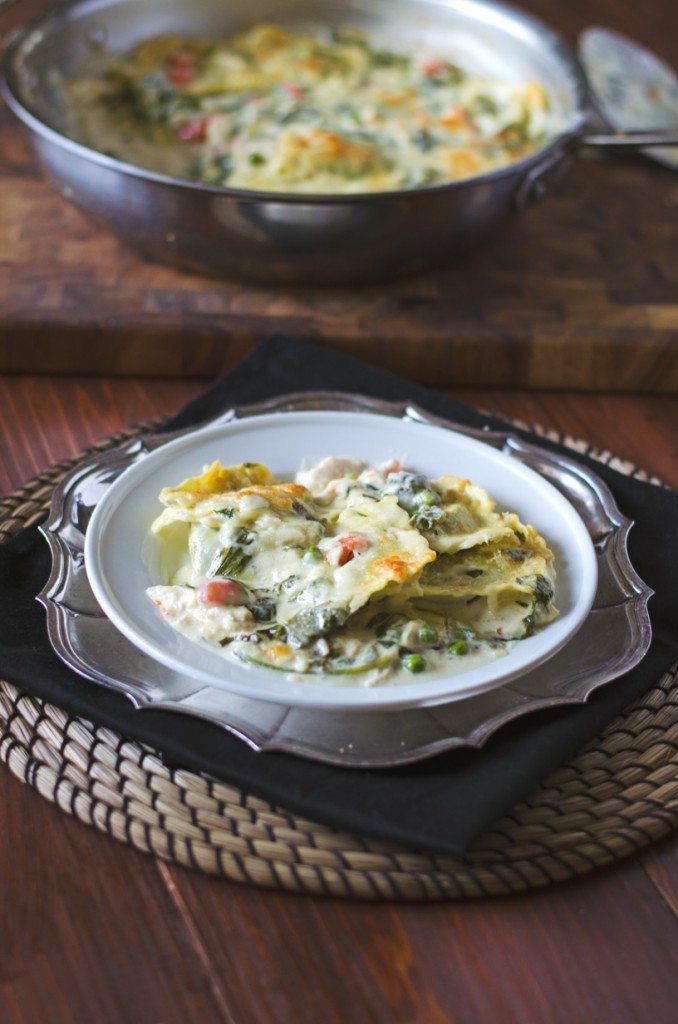 One pot pasta seem to be everywhere right now. I think I'm going to start doing them more because it's recently occurred to me that I've made one pot pasta before, all the time when we were poor and have PastaRoni side dishes with dinner. I am definitely not in any way knocking Pasta Roni, they are delicious.
Now that I am thinking about it, I really want it. Maybe I'll try and copycat it. Or just buy it. Either or.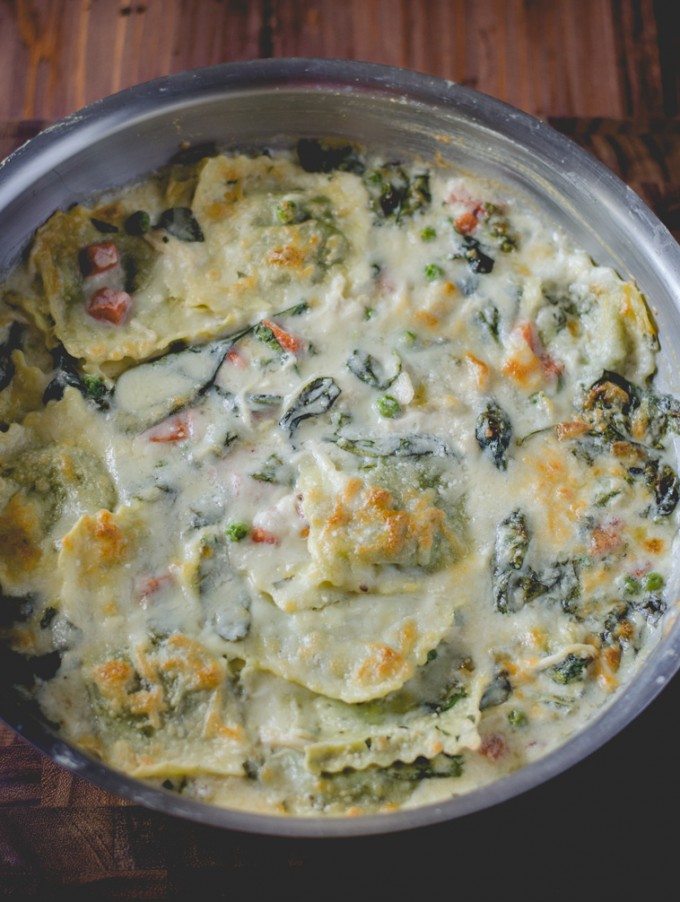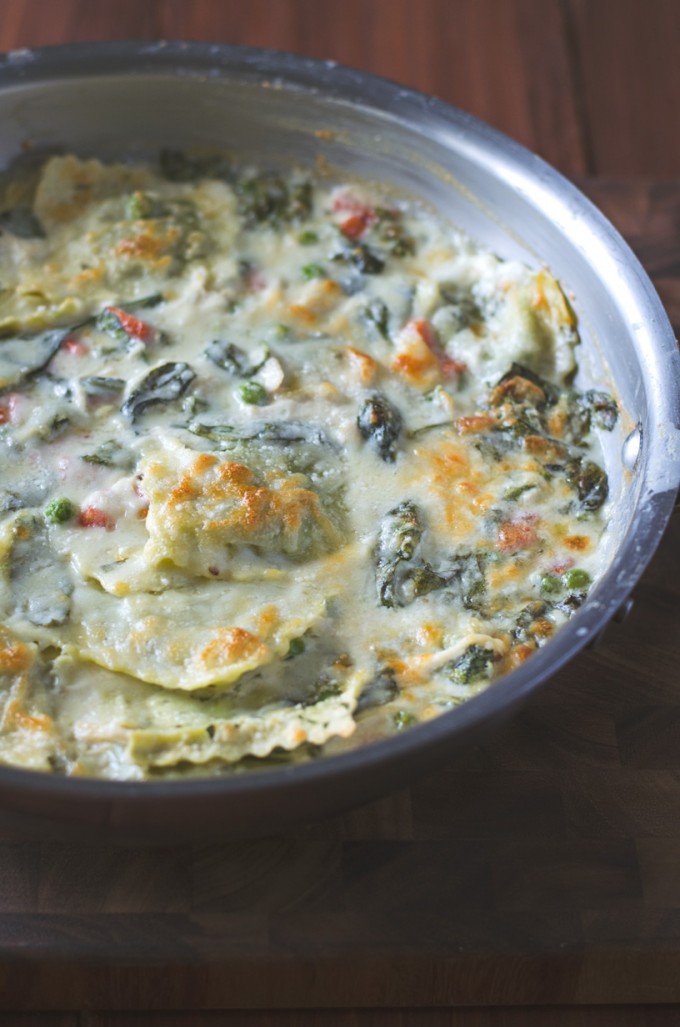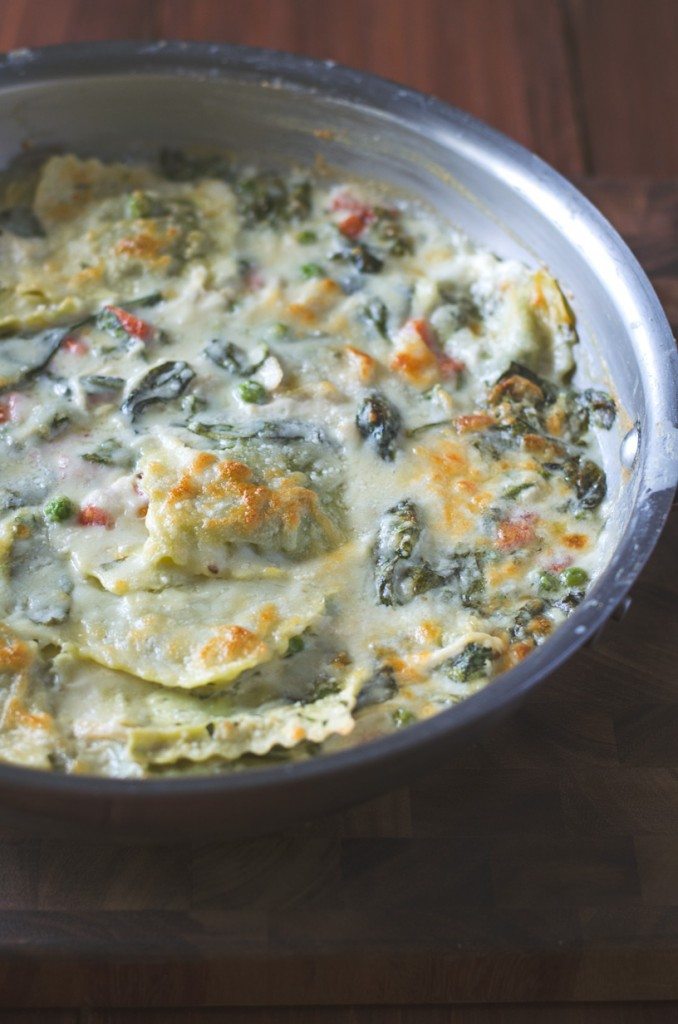 But back to the subject at hand. I feel like these are everywhere, and I really wanted to try one out. With a grocery store rotisserie chicken and a package of fresh pasta, this cheesy chicken pasta bake is in the oven in 15 minutes, max. And the one pot concept? Well, I certainly can't complain about having less dishes to wash after dinner, and this one certainly fits the bill. I ended up with a spoon, whisk, measuring cup, knife and pan to deal with, which took me a total of about four minutes to do.
Even David, the spoiled taste tester who just says "yeah, it's good," when I ask him about a new dish, gave a more boisterous and unprovoked, "This is REALLY good."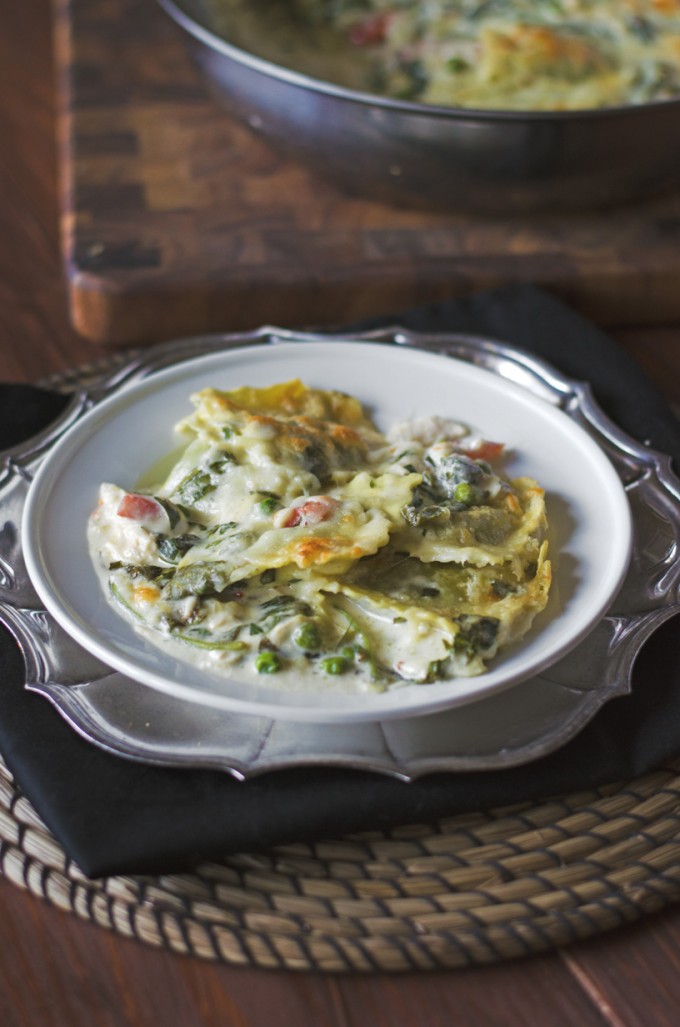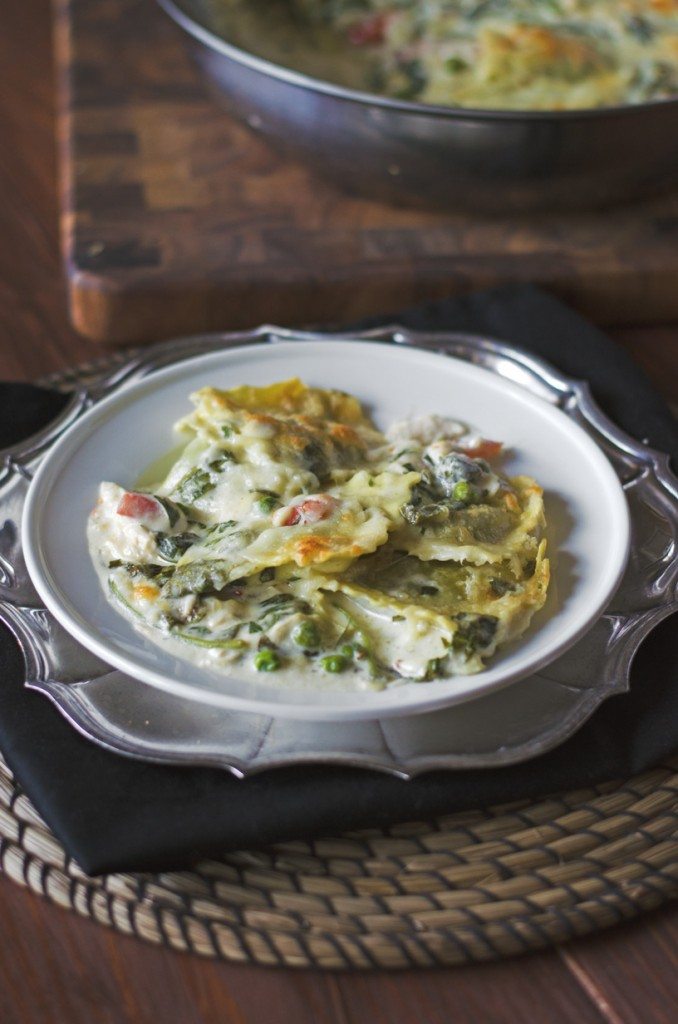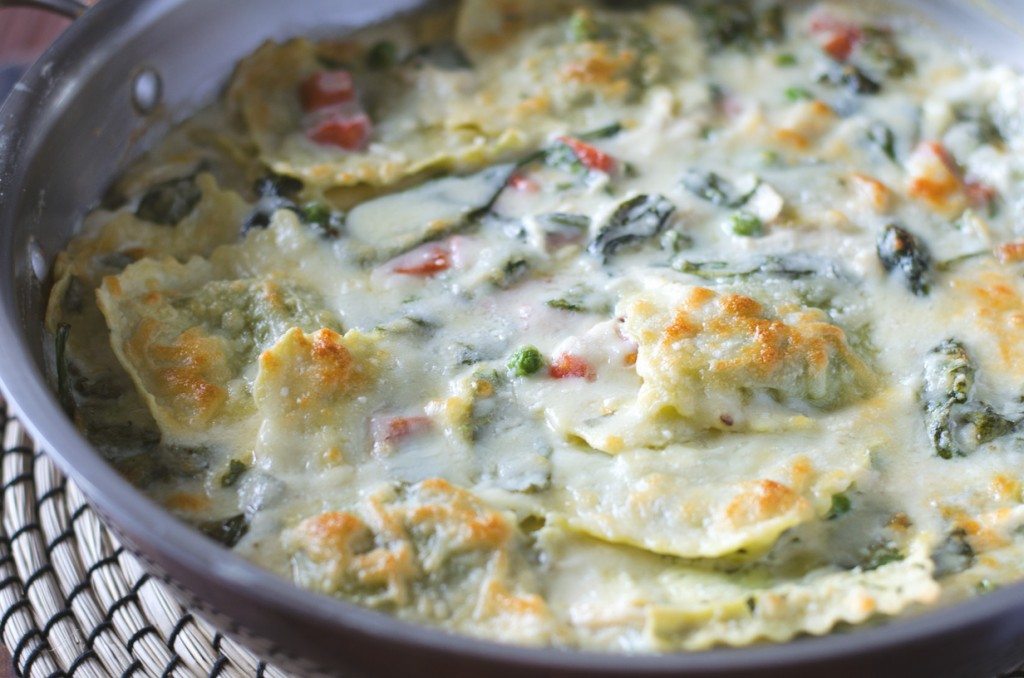 One Pan Cheesy Chicken Pasta Bake
Ingredients
2

T

butter

2

T

flour

2

cups

milk

1

cup

cream

2

cups

shredded cheese (4/5/6 Italian cheese blend recommended

1

rotisserie chicken breast

shredded

4

cups

spinach

1/2

c

peas

1 to

mato

seeded and diced

1

package fresh spinach and cheese ravioli

1/4

c

shredded mozzarella

2

T

romano

1/2

tsp

garlic salt
Instructions
Preheat the oven to 350F.

In a large, ovenproof skillet, melt the butter over medium heat. Whisk in the flour and cook for 1-2 minutes.

While whisking or stirring, slowly pour in the milk and the cream, bring to a simmer and cook until the milk has thickened slightly.

Reduce the heat to medium low and stir in the cheese, one handful at a time, waiting until the handful has fully melted before adding the next batch.

Add in the spinach, peas and chicken breast, cooking until the spinach has wilted. Stir in the garlic salt.

Toss in the ravioli and tomato, then sprinkle the cheese over the top (conversely, you can use 1/3 additional cup of italian blend cheese).

Bake in the preheated oven for 25 minutes, or until the top has begun to brown. Let sit for 5-10 minutes, then serve.