This Double Berry Croissant Bread Pudding is the best croissant bread pudding recipe! With a deliciously sweet strawberry Grand Marnier sauce, it can't be beat!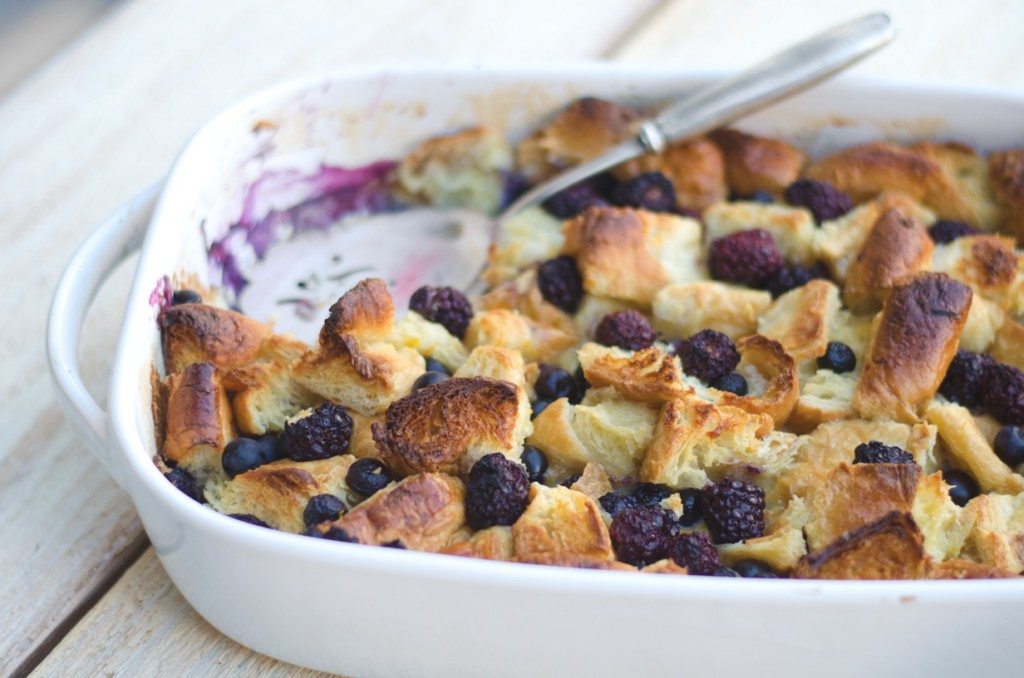 Now there's a title that's a mouthful (of bread pudding).
Terrible pun. This post is off to a rip-roaring start.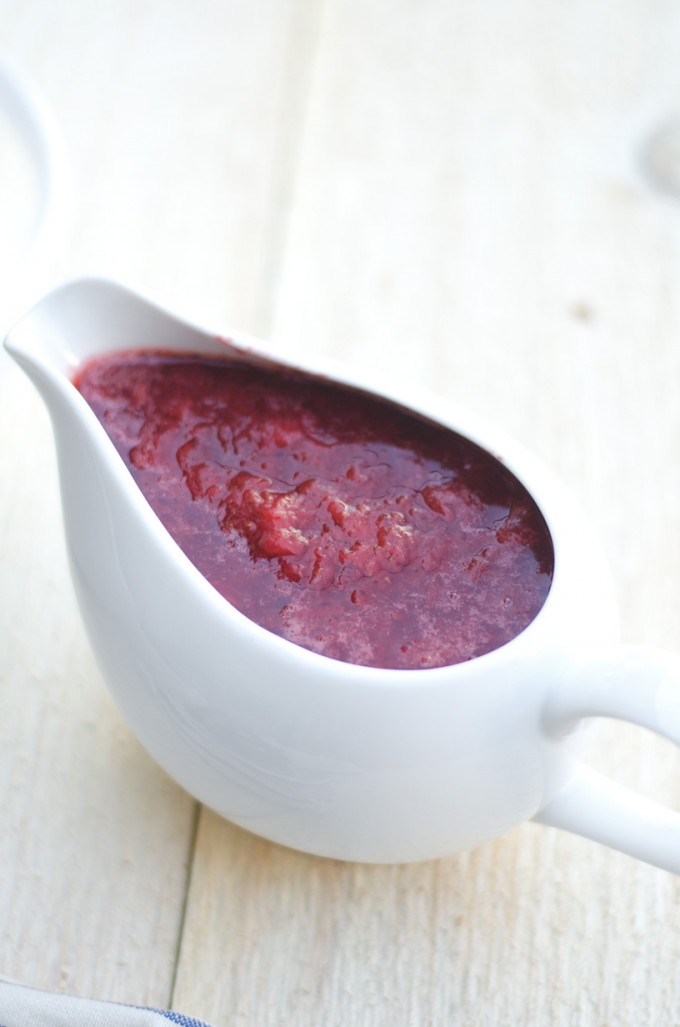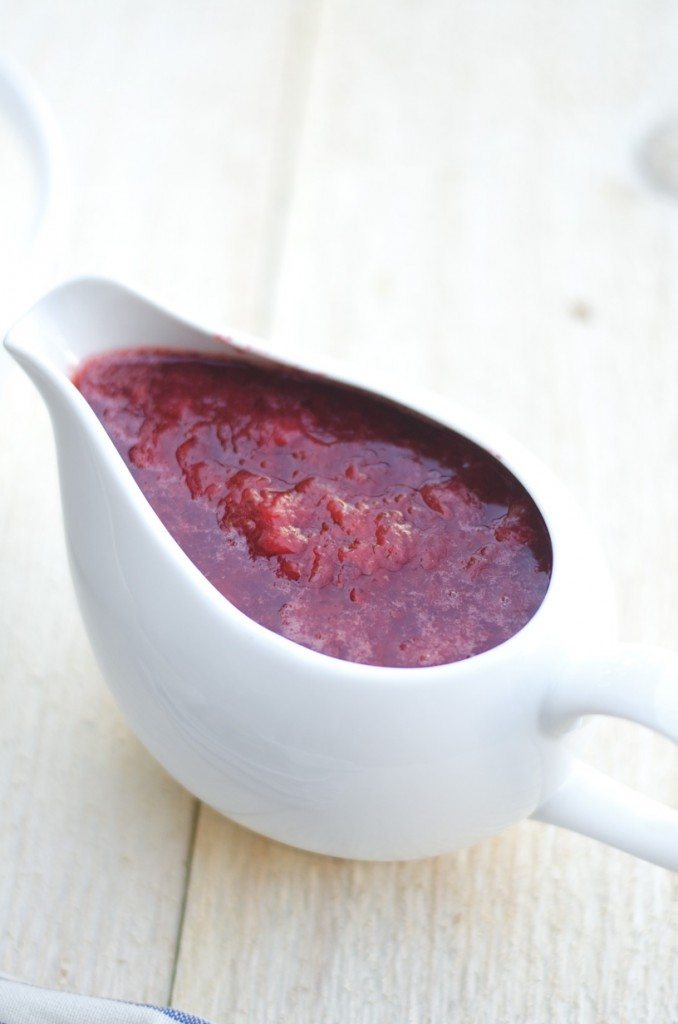 I am on a kick of croissant bread puddings lately. The last one was so epically delicious that I decided to do another version of it in red and blue- just in time for 4th of July, but perfect for anytime. I picked up another box of croissants and put it on the counter with the previous box. When Dave got up, he did a double take, and said "Um. Why are there so many croissants here?!"
This one is completely different from the dark chocolate cherry version. High on fruit flavor, bursting with juicy berries and topped off with a delicious sauce, its high on flavor without being overly sweet. It's simple to make and comes together with minimal effort and time spent, which I desperately need lately. I can't seem to handle much more.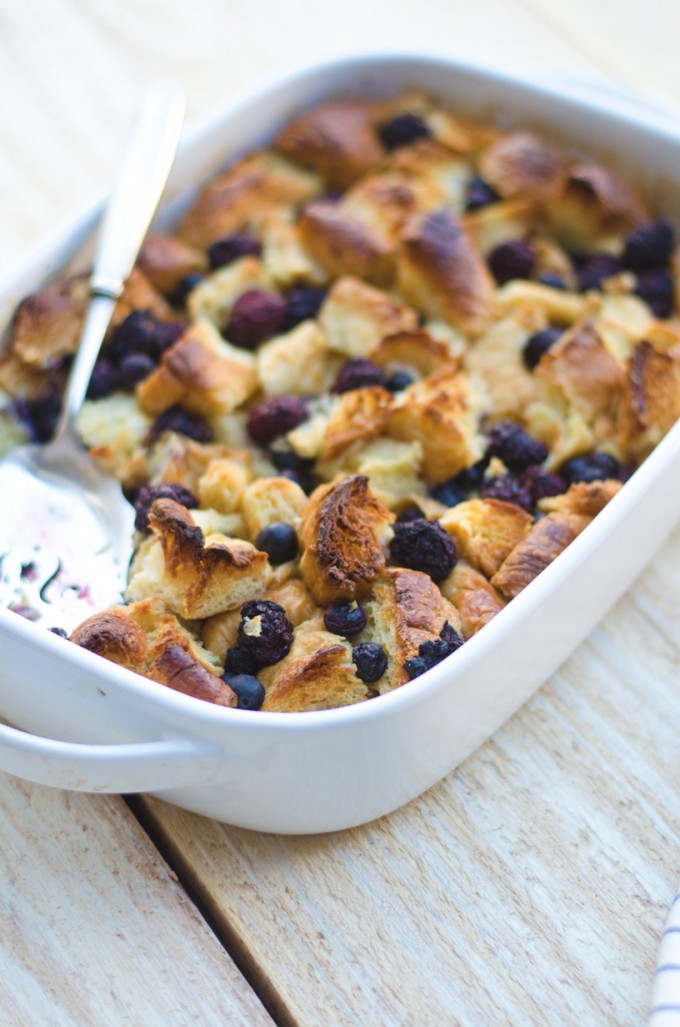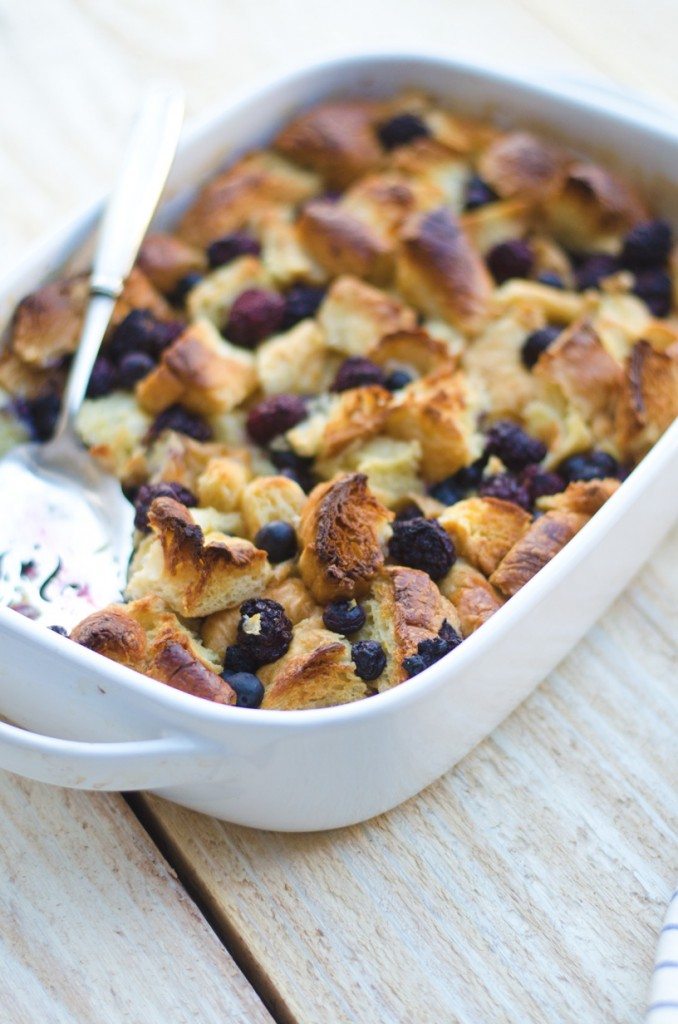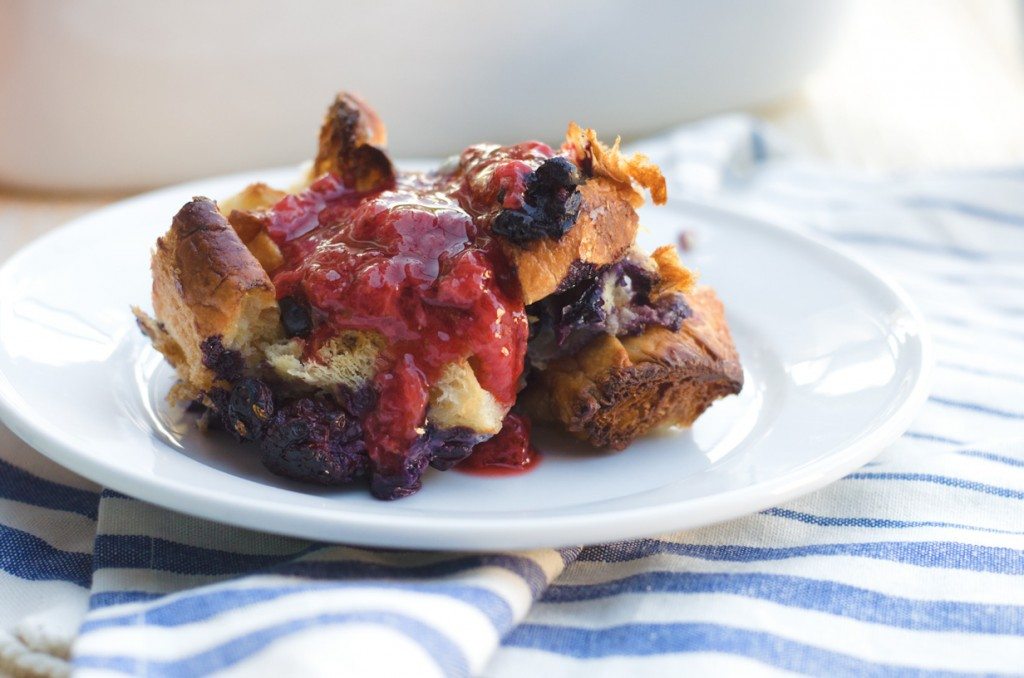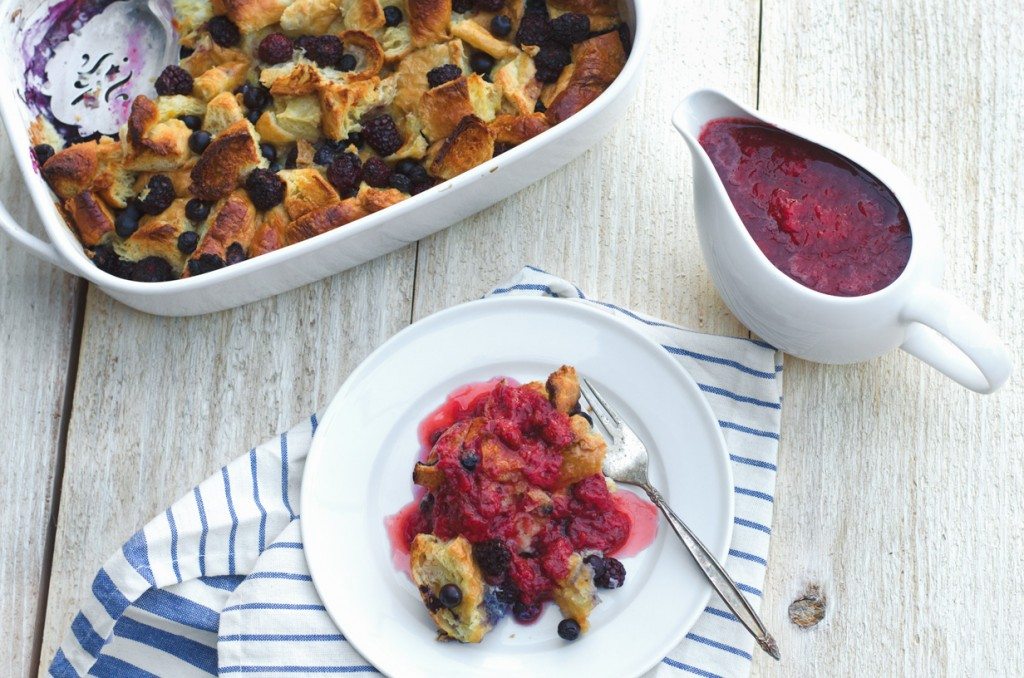 Now that J is two years old, he has evidently had the natural toddler instinct for the "Terrible Twos" kick in. The strawberry sauce actually boiled over and made a massive, burnt, sticky mess on the stove, because I was deep in the throes of dealing with the most absurd tantrum he had had so far- throwing thing, completely out of his mind, hysterical to the point where he couldn't catch his breath- all because I said that no, he couldn't have a doughnut for dinner.
I ate my feelings with this as soon as it came out of the oven. It made me feel better.
I'm going to need to find another coping mechanism other than eating and drinking, or I'll be 20 pounds heavier before he turns 3.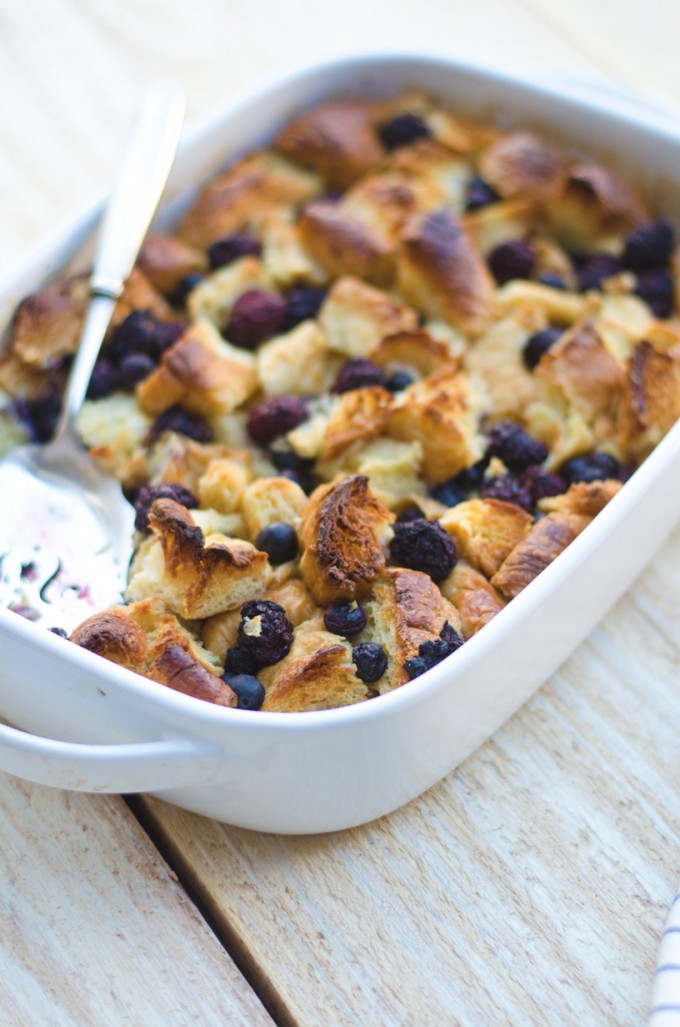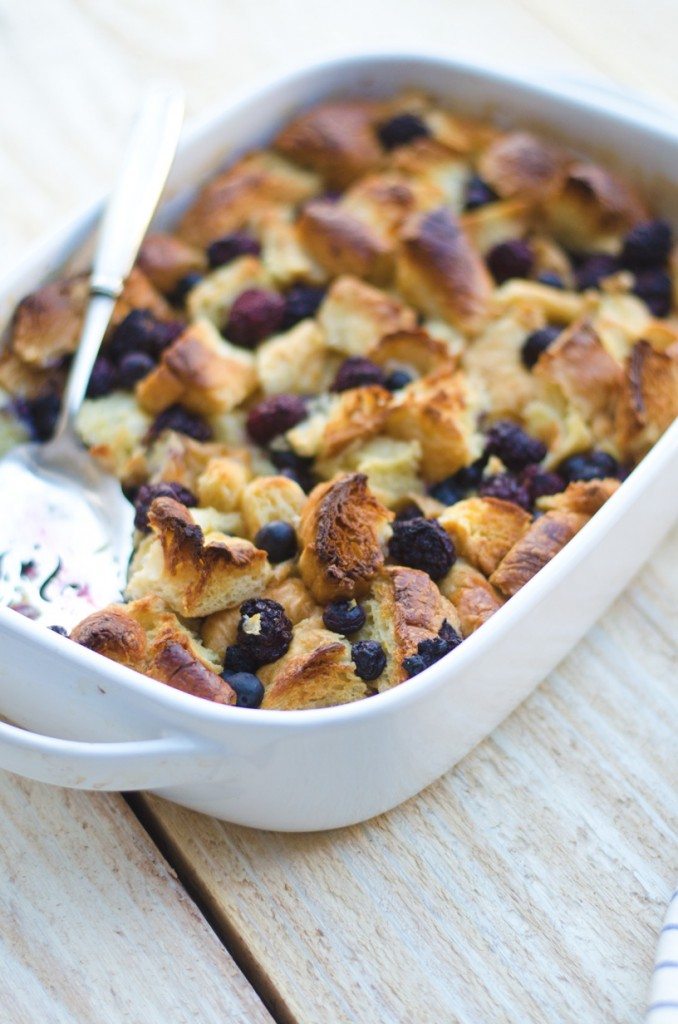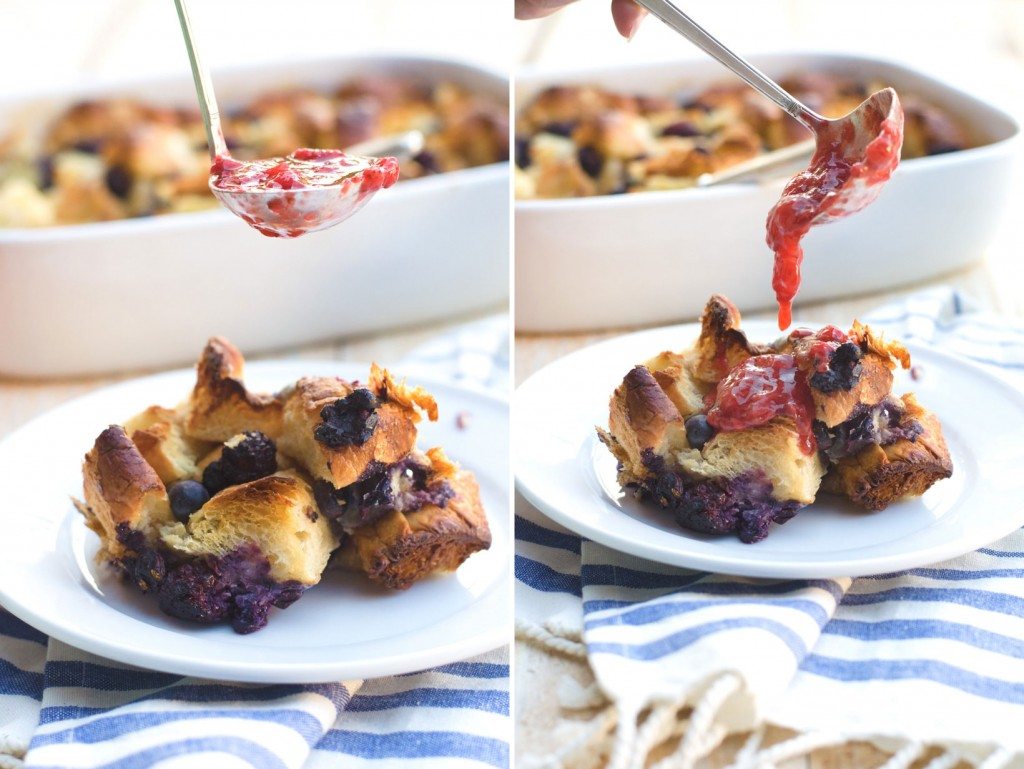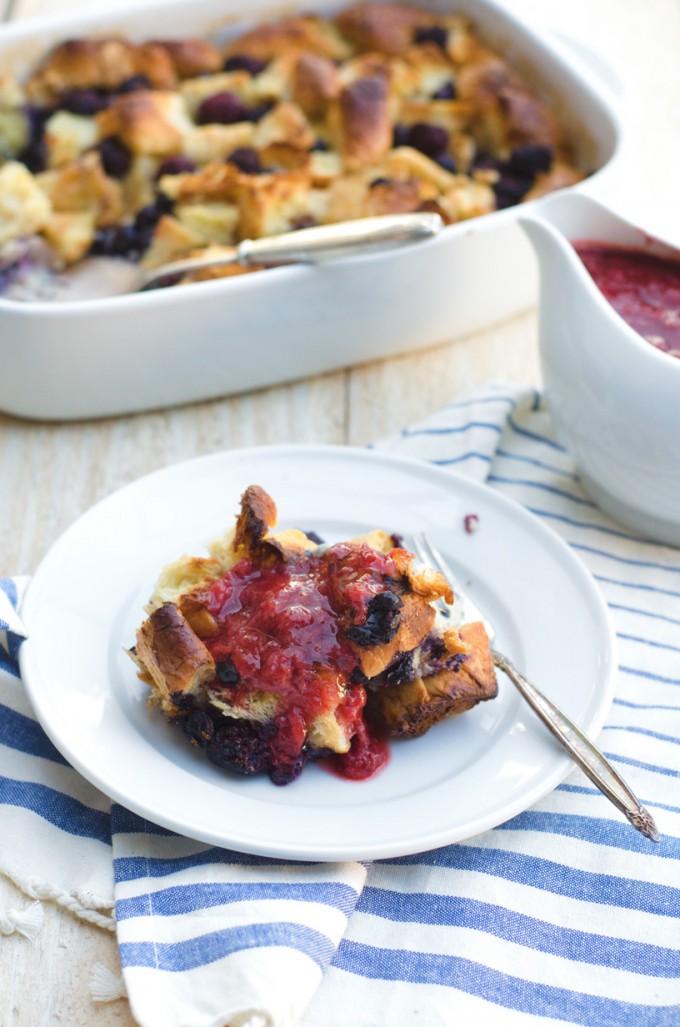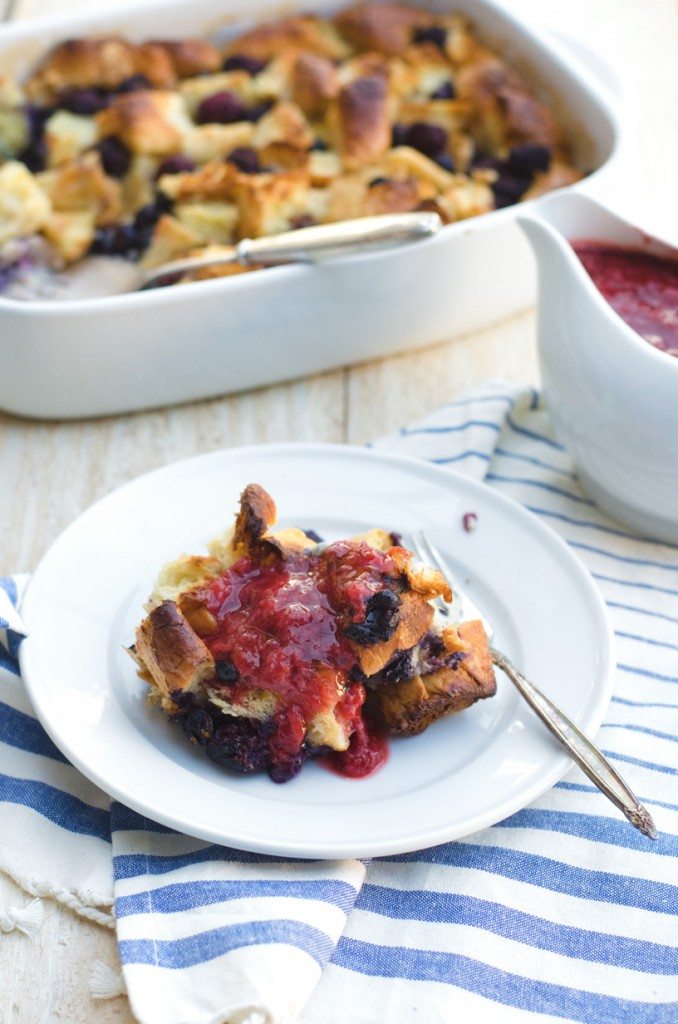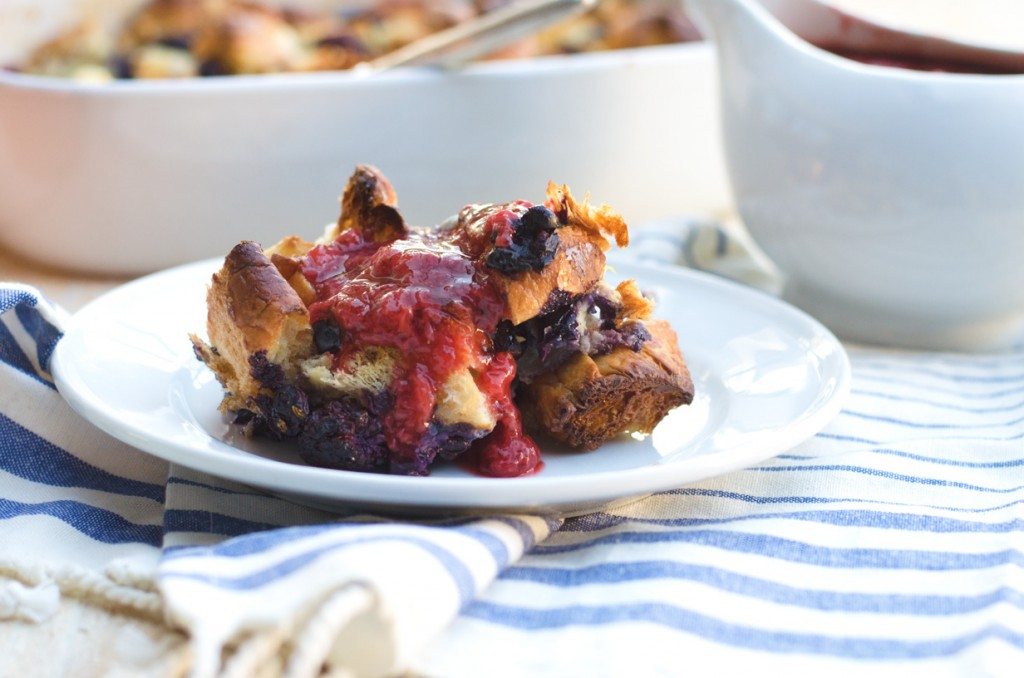 Tools needed to make this croissant bread pudding recipe:
It would be helpful to have a nice set of [easyazon_link identifier="B00LGLHUA0″ locale="US" tag="gogogogo03-20″]mixing bowls[/easyazon_link] in order to make the custard and coat the croissants.
You will also need a [easyazon_link identifier="B00004OCNS" locale="US" tag="gogogogo03-20″]whisk[/easyazon_link] i order to whisk the custard.
The last thing you will need is a [easyazon_link identifier="B07794QZKC" locale="US" tag="gogogogo03-20″]baking dish[/easyazon_link] to bake it in!
If you liked this bread pudding using croissants, check out these other bread pudding recipes:
Double Berry Croissant Bread Pudding with Strawberry Grand Marnier Sauce
Ingredients
7

croissants

cut into 1-1 1/2" pieces

5

eggs

1

c

milk

3/4

c

cream

2/3

c

sugar

1

orange

zested and juiced

2

cups

blueberries

1 1/2

c

blackberries

1

lb

strawberries

roughly chopped

1/2

c

sugar

1/4

cup

Grand Marnier

1

tsp

cornstarch
Instructions
Preheat the oven to 375. Spray a 13 x 9 baking dish with nonstick spray.

In a large bowl, whisk together the eggs, milk, cream, sugar, orange zest and 1/2 the orange juice.

Add the croissant pieces and the berries to the bowl with the custard and stir to coat evenly (I found my hands worked best!). Pour into the prepared baking dish and cover with foil.

Bake for 40 minutes in the preheated oven. Uncover and bake for an additional 30 minutes.

Combine the strawberries, sugar, cornstarch, remaining orange juice and Grand Marnier in a small saucepan. Bring to a simmer, stirring frequently, for 10-15 minutes, until the mixture has a thick syrupy consistency. Set aside and cool to warm.

Spoon the bread pudding on a plate, spoon the sauce over, and serve.